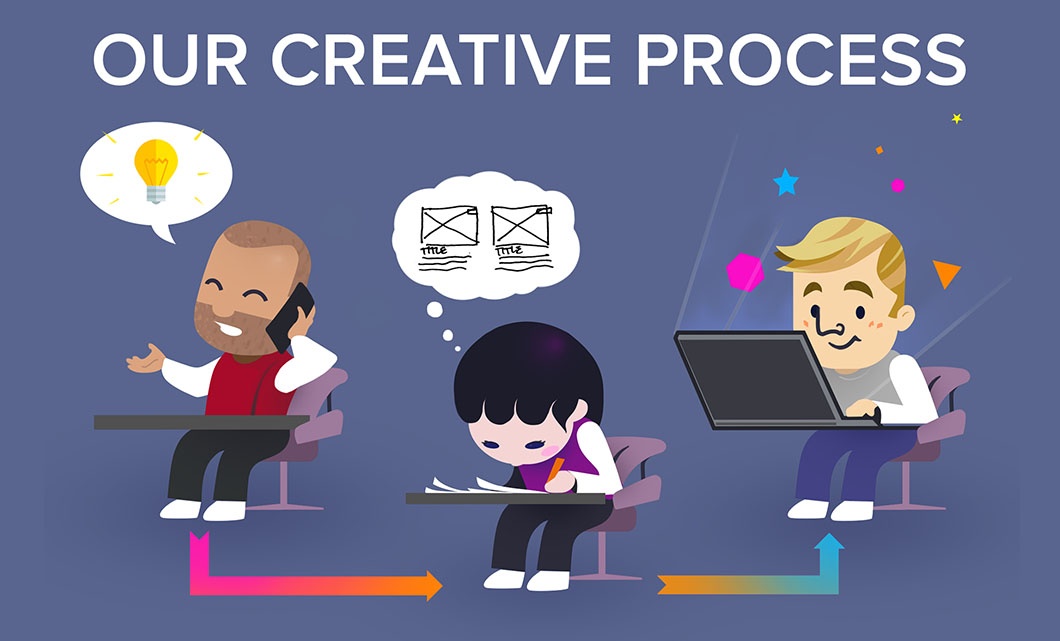 When the Creative Team started out in 2016, things we're a little all over the place. We had little process and we weren't building content we were particularly proud of. This lead to a year of restructuring, hiring and process improvements. The end result is an amazing team and a simple process for delivering digital signage projects. We haven't stopped improving though, quite the opposite, now every week we look for at least one improvement we can make to our process.
Let's Get Started
Before we start a project, we like to ask our clients a few questions:
What do you want to create?
What problem do you want to solve?
What goals do you have?
What content would you like to show?
What do you want your audience to do after or take away from engaging with your digital signage?
Read it next: 5 Questions to Ask Before Starting A Digital Signage Project
These are some of the questions we use to determine whether digital signage is a good fit for our clients. If we can comfortably say that digital signage will work for you and we can deliver the solution we then create a proposal. Once we've created the proposal and you are happy with it, we move forward with the project.
Digital Signage Hardware and Wireframes
As part of our review of the above questions, we'll determine if you need displays, media players, mounts or other hardware. Then we will work with you to pick the hardware that will best meet your needs. Once we start the project, our Solutions Team begins preparing the hardware and getting it ready to be shipped. This can take a couple of weeks so while the hardware is getting prepared we start working on the content.
The first step in our creative process is getting together all the content (copy, images, video, data, etc…) that you would like in your Presentation. From there we start the wireframes. Wireframes are a simple black & white storyboard that describes at a top level, how we propose to solve your problem. Before we go too deep into a solution we want to make sure that our understanding of your needs is correct.
Once we complete the wireframes for your project we do an internal design review. At least one other Designer and the Project Manager will review the requirements and the proposed solution. The feedback is then applied and the wireframes are put in a slideshow with details showing how everything works and how the content will be managed. This finished slideshow is then sent to you to review with the Project Manager over the phone.
After the review of the wireframes, we collect all the feedback from you and record any questions we need clarification on. Depending on how many changes are required we either go to the next step or we complete another wireframe.
Adding in the Color and Content
Once the wireframes are confirmed we start the full-color static mockups of exactly what your solution will look like. These are static images that include all the content gathered earlier.
It's important that design and content strategy are not done completely separately. They should be worked through together and complement each other. At this stage, we often will adjust the content and design so that they are harmonious and more effective. An example of adjusting content would be reducing the amount of text so that your message is more succinct and effective.
After the mockups are complete they are reviewed internally like the wireframes and any changes are applied. Then the Project Manager will send them to you for review. After you get a chance to take a look at them with all your stakeholders we set up a call to go over improvements and adjustments. We record all the feedback and either queue the development work or if necessary, another round of mockups.
Get Your Message Noticed.SIGN UP NOW
Build, Test, Deliver
When you're happy with the mockups we start building the content. This stage is when we create the dynamic HTML content that brings your digital signage to life. We typically build Presentations in the Rise Vision Editor or as a custom HTML page, it depends on the use case. If we are building custom HTML pages we use Github as our code repository and either Rise Storage or your web server to deliver the HTML pages.
Once we're done building the Presentations we test them and go through our testing checklist. Once we've done a thorough review of your Presentations we let them play for 48 hours on the same hardware you'll be using to make sure there are no other issues.
Around this time, our installers will be heading to your site to install your displays, mounts, and media players. After everything is installed they'll make sure everything is working as expected.
Your displays are installed, the content is running and now it's time to get trained on Rise Vision! We'll introduce you to our training team and they will set up a time to train you. Rise Training is a one-on-one webinar where we walk you through all the pieces of Rise Vision to make sure you get the most out of your investment.
Day-to-Day Management
As part of our first review, we'll work out whether you want to manage updating your content or if you'd like us too. If you'd prefer not to have to manage your digital signage content you can take advantage of our Content Management service. We'll handle your daily, weekly or monthly content updates. We will work with you or your vendors to take care of updating your signage. This is completely optional though and we make sure all our clients have the training necessary to update their digital signage.
At this point, your digital signage project has been wrapped up and now it's time to start seeing the return on your investment. To make sure you get the most out of your digital signage it's important to regularly update the content and review your strategy. We've linked to some resources below to help you manage your digital signage and make the most of it.
Tips and Tricks from the Rise Vision Creative team: