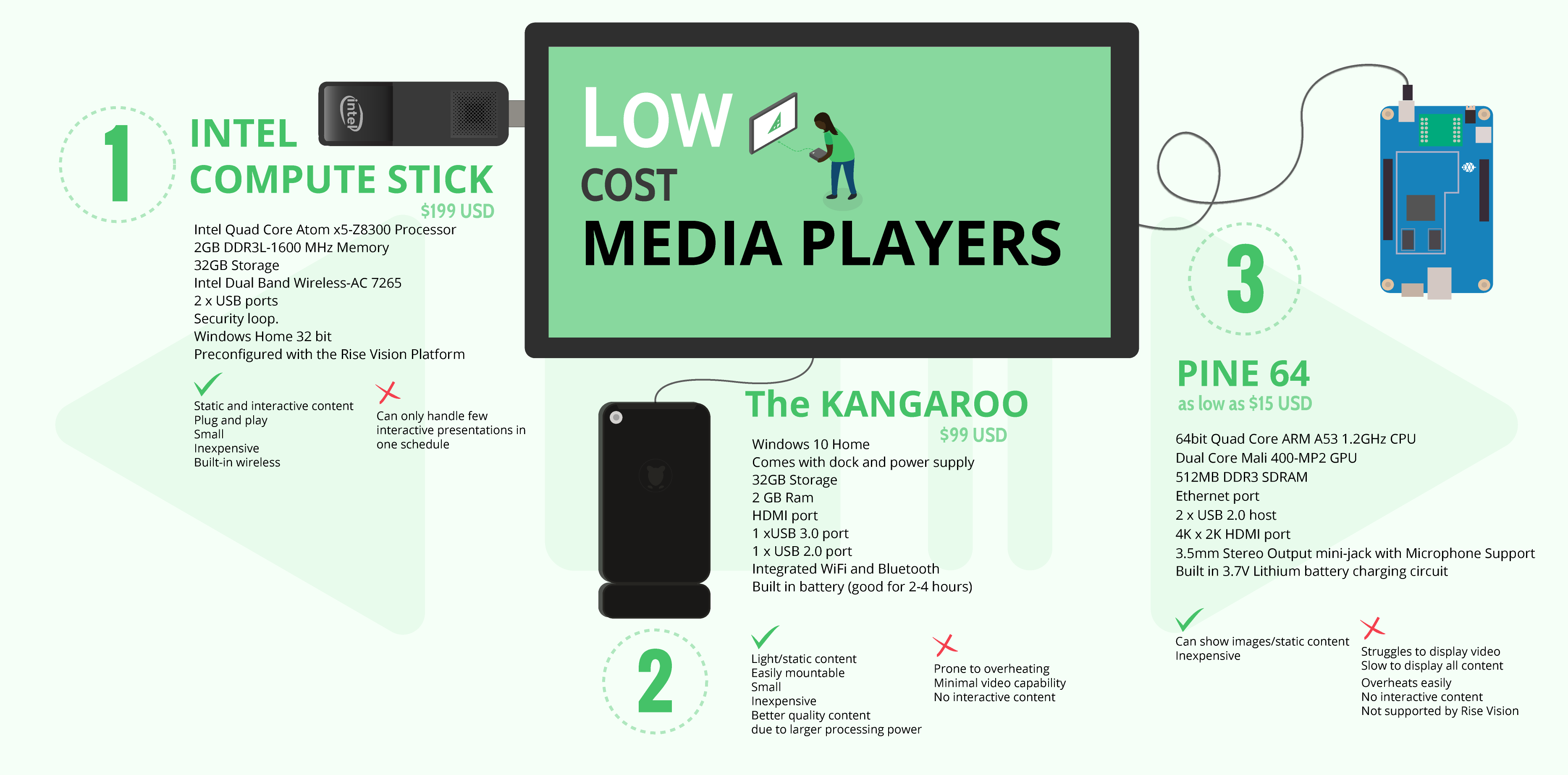 The search for the right media player can be difficult. In fact, it's one of the most commonly asked questions we receive through our in-app messaging service and the Community. So we decided to test a variety of Presentations on three low cost media players to see how they held up.
Our Toronto office experimented with the Kangaroo, Pine64 and Intel Compute Stick, testing each with what we'll call good content (only text and images), better content (some video), and best content (a lot of videos and dynamic content). Just as a note, there is lots of awesome content that is just text and images, we're just using this terminology to distinguish between the three "levels" we tested.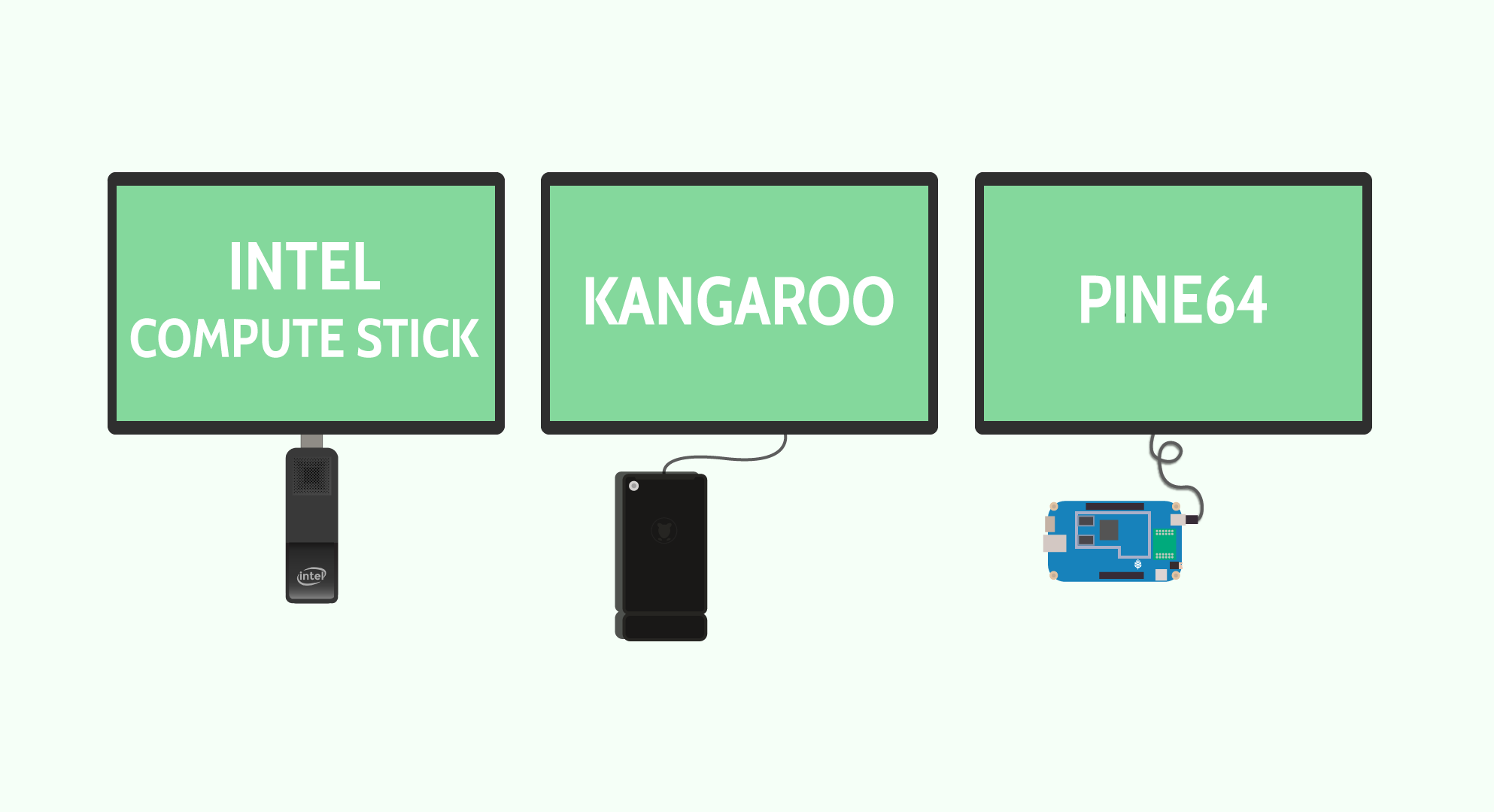 Here are our results:
Pine 64
The Pine64 was first up to bat. One of our team member's found it on Kickstarter and decided to back it, thinking it would be great computer to test digital signage on. The player can cost as low as $15 USD.
The model he chose was the Pine64 +2GB that came with Android. The computer came with a power cable, small display, power switch, wifi dongle, and SD card.
The Pine was slow to boot up at first (normal for any new computer), but once up and running, it was easy to get My Rise Player, built by Scott's Digital Signage installed.
The first schedule we ran included four Presentations- two interactive and two passive, all featured CSS transitions and we're in the best range of content. The Pine was getting very hot trying to load the Presentations, which we somewhat solved using an area fan. Getting a case for the board and attaching a computer fan would probably be a more elegant solution
After a few minutes, it was able to load the interactive Presentations but the transitions were very slow and you couldn't navigate from page to page. We then tried lightening the load to show one of our templates. The Pine still struggled to show the template so we switched the template out for a Full-Screen Image template.
The image template played well, so we increased the load a bit and added three HTML templates. The templates had a fair amount of CSS animations and a few videos playing. The Pine managed to display the CSS transitions well but struggled once again with the video.
When we ran this schedule again, replacing the HTML content with Presentations that used Scott's Digital Signage Android Video Widget, the Pine64 downloaded the video to cache and displayed the video just fine.
Overall, we were pretty impressed with the Pine64's performance. It is a good inexpensive player for simple content, but it definitely struggles with more intensive Presentations. One thing to note is that Rise Vision does not support Android, meaning that all support has to come from our Community.
The Kangaroo
The Kangaroo is an InFocus media player that can be purchased for $99 USD. It's a smaller, flat, dockable media player that can be easily mounted behind a display. It comes equipped with Windows 10 Home, Intel Atom x5-Z8500 running at 1.44 GHz, 2GB of Ram and 32GB of Storage. It includes a power supply jack, HDMI port, 1 USB 3.0 port, and integrated WiFi and Bluetooth. The Kangaroo also includes a built in battery that is said to be good for 2-4 hours, which we never used. We purchased ours from NewEgg.
We have been using our Kangaroo to test Presentations, trying everything from MarketWall Presentations to single full-screen image Presentations.
When we scheduled our Pine to play a MarketWall—a Presentation full of live data and scrolling content—the Kangaroo didn't fair so well. The player got very hot very quickly, and the quality dropped significantly. Content stuttered, internet would fade in and at times we were seeing just a white screen. We concluded that the Kangaroo cannot handle demanding content well.
The performance drastically improved when we tested our less intensive Presentations. When we scheduled the player to run Presentations with the RSS, Text, and Image widgets, the Kangaroo relayed all content perfectly well. We've also done some experimentation with video, and for the most part, the Kangaroo can handle "simple video"- one video showing at a time, with few videos scheduled in a playlist.
Our conclusion is that the Kangaroo is a great, inexpensive option for static content. If you're looking to show images, text, web pages, and limited video, this a good media player for you. For more information on using the Kangaroo with Rise Vision, check out this post in the Community.
The Intel Compute Stick
This tiny player (about the size of your hand) has been our go-to player for the last little while.
The Intel Compute Stick is a $199 USD media player which can be purchased from the Rise Vision Store. The Compute Stick is equipped with an Intel Quad Core Atom x5-Z8300 Processor, 2GB of Memory, 32 GB of Storage, wireless internet, internal fan, 2xUSB ports, a security loop, and Windows Home 32 bit which is preconfigured to the Rise Vision Platform. It's very easy to setup- just plug and play. We plug the Compute Stick directly into the HDMI port on a display, eliminating the need for cabiling.
When it comes to content, this player is the best of the options listed above. It relays static content perfectly, showing images, video, text, RSS, web pages, etc, with no loss in quality. We were able to schedule it with a MarketWall which it handled well, but it definitely cannot handle a schedule with more than one MarketWall in it. The Compute Stick can handle about 4-5 Presentations in a schedule, but beyond that the player will start to heat up and can lose internet connection. That being said, it's cooling capabilities are better than the Kangaroo.
In our opinion, the Compute Stick is the best low-cost player for handling static content and some more intensive Presentations. The only thing to keep in mind is not to overload it with larger schedules.
Overall, these are all well-performing players when it comes to showing static content, and even better, they can all be purchased for under $200 USD! So if you're just getting started with digital signage, or are only looking to show static content, these low-cost players are all great options for your signage project.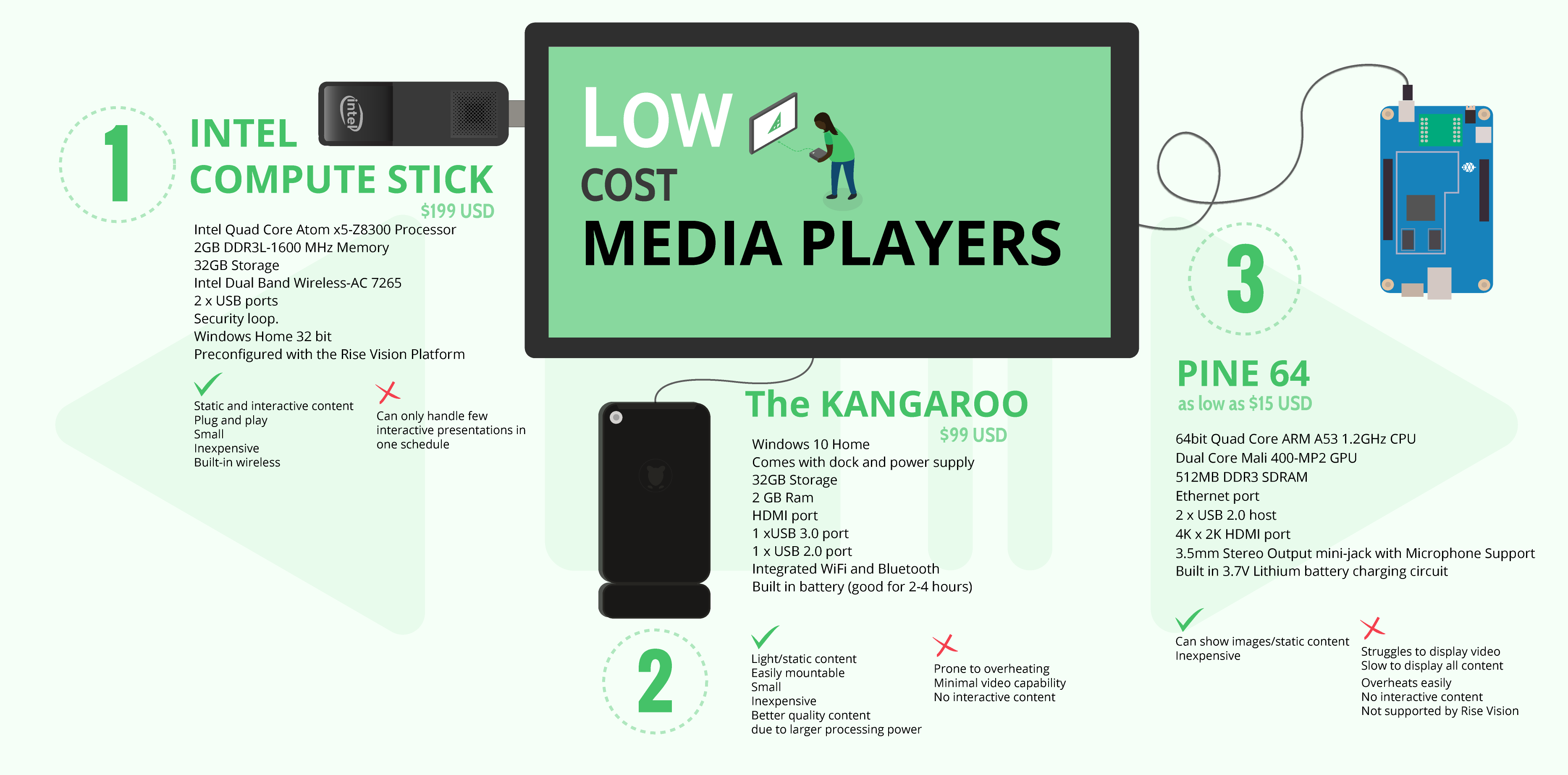 Tell us about your experience with the Pine64, Kangaroo or Intel Compute Stick in the comments below!