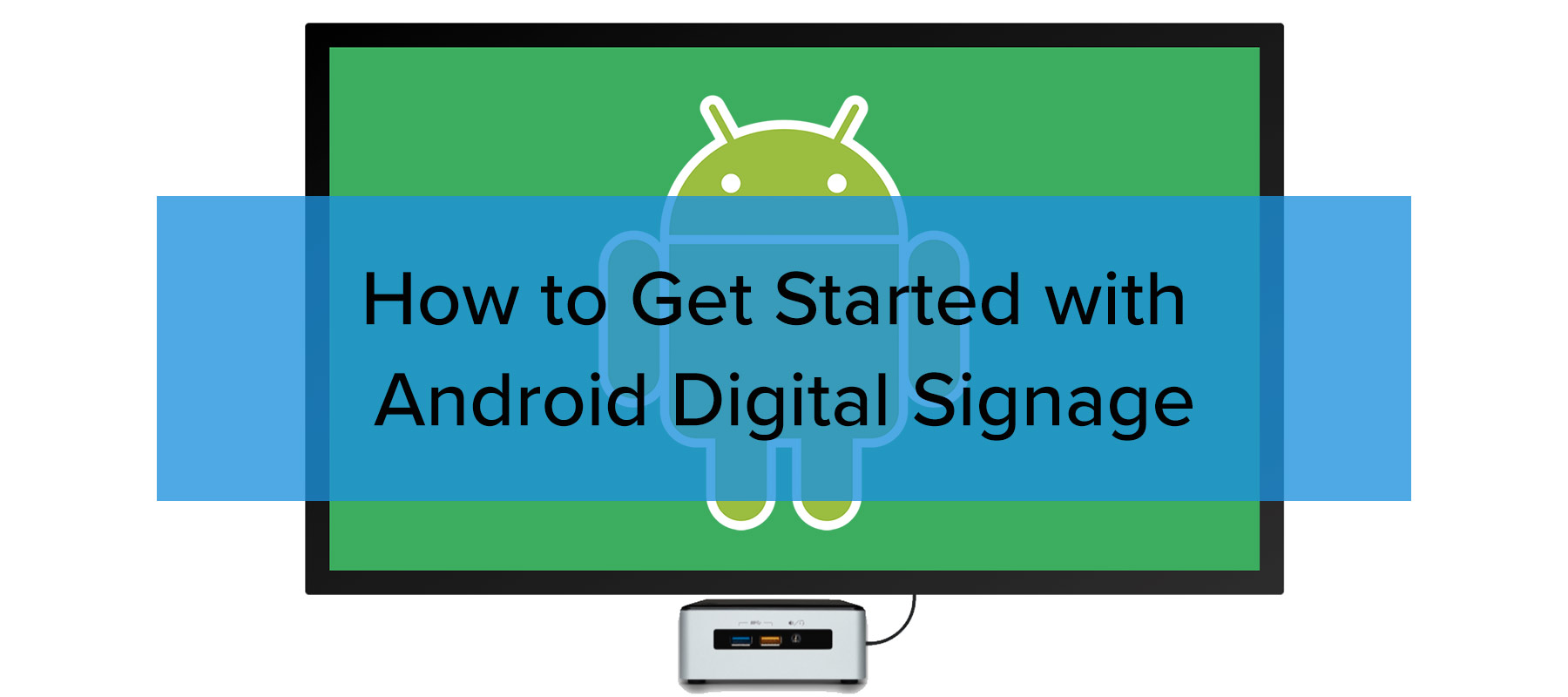 Digital signage is a crucial component of communication for businesses, schools and institutions. It lets you communicate information that people need to know, right where they need it — in lobbies and foyers, in classrooms, in meeting rooms and public areas. It's vastly more effective than traditional static signage at attracting, storing information and conveying information.
But traditionally, it's been quite expensive. Even as costs have come down, and basic digital signage stacks no longer cost thousands of dollars to buy and install, there's still been a technical barrier to entry.
Rise Vision for Android brings down that barrier, for good. If you have an Android device and a screen (or an Android TV), you can set up a digital signage display in a few minutes. Here's how it works.
Rise Vision Player for Android
Rise Vision Player is an Android native app available on the Google Play Store, that connects Android devices to your Rise Vision account. To use it, you need a screen and an Android device, as well as a Rise Vision account. It's reliable, low maintenance, and can be set up in just a few minutes.
If you're not a Rise Vision user, you can sign up for a free trial here, and test-drive an easily-customizable library of templates. You can build schedules that play automatically, reflecting time of year, time of day, and location within your institution or business. And you can embed real-time elements, social feeds, Youtube videos and more.
Why opt for Android digital signage?
Android digital signage has several major advantages over other, more complex solutions. In particular, it's less expensive to get started and easier to manage if you don't have any experience with digital signage.
Cost-effective
You can start using Android digital signage on readily available devices costing as little as $10. You might already have all the hardware you need. Because there's a large number of providers offering Android-compatible players and screens, including Android TV, pricing is competitive and there are plenty of options.
Easy to set up and use
Android is common, familiar and intuitive. Most of those who need to use it already know how, and there isn't a new operating system to learn.
Many hardware options
From Android sticks to tablets and smartphones, you have multiple hardware options, meaning there's plenty of choice and plenty of backup options.
Choosing to use Android for your digital signage means you don't have to get a dedicated, professional-quality media player; you can 'plug and play' with mostly consumer-grade equipment.
What screens can you use with Android digital signage?
Android digital signage works by playing signage schedules through a setup designed for watching TV, so it's extremely versatile when it comes to screen choices. If you have the option, the Android TV can cut down your hardware requirements even further, at the cost of locking you tighter into a consumer-focused ecosystem that might not suit your long-term needs.
Alternatively, you can use any standard wall-hanging or free-standing flatscreen TV or display screen.
Android TV
Android TVs come with built-in Android OS, including access to the Play Store, so you can set up Rise Vision player directly through the TV with the remote control — or even the voice assistant.
In this configuration, the Android TV is the whole system — the Android device, player and screen are bundled into one. That's good because it's simple, but you might find it cheaper to build the system from separate parts — and if your Android TV goes down you have to fix or replace the device, not just one component.
Standard flatscreen TV
Any non-smart flatscreen TV can be used with a media player. In this configuration, there are three parts — Android device, player, and screen. So it's more complex to set up, but individual components can be replaced more easily. The Android device you use can be anything, including a mobile device like a smartphone or tablet.
What Android hardware do I need for Rise Vision Player?
Rise Vision's Android player works with any device that runs Android 8.1, and 9. You can use a tablet, smartphone, or dedicated Android-based media devices like TV sticks, smart screens and boxes.
One option is to use a standard TV and an Android device you're no longer using. (Note that you'll want to return your device to its factory settings before you do this, for security reasons.)
What player hardware do we recommend for Android digital signage?
Our recommendation is the low-cost Android device preconfigured with Rise Vision.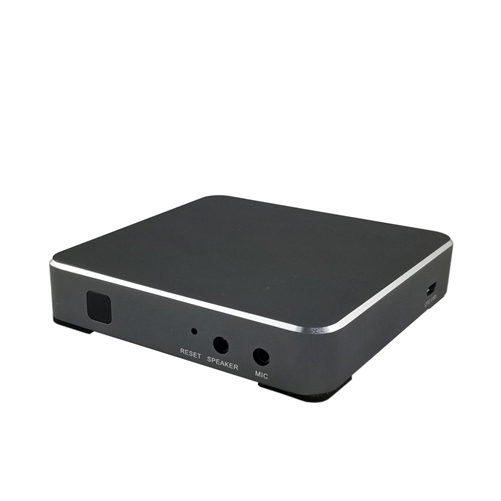 This plug-and-play Android player is specifically for use with Rise Vision and preconfigured so all you need to do is hook it up to your display via HDMI and enter your Display ID.
Choosing commercial-grade hardware for Rise Vision Player
This is a more difficult decision, simply because the range of options is vastly larger. A few things to consider include:
Storage and RAM
Ideally, don't opt for anything with under 2GB of RAM; there's an increased chance of it seizing up on you and needing to be rebooted. Similarly, look for something with around 16GB or more of onboard storage to handle more complex schedules. (Yes, these are the specs for the Minix NEO!)
Build quality
If you're going to have this device plugged in and running continually, opt for something that can take the strain. For instance, metal casing is better than plastic, because it radiates heat better. It also performs better when dropped by inexperienced hands, so consider paying a little extra now for peace of mind and performance down the line.
Connectivity
Connection quality and versatility vary between devices, so opt for something with a reliable connection. If you can't play through it because you can't rely on a secure connection, it doesn't matter how good it is otherwise.
Again, we'd always recommend choosing a professional solution! In particular, consider playing your Rise Vision digital signage schedules through your existing presentation tool, if you have one. Here is a list of more commercial-grade presentation tools.
Rise Vision Player for Android Installation and setup
To install Rise Player on your Android device:
Go to the Rise Player listing in Google Play: https://play.google.com/store/apps/details?id=com.risevision.androidplayer. Alternatively, search for Rise Player in the Google Play Store. Make sure you choose the Rise Vision player, not another app with a similar name!
Select Install on the listing and select the device you'd like to install it on. If you don't see that device, check if you're signed into Google Play with the right account.
Once you've installed the Rise Player application, you'll be presented with the activation screen to enter your display ID. Enter your ID and select OK.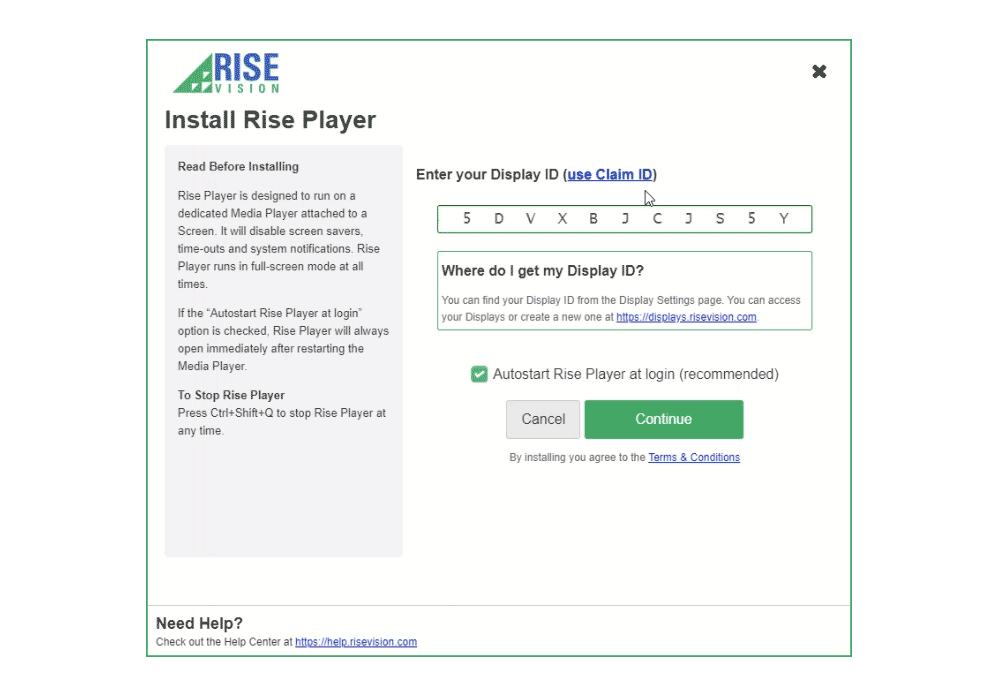 A display ID is generated when you create a display, and it can then be used to associate that display with your account across devices. You can get your display ID by opening https://apps.risevision.com/displays and selecting your display name. You'll see a message across the top of the screen with your display ID in bold.
You'll see a five-second countdown and your display will activate and be ready to show a schedule.
Conclusion
Android can be a great OS for your digital signage, especially if you're looking for a relatively small number of screens or you're not going to use them heavily. Invest in some fairly basic, low-cost equipment, such as a professional-grade player, and you can get impressive results.
Rise Vision Player for Android lets you use Android devices to play all your existing Rise Vision content, with all your schedules and embedded content intact — and installing it is as simple as installing any other Android app. Consider it as an interim or backup solution beside your main digital signage solution, or as a standalone setup that's quick and easy to get running on a small budget.