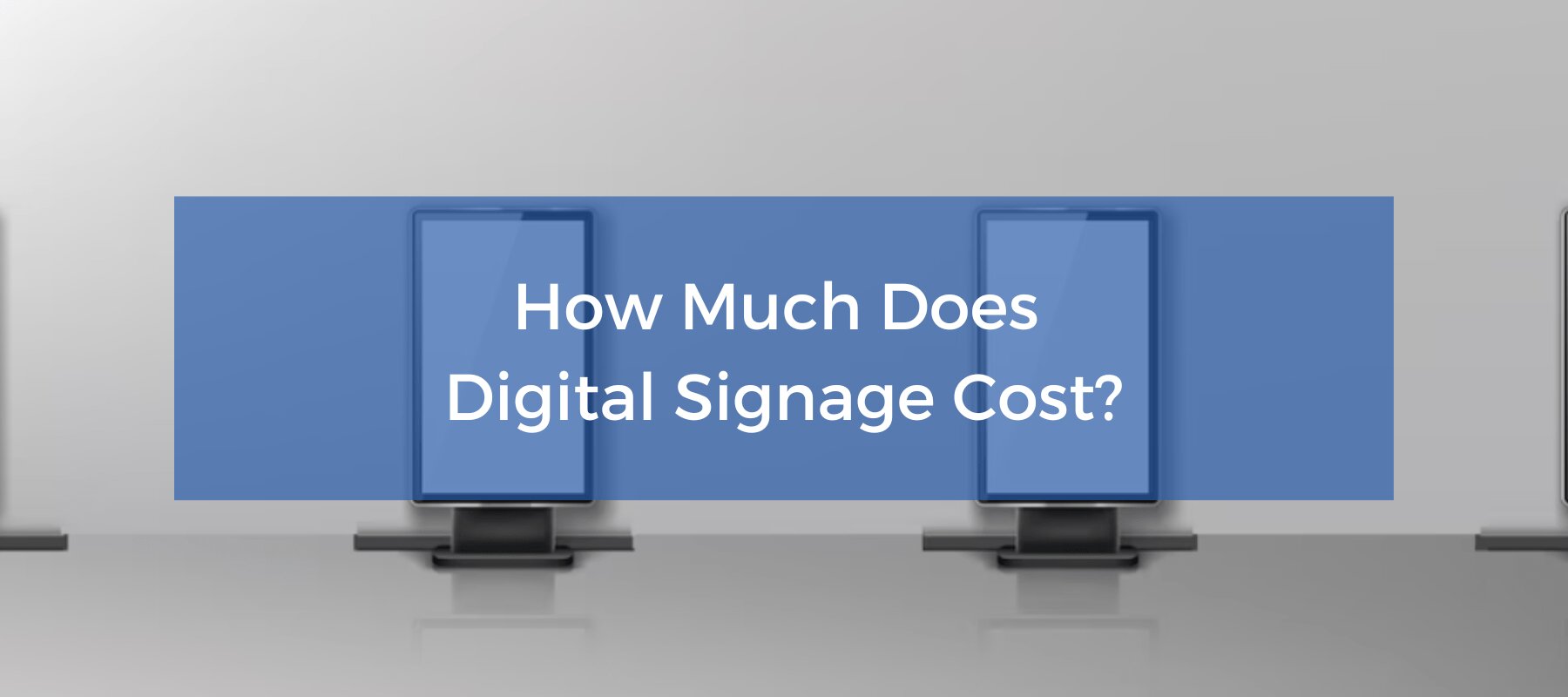 Digital signage systems are increasingly used by businesses to convey their message, promote their brand, and improve communication. It's become so popular that the global digital signage market is expected to be worth USD 45.33 billion by 2030.
Despite its wider use, however, there are still businesses that are hesitant about integrating it into their marketing and communications plans. Mainly, this is due to the upfront cost of digital signage, which can seem quite a lot at first glance.
But the initial expenses must be looked at side by side with the long-term savings and potential ROI that digital signs can bring. So that you don't have to, we break down all the costs associated with digital signage so that you can properly plan your investment.
Elements That Affect the Cost of Digital Signage
The total cost of integrating a digital signage system will include the prices for the installation, hardware components, software subscriptions, and IT support, among others.
Here are the cost factors that affect digital signage pricing and how much you can expect to shell out for each of them.
Display Screen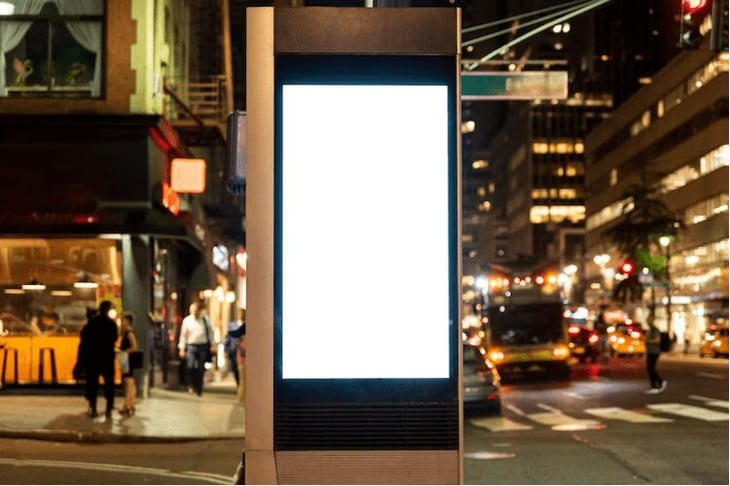 The display screen is only one of the expenses involved in digital signage. It can be the most costly, but the good news is that you have a lot of options here that can help you stick to your budget.
Commercial vs. Consumer Display Screen
There are screens that are commercial-grade and made specifically for digital signage applications. But if you want to save a little bit on this end and don't need a professional display, you can also repurpose a household TV.
Commercial displays will cost you about $2,000, while large TV screens with high resolution and media player compatibility will be priced at $500 to $1,500, depending on screen size and features.
To help you choose, find out what your business demands from your signs. Commercial displays are more durable and weather-resistant, which makes them ideal for outdoor locations. TVs repurposed as digital signs, on the other hand, are better for smaller and enclosed areas, such as a classroom or lobby.
Further, if you foresee your content being mainly videos or live streams instead of static images and graphics, you might need a commercial display with higher processing power and faster refresh rates.
Size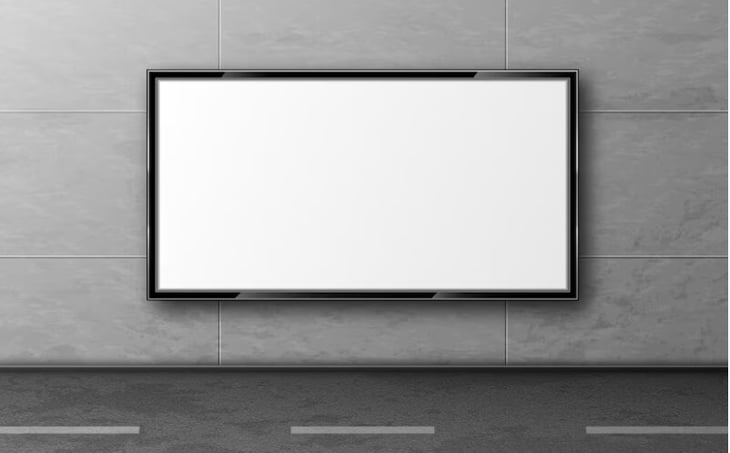 The larger the display screen, the more expensive it will be. But instead of getting a smaller screen to save costs, you need to consider the visibility and readability of your content relative to your screen size.
As a general rule, the size of the display screen you should get should be proportionate to the size of its intended location, the available wall space, and viewing angles.
Type
If you opt for commercial digital signage, you have a couple of options when it comes to screen type. There are touch-screen displays that viewers can interact with or video walls that combine multiple screens to display a single image.
Ultimately, decide what your business needs. More advanced digital signage options will cost more than basic ones. Depending on the type of screen, it may set you back $10,000 - $20,000.
Media Player
A media player is a critical component of a digital sign. It's what allows you to steam or display content on the screen, so getting one with good memory and processing speeds should be a top priority.
Media players can come in a range of features and performances. There are those made specifically for commercial digital signage, such as the Nvidia Shield HDR Media Player, which costs around $200.
Market options are also widely used and just as reliable as commercial-grade players. Among those include:
Fire OS

: $30 - $80

Raspberry Pi

: $35 - $160

Chrome OS

: $150 - $700

Windows

: $50 - $300

Android

: $25 - $700
You can also opt to substitute a media player for a mini PC, depending on the setup of your digital sign. Keep in mind that this will be more expensive, but will support more complex and advanced applications. Mini PCs cost around $100 for basic models to $1,400 for powerful units.
Cabling
If you're going for a wired digital signage system, you need to think about cabling. It's not much of an expense, as a 6-foot HDMI cable will only set you back $13.
But visible wiring can be an eyesore, so you might consider hiding them behind walls, which is a renovation job that will cost money. Better yet, explore wireless presentation systems to skip cabling technicalities and expenses.
Mounts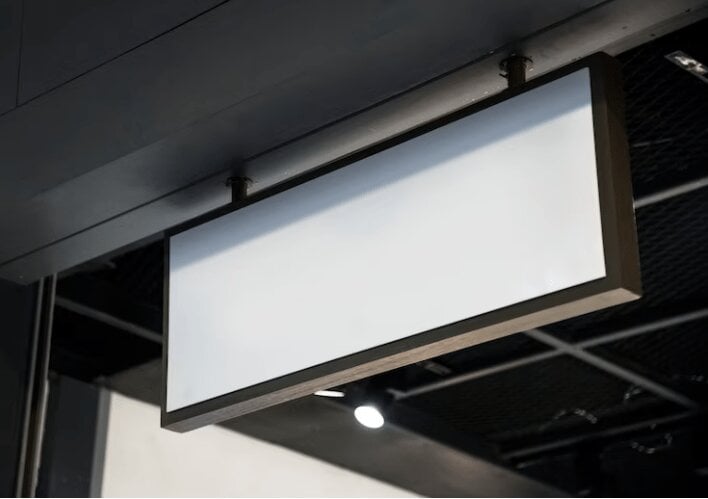 Depending on where you place your digital sign, how high it is on a wall, its angle, etc., you'll likely need to invest in mounting hardware. There are various options in the market, so quantifying the cost of screen mounts is quite difficult.
Ultimately, we recommend that you determine the exact type of mounts that you need and canvas your options. But to give you an estimate, you can expect commercial mounts to run north of $200 and consumer mounts to cost about $50 - $150.
Installation
The cost of installing your digital signage will highly depend on your location, the scale of your signage system, and all the complexities involved. Installation costs can start at $200 for the smallest and simplest digital signs, such as one or two-screen setups. Larger and more complex integrations can go as high as $2,000 - $10,000 to install.
Make sure that you talk to multiple installers and compare quotes to get the best deals.
Software & Licensing
Digital signage software is your platform for managing and optimizing your content. You may find features for scheduling, templates for content creation, playlist managers, etc. Different providers may offer fewer or more functionalities, so you should do your due diligence to find the right software for your needs.
Digital signage software can be either cloud-based (SaaS) or non-cloud and installable. We recommend the former, so you can completely rely on the SaaS provider for backend upkeep. Cloud-based software is available of on a subscription basis, with most providers using a pay-as-you-go scheme where you only pay for the services that you need.
High-quality digital signage software will usually start at $7 a month for a single screen, plus additional fees for any extra services you choose to avail of.
Ultimately, when deciding on which software to choose for your digital signage, ask yourself the following questions:
Is the software scalable? Will it allow you to grow your screen network?

Is there backend support for updates, bug fixes, and security patches?

Is there easy and reliable access to a support team?

Is the software secure?

Does it offer the features you need to maximize your digital signage system?
If your chosen software does not satisfy your requirements, then you'll end up spending more money than needed. When on the market for digital signage software, always consider the value it can give your business and how that correlates with the costs.
Content Creation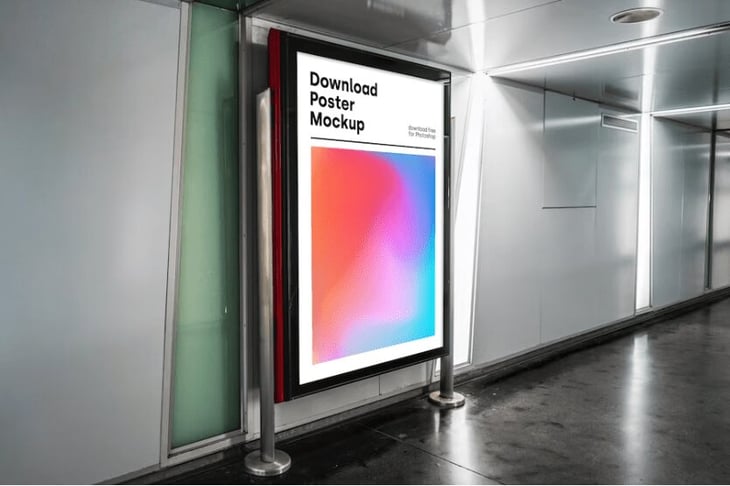 The cost of content creation for your digital signage is also quite difficult to quantify because it will depend entirely on your content plan. For example, static images and graphics will cost cheaper to curate than interactive touch-screen content.
Some digital signage software may have templates that allow you to easily generate digital signage content. But these are often basic designs that may not suit your brand. You'll likely need to engage talent to curate your content, such as graphic designers, video editors, and copywriters.
IT Support & Maintenance Personnel
Digital signage is a developing technology, which means that you will have to conduct system upgrades and maintenance regularly. While most aspects are easy to navigate without experience, you may need IT support for more complex upkeep.
Provisioning
One area that's technical enough to warrant the help of an IT professional is provisioning, which is the process of connecting and configuring your hardware to use for digital signage.
Technical know-how on internet connectivity and device networking is required to provision your digital sign. So if you don't have an in-house IT team who can take on the job, you may need to outsource it, which will roughly cost you $250 - $350 per display.
If you're using Android digital signage, you might be able to save on provisioning costs since these devices support easy USB provisioning that you can do yourself.
Integration
You'll also need to integrate all the required components into your digital signage system, which can be a complex and time-consuming process.
While you can do this yourself with easy-to-integrate software solutions, we recommend outsourcing the process to expert IT staff to avoid more costly problems in the long run.
Software Onboarding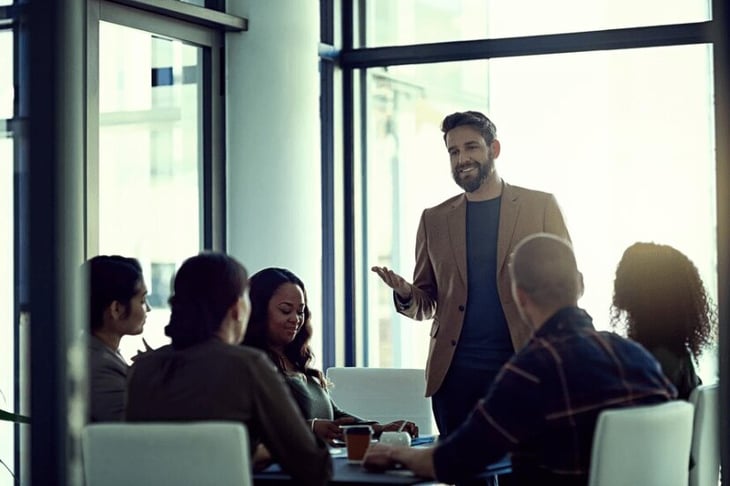 Most digital signage software is designed to be easy to use, even without IT experience. But then again, if it's your business's first endeavor with digital signs, learning how to use and operate the software will be a learning curve.
That said, onboarding and training your staff to use digital signage software should be an expense that you are prepared for.
Troubleshooting and Maintenance
Digital signage systems are not bulletproof. You'll likely encounter a technical issue at some point, whether software or hardware related.
So you want to have an IT team on stand-by to troubleshoot any issues quickly and conduct routine maintenance to keep the system functioning as it should.
The cost of IT support will depend on the scale of your network and the scope of their responsibilities.
Life Cycle
When making the calculations for digital signage, you also have to account for its life cycle. A basic digital sign will last five years before the hardware degrades, which means you'll eventually need to pay for repairs, replacements, or upgrades.
Commercial-grade digital signage may last longer because they're made to withstand rigorous use and extreme conditions.
Hidden Costs
In addition to the components and cost factors above, you also need to be aware of any other potential expenses you might have to operate and maximize your use of your digital sign. These may include the following:
Graphic design or video creation

Software-supported content

Photo and image licenses

Hiring models and photographers to create your own images

Copywriters

Scaling expenses

And more
You should also be wary of using free digital signage software. While these can be usable and effective, they typically do not have the same user-friendly interface, regular updates, and backend support as licensed software. That means you'll still have to shell out money for these at some point.
Is Digital Signage Worth the Price?
Digital signage is a powerful way for businesses to communicate their message, promote their products and services, and engage their target audience enough to convert them to customers. The best part is that it's very sustainable, scalable, and easy to integrate into your current marketing or communications plan.
With all the benefits that it can yield for companies across industries, digital signage systems are quickly replacing traditional signage like posters, flyers, and other printed collaterals. While the upfront cost can seem like a lot, digital signs can actually save you more money in the long run.
What's important is that you take the time to compute all the associated costs and set a realistic budget for your digital signage investment. And before committing to anything, consider testing if digital signage is right for your business.
Rise Vision offers a 14-day trial period for its cloud digital signage software. Sign up today and get a glimpse of how digital signage can find its place in your business.