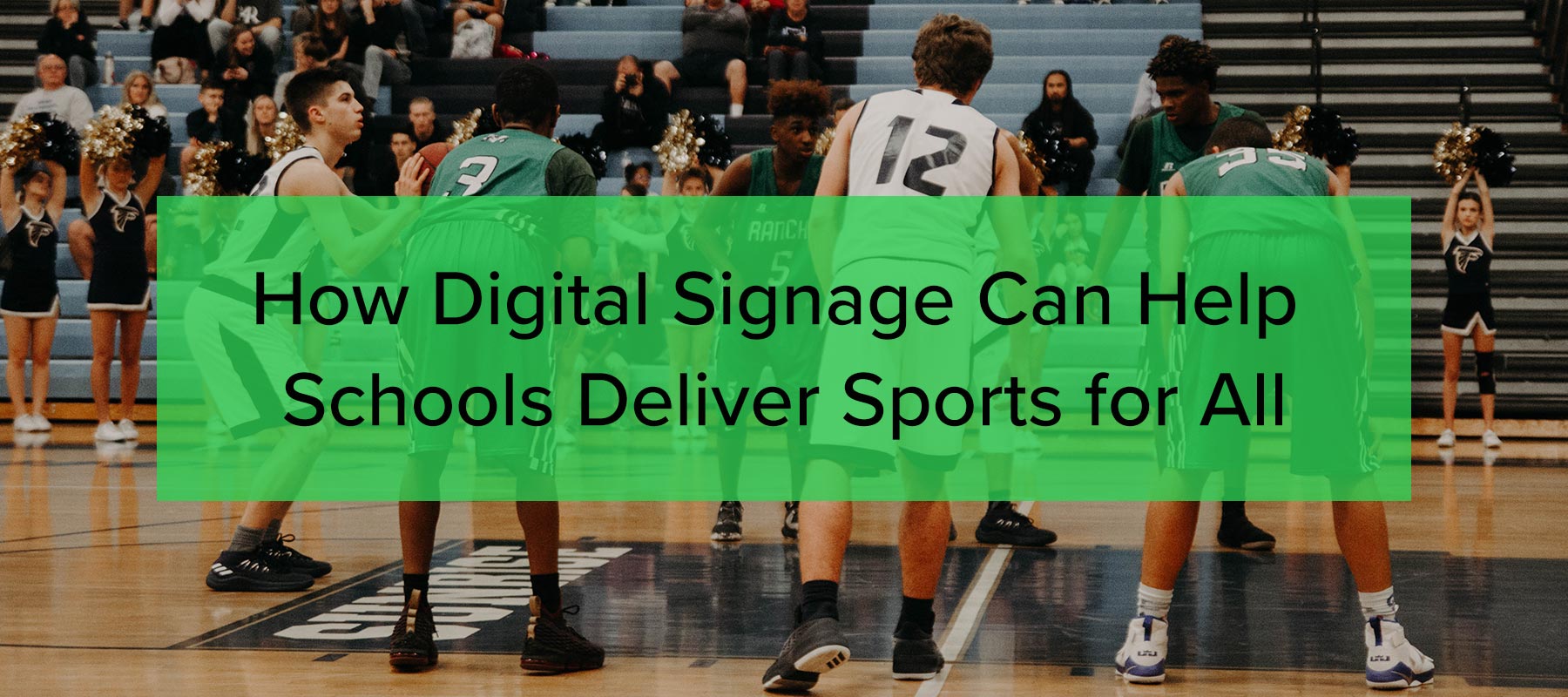 School sports form a major part of many American kids' experience of education. Alongside official PE lessons, school sports help foster many benefits, including a greater sense of belonging, opportunities for teamwork, collaboration and success, and the establishment of lifelong healthy habits of physical activity.
However, there's still work to do to make sports more inclusive. Effective use of digital signage around the school can help with everything from making game day go better to improving participation rates, particularly among underserved school communities.
First, what does sports look like in America's schools?
The state of play: School sports in the USA
At some point, most American kids play school sports. The CDC's (pre-pandemic) 2019 report shows that across ages, genders and incomes, about 57% of American school-age kids played on a sports team organized by their school or community:

That picture is complicated by the inclusion of community as well as school teams, but since the line between the two is blurry (many community teams use school facilities, many school teams are deeply rooted in local communities) it's accurate enough.
A closer look shows that school-age sports tail off as kids grow older. In 9th grade, 61% of kids play on a school or community team; by 11th grade it's 59%, and at 12th grade it's 49.8%. This is probably because of increased pressure on time caused by looming graduation, among other factors.
There are also far more boys than girls playing school sports at every age, and more kids from higher-income than lower-income families.
Additionally, participation in sports has fallen from a 2011 high and though the fall is minor in percentage terms, it represents a large number of students leaving school sports — or never beginning them.
Sports, studies, and school PE
What about compulsory physical education classes? PE classes are needed and mandated for K-12 students in the public school system in many states. Experts agree that school is one of the best places for kids to be physically active because they already spend so much time there, and because of the known benefits to academic learning (and emotional wellbeing) that come with increased physical health.
However, only about half of American kids get enough physical activity at school, according to a 2013 report from the Institute of Medicine. The Institute recommends that PE in schools should account for about half an hour a day for elementary school students, 45 minutes for middle and high school students, and that these 'core' PE times should be augmented by physical activity at breaks and lunch, and by before- and after-school sporting activities.
The institute recommends that these activities should rise in older students, whereas we've just seen that, under various pressures — ranging from more schoolwork to other hobbies and interests to damaging stereotypes and insecurities about physical appearance — participation in school sports falls with age.
Why school sports matter
School sports, as we've seen, are fundamental to students' wellbeing. Participation in high school athletics correlates with improved access to college, even when controlled for other factors (though serious gender and racial inequities reveal themselves in the figures). This advantage is sometimes because such students are scouted for college athletics programs; however, even when they are not, sports participation allows students to present themselves to admissions boards as well-rounded, competent and committed. This is not fiction: the benefits to students of playing sports are real, and really are transferable to other areas of life — including higher education, and employment.
School sports participation is credited with improving everything from leadership skills to time management, and is 'predictive of several indicators of healthy adult development, including active participation in the political process and other types of volunteer activities, continued sport engagement, and better mental health.'
Therefore, students should be encouraged to participate in school sports, including by helping to drive whole-community involvement and encourage a sense of ownership and identity with school sports teams.
How can digital signage help bolster community links, encourage existing players, and boost sports participation among students?
Athletic area signage and directions
Kids mostly know the way to the gym. Parents, visiting relatives, talent scouts, local TV crews? Not so much. They might need breadcrumb-like trails of signs to follow, especially in larger or older school buildings where navigation isn't all that intuitive. Static signs are obviously capable of doing the job, but there are a couple of shortcomings that can't be readily overcome.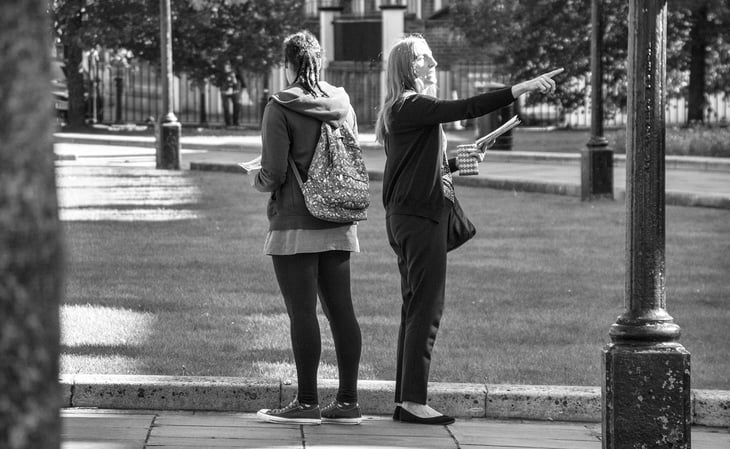 One is that people tend not to notice static signs. Whether it's an extension of the 'banner blindness' that makes online ads seem invisible (what's the last one you can remember? What's the last billboard you can recall?) or something to do with their unmoving nature, static signs simply don't garner much attention. Most people will walk right past a static sign showing the way to their destination. By contrast, digital signs get up to 400% more views.
Another is that static signs are, well, static. They either have to be out all the time, constantly telling an uninterested audience of school kids, teachers, and janitorial staff something they already know, or they have to be put out and taken down for each event, and stored in between.
Digital signage software and signs that can be centrally controlled are a much better solution. We've already seen that they attract more eyeballs when they're up; when they don't need to be, they can simply be switched for more relevant signage, perhaps encouraging better behavior in corridors or more inclusive attitudes among students.
In-play signage
In-play, there's even more scope for digital signage to shine. Static signage can't show the same play from different angles, or repeats of plays while teams get back into position. And it can't show video ads and messages of support during halftime either.
One of the big problems with games in larger schools is that viewers can't see the game well. The view from the bleachers isn't always enough, and there's no jumbotron in a high school gym. Besides which, many viewers are there to see one particular player, and when their own child is lost among a sea of identical outfits they lose interest too. Indoors, especially, existing digital signage can be used to display feeds from digital cameras closer to the action; in some cases, it's possible to do this outdoors too, though obviously, the process of moving the screens involved is more laborious.
Digital signage can also be used to display scores and highlights, including to other areas of the school than the field or gym. At any given time, some parents, relatives, and even staff are fielding phone calls or visiting the bathroom (which, thanks to the imaginative use of digital signage, they'll be able to find easily). They still want to know what's going on.
Reporting on games
So far, we've mostly talked about using digital signs on game night. But school sports are seasonal; they're over when the team gets to regionals or state finals, or when the season ends; not in just one game. The school's relationships with its sports teams can be complex, but it's normal for players to have networks of friends, who don't necessarily play the same sport themselves, rooting for them. Ongoing score reporting, game highlights, and comparisons with other teams in the area make compelling viewing for kids who feel they have skin in the game, if only by proxy.
That feeling of involvement can be extended by skillful use of reportage and commentary to underscore what's sometimes referred to as 'school spirit' — the feeling that a team's success is the school's success. It's also an opportunity to help drive social and emotional learning (SEL) success schoolwide by emphasizing the team's successes even when it loses its games, showcasing restraint, sportsmanship, and teamwork as exemplars for conduct in other areas of school life.
Who's watching when students play — and how are they watching?
School sports are fundamentally a local phenomenon. Local communities, parents, competitions, extended families and groups of friends and neighbors are the audience, at games and at home. Of course, they're joined by the coaches of opposition teams, and by a nationwide network of competing professional and collegiate coaches.
However, local media currently shows less local school and community sports than ever before. Live streaming has become a crucial element of spectatorship for school and community sports, and while the process had already begun by the 2010s, it was accelerated by the Covid pandemic.
Partly, it's because of the reduced size and footprint of local TV stations; partly it's because streaming allows viewers to be presented with unique, curated content that focuses on what they actually want. There's also the trend away from professional sports on national and regional TV stations, as audiences are lost to often-branded streaming channels.
When parents and students want to watch their children and peers perform and compete, then, they either go to the games and meets, or they watch them via streaming services.
Streaming is theoretically available to anyone with a smartphone and a Google account, but footage and camera operation are usually pretty poor, and there are no extras. Large schools or schools with sponsorship deals may be under contractual obligation to protect the intellectual property their advertising and sports kits represent. Increasingly geographically distributed families want ways to enjoy and support young peoples' sporting endeavors.
When it works, streaming can be a way to bring families and communities together. Noel Klippenstein coaches girls' basketball at Westfield School, Fairfax County, Virginia. She said her parents, who live in Missouri, have followed this season more than any other, thanks to the introduction of the Westfield Live program, a student broadcasting organization used for daily announcements.
'They got my seventh-grade niece to show them how to put the games on their TV,' Klippenstein said. 'Now they get to see our games on the big screen, and that's really fun. When we see the view count on these videos, it's awesome.'
Rise Vision sporting templates
One of the key tools at Rise Vision users' disposal is our ever-growing range of templates, which include seasonal, events-based and activities-oriented pre-structured slides that let you build out scheduled messaging.
For sports, that can mean building hype in the run-up to a big game, or encouraging team spirit in the interim.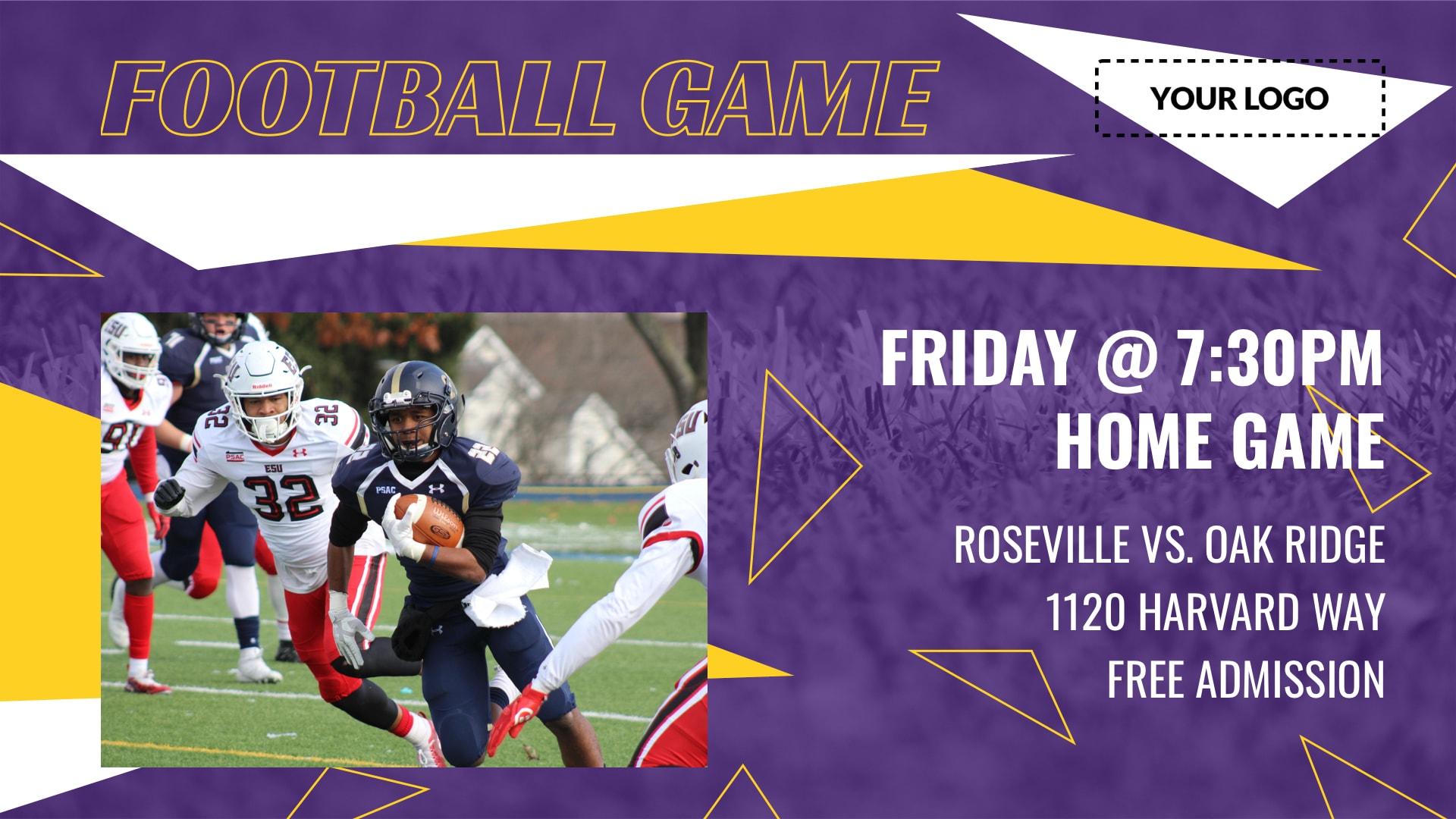 Get started with this game reminder digital signage template here.
It can also mean giving in-school audiences access to scores and news, or celebrating victories: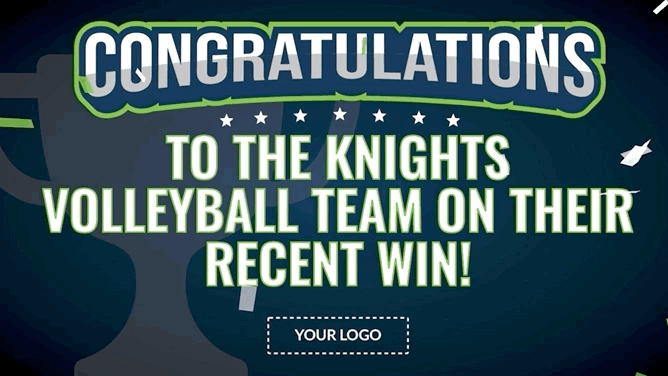 Get started with this sports victory digital signage template here.
But Rise Vision templates and schedules aren't confined to in-school screens and audiences. They can be shown to audiences at home too, thanks to Rise Vision Anywhere, which lets users embed content in 'new page' pages, share it as URLs across messaging apps and social media, or embed it in LMSs and intranets.
Rise Vision and Scorestream
ScoreStream is a streaming platform that gives its viewers access to sporting events from 25,000 schools across America. There's a template library, scoreboard builder, desktop and mobile app, and integration with multiple social networks. And templates are customizable with scores, mascots, logos and more. If this sounds familiar, it's because it's very similar to the approach Rise Vision takes; in that light, it makes sense that we'd be partners.
'It's great to partner with an organization like ScoreStream that shares our mission of helping schools communicate. High school sports play a significant role in many students' lives and we hope that giving schools the ability to share the results of these sporting events will encourage more students to get involved in their school community,' says our head of marketing, Shea Darlison.
ScoreStream goes further into the sports experience, especially on their mobile app, which offers real-time scoring, chat and celebrations with other fans, photo editing tools, social sharing and more.
Sports templates from ScoreStream and Rise Vision
Rise Vision and ScoreStream have released two custom templates for schools using Rise Vision digital signage, designed to let them share information from their ScoreStream account across Rise-powered screens around the school.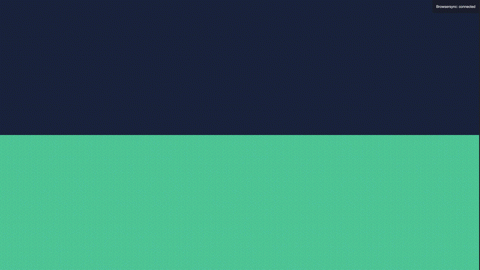 'As local media outlets have declined in local sports coverage, we have made it our mission to help spread the news about local teams in local communities. We are excited to partner with RiseVision to help keep students and local sports communities up to date,' said Derrick Oien, CEO of ScoreStream.
There's also a template designed to let schools show real-time games scores from any game in California, Illinois, Kansas, New York, and Texas on your Rise Vision signage, with data supplied by ScoreStream.
To sign up and use the template, go here; for instructions on installation and optimization, go here.
Recruiting for teams and encouraging participation
Sports team recruitment can be a mixed bag. Some players get spotted during mainstream school physical education classes, especially in those cases where the school PT coaches also coach its sports teams. The sub-12 second 100-yard sprinter might get an invite to track and field, the only kid in his class who can do a lay-up is probably going to get a chance to do it in the school colors. And young athletes know that sports can equal scholarships, meaning better schools for less money, even if a professional athletic career is still a far-flung dream.
But it also happens by the tried-and-tested method of a signup sheet stapled to a corridor notice-board. That's fine as far as it goes, but it's often difficult to find one sign-up sheet among the layers of paper that seem to accrete faster than they can be torn down. Kids with the talent and interest to join the school football or hockey team might lack the detective skills necessary to track down the signup sheet.
Some students may not know that they have the physical skills, attributes, or even the interest needed to play sports for their school. The obviously highly-athletic may come to coaches' attention, or reach high schools with a Little League record and a clear idea of their athletic abilities. But many students have the time and ability to play sports, but they don't know it. And in many cases, they don't realize there are sports at their school that would suit them because they're not involved in the world of school sports beyond compulsory physical education.
Digital signage has a twofold role here. First, it can be used in classrooms and corridors to encourage a schoolwide culture of participation in sports, sending the message that doing sports is normal: not just for the chosen few, the athletic scholarships of the future, or stereotypical 'jocks,' but for everyone. This has to include making people who don't regard themselves as 'sporty' feel welcome rather than berating them for being inactive.
Second, it can be used to tell people when, where and how to get involved. Pair it with open sessions of less-common or less well-understood sports, to help build numbers and recognition and encourage those new to the activity to feel ownership and safety. If you're struggling to fill the school's lacrosse team, or you're trying to find ways to boost sports participation in girls and kids from low-income families, this could be the way.
Digital Signage Templates for Sporting Events, Big Games and Physical Education
We've designed hundreds of digital signage templates that are easy to add text, images, and video too. We've saved schools countless hours of signage design time thanks to our vast library of templates. Below, are a few sports-themed templates that your school may find useful for this year.
Zoned Playlist Sports Slant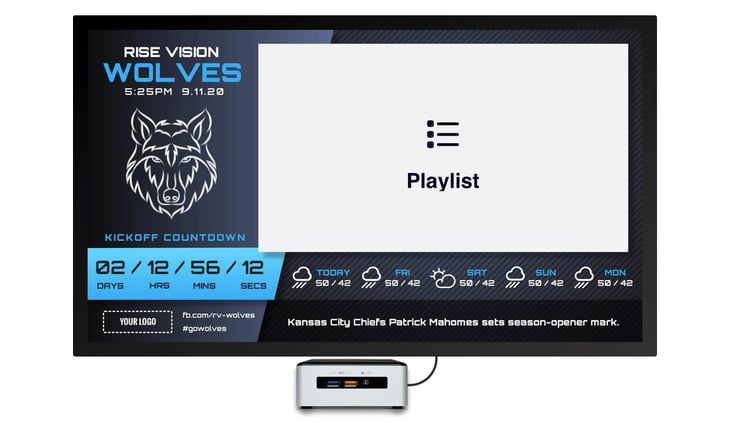 Download this digital signage template here.
You may want to promote the next big game in school hallways or in the gymnasium. This template counts down to game time and includes the ability to embed a presentation as well as display news and weather forecasts.
Sportsmanship Rules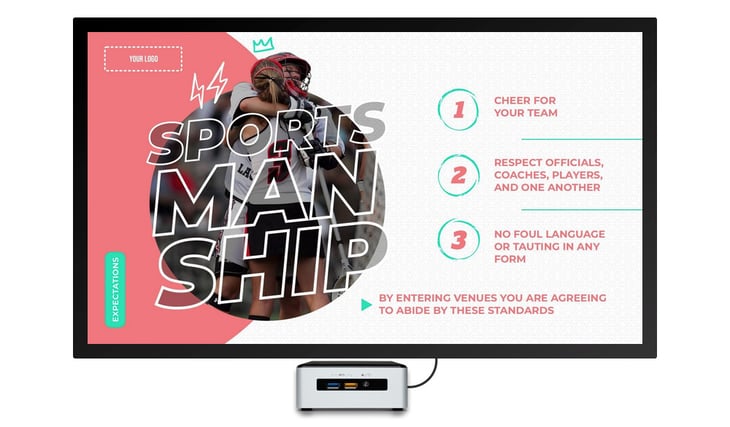 Download this digital signage template here.
This is a great template for physical education programs. Not every student may be interested in sports, however, learning the values of sportsmanship can be helpful for everyone in real-world situations. With this template, you can enter your own sportsmanship values, colors, and logos.
Concessions Menu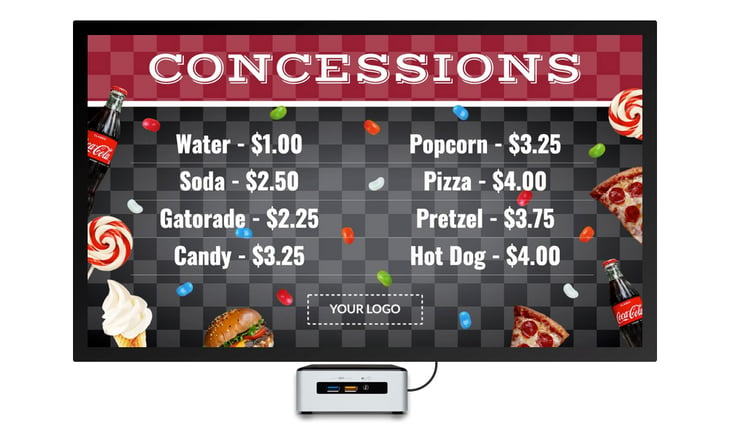 Download this digital signage template here.
We have digital signage templates for every school activity imaginable. Including concessions! Hungry parents and students are going to want to munch up during game time. Get ready to serve them with this menu-styled template.
Conclusion
Digital signage can't solve every problem schools face when it comes to encouraging sports participation, but it does put a powerful tool in the hands of school administrators — one that can help build a more cohesive and welcoming school culture as well as helping develop the habits of physical activity that correlate with better health, academic and life outcomes.
At the most basic level, centrally controlled, responsive signage can help school visitors find the game, the score, and the action. Classroom and hallway signage can help foster a sense of inclusion and belonging using sports. And when it's combined with other outreach programs and reminders that there's value in sports beyond scholarships and career hopes, digital signage can help support healthier lives.