Using pre-designed, animated Templates on your digital signage is the easiest way to have fresh and engaging content show on your displays without having to spend hours and hours each week creating designs. Templates save time by allowing you to incorporate personalized elements with an existing design, so instead of starting from scratch, there's already a lot of groundwork in place to work from.
But what if you don't have any images available to incorporate into a digital signage Template? Maybe you have an event at an outdoor park you'd like to promote, but you don't have any original photos of happy picnickers on hand that match the theme. Or maybe you have a text-only message you want to share, but no inspiring background available to make it pop.
Stock images are an amazing tool to use alongside with your digital signage to make your designs look professional, memorable, and effective. And incorporating them with your digital signage can be done under 5 minutes and with just a few clicks. So, to give you a little inspiration for some of your future signage, we've compiled our 9 favorite websites for free (yes, free!) stock images and paired them up with a Template from our gallery. Read on to see our designs!
What are stock images?
Stock images are a bank of images intended for use and reuse in commercial design settings; an accessible and affordable alternative to hiring a professional photographer. Even if you don't know what stock images are, chances are you've seen thousands in your day-to-day life. The mountain landscape reflecting into a lake on the brochure you picked up for a yoga retreat? Probably stock photography! The dew-dropped fruit on the packaging of a vegetable peeler you picked up at the grocery store? Also stock!
Using stock images in the design world is standard practice to help a project move faster and finish on a tighter budget, so why not follow suit and take advantage of the same amazing tools world-class creative teams are using?
How much do stock images cost?
The price of stock images can vary depending on your needs. If you're just in need of one particular image--maybe a child eating an ice cream cone--chances are you can download a one-off for under $5. A lot of the time, stock images will be bundled into themes and sold as packages so you can have many related images to choose from in one purchase.
And believe it or not, there are also hundreds of thousands of free stock images online that have been made available to the public under the Creative Commons CC0 license. Photography, illustrations, and digital design work can be shared at the discretion of the original artist, and in choosing to do so, they grant legal access and permissions for commercial use.
Free stock images are a totally acceptable and legal form of media to use at your business or organization. The best etiquette to practice when using a free stock image is: if you're able to credit the original photographer, do so! If you're not able to, don't sweat it too much because the artists have a lot of good karma coming their way for sharing their work for free. But keep in mind, crediting a photographer is a simple way to increase their exposure and help them monetize in other ways, and it requires very little effort on your part compared to the effort put into creating their art.
The 9 best free stock image websites
So now that you know there's a free, legal, and easy way to up your digital signage design game, here are our favorite free stock image websites for you to peruse. As a bonus, we've included some examples of how we'd incorporate stock images into some of our favorite digital signage Templates. Enjoy!
Unsplash is a rapidly growing collection of stock photos submitted by artists for public use and has become one of the most popular stock images websites. Images uploaded to and shared on Unsplash are made available under their specific licensing terms: the Unsplash License.
On Unsplash, we searched "hot air balloon" then, combined our favorite image with a Full Screen Date and Time Template for digital signage. Here's the result: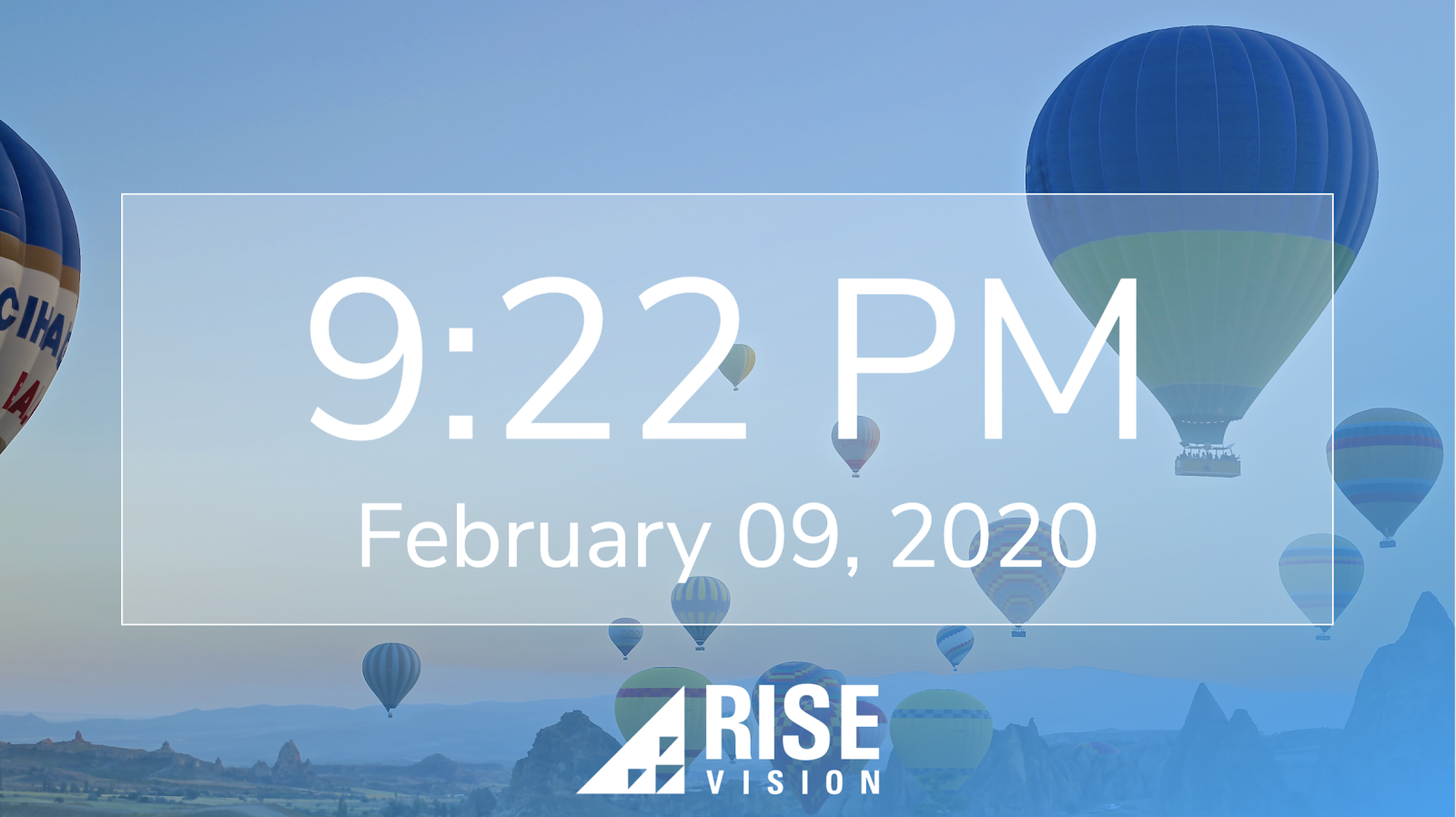 Skitterphoto is, as self-proclaimed, "A place to find, show and share public domain photos." Their licensing terms are as follows:
All photos on Skitterphoto are public domain.
This means that all photos are free to use for any purpose. You may download and edit photos and even use them commercially.
We like Skitterphoto because their homepage has a beautiful feed of "admin picks" so you can see what their curation team was the most wowed by on a given day.
On Skitterphoto, we found a photo we liked by browsing the admin picks on their homepage and combined it with the Office Greeting Template: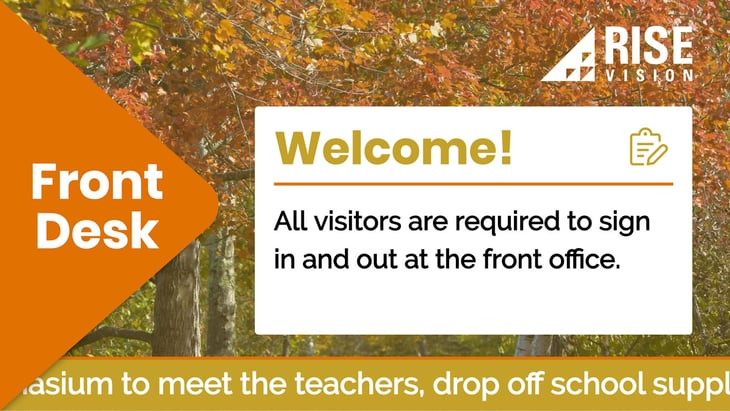 FOCA hosts images made available by the CC0 license, meaning they're available for public and commercial use free of charge. FOCA creator Jeffrey Betts states, "I launched FOCA in 2014 to share my love of photography with the world. Over the years I've taken countless photos and wanted to post some of those photos to use for free and give back to the online community."
FOCA's homepage is divided into categories (Workspace & Business, City, Technology, Fall, Winter, Architecture, People, etc.) so it's really easy to either find what you're looking for, or at the very least find some inspiration in just a quick glance.
On FOCA, we chose our favorite photo from the category "city" and combined it with the Google Slides and Weather Template: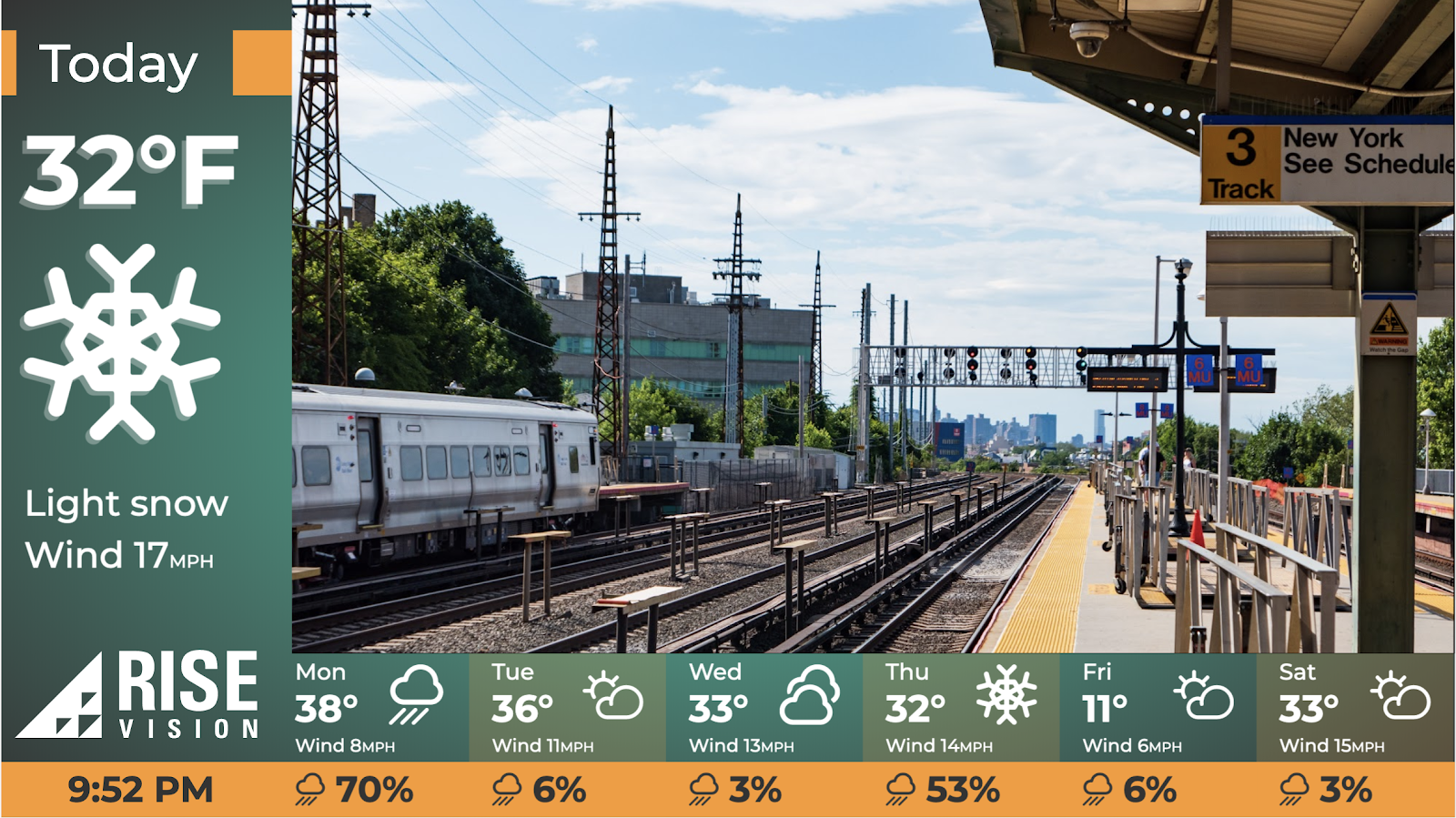 Gratisography has the perfect description to give you an idea of what they offer, so we'll leave it to them to share:
"The world's quirkiest collection of free high-resolution pictures, comprised of the world's best, most creative images - photos you just won't find anywhere else."
Like FOCA, Gratisography's homepage can be sorted by categories, but why do that when you might miss out on come crowd favorites in the "new" feed, like this cute monster. Gratisography is our go-to page for out-of the box, multimedia, collage, illustration, and creative digital design images. While Gratisography also has your run-of-the-mill stock images of nature and cityscapes, their image bank holds more imaginative selections that can add a little flare or humor to your digital signage design (with style, of course).
On Gratisography, we searched the category "urban" and combined our favorite image with our "Education Inspirational Quotes" Template:
Similar to Gratisography, Pixabay is not only a one-stop shop for traditional stock images, but also a great resource for content that's a step or two outside of the box. Along with their bank of beautiful photography, they also have a vast selection of illustrations, where you can find all different styles of illustrative work, from hand-drawn images to digital collage and design.
Here, we chose our favorite illustration and combined it with our "Happy Birthday Monthly" Template:
Pexels is not only a bottomless source for beautiful photography, but their blog is also worth checking out and following. In addition to their giant library of dramatic travel photography, they also use their blog to profile and interview contributing photographers. Find a favorite photographer, learn how they came into their practice, and follow their experiences and future work.
FreeImages is exactly what it sounds like… a library of… free images! If your taste is natural-looking shots of the outdoors and day-to-day life, this will be your go-to source.
Another great resource for free stock images, but Picspree is a little more strict about their terms. Be sure to read up on their licensing to make sure it'll suit your project (note, unlike CC0 license whose parameters have no expiration, Picspree notes that they have the right to discontinue licensing of a piece of content at any time, which means you may have to cease use of it as well).
Copyright licensing on photos grants rights to the artist for their lifetime, plus another 70 years after their death. This means 70 years after an artist passes, their artistic property becomes public domain (similar to how free sheet music databases are able to operate). New Old Stock is a collection of vintage photos that have shifted over into the realm of public domain and (most of them) can be used for commercial and public design.
Though this is a bit of a niche recommendation, it's certainly worth a browse, especially if you're a history buff.
Conclusion
Free stock images are a legal and cost effective way to acquire high end, high resolution photography and illustration for commercial design use. And when used in combination with your digital signage, your organization's visual messaging can go from ordinary and expected to unique, trendy, and pro. Keep these resources in mind for your next digital signage content update.
Related Articles