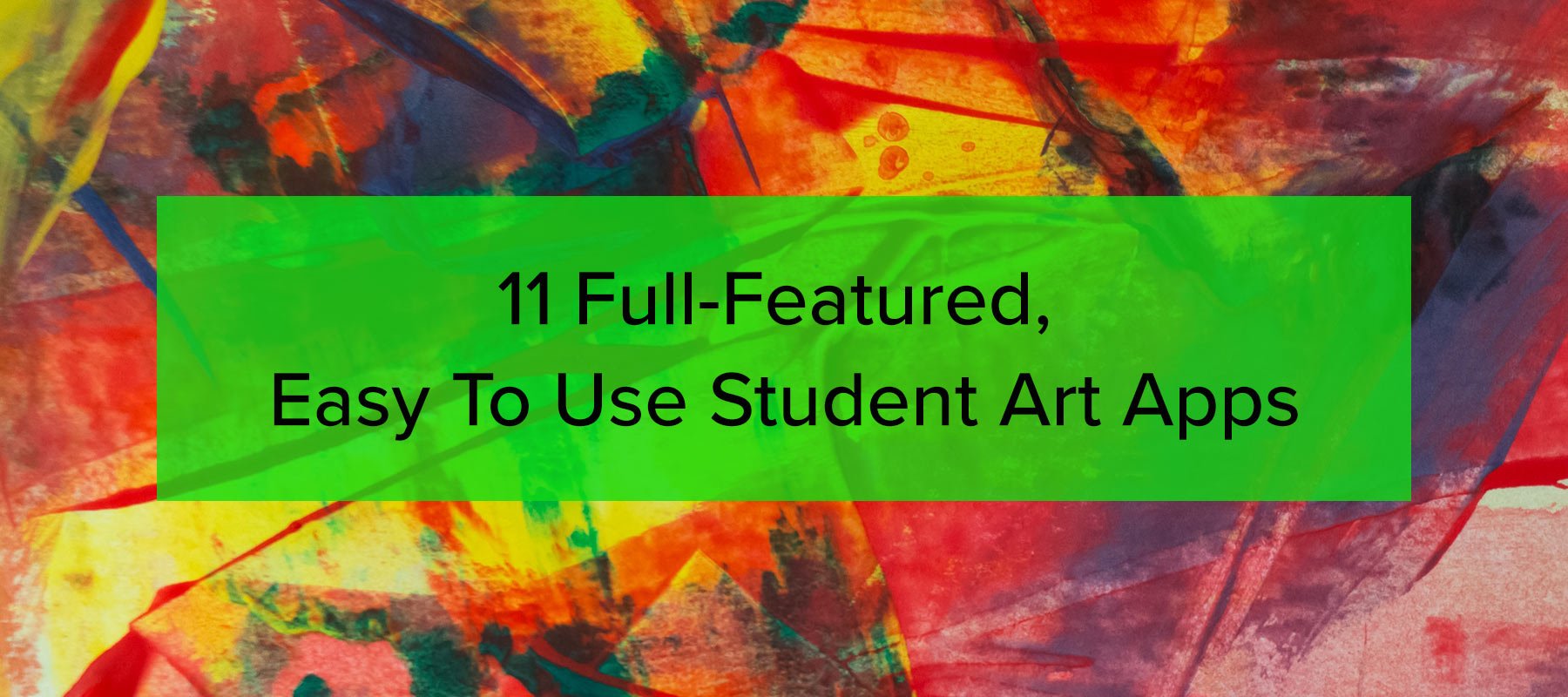 Using education apps in the classroom can set teachers free from the constraints of physical resources. You don't need to do science experiments with real chemicals, or have access to dozens of fine brushes to explore line weighting and shading. Students can build basic skills like color theory and line control in digital apps. They can conduct research and build portfolios and digital sketchbooks. They can even create complete art projects and portfolios.
For a teaching tool that combines a good range of features with ease of use in the classroom, Adobe Fresco leads the pack.
Adobe Fresco is a drawing and painting app for touchscreen and stylus devices. It replaces Adobe Photoshop Sketch. Support for the older app is withdrawn as of January 2022, but the features have been transferred to the new tool. Fresco offers users a full range of digital drawing tools: pens, pencils, brushes, pastels, difcustom ferent types of paints, erasers and more. It uses the same painting engine as Photoshop.
Fresco includes:
Pixel, vector, watercolor and oil brushes
Frame-by-frame and motion path animation
Simple, customizable interface and tool library
Interface with the Adobe Creative Cloud, including exporting PDFs with layers intact to Illustrator
Save to DropBox, display on Behance
Easily 'trace' over then delete photos using layers
Create line and color drawings quickly and easily
Import Sketch and Draw documents and work on them in Fresco
Fresco is a lightweight gateway to the Adobe Creative Cloud. If students already use Photoshop or Illustrator, Fresco is a useful addition that lets them keep working on the go. If they don't, it's both a powerful tool in its own right, and an introduction to the Adobe interface and toolkit. It's relatively easy to learn and comes with lots of support from Adobe. Premium plans allow users to interface directly with other Adobe tools.
Fresco pricing:
Fresco is available for free download for:
Desktop (Note: this will automatically detect your OS and choose the appropriate download. If you haven't already downloaded Adobe Creative Cloud, this will also download and install Creative Cloud.)
There is no Fresco for Android at the moment, though Adobe says it's working on it. It's also unavailable for Chromebook and Linux, and may be incompatible with older Mac OSs.
The free version of Fresco has limited features, though still enough to be well worth using for students. Upgrading to a paid plan gives you access to a library of over 1,000 custom brushes, 100GB of cloud storage, access to Adobe Portfolio, Adobe Fonts, and Adobe Spark, and Photoshop for iPad.
For most teachers and students, Adobe Creative Cloud is overkill. It's the industry-standard graphics creation and manipulation toolkit, offering over 20 apps for drawing, photography and animation. It includes Photoshop, Illustrator, InDesign and Premiere Pro.
It's tough to beat, but there's a learning curve and access is not cheap, starting at $19.99 per month for all apps for students and teachers. All Adobe Creative Cloud apps are accessed through Adobe's Creative Cloud app, and subscriptions include access to Behance and Dropbox.
Pixlr provides two tools. Pixlr X is a quick basic editor with easy, but restrictive tools.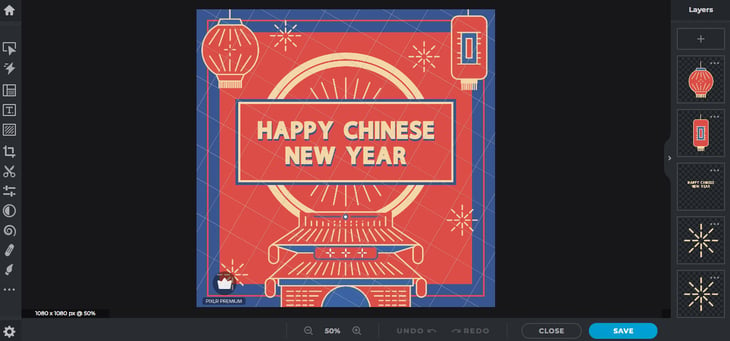 Pixlr E is a full-featured graphics tool similar to Photoshop.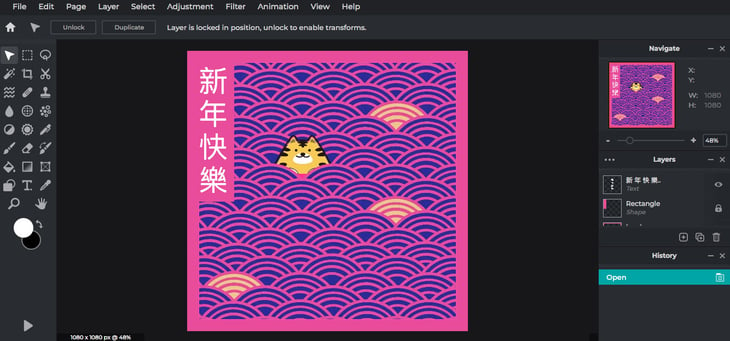 Both are web-based and accessed through a browser, meaning they're device-agnostic. That's a bonus if your students have diverse devices or may be moving from device to device over the course of a project.
Pixlr is Freemium and offers a lot less support than the Adobe suite. However, there's a YouTube channel with hundreds of videos showing how to use Pixlr to achieve specific effects.
Pixlr includes:
Image import and export from the web, or from a device
Photo editing and animation
AI background removal tool
Drawing with modifiable brush size and opacity and shape template
Color picker and color matching
Transform tools, remove objects, layers, and convert images to PNG and PDF
Batch editing
Effects and filters
Template library
The paid version also gives users access to thousands of overlays, icons, readymade text stickers and templates as well as tutorials on how to use them. Pricing starts at $7.99 per month ($4.90 per month) paid yearly for the Premium plan, with a 30-day free trial.
Pic Collage is an iOS app that speeds up the process of creating research papers, and lets teachers view students' work and offer advice and corrections before it's printed.
PicCollage includes:
Template library
Intuitive interface (in the iPad version, images can be straightened by shaking the device)
Tint, crop, paste and filter images
Edit photos
Add backgrounds
Add text boxes to annotate
PicCollage is a versatile tool for creating research pages and doing basic photo editing, though it's far from a full-featured graphics tool. It's supported by an extensive library of how-to videos on the company's YouTube channel, though teachers should beware that many of these may be distractions for some students.
PicCollage pricing:
PicCollage is free to download and use for iOS and Android, supported by ads and some in-app purchases.
Colorscape lets users create custom coloring sheets from photographs. It's more likely to be useful for younger grades, or as part of a project for older students. You can snapshot yourself, friends, places or items that matter to you, then color them digitally on the iPad or print them out and color them physically.
Colorscape is free for iOS and Android.
Essential Skeleton
Essential Skeleton describes itself as a 'fully functional, self-contained app covering the essential anatomy of the skeleton.' This is primarily intended for scientific education, but it lets students explore poses from any angle and improve their composition skills and drawing accuracy. Most useful for older learners, it's free from the App store.
Apps for working at home
Most students need to work at home. There are projects to complete and homework to prepare. Increasingly, distance learning is a fact of life. That will probably continue to be true, including at universities. So students need to be prepared for it. Which apps should teachers use for students when teaching remotely, or to complete work at home?
These apps might need to run on a range of devices, and should be robust enough to produce good results on low-bandwidth internet connections.
Procreate is the standout candidate.
Procreate is ideal for use on the go, with mobile apps for iPhone and iPad and a suite of tools for students to develop their skills. Its feature set rivals premium desktop apps.
Procreate includes:
Customizable brush styles and custom brush marketplace, in addition to 48 off-the-peg options
Intuitive interface that lets you move between layers with a tap
Animation tutorials
Transform, Warp, Layers, Blend modes, with Selections and an Effects library
Easily import and export files including JPGs, PNGs and PDFs
Color Dynamics, Color Harmony and Color History tools, as well as eyedropper color matcher and a separate Color Companion to colormatch without opening menus
Portfolio options to share work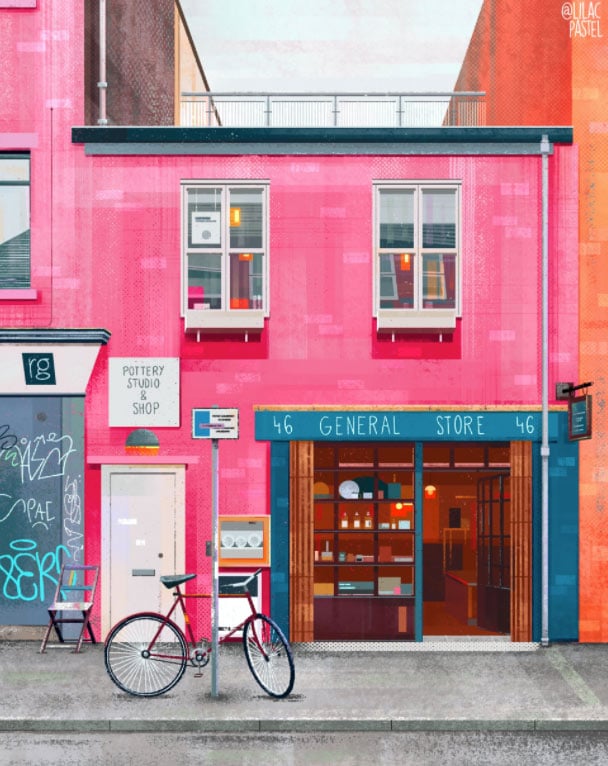 Procreate realizes that one of its major user bases is teachers, so it offers an extensive library of lesson ideas and templates. Ideal for everything from technical drawing through portraiture to poster design, Procreate is an excellent choice — for more advanced students. However, its extensive feature set may overwhelm younger or less experienced learners. There are handbooks for the main iPad app and the sister iPhone app. Procreate is available only on iOS devices.
Procreate pricing:
Procreate is available only on the App Store for iPad, priced at $9.99.
There's a separate, lighter-weight iPhone app, Procreate Pocket, priced at $4.99.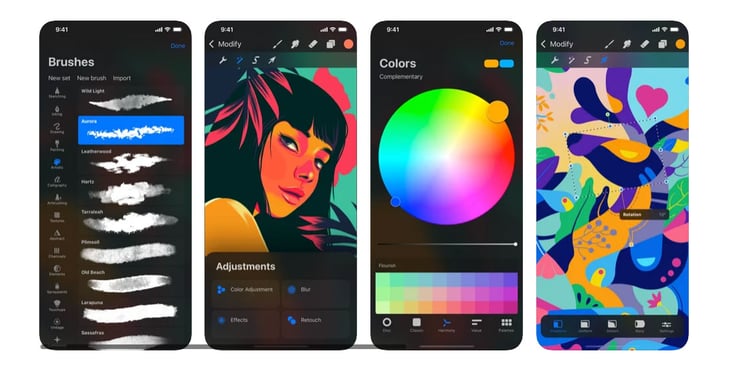 Procreate is a great choice if your students have access to iOS devices, can pay the price, and are capable or committed enough to learn how to use it.
Drawing Desk is tailored more to drawing and painting than Procreate. It's a little simpler to use, and gets major bonus points for being available on Android as well as iOS.
Drawing Desk includes:
5 art modes: Kids Desk, Sketch Book, Doodle Desk, Coloring Book and Photo Desk
Sketching, drawing and painting tools including pen, pencil and brush, crayons, fill bucket and paint roller
Multiple layers to allow editing and controlled build-up of color and image elements
Brush size and opacity controls
Share work through the app
Readymade coloring pages, and stickers including animals, alphabets, numbers and other images
Easily import and export images
Works offline
Drawing Desk pricing:
Drawing Desk is a freemium app supported by ads and in-app purchases, but most major features are available in the free version. It's available for free download for Android and iOS.
Drawing Desk works on nearly all mobile devices, still runs when you're offline and is useable for a wider range of age groups than Procreate, but it has more limited features.
Tinkercad is designed for 3D graphics and coding. It lets users visualize processes and structures in three dimensions.
TinkerCad includes:
Premade shapes and easy size and placing manipulation
Color fill options
Angle, size and proportion controls
Shape builder lets you build complex shapes by combining simple ones
Dedicated tools for electronics such as voltmeters and lights to virtualize circuit building
Coding tools: blocks-based code lets users create dynamic, parametric, adaptive, 3D shapes and designs
AR viewer button to see your designs in reality
TinkerCad pricing:
TinkerCad is free to download and use on iOS and you can make a free Teacher account here. Teacher accounts let you moderate and manage your students' work and don't let them share their work publicly.
TinkerCad lets students improve their 3D image-making skills and learn to think through processes, understand shapes, and build whole new objects. Many, like this rubber band-powered race car, can be downloaded and 3D printed too. It's a great tool for art and design.
Boxy SVG is a vector graphics creation and manipulation tool. It's similar to Adobe Illustrator, except that it's web-based and requires only a login. There's nothing to download.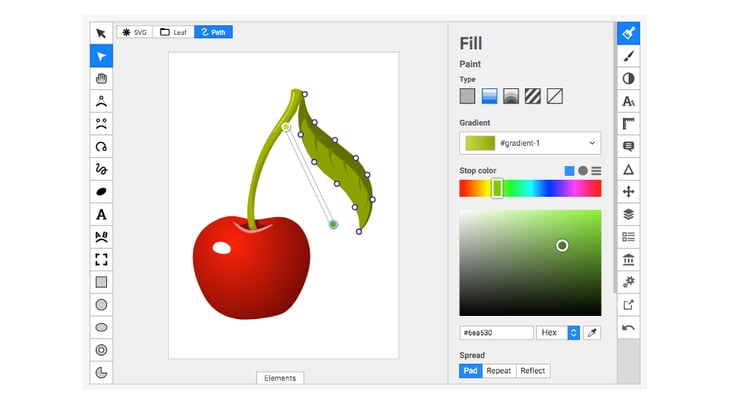 Boxy SVG includes:
Illustration-centered workflow with minimal intrusion from the UI and toolboxes
Customizable keyboard shortcuts
Customizable text path including freehand drawing
Minimal, but functional, suite of graphics tools including pens, shapes, fillers and paths
Library of free bitmaps and images
You can try Boxy SVG here.
Boxy SVG pricing:
Boxy SVG is browser-based and free to use.
Boxy SVG is free, device-agnostic and simple to use. The interface is built a little differently to most of the tools on this list, which tend to use variants of the Photoshop interface. So it can take a little getting used to. However, there are custom keyboard shortcuts that mean you can configure it to suit you.
Conclusion: choosing the right tool(s)
This list runs the gamut from professional-grade tools that can take years to fully master, right through to programs that were designed primarily for kids. Don't feel constrained to choose just one, and remember that many are free, freemium or have free trials.
We've built the list to offer teachers as much variety and choice as possible. Whether you're teaching remotely, enhancing classroom teaching, or looking for a tool that can travel between school and home for individual or group projects, we'd like to think we've got you covered. If we missed your favorite tool, please let us know!