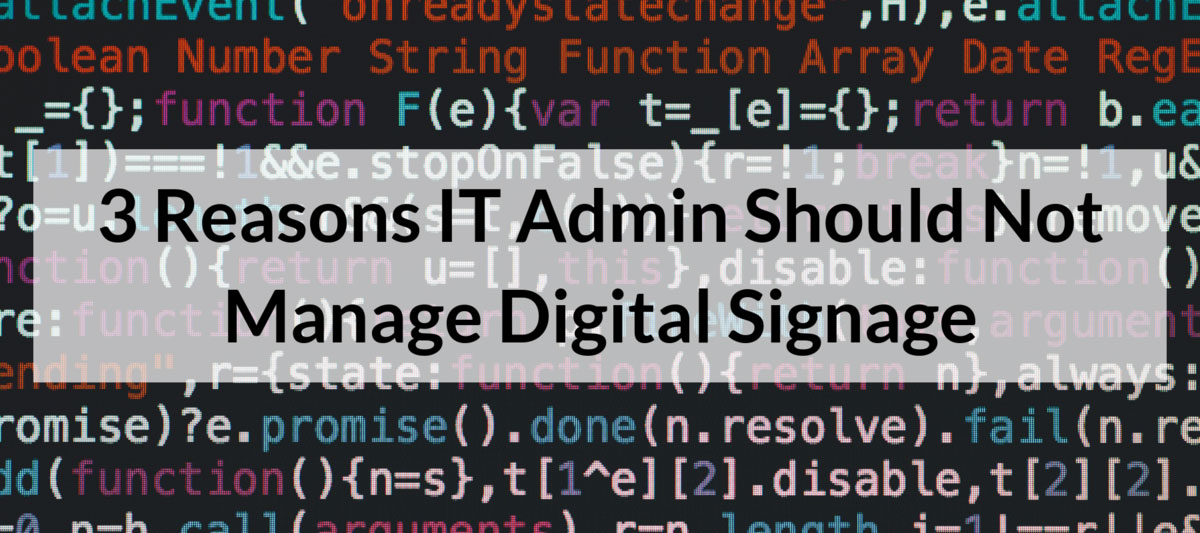 A school's IT Administrator has a lot on their plates: setting up new hardware, fixing Internet connectivity issues, managing the school's Google for Education network - just to name a few.
So when they research a digital signage solution, panic sets in! How do you add yet another thing on the table for the IT Admin to manage? Two words: you don't!
Thousands of schools across North America rely on Rise Vision's cost-effective digital signage content management system.
While the IT Administrator is researching the best digital signage solutions, they are usually not the person updating and using it.
There are three big reasons the IT administrator should not manage a school's digital signage.
Time: An IT Administrator researches a purchase, makes a recommendation, and implements it. Once it's ready to go, however, they don't have time to maintain it.
Student connections: While the IT Administrator knows students, teachers bond with them and know the type of digital signage that will resonate with them.
Creativity: To ensure that digital signage is successful, it needs to be used by someone with the creativity to put together signage that speaks to your students and staff.
If IT Administrators should not manage your digital signage, who should? Below are the top users that we've seen at schools.
Students
It wasn't too long ago that students and faculty learned about school events from bulletin boards and daily intercom announcements.
Students often designed fliers and delivered the news. It was a way for them to get involved with school events and the community.
Digital signage has brought bulletin boards and school announcements into the 21st century. It provides schools with a more visual, interactive and engaging way to inform students and staff about what's happening.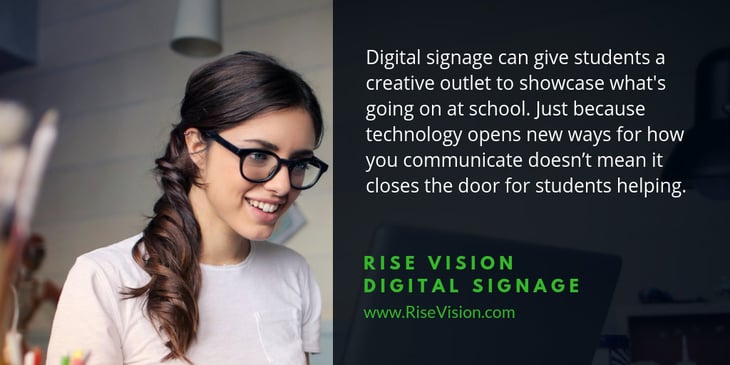 With new and user-friendly technology, students have the tools to create content that resonates with other students, staff, and parents.
The Tech Geek
Every school has a teacher who loves technology. They have the newest iPhones, they're always talking about gadgets that make their life easier and they get excited about Google and Apple product announcements.
Given tech geek teachers enjoy using new technology, they are the ideal people to manage your digital signage. Where some staff members might be reluctant to try new software, these people are excited about it.
The Rise Vision Creative Team
There are plenty of design tools like Canva to create presentations for your digital signage. We encourage you to embrace anything that saves you time.
The users who get the most out of our software, however, are the ones who take advantage of our large template library.
Our creative team can help you manage your digital signage network by supplying the templates that your school needs.
Need to remind your students about holiday breaks? Done! We have a template for that!
Want to highlight a student or teacher of the week? Done! We have a template for that!
Is there a field trip happening and you need permission slips in? Done! We have a template for that!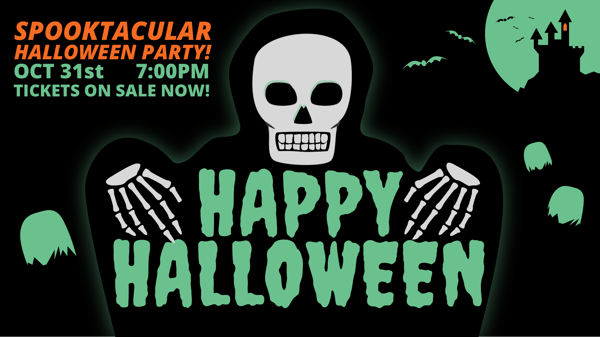 There are more than 200 pre-made templates in our library. You can use any of them with your display license without extra charges.
On average, users who use templates spend less than 15 minutes a week on their digital signage, while users who don't use templates can spend up to three times as much time.
Don't see a template? Recommend it! Our creative team adds new templates to the library every week. We'd love to hear your ideas!
If you want multiple people to manage your digital signage, only pay for the displays you use, save time creating presentations using templates, and want presentations to run on any media player (Windows, Linux, Raspberry Pi, and Chrome), get started with Rise for free today!