The ability to add widgets into a presentation is one of the many reasons that a person decides to use Rise Vision over simply putting a bunch of images on a USB stick. Widgets not only present real-time information, but they can help call attention to your display with more interactive and lively content.
To help simplify our platform and give users a better experience, widgets are now included with any plan license; what this means is widgets that were formerly purchased separately can now be used on any licensed display at no additional cost.
There is a lot of great things you can do with widgets; below are just a few to help you get started.
1. Weather Forecast and Conditions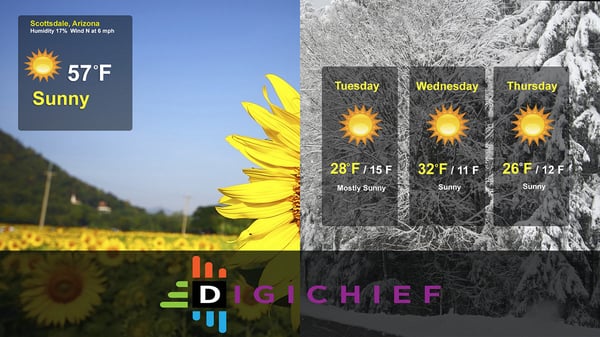 One of the easiest ways to give someone pause and call their attention to the screen is showing up-to-date weather. The weather forecast and conditions widget displays a single or three-day forecast, as well as the weather conditions (wind, humidity, etc). You have the ability to set the weather to any city. The widget can be combined with the Weather Maps widget (see below) to give a more complete picture of any region in the United States.
2. Weather Maps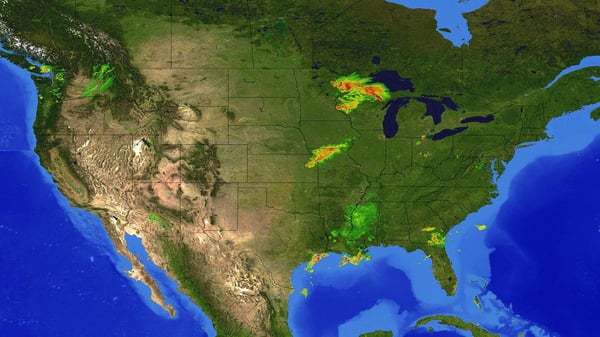 Weather maps pull back the lens on weather forecast by providing a satellite image of the current weather. This helps viewers see storms and advisories that may be coming into the area.
3. Mostly Sunny!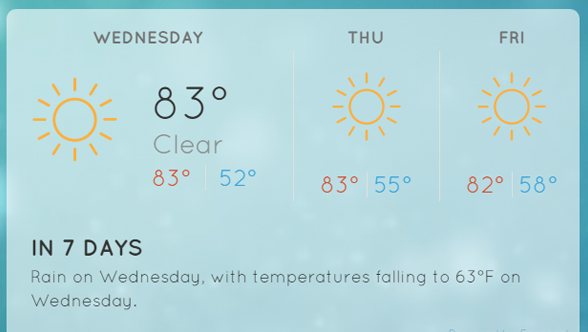 Some users prefer a more minimalist approach to weather; that's where the Mostly Sunny! widget can help. The simple widget displays the weather conditions from anywhere in the world with a clean and minimalist style. With a responsive layout and support for 15 languages, it's a perfect fit for any display.
4. Sports Scores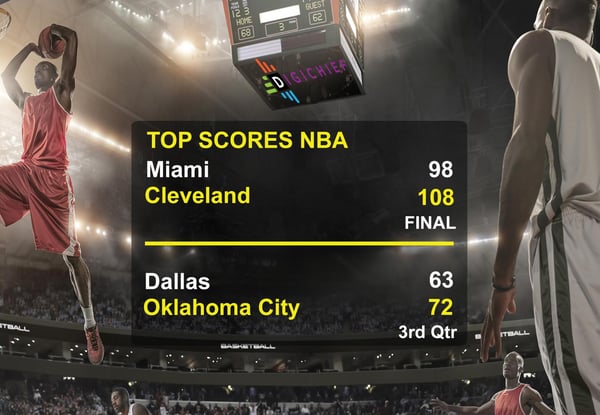 Nothing adds excitement to a display like sports. The Sports Scores widget lets you display scores form top colleges and professional teams. You can add teams from the NFL, NBA, MLB, NCAA, and more!
5. YouTube Widget
Adding videos to your display has been something supported in the software for several years, but the YouTube Widget makes it easier to create a playlist from videos on YouTube, and stream them to your digital signage.
6. Vimeo HTML5 Widget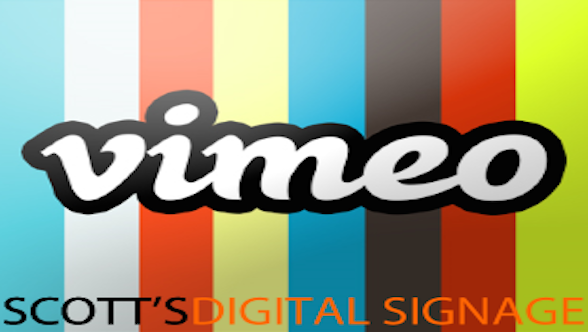 YouTube may be the most recognizable video streaming service, but if you want the sharpest videos with better tracking, Vimeo is the preferred solution. This widget is also ideal for users running media players that don't support Adobe Flash, as it runes in HTML5.
7. Flight Monitor Arrivals and departures Widgets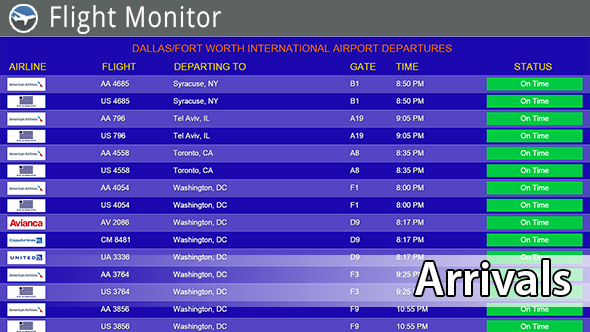 Travel agencies, hotels, and car rental services find the Flight Monitor Arrivals and Departures widgets resourceful (note: there is two widgets--one for arrivals and one for departures). The widget displays the airline's logo, flight number, gate, status, and more for any airport that you choose.
8. News Headlines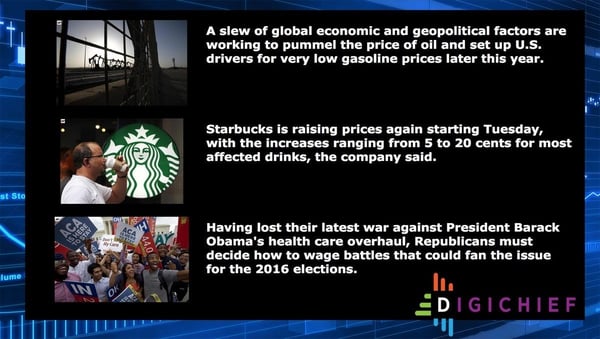 Call addition to your display with timely, up-to-the-minute news. This customizable widget lets you pick from several different categories--from US News and Business to Entertainment and Sports. The news displays with an image and short summary / headline of events.
9. Photo Feed Widget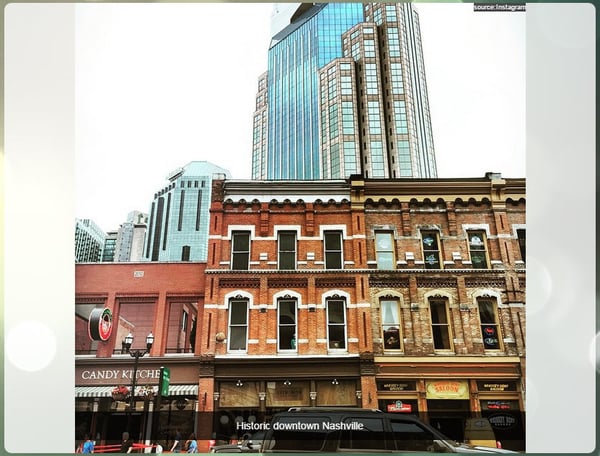 PhotoFeed is the perfect Widget to quickly and easily sync images from your Instagram and Google Photos accounts with your digital signage Presentations.
Built to blend seamlessly into your Presentation, PhotoFeed allows you to manage your images right from your Social Media accounts. Add and remove images, and the PhotoFeed Widget will automatically update in your Presentation; there's no need to log into the Rise Vision Platform to update your Presentation directly.
10. ComputerAid Countdown and Countup Widgets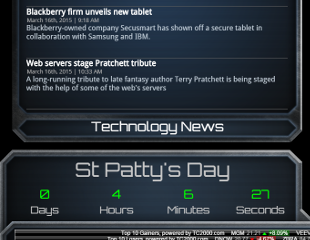 The Countdown/Countup Widgets are the perfect way to highlight upcoming holidays or mark any important event! Easy to use and highly customizable, the Countdown Widget fits seamlessly into any Rise Vision presentation.
11. Twitter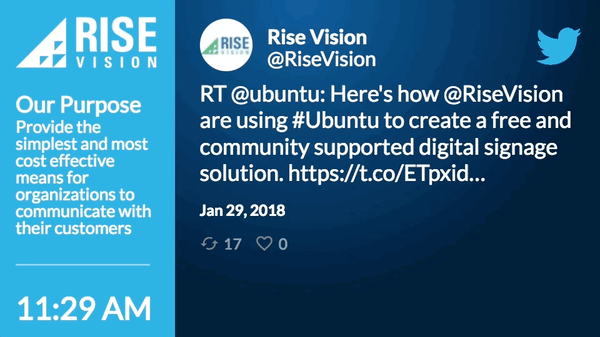 Twitter is huge, and we made it even easier to engage your viewers with our new Twitter widget. The widget makes it easy to post tweets from the accounts you love most. To make it even easier, our Creative Team has built a new set of templates just for Twitter. Just add the templates, and connect to your Twitter account. See how it works here.
12. Spreadsheet
Adding a spreadsheet into digital signage may seem odd at first, but hundreds of companies use this powerful widget to update things like menu boards. The widget makes it easy to update both pricing and menu idea names without logging into the software. You can see how it works here.
13. Calendar
You shouldn't have to open your presentation whenever you want to make a change to an event; the calendar widget makes sure you don't have to. The widgets lets you add, edit and remove events on the fly. See how it works here.