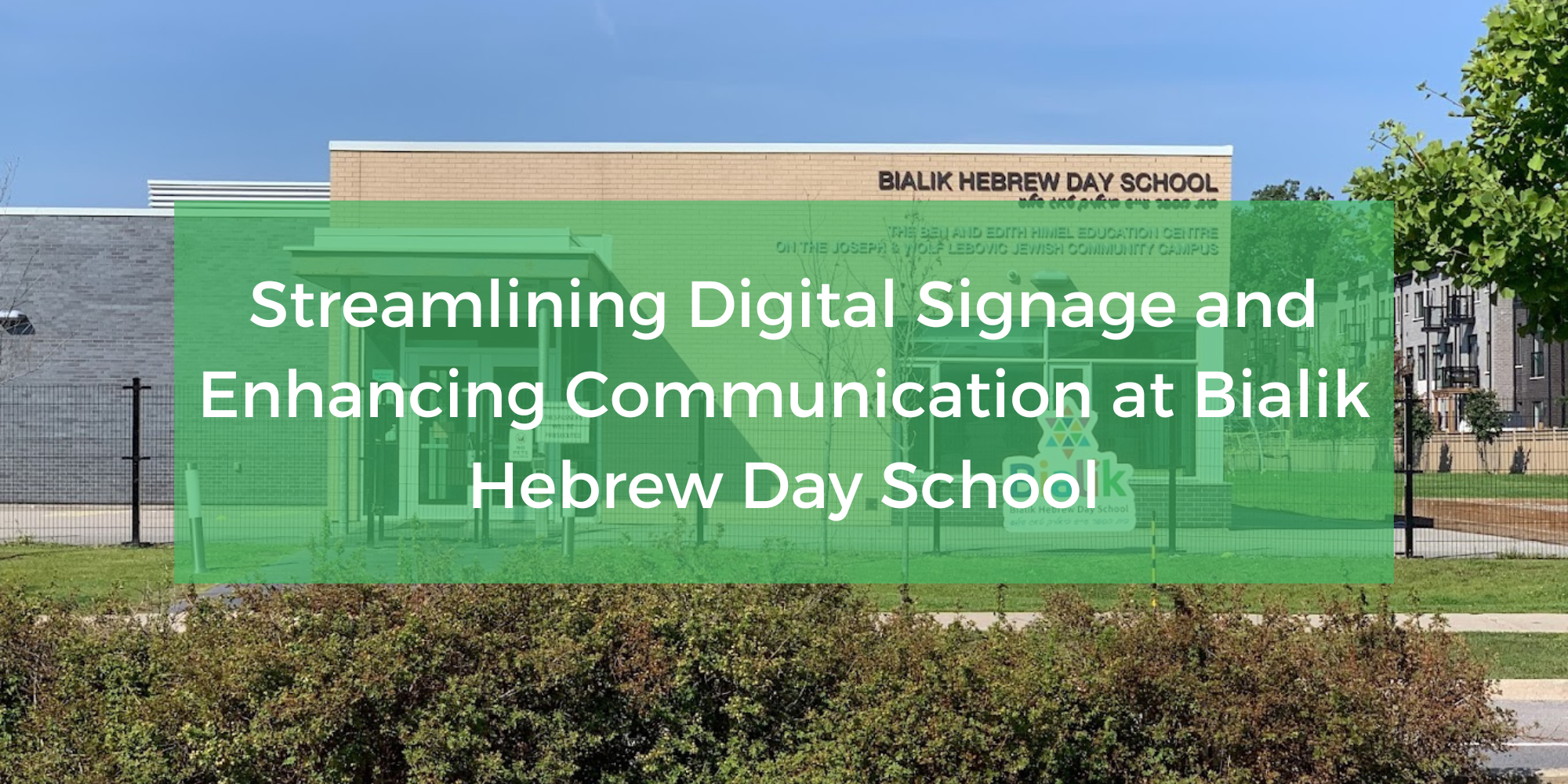 Since implementing Rise Vision for their digital signage needs, Bialik Hebrew Day School has been able to focus on the things that matter like like improving communication, making a good, lasting impression on visitors, and creating a positive school culture - all while spending just 5 minutes a week managing the system!
Bialik Hebrew Day School is a private, Jewish day school located in Toronto, Ontario, Canada. Its curriculum differs from the usual Ontario public school curriculum and is one of the few schools in Toronto's Board of Jewish Education that teaches Yiddish, starting in grade three.

Children who attend Bialik each have their own computer. Students also have a lot of access to learn STEM (science, technology, engineering, mathematics). To support their student population's integration with technology and the sciences, the school has an entire IT department that helps manage its STEM program and all of the technology.

David Umansky-Vilner, an IT Technician at Bialik, is the champion of Rise Vision signage and is responsible for streamlining digital signage and enhancing communication at Bialik Hebrew Day School.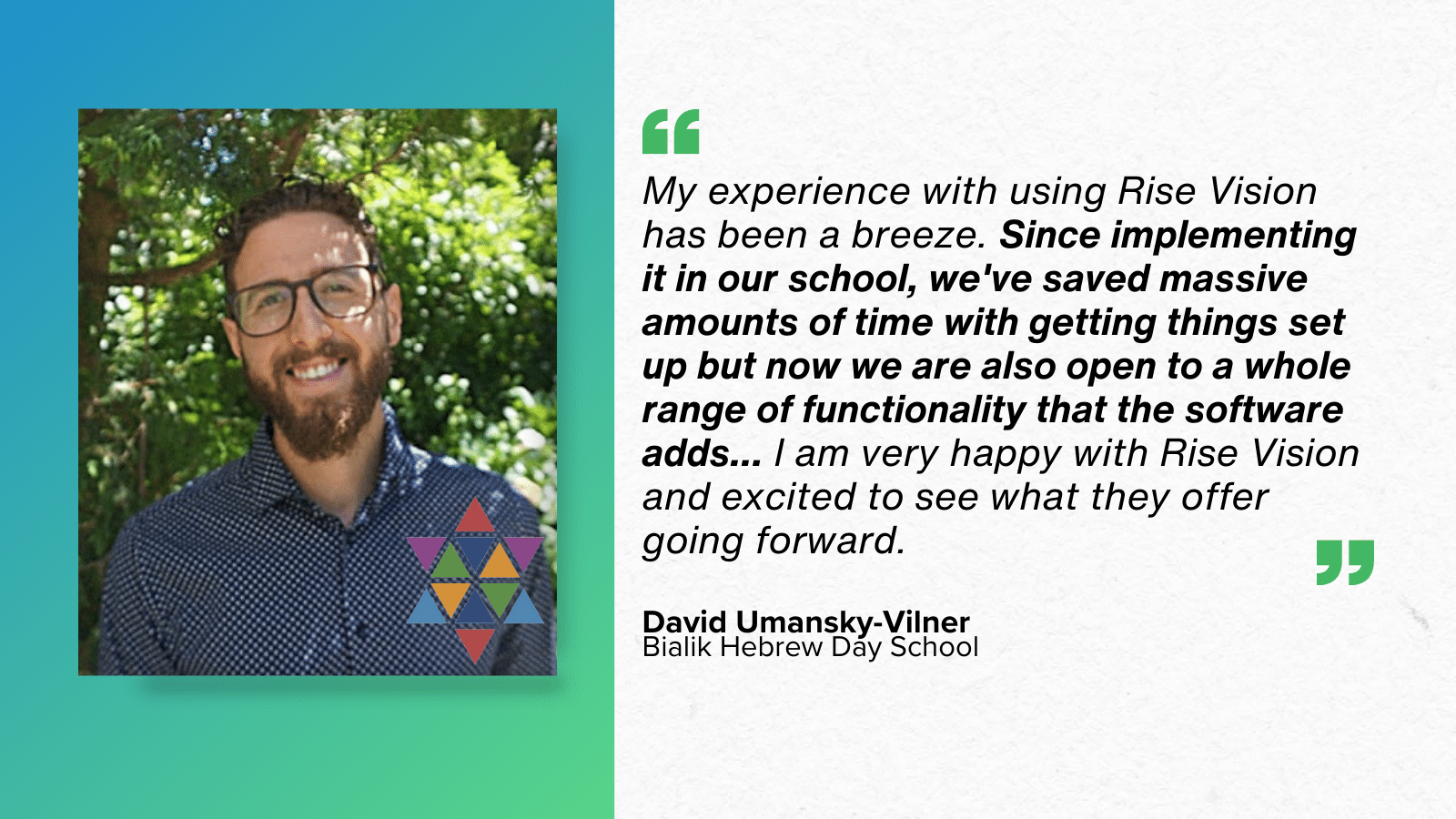 Digital Signage at Bialik Hebrew Day School is a Team Effort (by Choice)
At Bialik Hebrew Day School, digital signage is a team effort. David is responsible for the week-to-week maintenance of the program, but the content of the school's presentations comes from the marketing team. David told Rise Vision that while he could delegate responsibility to the marketing department, maintaining the system takes just 5 minutes a week!
The Problem: Cumbersome and Time-Consuming Digital Signage
Like many schools before discovering Rise Vision digital signage, Bialik Hebrew Day School had a cumbersome and time-consuming process for updating their displays.

For their five displays, David had to make a trip to each display with its individual Bluetooth keyboard. He then had to minimize all of the content, close out the current video presentation, and redownload the new video or slideshow onto the device.

Downloading the new content took at least 3 minutes per display. As well, there were sometimes issues when the video would be interrupted or the display inadvertently was turned off. On a good day, changing the displays would take 15 minutes.

However, after a while, the device's software had to be updated more and more and the technology was being deprecated. When that happened, updating their digital signage would take upwards of 30 minutes.

The technology department knew there had to be a better way to manage their digital signage at Bialik Hebrew Day School.
Rise Vision Makes Digital Signage Streamlined & Enhances Communication at Bialik Hebrew Day School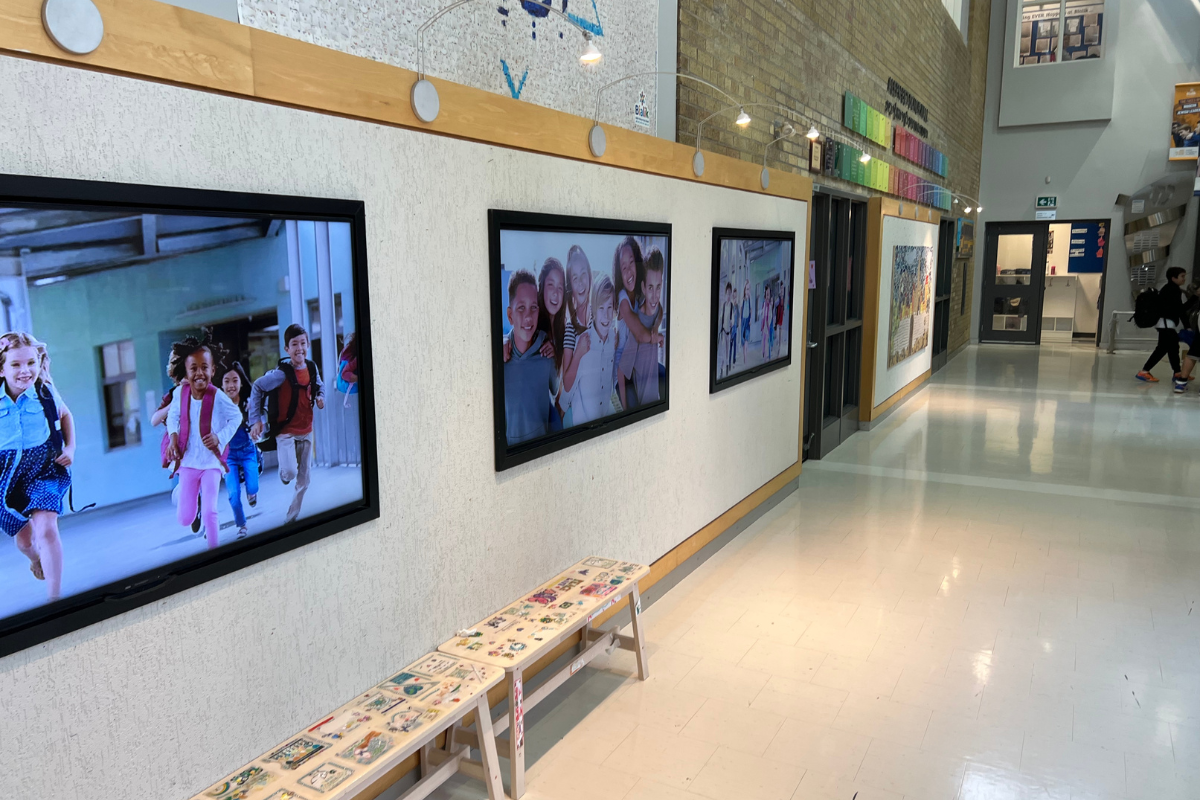 David began his search looking for a digital signage solution on Google and Reddit but was ultimately recommended Rise Vision by the Director of Technology of Bialik Hebrew Day School. One of the director's contacts uses Rise Vision and recommended it.
Rise Vision Makes Updating Displays Easy and FAST
Now that they have upgraded their digital signage system to Rise Vision, David spends just 5 minutes a week updating the displays across campus. The school's marketing team sends him content and videos to push to the displays and with the click of a button, all the displays can be updated in minutes.
Digital Signage Enhances Communication with Students & Parents
As well as being simple to manage, Rise Vision's digital signage enhances the school's communication with students and parents. Bialik Hebrew Day School uses the system to display slideshows featuring different events from the school. These dynamic displays give the lobby and common areas more life and create an inviting atmosphere. Students love seeing themselves on the screens and visiting parents get a closer look at what is happening day-to-day at their children's schools.
The displays are also used to display news and announcements for teachers like upcoming events or professional development days.
Lastly, to make guests and visitors feel welcome, the school displays maps and directories to help parents find their way around when they are visiting. Digital signage is a great wayfinding tool.
Rise Vision is Fast and Easy to Make Communication Better in Schools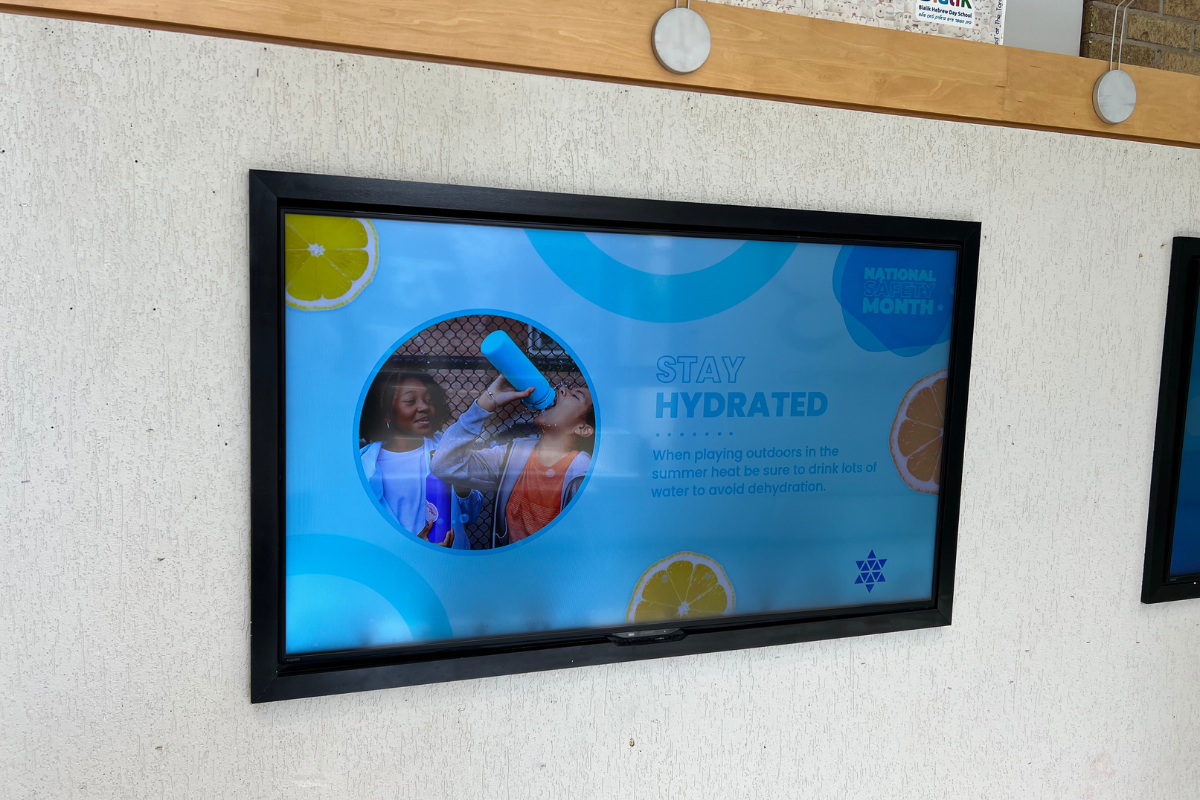 While Rise Vision is being used for the same purpose as their old system: to improve communication internally, now Bialik Hebrew Day School saves tons of time and students have noticed that the displays are never frozen.

David, the IT Technician responsible for their Rise Vision displays, says that the staff and students at Bialik Hebrew Day School are thrilled with the new digital signage and the content being shared. And the IT team is happy they don't have to deal with hardware and software headaches all the time!

We're happy to hear that Bialik Hebrew Day School is able to focus on the outcomes that matter like improving communication, making a good, lasting impression on visitors, and creating a positive school culture rather than meddling with the nuts and bolts of digital signage.