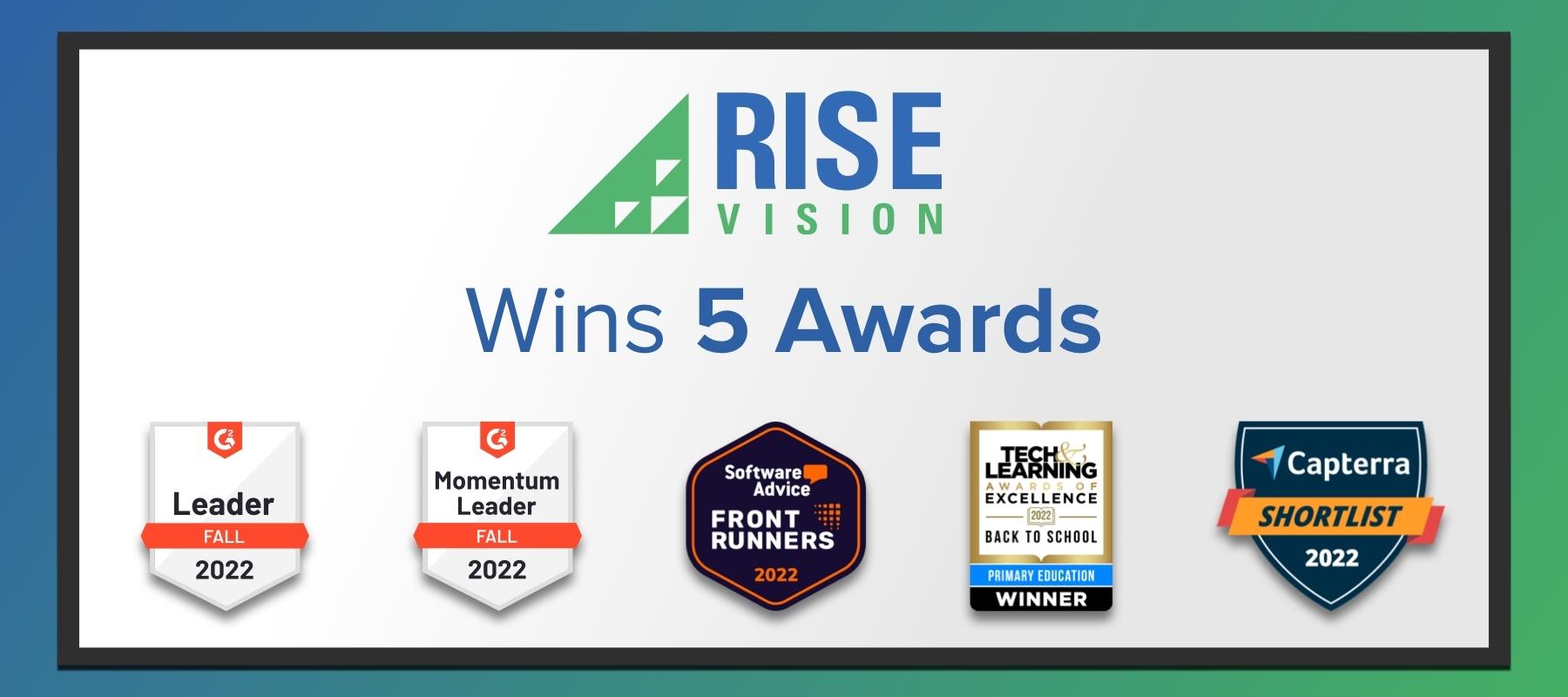 (September 24, 2022) –– Rise Vision, a provider of digital signage software for K-12 schools across North America, just extended their lead as the #1 digital signage software solution by winning the Capterra's Shortlist 2022 award, the Tech & Learning Back to School Award of Excellence, the G2 award for Leader and Momentum Leader, and ranked in Software Advices 2022 FrontRunners report.
"We are absolutely thrilled and honored with these awards. We couldn't have done it without our amazing team and their dedication to helping schools communicate better and create a positive school culture using digital signage." - Brian Loosbrock, CEO, Rise Vision
But what do these awards really mean to you?
It means that by selecting Rise Vision as your digital signage software provider, you can feel confident you're getting an easy-to-use digital signage software your students, staff, and school will look forward to seeing and using every day.
The Software Awards and What They Mean
Capterra's Shortlist 2022 Award - Awarded to Rise Vision
The Capterra Shortlist Award is an independent assessment that evaluates user reviews and online search activity to generate a list of market leaders in the Digital Signage Software space that offer the most popular solutions.
What does this mean?
This means that by selecting a software provider who has acquired this badge, you can feel confident you're choosing the best digital signage software in 2022 that is well supported, has a full suite of valuable features, and will provide impact upon implementation.
View the full report here to see all providers who received this badge, click here.
The Tech & Learning Awards of Excellence - Awarded to Rise Vision
The Tech and Learning Back to School technology awards of 2022 were created to help educators find the most impressive products and solutions that will support their work in any learning environment.
Each nominee for the award is evaluated by a panel of tech-savvy educators and held against 4 levels of criteria: ease of use, value, versatility, and product solves a relevant education challenge.
What does this mean to you?
Choosing a software provider who has won this award ensures you found a relevant solution that will provide exceptional long-term value for teachers, administrators, and students.
The G2 Awards: Leader Award Fall 2022 and Momentum Leader Fall 2022 - Awarded to Rise Vision
The G2 Leader Award is awarded to software providers who are rated highly by G2 users and have substantial Satisfaction and Market Presence scores.
The G2 Momentum Leader Award is awarded to products achieving the most positive movement over the last year and who rank in the top 25% of their category's products by their users.

What does this mean to you?
G2 bases awards on unbiased reviews of user satisfaction in ratings, which means you get reviews you can rely on that help you make informed decisions.
Software Advice FrontRunner Report - Awarded to Rise Vision
Software Advice's FrontRunner Report uses recent, published user reviews to score products on usability and customer satisfaction.
Usability
Usability is calculated using a weighted average of "Functionality" and "Ease-of-use" user rating categories based on the last 2 years of reviews.
Customer Satisfaction
Furthermore, the Customer Satisfaction dimension is a weighted average of "Value for money", "Likelihood to recommend", and "Customer support" rating categories based on the last 2 years of reviews.
What does this mean to you?
Software providers who score high on the 2022 FrontRunners report give you the peace of mind you have found solutions that will be easy to use and perform to meet or exceed your expectations.
Awards for Tech Companies
These awards for tech companies were designed to help you, the consumer, choose a piece of software that will be reliable, well-supported, and help make your day-to-day life easier.
To learn more about each award, head over to each award website in the below list: