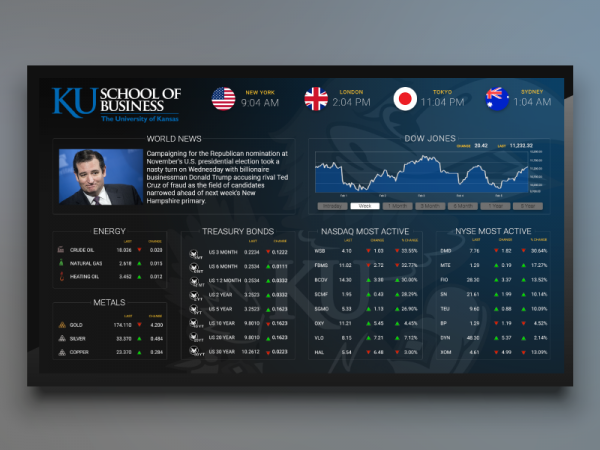 The University of Kansas New Business School Is Using Digital Signage
The walls may still smell of fresh paint but the building is bustling with students and staff as they fill Capitol Federal Hall. The University of Kansas' new business school has just opened for the first day of the summer term. Amongst the school's many new features are two digital displays and a stock ticker. The displays are showing custom market data designed and created by the Rise Vision Creative team, and the stock ticker is from Rise Display. These displays are mounted in the entranceway of the new McCarthy Applied Portfolio Management Finance Lab.
Their digital signage installation compliments the atmosphere of the building. The four storied glass walls and innovation spaces are part of the university's plan to create a collaborative space for learning.
[embed]http://storage.googleapis.com/risemedialibrary-f114ad26-949d-44b4-87e9-8528afc76ce4/rise%20install%20timepalse.mp4[/embed]
In speaking with the School of Business communications director, Austin Falley, he felt "the signage is acting as touch points between students and faculty at large within the building. The former facility lacked communication between students and faculty, and the displays are intended to create a cohesive experience".
Capitol Federal Hall has made it their goal to incorporate technology into their learning environment. This setup simulates the experience of a real trading floor, which KU says "provides a sense of the real experience". Students are being given the opportunity to interact with real data, and even better, to learn from it.
The presentations are running market data, which features the University of Kansas branding, logos, and styles while looping through vital market information. This style of custom Presentation features 8 different world clocks, an RSS feed of headline news, and a scrolling list of announcements. Also included are world indices, financial charts, currencies and bonds, commodity indices, a cycling feed of their student-managed fund, and the NYSE and NASDAQ most active.
Austin spoke about KU's desire to position its students for success in their University careers and onwards. He believes that having these market displays will allow students and staff to integrate real-world financial data into their teaching and discussions. Using real-time data will give students a set of skills and experience that they can apply throughout the rest of their careers.
This digital signage installation is a great tool for communicating real-time data. It's an eye-catching visual, which engages the students in a way that is relevant and simulates the content seen on real trading floors. The displays give the students hands-on experience, a sense of the markets, and an understanding of common industry tools.