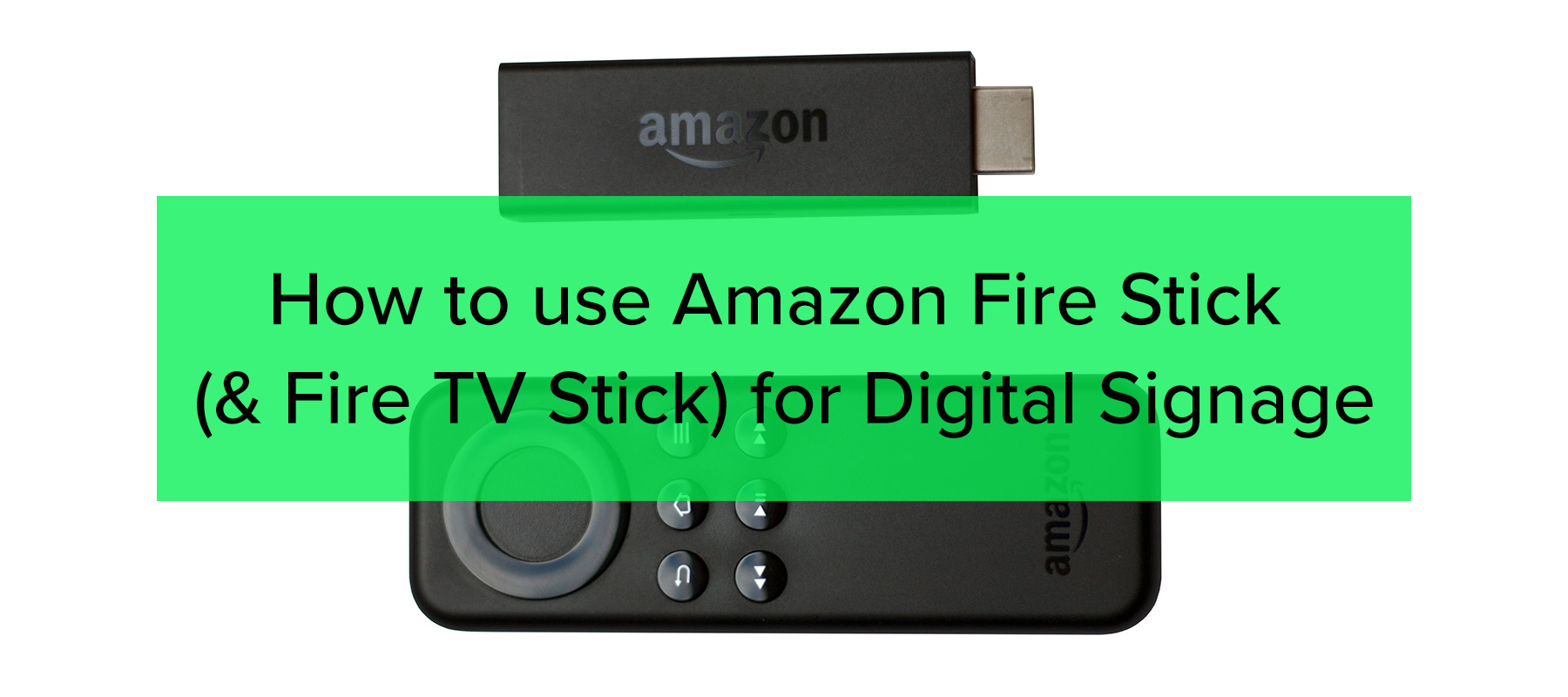 Amazon Fire Sticks can be a great, inexpensive way to dip your toe in the waters of digital signage. If you've been relying on a couple of flatscreens and USB sticks to handle your signage, Fire Sticks are an ideal way to take the next step because they're inexpensive, similar to what you're already using, and easy to set up.
Maybe you already have a minimal digital signage solution, or you're looking for ways to utilize a preexisting network of older screens. Or maybe you're incorporating some older screens into your network. Fire Sticks can be the hardware bridge that lets you start leveraging the power of a centrally-controlled digital signage solution like Rise Vision.
In this post, we'll look at the Fire Stick range, talk about basic features and setup, then look at how to make it work alongside your Rise Vision implementation.
What is Amazon Fire Stick?
Firestick is a USB device that looks like a thumb drive. It essentially contains the parts of a smart TV that make it smart, so if you have a regular TV, you can plug a Firestick into it and access everything that a new, modern smart TV can provide.
A Fire Stick plugs directly into your TV's HDMI port and gives you access to streaming apps via your TV. For home consumers, this means Netflix, Hulu, Amazon's own Prime Video, and HBO, as well as video hosting sites like YouTube.
Fire Sticks are controlled using a remote control, supplied with the Fire Stick, which also has a built-in microphone. You can give voice commands, and the Fire Stick interfaces with Alexa too.
What's the difference between a Fire Stick and a Fire Stick TV?
Amazon offers a range of products under the heading Fire TV. Fire Sticks, known technically to Amazon as Fire TV Sticks, come in four types.
Fire TV Stick is the base model. It lets you stream to any compatible TV
Fire TV Stick Lite has fewer features. Its remote control doesn't give you control over the host TV, so you can't control TV system volume or turn the TV on and off
Fire TV Stick 4k offers 4k resolution. 4k is the best streaming definition available, and if you have a 4k TV this Fire Stick lets you take advantage of it
Fire TV Stick 4k Max gives you 4k streaming across wifi 6. Wifi 6 is the fastest available wifi protocol, though obviously you can't stream faster than the rest of your wifi setup will transmit
There's also the Fire TV Cube, which uses an ethernet connection to do the same job as the Fire TV Stick 4k. We recommend getting the most capable Fire TV Stick you can, especially if you're planning or considering an upgrade.
Fire TV Sticks retail for around $30–$60, with some models available for as little as $19 from stores like Staples. There are frequent sales: Amazon makes money from subscriptions, not hardware, so it's happy to offer its Fire Sticks at low prices.
How to set up a Fire TV Stick
Fire TV Stick initial setup is simple:
Plug the Fire Stick into its own power supply.
Plug the Fire Stick into your TV's HDMI port.
Turn your TV on and set it to the HDMI channel.
Use the Fire Stick remote control to move through the wifi sign in and setup process:

Enter your wifi password when prompted to connect the Fire Stick to your network.
Sign in to your Amazon account. You need an Amazon account to set up your Fire Stick the first time, but you don't need an active subscription. If you're an Amazon Prime member your Fire Stick comes pre-registered to your account.
Add any channels you want to be able to stream from and sign into them. You still need to arrange subscriptions with each channel separately; having a Fire Stick gives you the ability to stream content but not the right to.
How does Firestick work with digital signage?
Do Fire Sticks have a use with digital signage? Yes. Because it's pretty agnostic as to what it plays, a Fire Stick is a good choice for a media player for small digital signage implementations.
If you're looking at using just a couple of screens, or if you're adopting digital signage gradually, Fire Sticks are a smart way to start getting value from digital signage without spending much money or doing much work. As a consumer product they're simple to set up, the cost is very low, and they work with most modern flat-screen TVs, so you can start with the screens you have or acquire new ones at low cost.
In addition, some organizations operate Rise Vision or another digital signage solution for a network of screens and players acquired for that purpose; then, in classrooms, waiting rooms, or offices, they may have another, older network of screens bought to display learning materials or presentations. Fire Sticks and a centrally controlled digital signage solution like Rise Vision can let you integrate those screens into your digital signage implementation and still use them for their original intended purpose, at low cost and with little additional effort.
Fire Sticks aren't all good news. Compared to professional digital signage solutions they're less robust, reliable, and secure. If you have a large number of screens, or you have the budget to build a full-size digital signage setup from scratch, a professional media player might be a better option.
How to set up your Amazon Firestick for use with digital signage
All you have to do is set up your Fire Stick as normal, then configure it to play the output from your digital signage solution.
Configure your Fire Stick as normal. Then, go to the Search screen that lets you search for streaming sources using text search, and input the name of your provider. If you have any other Fire Stick than a Lite, you can use Voice Search too. Once your Fire Stick is connected to your signage solution you're good to go.
Using your Fire Stick with Rise Vision
We're assuming you're starting from scratch. Just jump to wherever you are in the process. Bear in mind, Rise Player is supported only on Fire OS 7, and the following features are not supported:
Set up your Fire Stick
Follow the instructions given above to do a basic setup of your Fire Stick.
Set up your Rise Vision account
Pick a template from the Rise template library and sign up for a free Rise Vision trial account. If you already have a Rise Vision account, just sign in.
Build your Rise Vision schedule
Start building your Rise Vision integration out, beginning with constructing your first slideshow and your first schedule. You can do this in a few minutes from one of Rise Vision's ready-made, brandable templates.
If you're using Rise Vision for passive signage when active display screens aren't in use, consider using a template that lets you display countdowns to school events: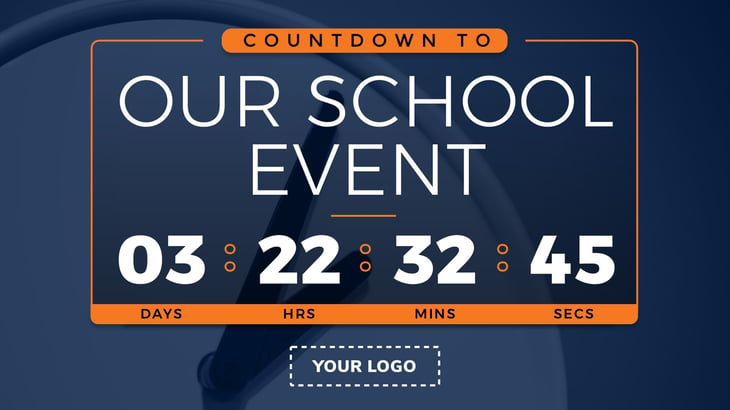 Get started with this digital signage countdown template here.
Alternatively, you can use templates that let you display local information like temperature: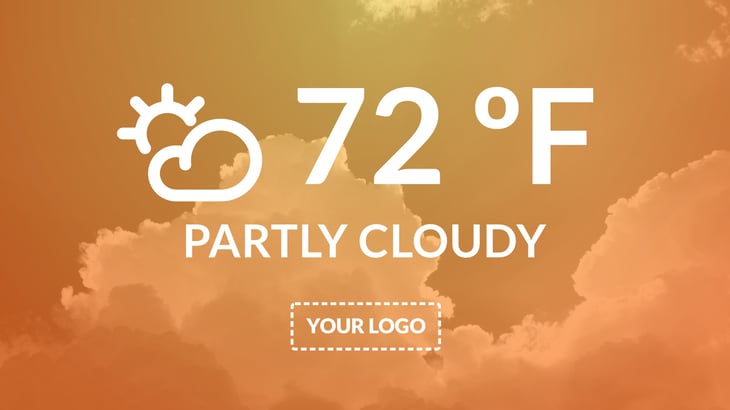 Get started with this digital signage current weather template here.
Connect your Fire Stick with Rise Vision
From the Fire OS home screen, go to Find and search for Rise Vision. You'll need the Rise Player app installed on your Fire Stick, and it's only supported on Fire OS 7.
Choose the Rise Vision Player app from the search results and select Get.
After the app is installed, return to the homescreen by pressing the Home button on your remote, go to your Apps menu, and launch the Rise Vision Player app. Enter your display ID and choose OK to activate your display and start showing content.
At the other end, you can see your individual players and screens in your Rise Vision dashboard, and manage scheduling and segmentation. You can show different content at different times, or on different screens, and schedule it in advance to suit different audiences. This includes the option to show your Rise Vision content in between using screens to teach or present, though multi-use templates that allow social media and news embeds are a popular choice in waiting areas.
Conclusion
Fire Sticks are a highly effective way to build your extant screens into your digital signage implementation, or to build a minimal digital signage solution from scratch. While professional media players are usually more robust and reliable, matching Fire Sticks with Rise Vision's templates and scheduling is simple, and Fire Sticks can allow you to add screens to your network piecemeal and with little cost and easy setup.
Additional Resources: