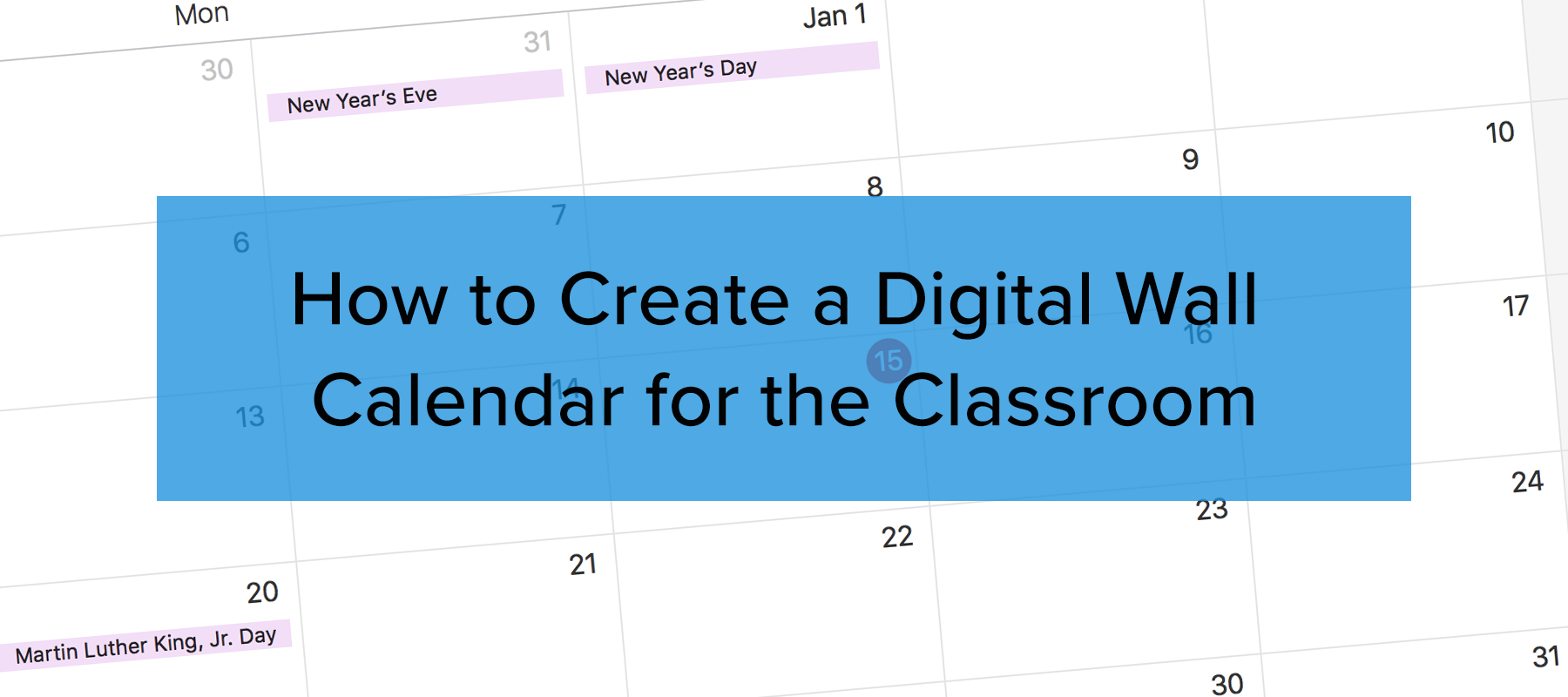 "Who CHANGED the test date..AGAIN?!?
Please don't make changes to the calendar, you're doing your fellow students a disservice."
Keeping students informed of upcoming tests, events and other important dates doesn't have to be done in chalk or marker any longer. Welcome to the 21st century where digital solutions are everywhere - and here at Rise Vision we want to make the classroom experience as seamless and beneficial for both students and teachers.
One innovation we're thrilled to present is our digital wall calendars for the classroom. They're easy to set up, use, and edit. And best of all, you won't have to hide the chalk/marker and eraser from the class vandal.
Benefits of a Digital Wall Calendar
Many instructors will partition parts of their chalkboard to serve as their calendar. It makes sense: you can easily write and erase at will and it's presented upfront for the whole classroom to see.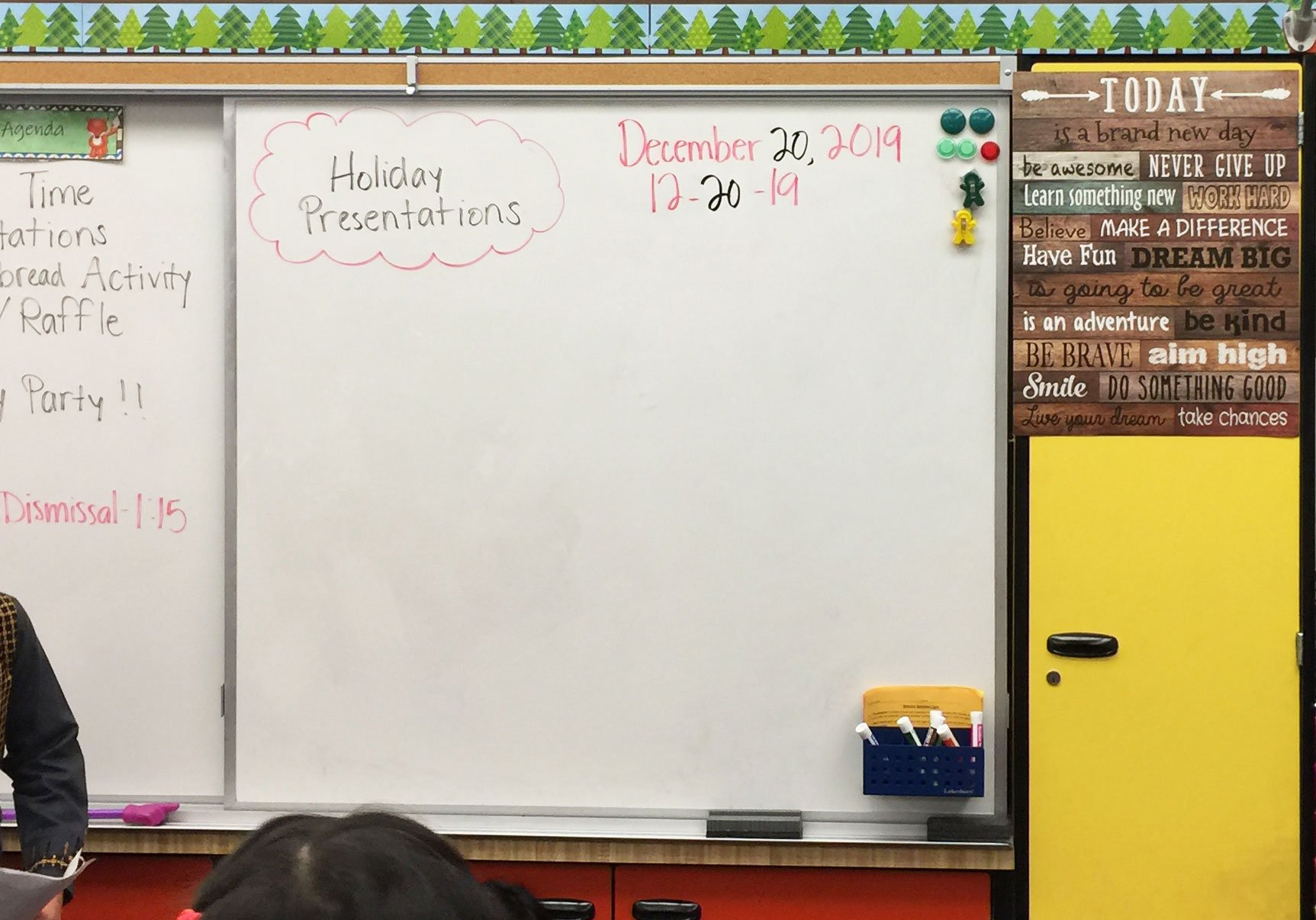 But as the year progresses, chalk will fall off the board, messages and information will deteriorate, constant erasing will muddy up the calendar and it will eventually become unreadable. The next thing you know, you're erasing everything, getting out the water and paper towels (or dry erase solution), cleaning the entire chalkboard and redrawing your calendar all over again. Not to mention, you'll have to transfer all the information back on to the board. What a waste of time!
Easier to Create and Update
Once your digital wall calendar is set up, creating your calendar is a breeze. No need to draw lines in chalk or marker. Just quickly populate your important events into the associated dates and you're done. A lot of times you don't even have to type - just copy and paste!
Deleting, changing or updating events is quick and painless. Again, no need to do precision erasing or use wet towels. Just make edits to your digital calendar template and press update.
Easier for Students to See and Read
This is a commonly forgotten benefit. If you're a sloppy writer or you tend to write small-sized characters, it can be difficult for students to read or see what information is on your calendar. Digital wall calendars solve this problem because often you can increase the font size and typography in a few easy clicks.
You are also able to choose a high contrast theme or template that makes reading and seeing your calendar from long distances much easier. Remember, there are students in the back of the classroom that don't even notice information on the chalkboard because they simply can't see or read it. And that's certainly not the student's fault.
No More Unauthorized Changes by Classroom Vandals

There's just something about an instruction board and an eraser that's so tempting for the mischievous student. A quick-swipe erase or alteration can make their day or earn that attention they desire. Going digital helps to remove this temptation and helps keep your sanity.
If we really empathize with the student that's trying hard to stay on top of their studies and course work, we don't want one mischievous act to set them back by copying down the wrong dates or information. It's just not fair to them.
How to Create a Digital Wall Calendar
You've come to the right page! We'll show you how easy it is to set up a digital wall calendar for your classroom.
Let's begin...
Step 1 - Sign up for a Free Rise Vision Trial Account
Rise Vision is a digital signage content management system. Our primary focus is to provide K-12 schools in North America with easy to use digital signage. You can sign up for a free trial here. If you have any questions during the signup process, please feel free to contact us at any time.
Step 2 - Procure the Necessary Hardware
The good news is your school most likely has all the hardware you need to set up your digital wall calendar. You'll only need two things:
A T.V. or a digital display (computer monitor)
A media player
If you're wondering what a "media player" is: it's just a small computer specifically designed to operate digital signage software. And yes, digital wall calendars fall under the umbrella of digital signage.
If you need to purchase a media player, we recommend the Intel NUC I3 media player. It comes with Rise Vision software pre-configured so that you're ready to go as soon as you plug it into your T.V. or digital display.
Step 3 - Pick a Template
Once you've signed up for a Rise Vision account, you'll have access to hundreds of digital signage templates including several calendar templates. You can browse through our templates at https://www.risevision.com/templates-gallery.
Below we've highlighted some of our digital wall calendar templates that are popular with our customers:
High School Announcements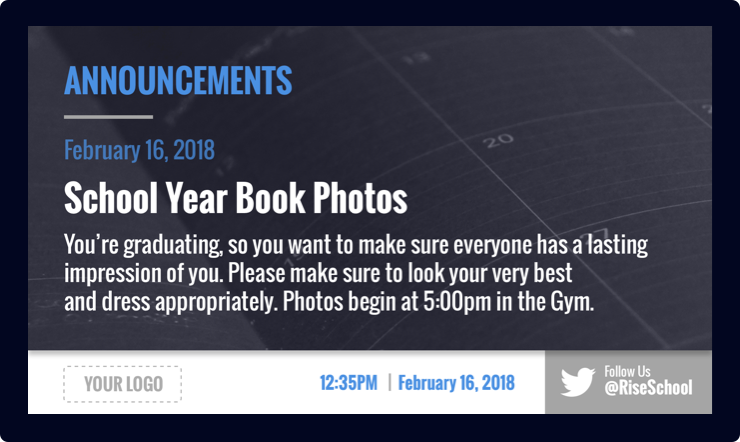 Display your school brand alongside a Google Calendar with this template. Personalize the presentation by linking it to your own Google Calendar and adding your own message and logo image.
Athletic Announcement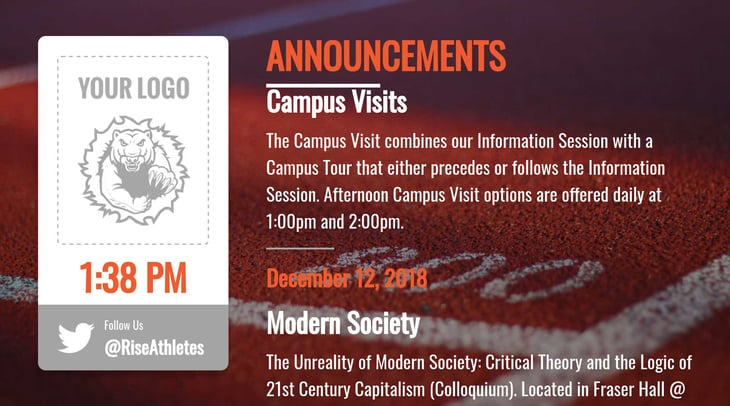 Get started with our sports-theme digital wall calendar template here
This template functions similarly to the template above. The main difference is it's sports-themed. It works great for digital signage located in gymnasiums and athletic complexes.
Events Calendar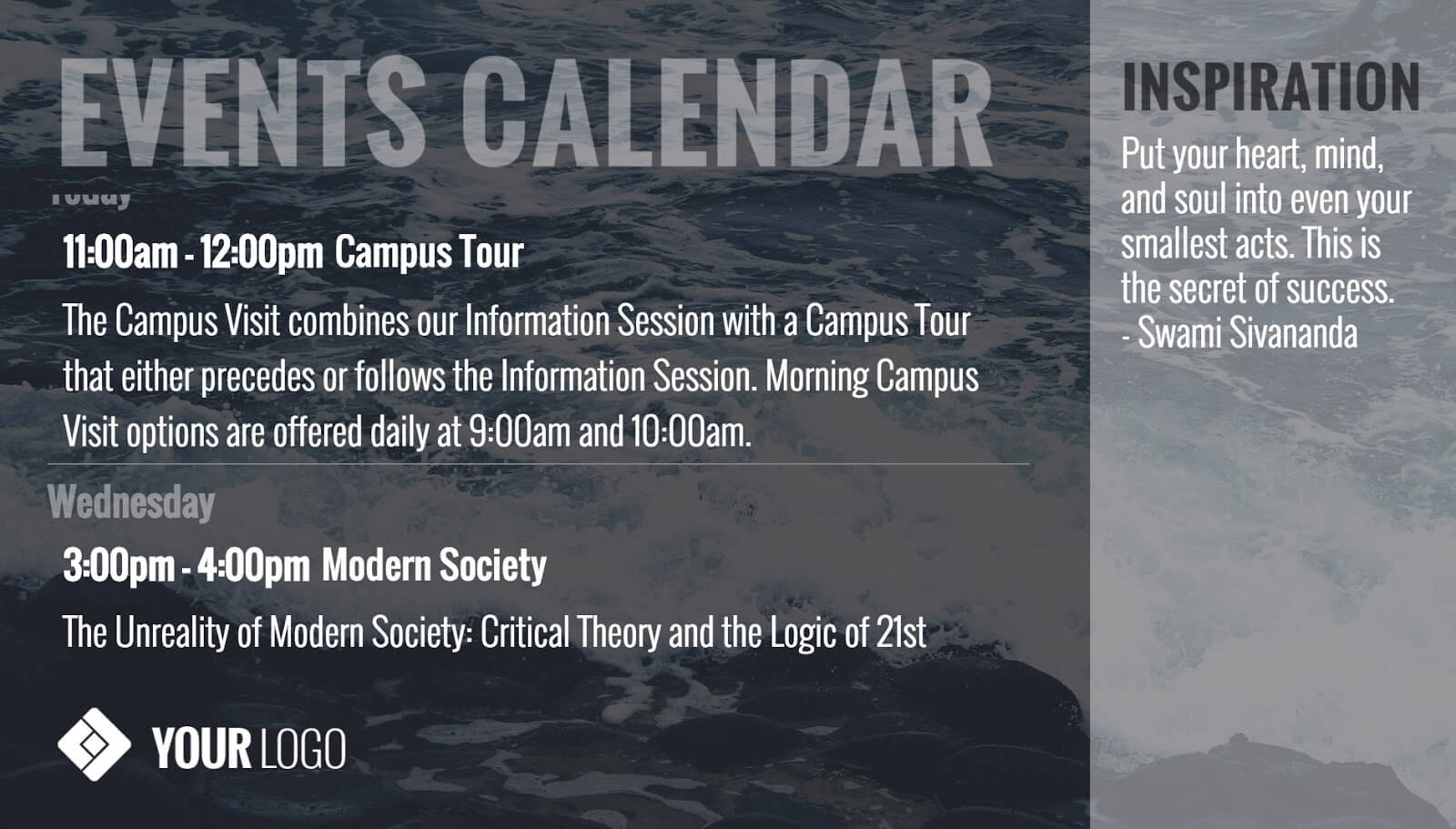 Share a scrolling list of events or announcements with this digital signage template. Personalize the template for your event by editing the events and message.
Education Calendar
A great digital signage template for K-12 schools to share a calendar of events. Personalize the presentation by linking it to your Google calendar.
Celebrate Diversity Calendar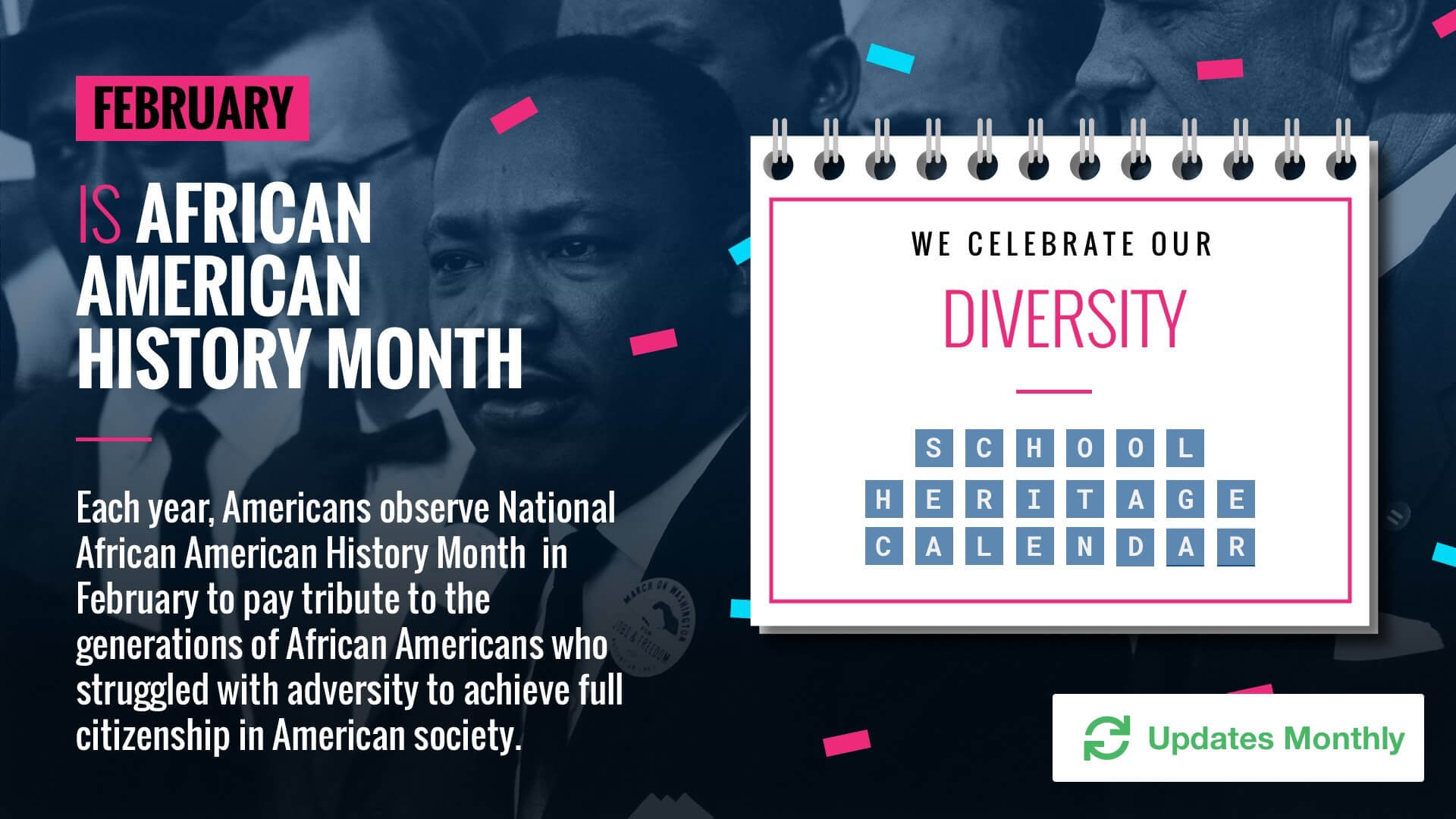 Get started with our diversity calendar digital signage template here
Faculty and staff know how important it is to create an inclusive environment at their school. That's exactly why we created this template to highlight the significant heritage months and cultural events of the year. The template will update once a month to widely celebrated heritage months and cultural holidays. All you need to do is add it to a schedule. Don't miss out on this opportunity to bring your students together and encourage them to celebrate their differences.
Design Considerations
Rise Vision digital signage templates are designed to reduce your workload so that you can get them working for you as quickly as possible. However, when selecting our templates you're going to want to have a few design rules of thumb in mind to make sure your calendar wall communicates as effectively as possible.
Use Big Fonts and Focus on Readability
Just because you're no longer going to handwrite information onto your wall calendar, doesn't mean you can ignore readability. Be sure to choose a template that is easy to read up close and at the back of the classroom.
Select a High Contrast Design
Choosing a high contrast calendar template is important for readability and those with visual disabilities. If you have trouble choosing a high contrast design, consider going with something simple like black and white. Also, experiment with white text on a black background (which tends to work better when font size is increased).
Avoid Clutter - Less is More
It can be tempting to squeeze in as much information as possible on your calendar wall. The real trick with putting together a nice and neat calendar wall is to keep each entry concise. Get in the habit of reducing your word count for each entry date. It will be easier to read and more information will stick.
More Things You Can Do with Classroom Digital Signage
Having digital signage in the classroom allows you to do more than just displaying a calendar wall. When you get signed up with Rise Vision, you'll be able to:
Engage in trivia questions
Receive emergency information and CAP alerts
Connect to Google Slides presentations