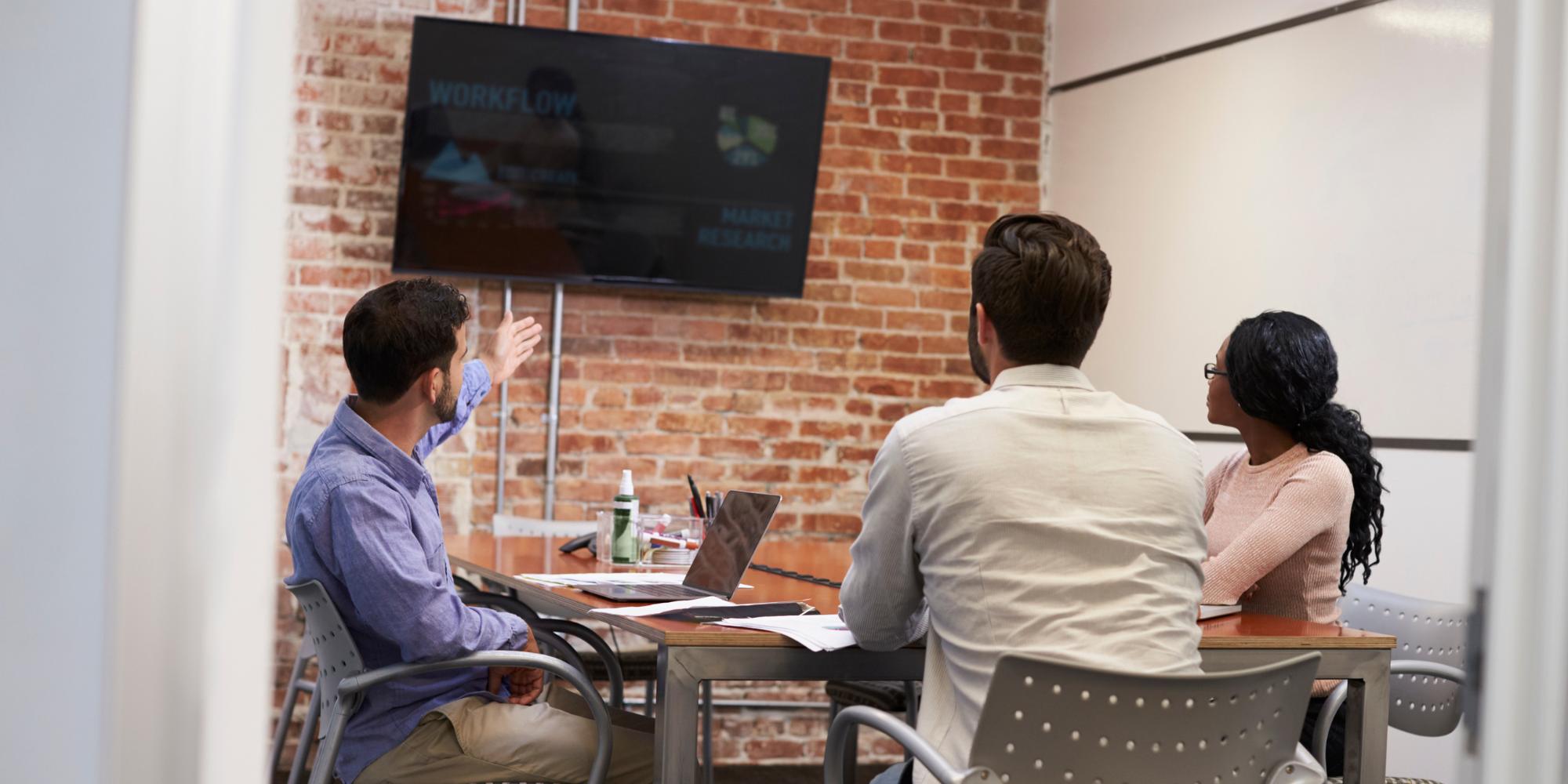 For a workplace to be truly productive, there needs to be effective communication and smooth coordination among employees. There must be a good flow of information from management to staff and vice versa, and everyone must always be on track with project goals and milestones.
This begs the question: how well do you communicate with your employees? It may come as a surprise, but plenty of companies still use traditional Post-it memos or email correspondence to relay information.
In a corporate setting where things can get busy and hectic, you need to adopt a quick and easy way to reach your employees and communicate vital information to them. That's where digital signage comes in.
Digital signs are powerful tools for internal communication, helping you deliver information in real-time, easily and effortlessly keep your employees updated, and improve employee engagement and productivity.
Why Use Digital Signage for Employee Communications
Digital signage software serves a wide range of purposes. It can inform, educate, and engage, making it a worthwhile addition to your internal communication approach.
Digital signs allow you to deliver information to your employees in real-time without relying on them having to open emails or connect to the Internet to view your message. And with their dynamic displays and lively visuals that are hard to ignore, you can ensure that you're able to get your message across to its intended audience.
Digital signs aren't only meant for urgent alerts or important office announcements, though. They can also be used to improve employee engagement and job satisfaction. Simple things like recognizing high-performing employees or displaying a birthday greeting for celebrants can go a long way in showing them you value them.
You can even display entertaining content, informational videos, and other training resources to encourage learning and skill-building in your workplace. All these lead to highly engaged employees who are 17% more productive and can drive 21% more profit for your business.
Ways to Use Digital Signage for Internal Employee Communications
Now that you know why you should utilize digital signage for internal communications, let's move on to how you can get started. There are many ways to adopt digital signs into your workplace. Here are a couple of ideas.
Company Newsletter
If your company is sending out weekly or monthly newsletters to your employees, then you know through your click rate data that most of them don't bother opening your emails. It might be time to change your approach and convert your email newsletters to digital newsletters instead.
Display your company newsletter content on your digital signs. This will help you reach a wider audience and get your message across more effectively.
Company Performance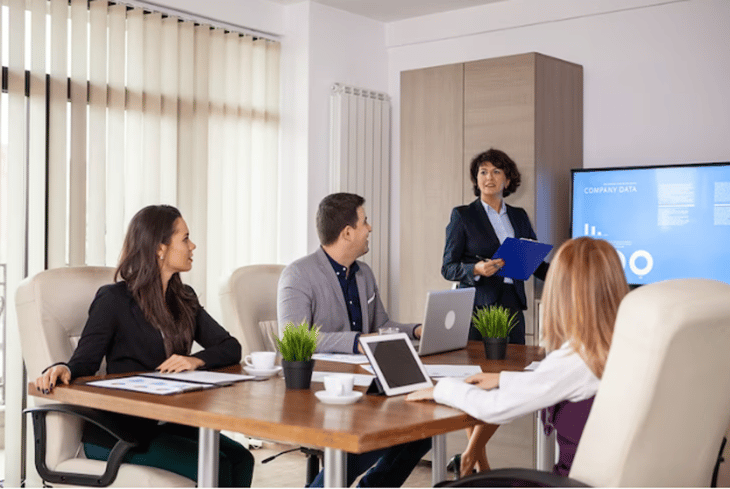 Employees want to know that their efforts are helping your company grow and achieve its goals. Use your digital signs to inform them of your performance metrics by displaying sales figures, profit, and other KPIs.
Stats that show good company performance will validate the work your employees are putting in. But if your performance has been less than satisfactory, being transparent about it to your employees can motivate them to change their strategies or work harder to help you achieve success.
Emergency Alerts
In the event of an emergency, such as a fire, active shooter situation, or natural disaster, you and your employees need to act fast and get to safety. Digital signs come with emergency alert features that allow you to deploy emergency alerts quickly, giving your employees enough time to respond.
These features don't only come to play when there's an active emergency situation, though. You can also use them to facilitate emergency preparedness, instructing your employees on what to do in case of an emergency or informing them of where they can find the nearest fire exits.
Employee Recognition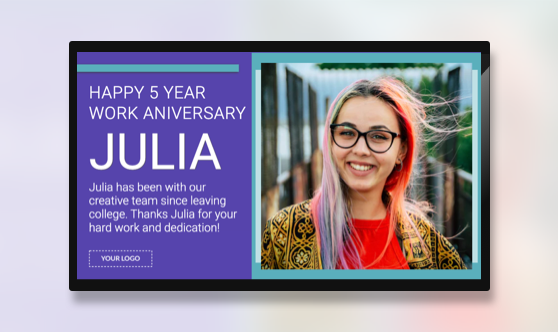 Let your employees know that you value them by recognizing their hard work and accomplishments on your digital screens — whether it be an "employee of the month" feature or a thank you message for your top-performing staff.
Not only will this boost their job satisfaction and sense of fulfillment, but it will also motivate your employees to perform well and exceed expectations.
Fun Trivia
Digital signs for internal communication shouldn't be all about data or work-related information. You can also use them to entertain your employees and encourage them to socialize with their coworkers. Consider asking trivia questions in your displays that will initiate a conversation and get your employees thinking.
Health Information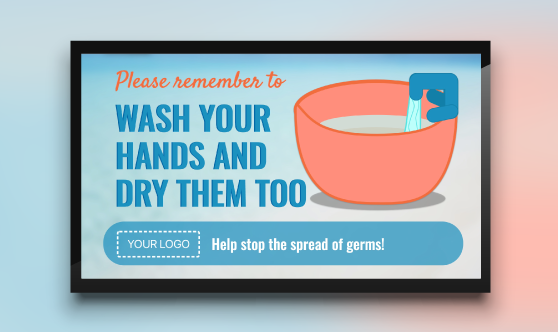 You can use your digital signs to help keep your workplace a healthy and safe environment for your employees. Deploying health information, such as handwashing and sanitizing reminders, diet tips, stress-relief practices, or exercises to reduce work-related pain, can educate your employees on how to take charge of their health and wellness.
Industry News
Keep your employees up-to-date on your industry by displaying news, trends, and statistics on your digital signs. You can stream RSS feeds of popular news articles online or create content to show interesting developments in your field.
Meeting Room Signage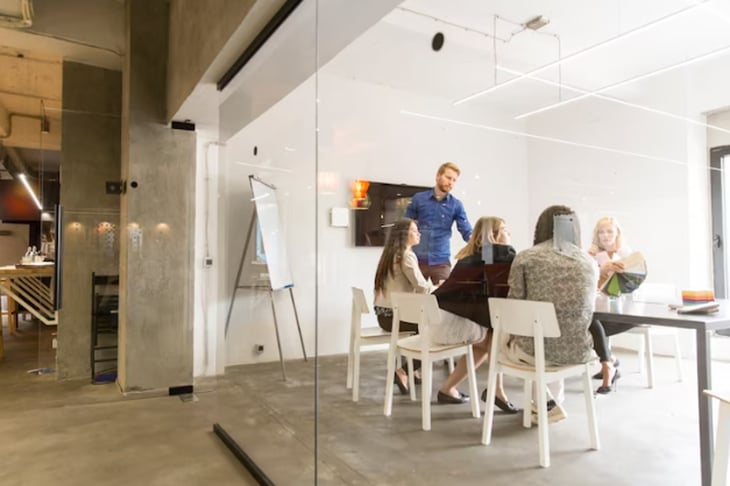 If your office meeting rooms are always booked and finding a free schedule ends up becoming a competitive game of tug of war, we'll be the first to tell you that you absolutely need meeting room signage.
Displaying ongoing meetings and their durations right outside your board rooms informs employees of what's going on and when which in turn can streamline and ease the booking process.
Motivational Quotes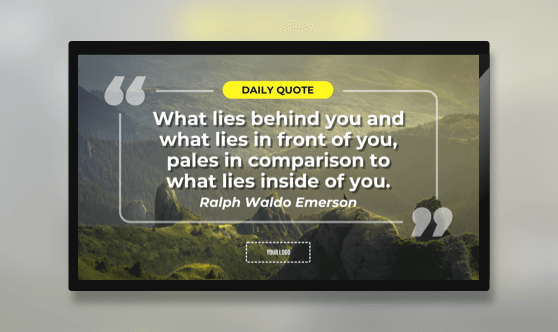 There will come a point when your employees will feel unmotivated or unproductive. But sometimes, all they need is a small boost to motivate them to keep going and carry on with their tasks. Use your digital signs to boost motivation and productivity by displaying quotes and sayings that your employees can relate to.
New Employee Welcoming
Starting a new job can be an overwhelming experience for new employees. You want to make them feel welcome in your company the moment they set foot in the office. Consider displaying a heart-warming welcome message on your digital signs. They will appreciate the gesture, which in turn will encourage engagement and retention.
Noticeboards
Studies show that employees that feel connected to their organizations are 20-25% more productive. How do you facilitate that connection you ask? A simple solution is to put up a noticeboard.
You can leverage your digital signs to provide employees with reminders, lunch invites, company celebrations, etc. Or allow them to send in their inputs to be displayed on screens.
Policy Changes
Companies usually send their employees memos to alert them of any changes in corporate policies, procedures, or initiatives. But the harsh truth is that no one actually reads them.
Digital signs provide you with a more engaging and effective way of making announcements about updates in internal policies. Use dynamic displays to deliver critical information that affects everyone in the organization.
Social Media Feeds
Customer feedback contains valuable information that can tell you how your company is being perceived outside the four corners of your office. They make powerful and convincing arguments that reveal what you're doing right or what you need to improve on.
Consider streaming social media feeds on your digital signage so your employees become more aware of public opinion about your company.
Training Videos

Provide your employees with the resources they need to build their skills and improve their performance anywhere they are in the office. Digital signs can display training videos and educate your employees on the spot without them having to block two hours off their schedules to attend a seminar or lecture.
Upcoming Events
Got an upcoming corporate event or celebration that you want your employees to attend? Remind them of the occasion using your digital signs. You can build anticipation by displaying countdowns, providing the event details, or letting your employees know what's in store for them at the event.
Workplace Hazards
To promote workplace safety and prevent accidents and injuries in the office, you can use your digital signs to alert employees of any specific hazards. You can even go as far as providing guidelines to help them stay safe in hazardous areas in your workplace, such as the manufacturing room or high-voltage areas.
Adopt Digital Signage in Your Workplace
Effective communication is crucial to your organization's productivity and success. It's about time for you to ditch traditional internal communications channels for digital signage. With dynamic displays and engaging content that your employees can't ignore, digital signs can help you relay information and boost engagement much more effectively.
Incorporate digital signage into your workplace today. Start a digital signage free trial with Rise Vision's powerful software!