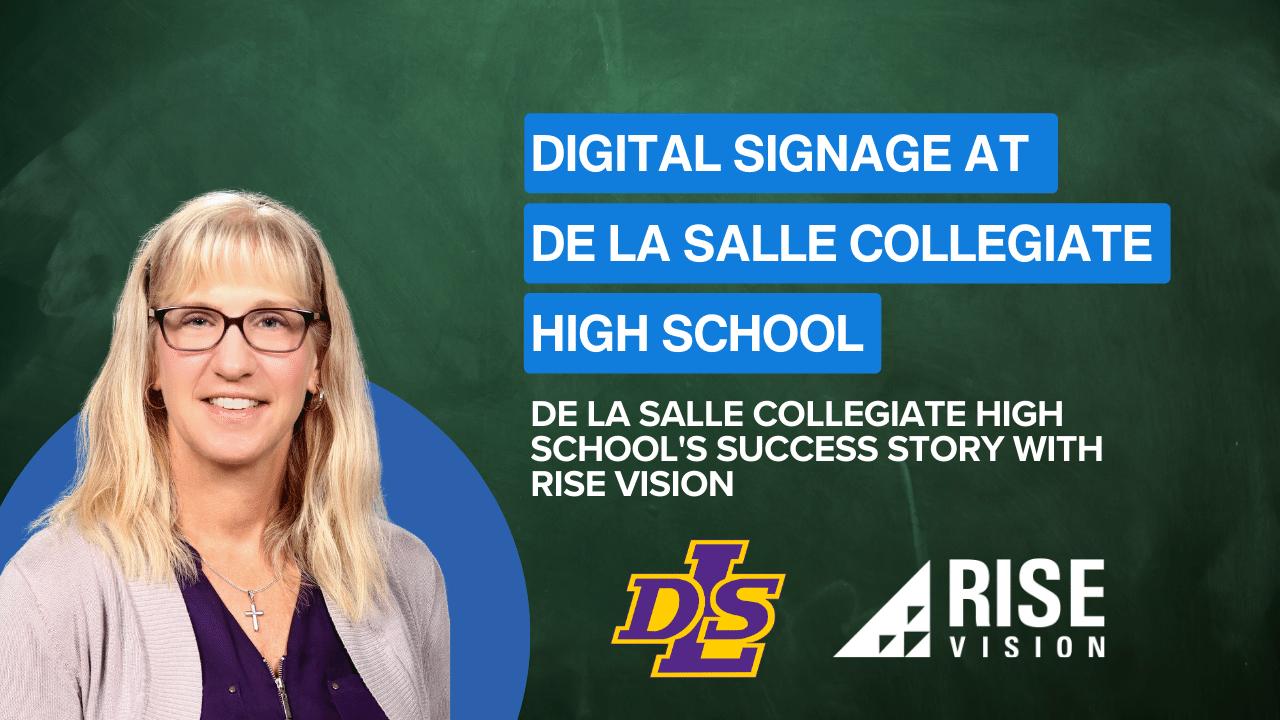 In a recent interview with Sheryl Anderson, the IT Director at De La Salle Collegiate High School, Rise Vision gained valuable insights into how the school has successfully harnessed the power of Rise Vision to enhance communication, engagement, and community involvement.

Located in Warren, Michigan, De La Salle Collegiate High School is an all-boys institution that prioritizes clear communication, community engagement, and student involvement.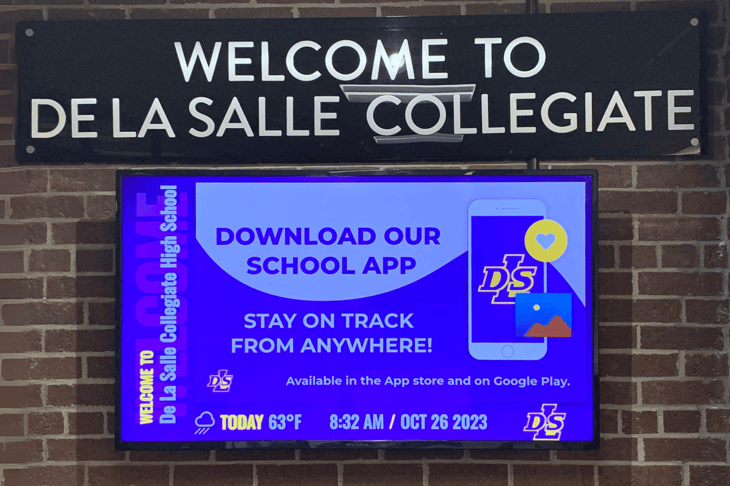 Welcome to De La Salle Collegiate High School in Warren, Michigan!
Digital Signage was a Headache and Lacked Support
Before implementing Rise Vision, the school was faced with significant challenges related to their previous digital signage system. The issues from their old digital signage software provided included:
Unreliable support

Frequent downtime

A lack of cloud-based functionality
Sheryl Anderson shared that their previous system was not conducive to smooth operation, which created a need for a more efficient and effective digital signage solution.
Rise Vision Makes Digital Signage Easy
The school discovered Rise Vision through discussions with their education technology provider, Bluum (also a Rise Vision reseller). The initial push into using Rise Vision was spurred after completing a project aimed at creating a history Hall of Fame for their athletics department.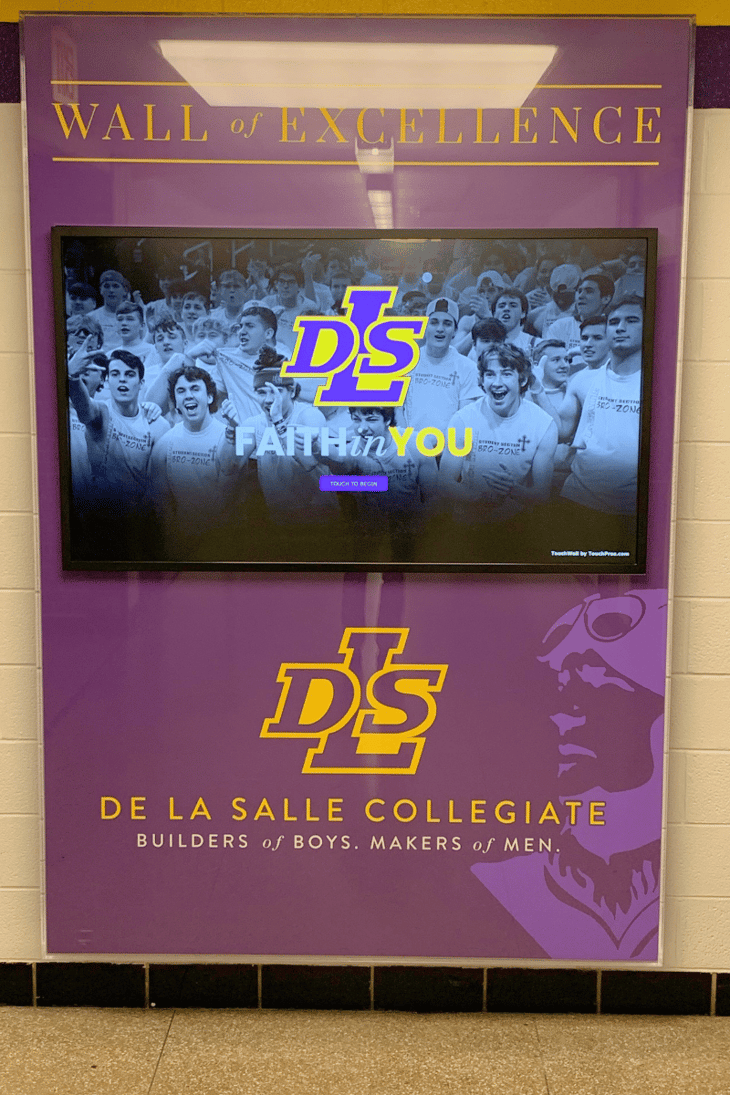 The Hall of Fame display at De La Salle Collegiate School.
As Sheryl Anderson explored the capabilities of Rise Vision, it became clear that the platform aligned perfectly with their vision for a cloud-based, reliable digital signage solution.

When it was time to deploy Rise Vision across the campus, Sheryl remarked that it was very easy, stating, "the Android [media players] came in, we added them to our Wi-Fi, and I was off and running with [the Rise Vision] presentations…"
Rise Vision Digital Signage Streamlined Communication and Improved Engagement
What sets De La Salle Collegiate High School apart in their use of Rise Vision is the multifaceted approach to their digital displays. They have successfully integrated Rise Vision into various aspects of school life, from athletics to academics to community involvement.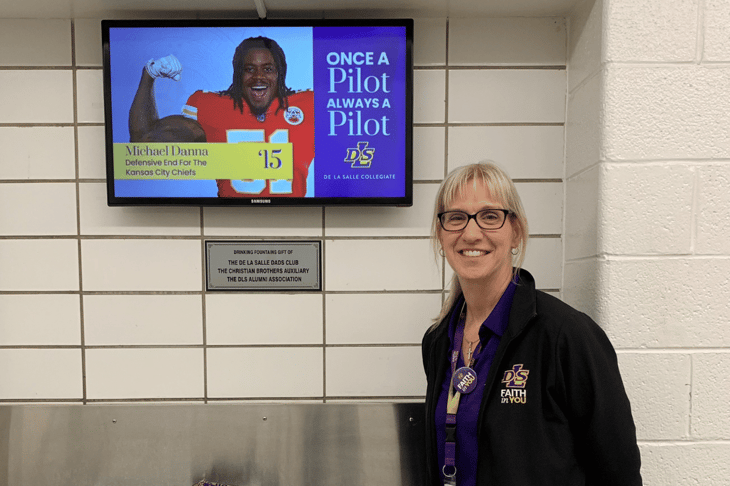 Rise Vision champion, Sheryl Anderson, posing with a digital signage display at De La Salle Collegiate High School.
De La Salle Collegiate High School has leveraged Rise Vision's capabilities to improve the efficiency and effectiveness of their digital signage, allowing for streamlined communication and improved engagement. They have created and tailored content for various displays around the school to meet specific needs.

This versatility is showcased by their collaboration with the Moms Club, whose numerous events and fundraisers are now prominently featured on the digital displays. Additionally, the admission department's digital display has streamlined communication for prospective students and parents, simplifying the application process and showcasing upcoming events.
The Moms Club and Community Engagement
The Moms Club at the school organizes numerous events and fundraisers, such as a fashion show, a craft show with 500 vendors and artisans, rotary club meetings, and monthly meetings.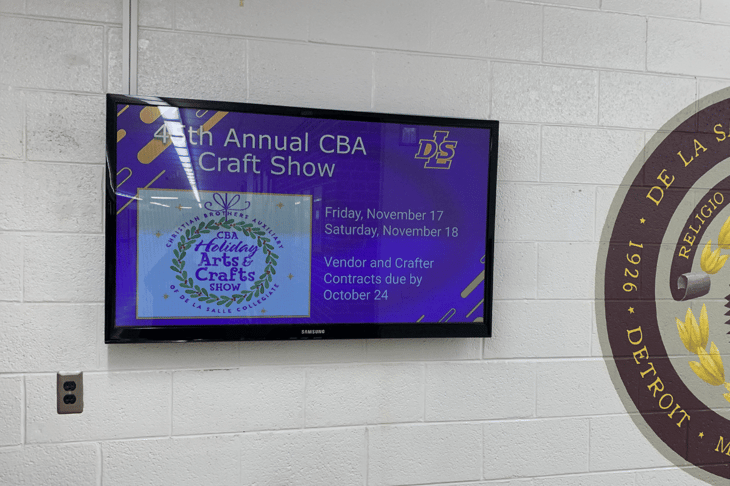 Rise Vision has enabled the Moms Club to have their dedicated digital display, showcasing events, pictures, and information. This not only streamlines communication but also generates excitement and attendance for these community events.

Given how easy Rise Vision is to use, Sheryl was able to train one of the Moms from the club and now they are able to manage their own display and content.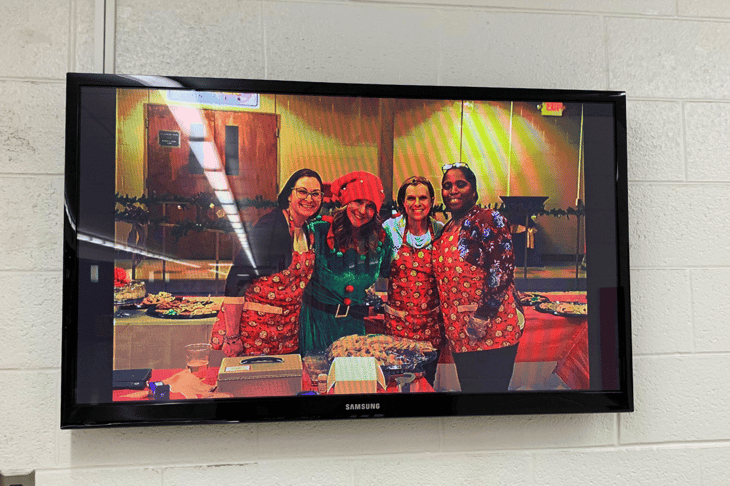 No one works harder than the Moms Club.
Admissions Department and Improved Prospective Student Engagement
The school also recently implemented a dedicated digital display in the admissions department. This display offers information about upcoming tests, how to apply to the school, and information about special events like "Pilot for a Day." It's a valuable resource for prospective students and their families, providing important information at a glance.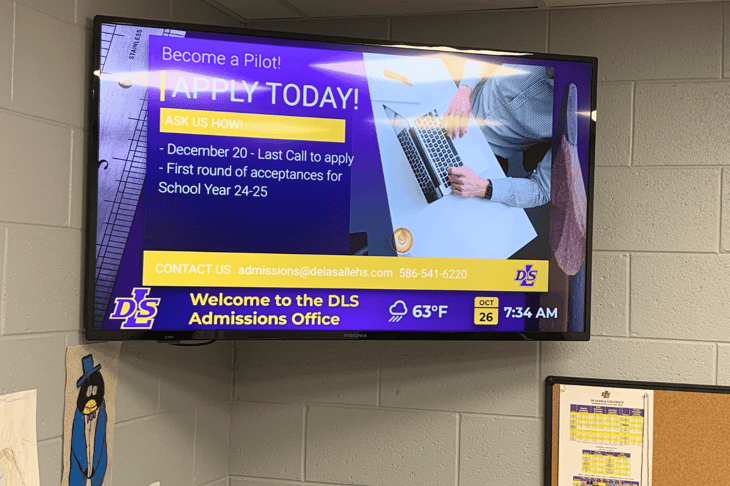 De La Salle Collegiate High School Showcases Effective School Communication
De La Salle Collegiate High School's experience with Rise Vision underscores the potential of the platform in schools. Rise Vision's cloud-based, versatile digital signage solution has allowed the school to overcome previous challenges and streamline communication effectively. The school's approach, which includes dedicated displays for various purposes, showcases the adaptability and utility of Rise Vision. In particular, the collaboration with the Mom's Club and the integration of their events demonstrates how digital signage can facilitate community engagement and involvement, a crucial aspect of any school's success.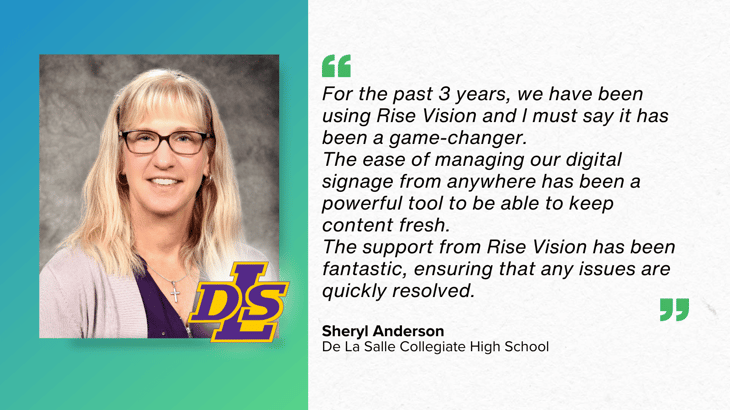 The De La Salle Collegiate High School case study provides valuable insights for other schools seeking to enhance their communication and community engagement through digital signage solutions. Rise Vision's user-friendly platform, combined with creative content generation, enables schools to keep students, parents, and the wider community well-informed while enhancing overall engagement.