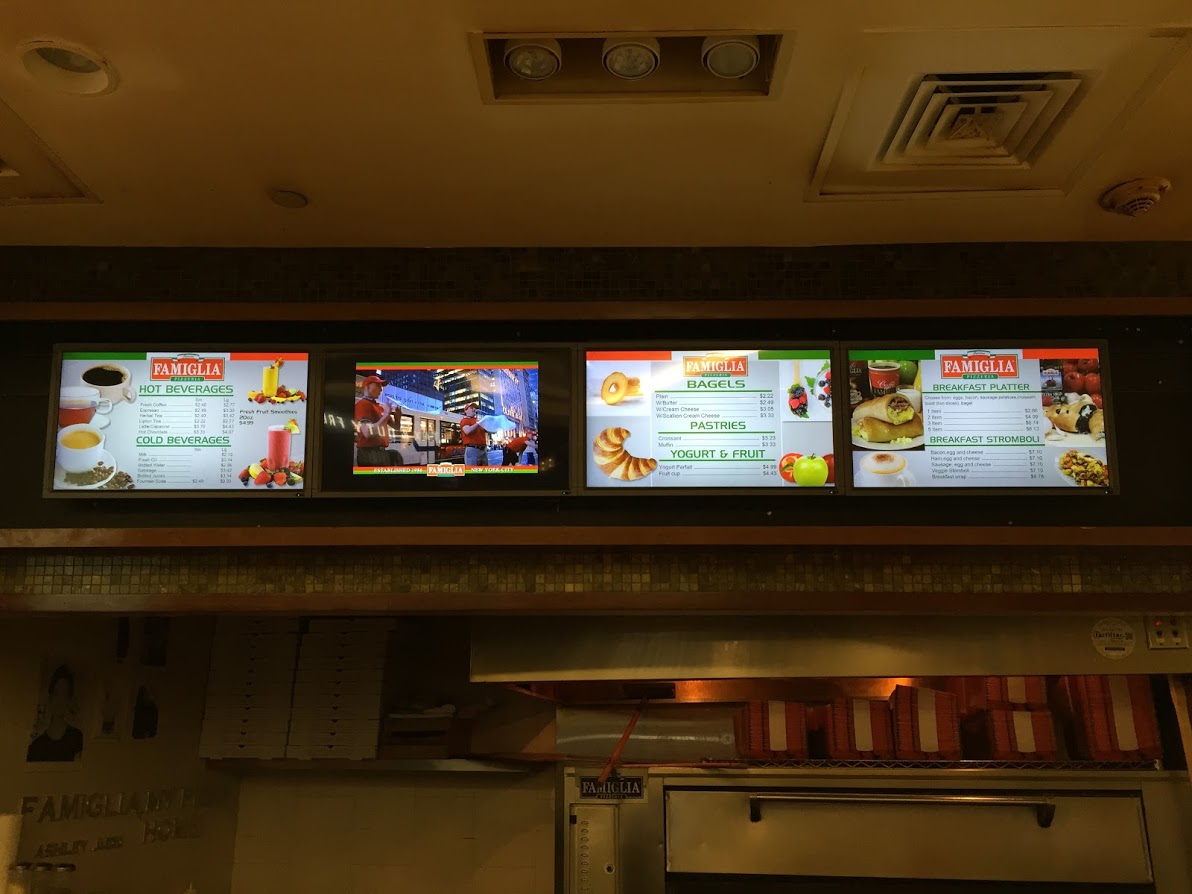 The Participants
HD2Menus.com is a solutions-driven digital menu board and software provider determined to deliver the highest-quality, most user-friendly digital menu board software and hardware available.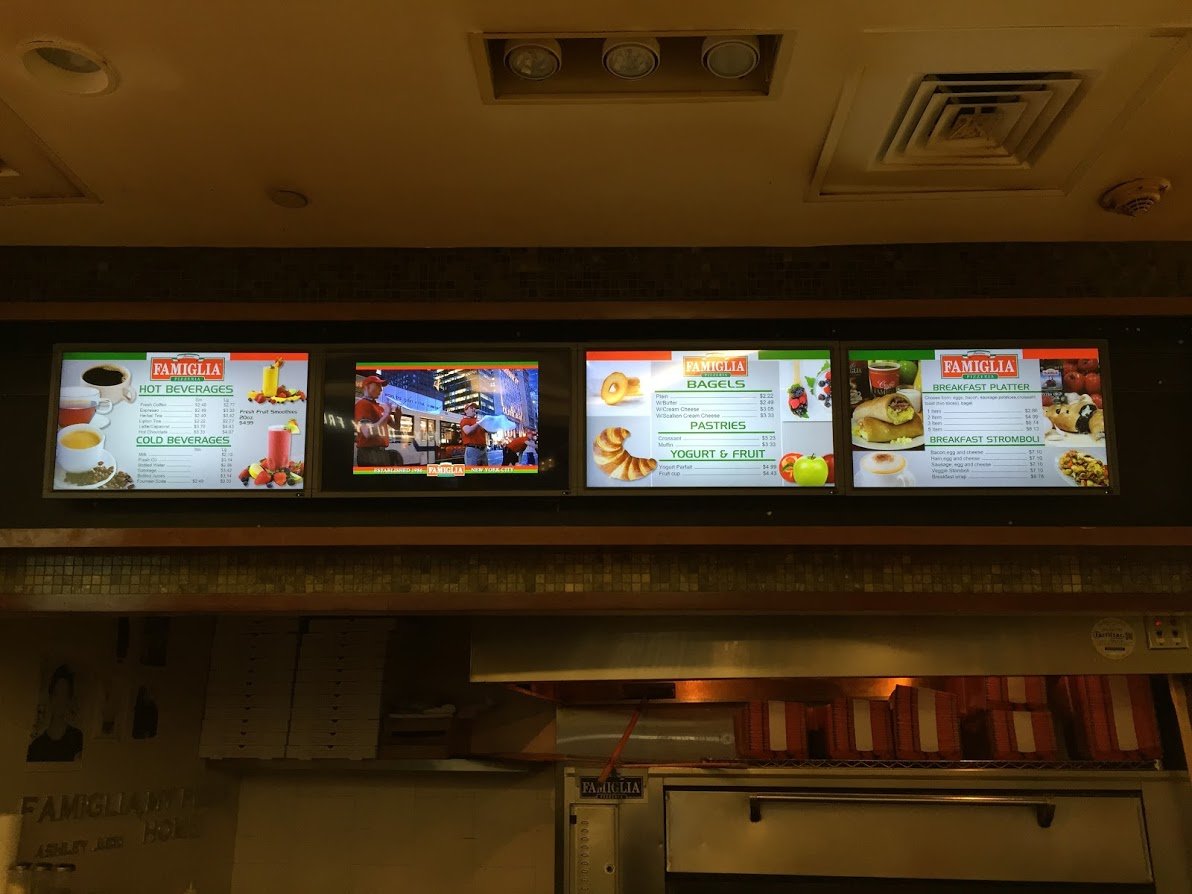 Famous Famiglia is an award-winning pizzeria offering authentic New York style pizza, stromboli, pasta, soup, salads and bread in theme parks, casinos, military bases, travel plazas, shopping centers and airports, including Houston's own Bush Intercontinental Airport.
The Challenge
Famous Famiglia Pizzeria approached HD2Menus as a successful, established brand with a pressing need to update their menu board displays at George Bush Intercontinental Airport in Houston, TX. The Pizzeria had already adopted a digital menu board system, but their existing software proved to be problematic, unattractive, and increasingly obsolete as new, more sophisticated technology became available.
The Pizzeria sought a simple, easy-to-use software that would allow the Operations Manager the flexibility to log in and update pricing and images at a moment's notice based on inventory or seasonal offerings. The software also needed day-parting options as Famous Famiglia's menu changes from breakfast to lunch to dinner as the day progresses.
The Pizzeria's existing software was only accessible through hardware that was inconveniently buried and blocked by cabinets sealed so carefully the staff was unable to access it even to perform a simple restart. Most pressing of all was the fact that they needed a solution to be implemented for three locations with a total of 13 media players within two days. This challenge prompted HDMenus to begin thinking of using Chrome OS and Rise Vision in its plans for a solution.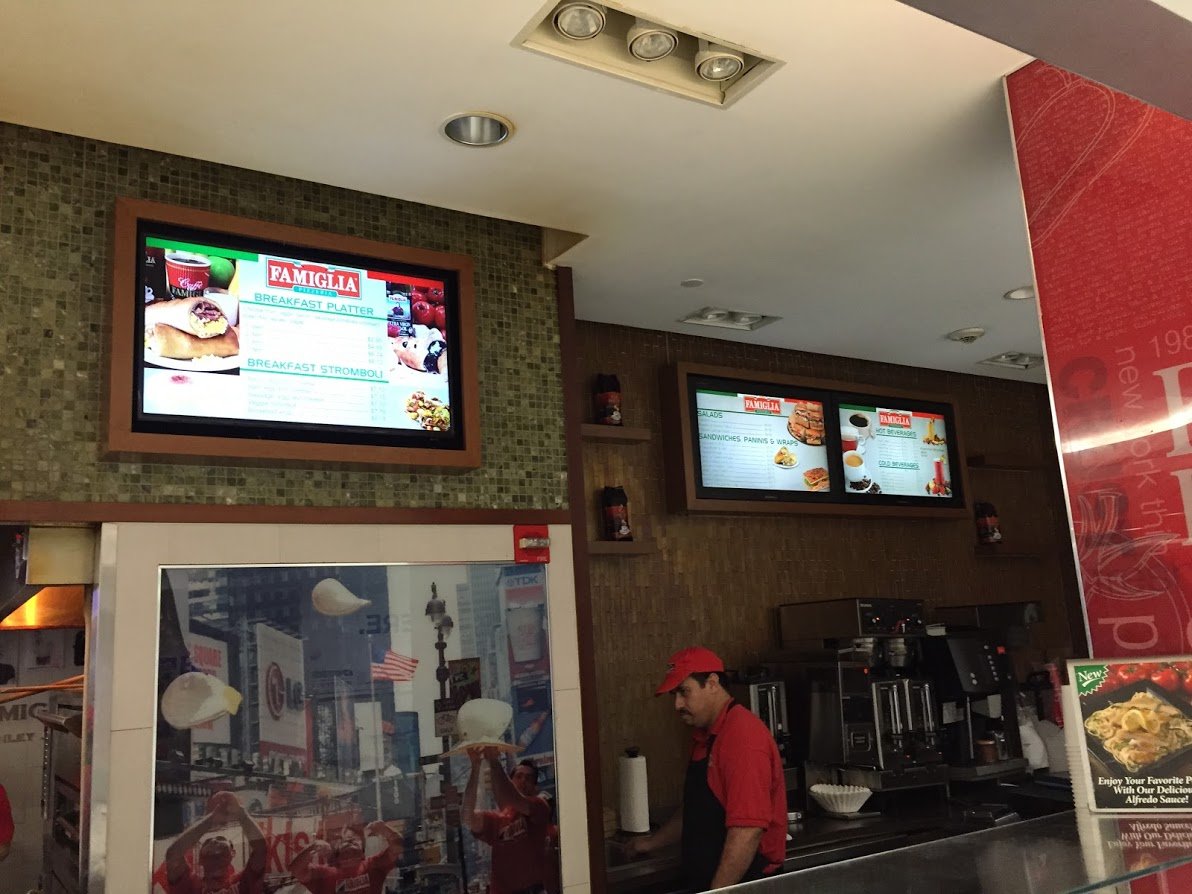 The Results of Adding Digital Menus
Famous Famiglia's new media players were up and running less than 48 hours after initial contact with HD2Menus. The Pizzeria saw immediate improvement starting with ease of access to the hardware. A professional HD2 installer removed the existing cabinets and coordinated the install in such a way that made all units easily accessible for service and visible to staff, ensuring the system would maintain functionality and keep the need for external service calls to a minimum.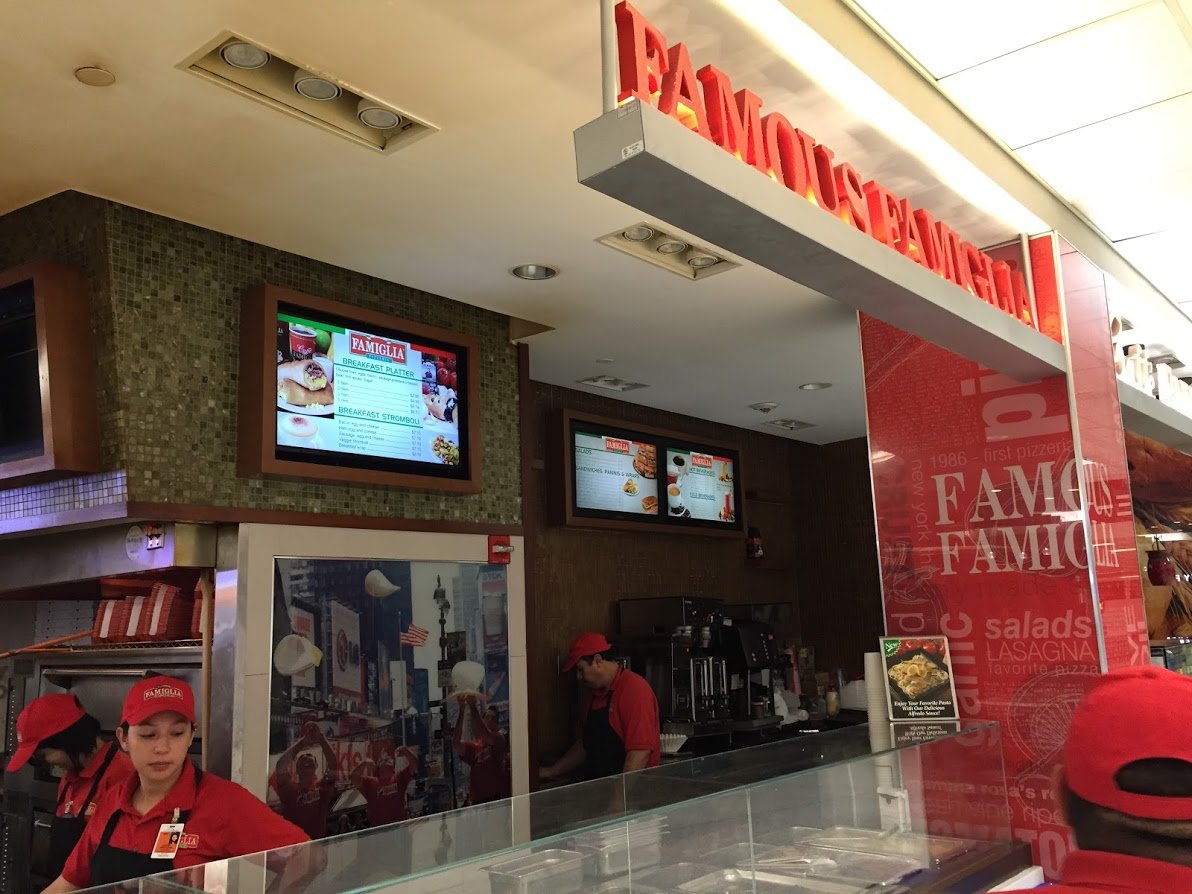 "We were no strangers to menu boards," said Famous Famiglia's Operations Manager, Steve Rudemyer. "We were accustomed to working with a digital menu board software, but even after five years of being used to that software provider we found it hard to use, and support was never available for us. We were extremely impressed with how easy and cost-effective HD2's software was to use, not to mention the great customer service."
HD2Menus installed media players in three areas of George Bush Intercontinental Airport: One location in Terminal E required 6 media players, the second location in Terminal E required 4 media players, and a third location in Terminal B required 3 media players. By implementing the easy-to-use Google Chrome OS platform along with Rise Vision as a fast, effective delivery mechanism, HD2Menus was able to come up with the ideal menu creation solution for every terminal.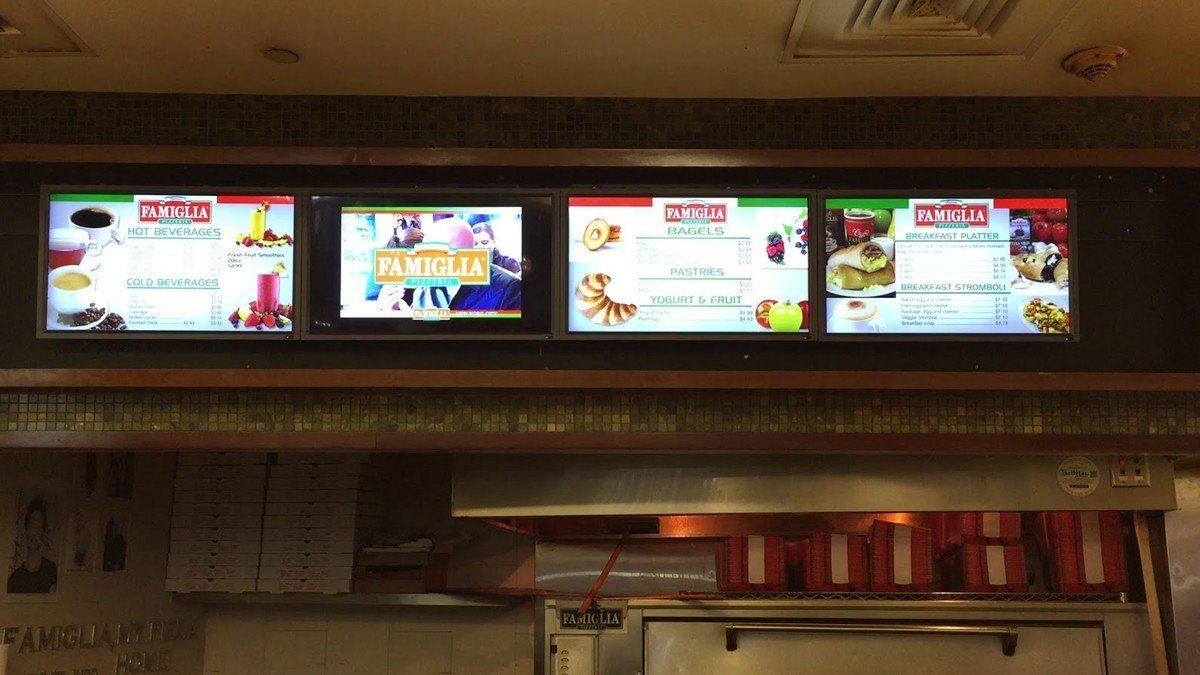 "We are looking to service more locations using Google as the underlying operating system and Rise Vision as the open-source signage platform," said Hussain Ali, owner of HD2Menus.com. "The Rise Vision app made everything functional - it made everything work together– and now that we've created the perfect software solution for Famous Famiglia we are working on replacing their hardware at every location little by little."
All menus were designed within 48 hours, and users were trained in 15 minutes. Managers now have constant access to their menus, and the ability to enhance brand awareness without the inconvenience of malfunctioning and hard-to-access software. HD2Menus was happy to also provide this solution for Famous Famiglia's Sacramento International Airport, and plans to grow with Famous Famiglia as more locations ready themselves for this upgrade.
Want to see how more restaurants use digital signage? Check out our Restaurant Customers page with past clients, use cases, and the benefits of digital signage for restaurants, bars, and lounges!
---
Get Your Message Noticed.
SIGN UP NOW