+
Improve communication, safety, and collaboration with Rise Vision and Airtame
The Airtame and Rise Vision partnership brings emergency alerts to all of your Airtame and Rise Vision displays - including those in your classrooms. Our easy-to-use software and reliable hardware saves you time, doesn't require training for end users, and eliminates downtime.
In Vernon Township School District, we were already happily using Rise Vision for our hallway announcements/news and we were using Airtame in many of our conference rooms and classrooms for casting. When Rise Vision and Airtame announced a partnership, it was like peanut butter and chocolate - of course they should partner! We have had a great experience using Airtame on our displays with Rise Vision still showing our announcements when the display is not in use. We are pleased with both products and plan to add more displays in the future.
Matt Shea, M.Ed.
Chief Technology Officer, Vernon Township School District

Increase collaboration in your classrooms with flexible wireless screen sharing and remote
access to manage, monitor and control your screens.
Unparalleled Flexibility
Seamlessly present wirelessly to any Airtame enabled screen through the Airtame App or the convenient Airtame Browser App. Expand your options even further with added support for AirPlay, Google Cast, and Miracast.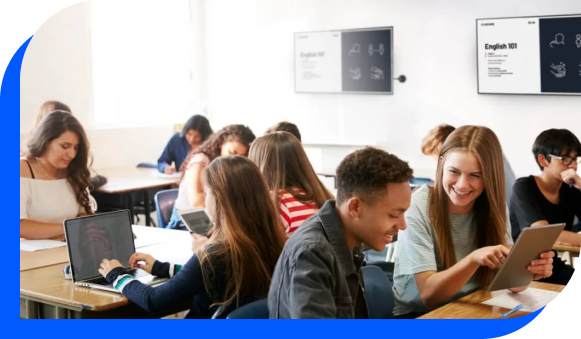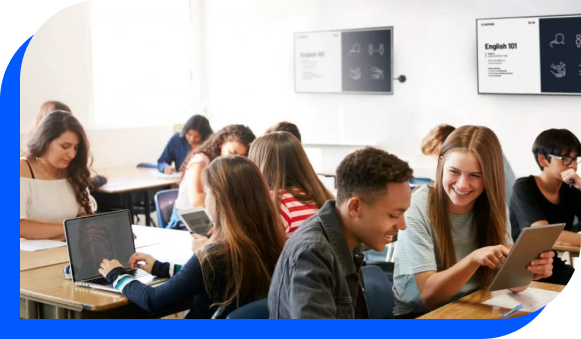 Network Security
Integrate a secure and accessible enterprise-grade solution across multiple VLANs, offering options for both hardwired and wireless connections, and screen mirrored content that remains on the internal network.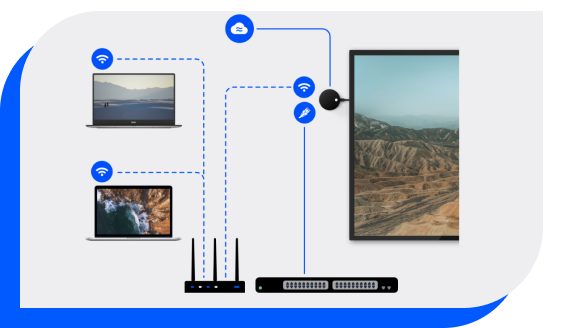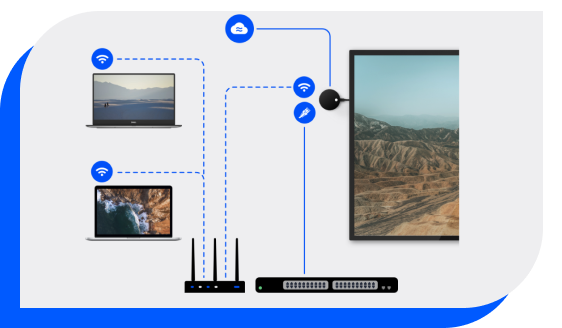 Remote Management
Optimize your deployment while remotely managing your devices with access to digital signage, real-time overviews, sleep scheduling and device alerts. Delegate user roles and permission levels.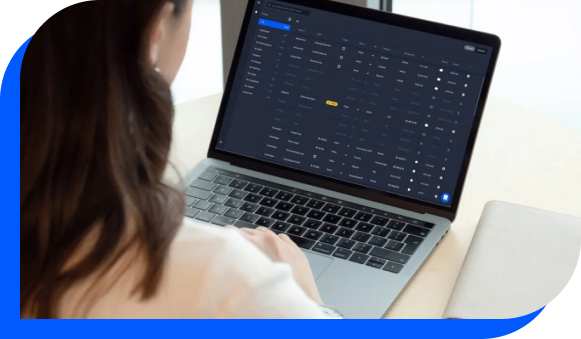 Rise Vision and Airtame have been beneficial to us here at ESC12. We have been incredibly impressed with the impact of Airtame and Rise Vision in our business. It has seamlessly transformed how we communicate with our customers, creating engaging and dynamic displays that captivate attention and convey our messages effectively. The flexibility and user-friendly interface of the solution have made content management a breeze, and the results have exceeded our expectations.
Matthew Morgan
Technology Specialist II, Education Service Center Region 12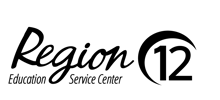 Manage communications and improve safety across your organization with our scalable digital
signage software and emergency alerts.
Emergency Alerts
Broadcast emergency alerts to all of your Airtame devices in classrooms and common areas. Wake displays, shut down streaming, and display alerts.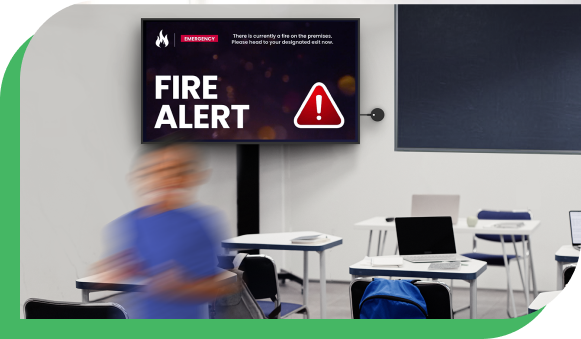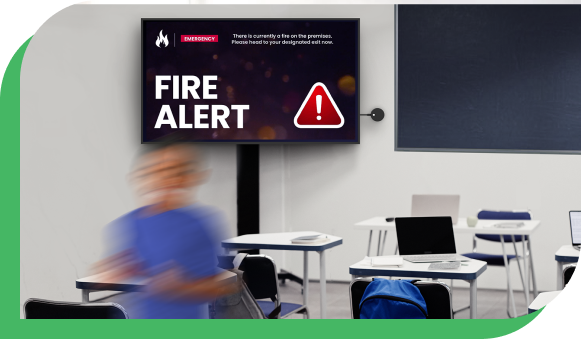 Advanced Scheduling
Set content expiration dates, advanced recurrences, videos to play until they are finished, granular dayparting, overrides, and more.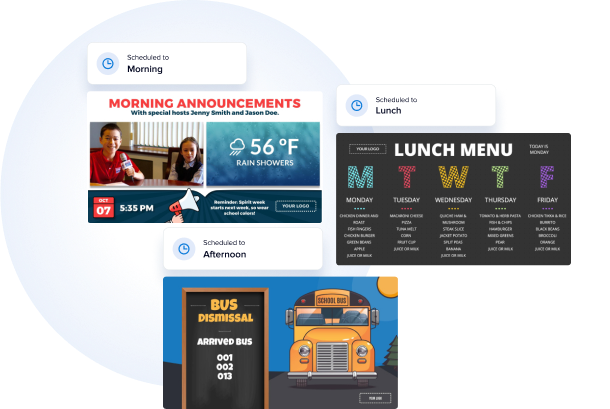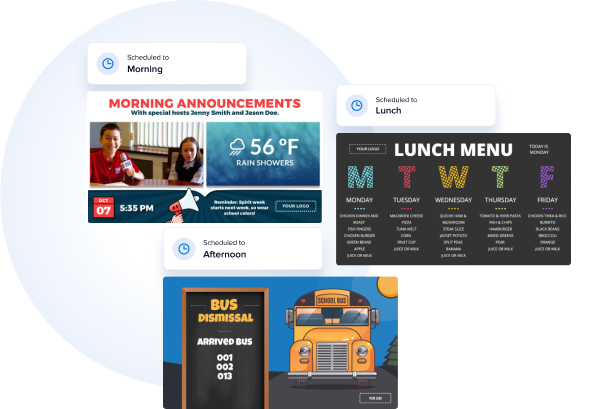 500+ Templates
Save hours of content creation time every week with popular integrations like Weather, Canva, RSS, and 500+ professionally designed, animated, and customizable templates.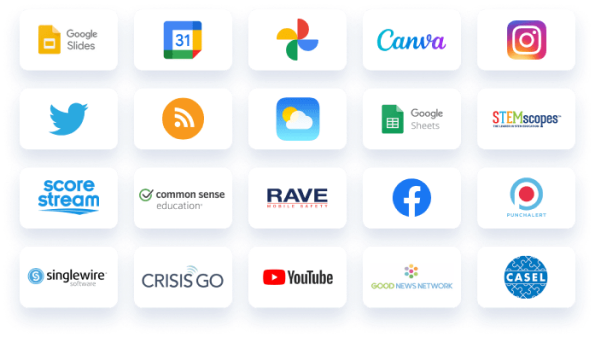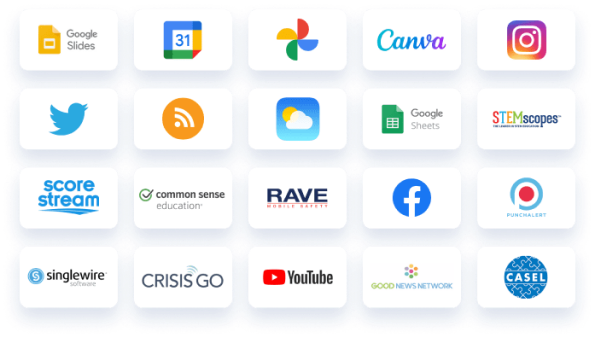 Why Rise Vision and Airtame?
Get amazing service, free training, and best in class software and hardware to ensure the best experience for your community.
Save IT time
No professional development required. Get easy to use and reliable hardware and software that eliminates downtime, reduces tickets, and simplifies large deployments.
Best in Class
Don't settle for good enough. Get the #1 digital signage software solution and the #1 most purchased wireless screen sharing solution for education.
Display Flexibility
Use any type of display. Use Airtame and Rise Vision to control messaging across interactive flat panels, projectors, and TVs in your organization.
See Rise Vision and Airtame in action
We have been using Airtames in all our classroom and public meeting spaces as a way to go "wire free" in those spaces. We have 25 devices and have Rise Vision activated on many of them. We love how seamless it is to change our content on the Rise Vision website and have it immediately update around the school. We have been able to hire new student interns to manage this content, and the Rise Vision interface makes for a very easy learning curve. By combining Airtame and Rise Vision, we have an effective system to communicate within the Frank Batten School and to the University as a whole.
Ben Hartless
IT Manager, University of Virginia

Ready to get started?
Choose the #1 digital signage software and the most popular wireless screen sharing solution for education, and enjoy the flexibility of displaying content on different devices in your organization with Airtame and Rise Vision.
We are a food manufacturer in Little Rock, AR. I purchased our first Airtame when it was in its early days as a crowdfunding campaign. We used it in our conference room for displaying data and remote meetings, etc. I eventually purchased more for our common areas and added Rise Vision to the package. In my opinion, it is one of the easiest signage systems to implement and use. We are extremely pleased with your product and will be adding more licenses in the near future.
Frank Spieldenner
Maintenance Manager,
Sage V Foods, LLC

We use Rise Vision with Airtame, and it is the easiest setup and deployment I've ever had. Airtame never has a problem running Rise Vision which doesn't require much ongoing maintenance, which makes my life in IT much easier. I would highly recommend the partnership for those who are looking for the pair.
John Huynh
IT Manager, Pinecrest Academy

Here at AWT, our operations thrive on seamless communication and the ability to share content effortlessly. Airtame has been our trusted partner in screen sharing. When we integrated Rise Vision into our system, it was a game-changer. The synergy between Rise Vision and Airtame has not only streamlined our internal communications but has also made it incredibly simple for external collaborators to share content with us. It's akin to having the best of both worlds, where dynamic display meets effortless screen sharing. We're grateful for the innovation and integration that both Rise Vision and Airtame bring to the table. Their combined capabilities have truly elevated our operational efficiency.
Steven Dohm
Technology Coordinator,
Alliance for Working Together
(AWT) Foundation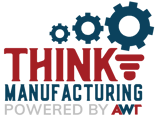 I have been using Rise Vision for the past year. We at the Tonganoxie School District use the program to run 12 displays for current events and upcoming athletics events with a touch of student run video content. Our lunch room uses it for showing their options for the day and upcoming week. Giving options for either breakfast and lunch. We now have Airtame installed in each building and running in each room. Our High School and Middle School use it exclusively. They have almost forgotten how to hardwire their device to show content. Our Elementary is starting to get the handle on using Airtame. We like the mobility of using this technology and giving the classroom a better learning option. It allows the teacher to walk around the classroom and provide closer direction and interaction with students.
John Huynh
District Computer Technician,
Tonganoxie USD 464