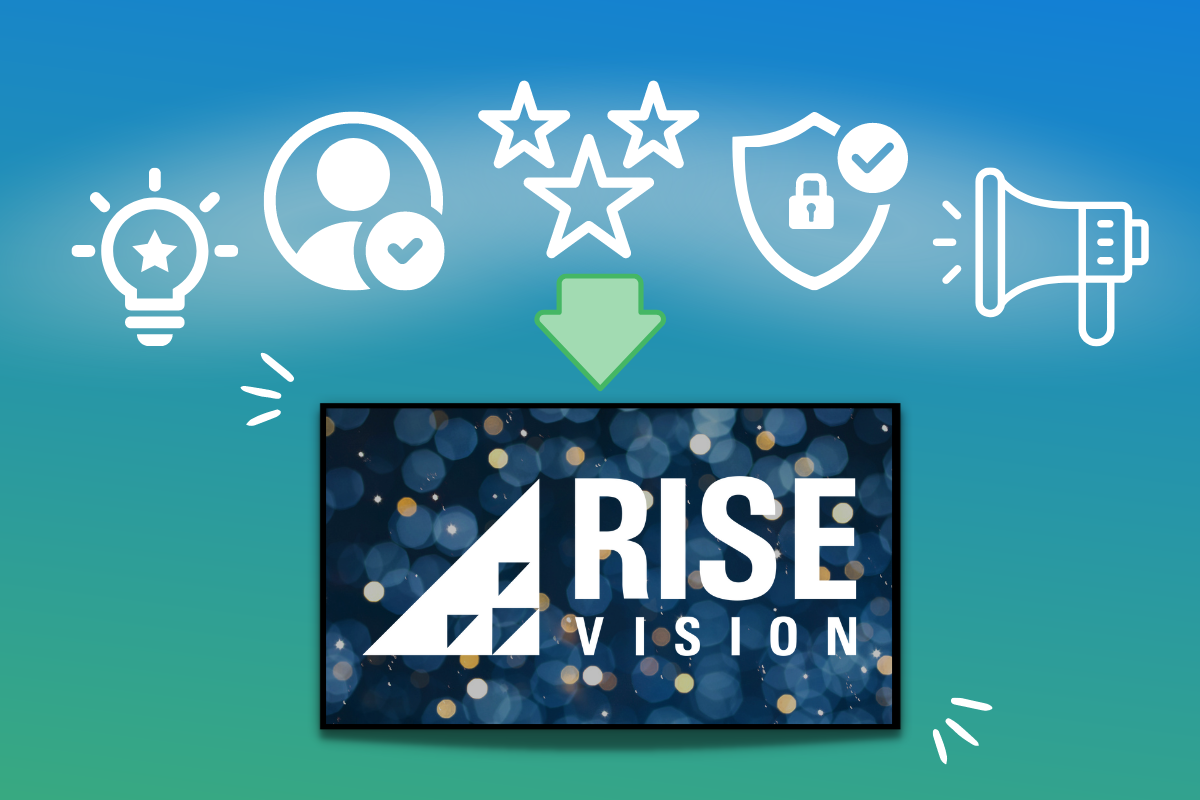 As we run full speed into the summer, Rise Vision is excited to announce the latest updates and new features geared to make the lives of our customers easier than ever before. These features are designed to help you create engaging, informative, and attractive digital signage that grabs the attention of your audience.
New Features to Level Up Digital Signage
One of our goals is to constantly be improving the interface and user experience of our system. We strive to make it easier than ever to communicate across digital displays. First up, Rise Vision is introducing four new features.
Emergency Alerts
Emergency alerts in digital signage are crucial for improving safety at your organization. Being able to quickly and clearly communicate emergency information to a school, campus body, hospital staff, and visitors, or in any building environment can save lives and reduce emergency response time.

Rise Vision has introduced emergency alerts into our platform that connect with Common Alerting Protocol (CAP) providers such as Singlewire, Punch Alert, E2Campus, Rave, Alertus, CrisisGo, and Runva.
What is CAP?
Essentially, CAP is a universal adaptor for alert messages. CAP was developed to help every organization involved improve its emergency notification system with a simple, standardized protocol.

With June being National Safety Month, now is the perfect time to get your digital signage system up and running, including emergency alerts.
List Component Template
Rise Vision now includes a list component template that allows users to easily import or export data from a CSV or spreadsheet into engaging display templates. This feature will save you valuable time and effort by automatically converting spreadsheet data into customizable display content.
Here are some use cases for the list component feature:
Celebrate multiple birthdays in one template

Update your weekly cafeteria menus in one go

Cheer on the home team by posting the complete schedule
Web Page Component
Rise Vision also now includes a web page component, enabling users to share web pages or URL content with ease. This feature allows you to share dynamic, interactive content, making your digital signage more engaging and informative.

The new web page component compliments the YouTube template. Now with the web page component template, users can display a dashboard from an external web page, embed a third-party web application, or embed interactive content to enable touch interaction.
Here are two reasons you should consider adding a web page to your digital signage:
Increase engagement - Including a web page in your display can increase engagement by encouraging your audience to interact with your brand.

Provide more information - A web page can provide more information that might not fit on the display itself. Easily direct students and staff to educational websites, resources, and tools that can aid their learning and teaching efforts.
New Template Library & Event Calendar
In addition to these two new features, Rise Vision launched an update to the template library. Customers now have a built-in calendar that includes the templates you should play on each day so you never miss an important event or date. This feature is perfect for keeping audiences informed and engaged with timely and relevant content.
Key features of the new template library:
On the Presentations list page, the top panel now displays upcoming events

Featured templates that are highlighted in the weekly playbook have been moved over to the right side within the template gallery

The calendar lets you immediately launch the template gallery with the date filter preselected

The new addition of filters instead of categories. Plus, multiple filters can be set at once so you find the perfect template

Toggle to show or hide shared presentations
Never scramble for relevant content on a Monday morning or miss an important date with this new feature!
Announcements & Achievements
Here at Rise Vision, we are excited to share some of our achievements and milestones for this year.
SOC 2 Type 2 Attestation
Rise Vision is thrilled to announce that it has received its SOC 2 Type 2 attestation. This is a significant milestone that demonstrates Rise Vision's commitment to information security.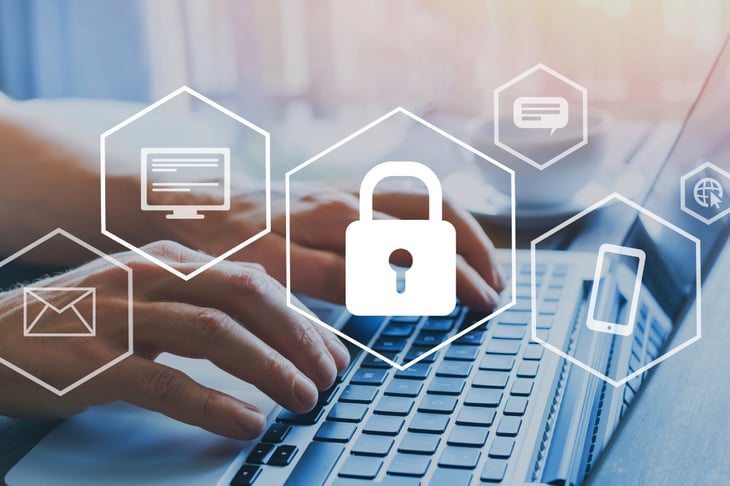 What is SOC 2 Type 2?
The SOC 2 Type 2 attestation is a rigorous independent audit that verifies the effectiveness of the information security controls governing a company's systems, people, processes, and data over an extended period of time.

This attestation means that not only do we have the systems in place, but we've also implemented them and use them every day. Some companies may have their SOC Type 1, but that just shows they have the systems - not that they use them.

We talk the talk and walk the walk.
Rise Vision is Committed to Cybersecurity
Rise Vision takes security and compliance seriously and will continue to invest in our security program to stay ahead of evolving threats. With the SOC 2 Type 2 attestation, Rise Vision customers can be confident their digital signage software is trusted and secure.
SSO (Single Sign-On)
Furthermore, Rise Vision has introduced SSO, making it easier for organizations to manage their digital signage networks. The feature for enterprise and unlimited-tier customers and streamlines the login process, simplifies account management, and improves security.

These platforms that are supported with Rise Vision's SSO feature Google SSO, Microsoft AD and Azure SSO, and ClassLink.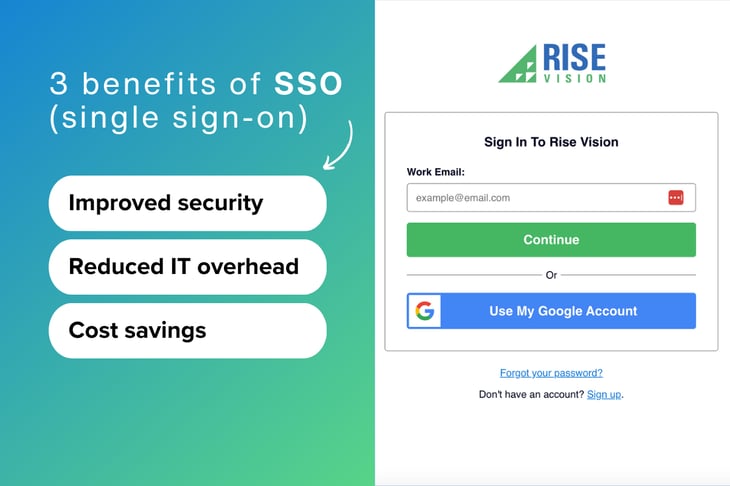 There are many benefits of SSO. Here are three:
Improved security - SSO reduces the need for multiple usernames and passwords which can be forgotten, stolen, or hacked. SSO allows users to authenticate once and access multiple accounts.

Reduced IT overhead - SSO eliminates the need for IT staff to manage multiple sets of credentials which can be time-consuming.

Cost saving - Reduce the cost of licensing and maintaining multiple applications. SSO can simplify the deployment and management of digital signage software across the school.
Recognition for Excellence


​​"Excellence is a journey, not a destination." - Ralph Waldo Emerson.
Lastly, Rise Vision has been recognized for its excellence, ranking #1 in multiple categories by G2 in their Spring Digital Signage Reports. Rise Vision has also been named an EdTech Award Finalist in the communication solution category, further cementing our position as a leading digital signage software solution for K-12 schools.

We will continue to strive for excellence and push the boundaries of what digital signage software can be and how it can be used to make communication in schools better and easier.