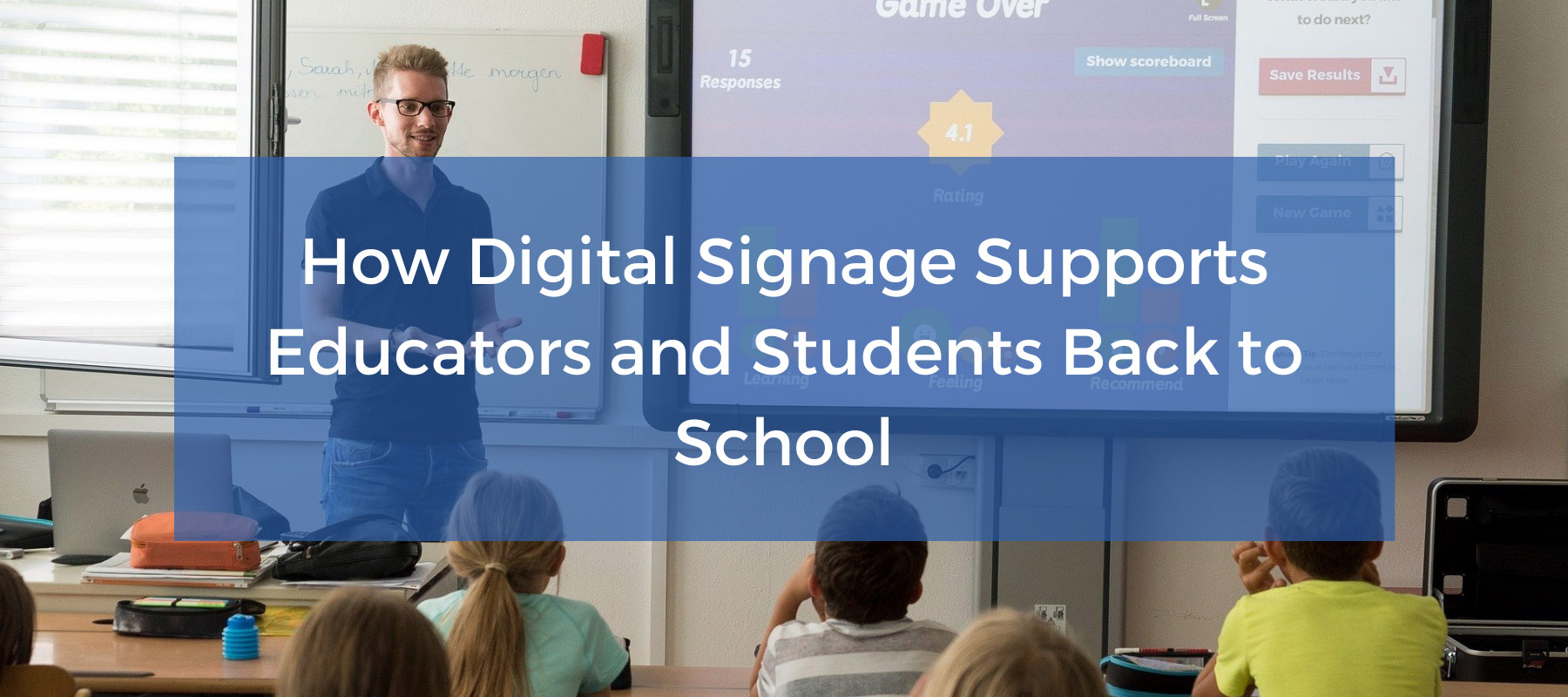 Digital signage provides important benefits for educators and can be used for effective teaching. These are some ways teachers and educators can use digital signage for back to school. Before determining the benefits, we must know:
What is digital signage?
Digital signage is the use of high-quality displays in public places that can be updated remotely to show any desired type of content. It is a relatively new phenomenon that is becoming more and more popular for several different reasons.
Digital signage is a technology that has been around for decades, but had not developed to be the perfect marketing tool until the last decade. Digital signage is a strategy for utilizing public space to send targeted messages to specific groups, usually in the form of advertisements. This form of marketing has the potential for lower cost and greater effectiveness.
These days, the signs can be installed anywhere and are typically used in places such as airport terminals or doctors' offices. In the past, digital signage was used by businesses as a type of advertisement. Now, it is used for a lot more things, such as announcements, menu boards, and reminders.
The form of digital signage can be a simple LED sign or a huge monitor or screen. The displays are designed to be seen from an oblique angle, not just directly in front of the screen. The purpose of digital signage is to attract attention, create interest, and possibly convey a marketing message. The content can be specially designed to provide useful information, or it can be the latest news, weather, or social media content.
What are some of the most important benefits of digital signage for educators?
The emergence of digital signage has led to many changes for educators. In addition to improving communication with parents and other stakeholders, digital signage in schools improves communication for teachers. Digital signage in classrooms provides a visual representation of what children are learning as well as the resources they have. It also allows students to share their work with a large audience, which boosts their confidence, and encourages other students to do the same. Academic institutions use digital signage to provide an easy-to-read and interactive platform for students to pursue course content and discuss ideas.
This has proven to be especially beneficial for the students with Autism Spectrum Disorder who need a visual representation of information for better comprehension. Many schools and colleges also use digital signage to display emergency notifications and alerts. Digital signage allows students to engage with digital media across a variety of devices – computers, tablets, phones, etc. through emergency alerts and sharing amazing content using integrations of text, images and embedded video.
---
Download the entire collection of FREE Back to School posters!
- 7 landscape-oriented posters
- 7 portrait-oriented posters
- available in both JPEG and high-resolution PDF formats
---
The benefits of digital signage for these groups include the following:
Students: Digital signage can be used to make announcements via text, video, and images to the entire student body. This can be used to let students know when there is a substitute teacher and what the class will be covering while the teacher is away. There are also instances of digital signage being used to put up images of students who have made something of note, like a student who has an award or a good grade on a test.
Faculty & Parents: Digital signage can also be used to make announcements to faculty and parents.
Most educators will have students in class using devices for various reasons. One such reason is that these devices are a replacement to the traditional teacher's chalkboards, and to some extent, there are those who use digital media in the class because it is easier and more convenient.
When it comes to educators, digital signage is a quick and inexpensive way to reach many of their students outside of class. A digital signage program can also be very cost efficient for school districts with limited funds.
There are many benefits of digital signage for educators and students, as stated above. Another benefit that makes digital signage a viable option for educators would be the way the system can be used to reach students who are still using old systems that can be outdated and ineffective.
Digital signage is an alternative teaching tool that allows educators to reach students regardless of their age, and to adapt to the new standards that have been set forth by the government for students. Educators can use digital signage as a tool to integrate new curricular standards and to provide students the necessary skills to succeed.
Educators can take advantage of the interactive features that allow a better student learning experience. This can lead to better retention, and can also impact their students' reading proficiency.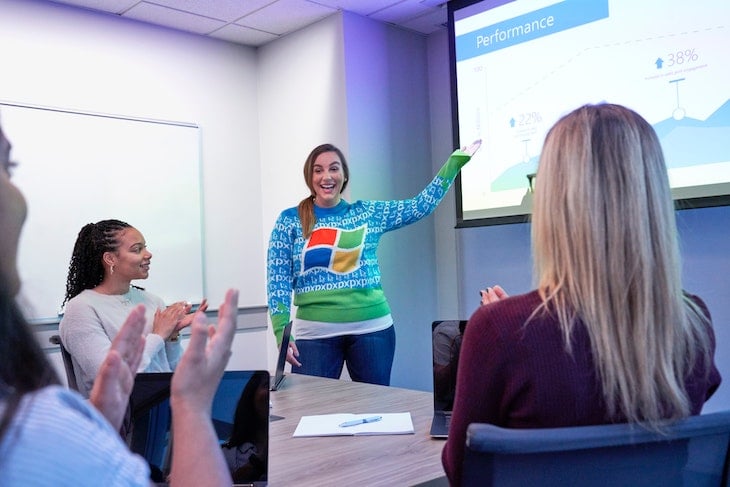 How digital signage helps enhance the educational experience when returning back to school?
Digital signage for educators gives educators the opportunity to share important information with students today. By using digital signage, educators are able to share information quickly and easily. Educators can use digital signage to share important announcements, share useful information on a topic, and provide quick updates on school closings. For example, if a school closes due to inclement weather, educators can use digital signage to quickly share that information with all students. Digital signage can also be used to share lesson plans for the day or important information for the day. For example, if it's the first day of school or the last day of school, educators can use digital signage to share upcoming events, school closings, or valuable information with students and staff.
Digital signage enhances the educational experience by provoking thought, facilitating discussion, and making the classroom more entertaining. This form of signage prompts debate in an economical manner and has the ability to stimulate many different types of audiences. The content that is displayed on the digital displays is open to a host of possibilities, such as audio-visual narration, conference or lecture recordings, and media files such as videos. By displaying an audio-visual presentation, it is more likely that all of the students will receive the information presented, as they can read as well as being able to listen to the recording. This helps to increase the chances that all students who attend the lecture will have gained something from it. It also gives students who have missed the lecture an opportunity to receive a recording to review on their own time.
Back to school doesn't only mark the season for parents to pull out their binders and start to fill in the school year with back to school shopping lists, it can also mean to be in the school building when students return to classrooms. In particular, when digital signage is supported by student-generated content and student participation, back to school becomes that much more productive for school administrators, teachers and students alike.
One of the biggest challenges many schools and districts face when they start to implement a new technology program or set of technology tools and methods is to decide what digital signage technology will be used to provide the best education in both content consumption, and more importantly, the ability for students to interact with it. With digital signage, for example, comes the opportunity for the district to create an active learning environment that not only engages learners academically, but also uses the media to engage them at a societal level.
The use of digital signage is the norm with many districts and schools implementing new educational technology programs or adopting new tools or new methods to improve technology integration, enhance existing programs, and expand the instructional experience throughout the school day. As the technology evolves and schools look to digital signage and student-generated content solutions to keep students engaged, learning becomes more valuable, and ultimately more valuable than it was in the past.
Digital signage has become an important tool in helping teachers train and implement educational digital tools into the school's program. When the decision is made to provide digital signage to a certain section of the school's student population, school administrators will want to know that digital signage can:
Help them engage with their students;
Provide personalized learning (personalized learning refers to the level of student involvement with learning processes that helps shape the type of student).
Digital signage is a great tool for classrooms. It helps teachers get their message across and to make sure their students are paying attention. Digital signage can also be used in areas of a school such as the front entrance to greet those coming into the building. Schools often have live feeds of what is happening at the school that can be seen in any area where digital signage is set up. This has been proven to be a great way to increase school safety.
Digital signage on campus provides a means for students and faculty to get information quickly and easily. With the prevalence of the internet and social media, it is difficult to keep up with all the newest information that has been published. With digital signage there is a great opportunity for universities to update the content of their signs as new information becomes available. In addition, digital signage can be used to post events, updates, and other well-known notices that may not necessarily be easy to find on the university website. A good example of this is office hours for professors and tutors that are posted on their signs.
---
Download the entire collection of FREE Back to School posters!
- 7 landscape-oriented posters
- 7 portrait-oriented posters
- available in both JPEG and high-resolution PDF formats
---
How can digital signage be used by teachers and students for classroom activities?
Digital signage is an exciting tool in the field of education, because it allows teachers to present information to their students when they are not in the same location. This is helpful because teachers don't have to always be in the classroom with their students, but instead they can focus on their curricular goals, learning objectives, and impactful presentations. However, online classes through digital signage also allow students to watch lectures and learn from teachers anytime they want. Digital signage is not just used for lectures though, it can also be used to help students focus on math or reading and writing assignments. If a student is struggling with homework or an assignment, digital signage can help that student find answers and that will help them succeed. Airtame is the perfect solution for this, allowing teachers to use this wireless presentation system with digital screens in classrooms to share content like lectures with students.
Read more about the benefits of Rise Vision's partnership with Airtame here.
Signage can be used to display a message about the lessons of the day, such as homework assignments or the test that students are studying. It can also be used to display notices about upcoming tests, sports events or the activities in the classroom. There are also ways to build lesson plans around digital signage equipment like projectors and smart boards so that all students get to participate. Additionally, signage can be used to create learning hubs and display the class schedule and important information. Some teachers are even using digital signage to create learning kits that contain resources like coloring books, art supplies or interactive whiteboards.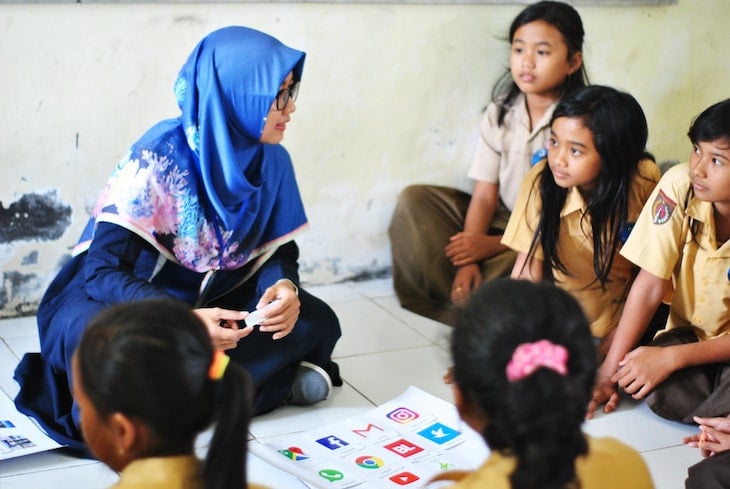 The Best Video Instruction
Video instruction is very useful in elementary and middle school classrooms. There are many forms of video including films, YouTube videos, and video lectures. A great feature of YouTube is the ability to subscribe so that you can keep your videos accessible whenever you have an internet connection. Another benefit is that YouTube allows teachers to give feedback to the video creator. You can use comments, likes, and dislikes to help improve the quality of videos that you create.
Learn how to embed YouTube videos into your digital signage
Connecting with Your Online Audience
There are many ways to connect with your online audience. The first and most common way is through social media. Using Facebook and Twitter you can connect with your students and parents. There are forums, chat rooms, message boards, and email messages that are designed for this purpose. The other method of connecting with your online audience is through live video. Live video is one where your students and other viewers can be recorded and transmitted over the internet.
Learn how to embed social media into your digital signage
Use Technology to Increase Student Engagement
Digital signage is a powerful tool in any space. It can be used to provide entertainment or information, but it can also be used to facilitate classroom activities. In the case of a K-12 classroom, it's important to have the right balance of digital content for students to make the most of their educational experience. Students need to have access to any content that's being used in the classroom. For instance, if you're using interactive online exercises with students, then you'll want to have access to these activities on your digital signage. It's also a great way to keep students engaged if you have games or videos that educate on specific topics. Interactive content is always a great way to make digital signage fun for students.
Digital signage can be used for classroom activities in many different ways. One way is to use it to display student work in a public space. This allows students to make more work public and they can showcase their work in a captivating way. Another way digital signage can be used is by displaying assignments on the projector. This alerts the students of the impending assignment, and they can prepare accordingly. Digital signage can also be used to display important announcements in a public space, this would include fire drills, exams, or the end of the day. This allows for the students to know what is happening and as they walk past they will be notified of any important events.
As the world of technology advances, it is always changing the way that we work and live. Digital signage, and the use of large screens to display messages can allow for easier communication within a building, with customers, or just about anyone. In a school, digital signage can be used for teachers and classrooms any time, in particular as students return for a new school year.
Related Articles