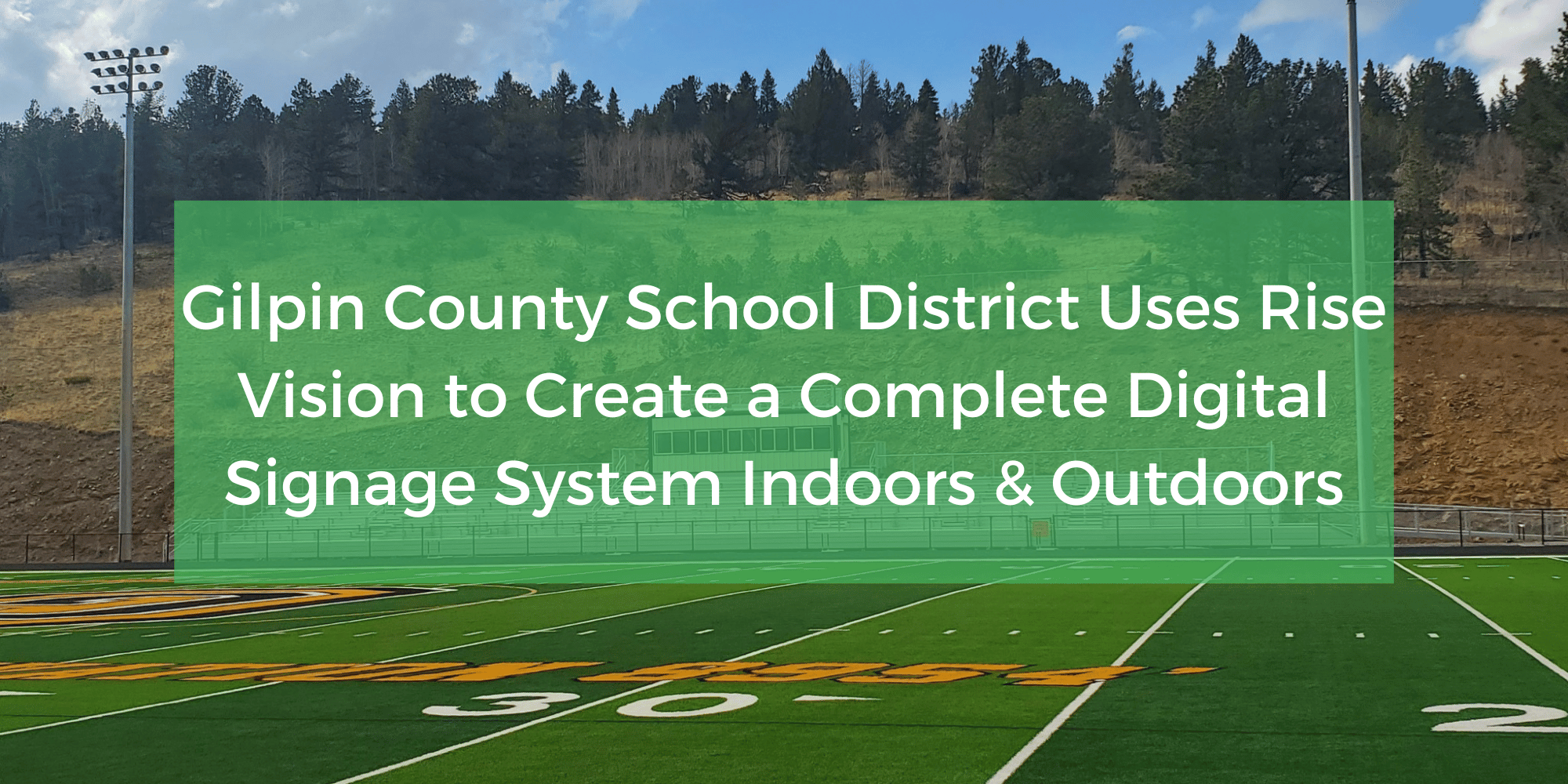 Gilpin County School District is located in the former mining town, turned casino town of Blackhawk, Colorado. While the town of Blackhawk is home to under 200 residents, the entire school campus has a student enrollment capacity of 600 students in grades preschool through grade 12.

The town has been prosperous thanks to the mining boom in the 1860s. Over the past 30 years, Black Hawk has become the "Vegas of Colorado", with a staggering $900 million investment in land, casinos, and infrastructure. Thanks to this investment, seven years ago, Gilpin County was the first school in Colorado to become a 1:1 Chromebook school.

Nathan Detling, Gilpin County School District Director of Technology, is making the most of digital signage at the school campus by combining Rise Vision with Vivi devices and developing a creative (and insanely inexpensive) outdoor digital signage solution!
A Tale as Old as Time: Gilpin Was Using a Jerry-Rigged Digital Signage Solution (And It Wasn't Working Well)
After investing to make their school a 1:1 in technology, five years ago, Gilpin County School District also invested in TVs. They replaced some deprecated technology with 65 and 75-inch televisions.

Purchased with Google TV or Chromecast already built-in, the school was using the TVs in the classrooms for teaching and digital signage. However, to make them work for digital signage, the team jerry-rigged a script so that the TVs would share a single URL with their presentation. This content was then pushed to the TVs every hour or so. However, they quickly ran into usability issues. The TVs had to be turned on manually. As well, students were clever and were able to download applications to control the TVs and turn them off.
An Unlikely Duo: Utilizing Vivi Units with Rise Vision Digital Signage Software
The system they were utilizing for digital signage just wasn't working out. Gilpin County needed a better solution that could improve the school's communication.

To create a digital signage system that works for them, Gilpin County School District combined Vivi box with Rise Vision digital signage software. For this school, they liked Vivi for its ability to be used in teaching (so the TVs could play double-duty too) and the student user feature.
Popular Features of Rise Vision Software
Having a successful digital signage system doesn't end at the media player though. Gilpin County School District recognized that they needed a robust system that could help them increase communication and create a positive school culture. Enter: Rise Vision.

After finding Rise Vision through an online search and validating the software on a popular subreddit, Gilpin County chose Rise Vision for some of the popular features that other platforms just don't have, including:
500+ education-focused templates premade and ready to go

Ease of use for having students share their favorite video media

Google Calendar integration for easy lunch menu sharing

The ability to delegate the system to teachers and students to increase engagement
By combining Rise Vision with Vivi media players, Gilpin County teachers can utilize Vivi in the classroom for teaching and use the system for screen sharing. When teaching time is over, the screens default back to Rise Vision and the school district's regular programming.
Gilpin County's Digital Signage Generates Revenue
Gilpin County is making their digital signage work for them. On a 4-TV video wall in their public atrium, the school includes advertisements from local businesses. They use these four screens, plus some of the other common area displays to show advertisements like:
Sponsorships for the football team or club

Community events like musicals or the theater

The local gas station

Restaurants like the local pizza shop and more
Plus, the school's booster club and PTA uses digital signage to raise awareness for local and community events. Businesses donate money to the booster club or PTA in exchange for display time. In the 23-24 school year, Gilpin County plans to advertise online ticket purchases for the football games.

The school utilizes Rise Vision software to engage with the community not only during school hours but after hours by sharing community advertisements. By their estimates, the revenue from advertisements should pay for their digital signage in no time!
Budget-Friendly Outdoor Digital Signage
When Gilpin County School District's old marquee sign died last year, everyone was a little relieved. The old system meant that when it was time to change the display, someone had to go outside (regardless of the weather) and change the display using a clunky remote. It was time for an upgrade.

Schools who have looked into investing in outdoor digital signage know that a typical display system will run you about $50,000. For schools like Gilpin County, they need to ensure that the display and system will hold up to extreme weather conditions as well.

Instead of investing in a new marquee sign, they have discovered a more budget-friendly system! The school purchased a climate-controlled outdoor case and installed an 85-inch TV. Using their Vivi box and Rise Vision digital signage software, the school spent a fraction of the price of a traditional outdoor sign.
The Break Down of a Budget-friendly Outdoor Digital Signage Display
Let's break down their budget-friendly outdoor digital signage display.
The

outdoor TV enclosure case

is heated and cooled to withstand the extreme temperatures of Colorado. Plus the unit they went with is saltwater-safe which is a concern due to the road salt spread out during the winter to keep the ice at bay.

85-inch TV

purchased from Costco is big and bright enough to be seen from the road.


Vivi display box is installed on the TV and connects with their outdoor wifi system. Using the same media player in their outdoor display as their indoor digital signage display keeps things simple for their IT department.

Rise Vision digital signage software

means they can display any messaging to passerby whether it's a school announcement, time and weather, or advertising for an event.
Plus, with the Vivi media player, they can also force the TV on in the case of an emergency. Being in Colorado, the school sometimes has to display an emergency alert when a large animal wanders into the area.
Using Digital Signage for Scoreboards
The budget-friendly options aren't limited to replacing an old-school marquee sign either. A new scoreboard has a price tag of $30,000, so the school is also looking to replace their dated scoreboards with TVs and Rise Vision. Installing a TV and using digital signage means they can get more out of the display.

The district wants to be able to share scores from their games, but also stats from track and field when Olympic athletes are using the field for training. Gilpin County School District has a high-altitude track that is used by world-renowned athletes to train for their Olympic events.
Gilpin County School District has a Complete Digital Signage System Indoors and Outdoors
Gilpin County School District has a complete digital signage system that gives the school a ton of flexibility and supports them in their endeavor to increase communication and promote a positive school culture.

We are excited to see how creatively Gilpin County was able to put together a digital signage system that works for them. Plus, we love hearing about the ingenious ways schools can save money.