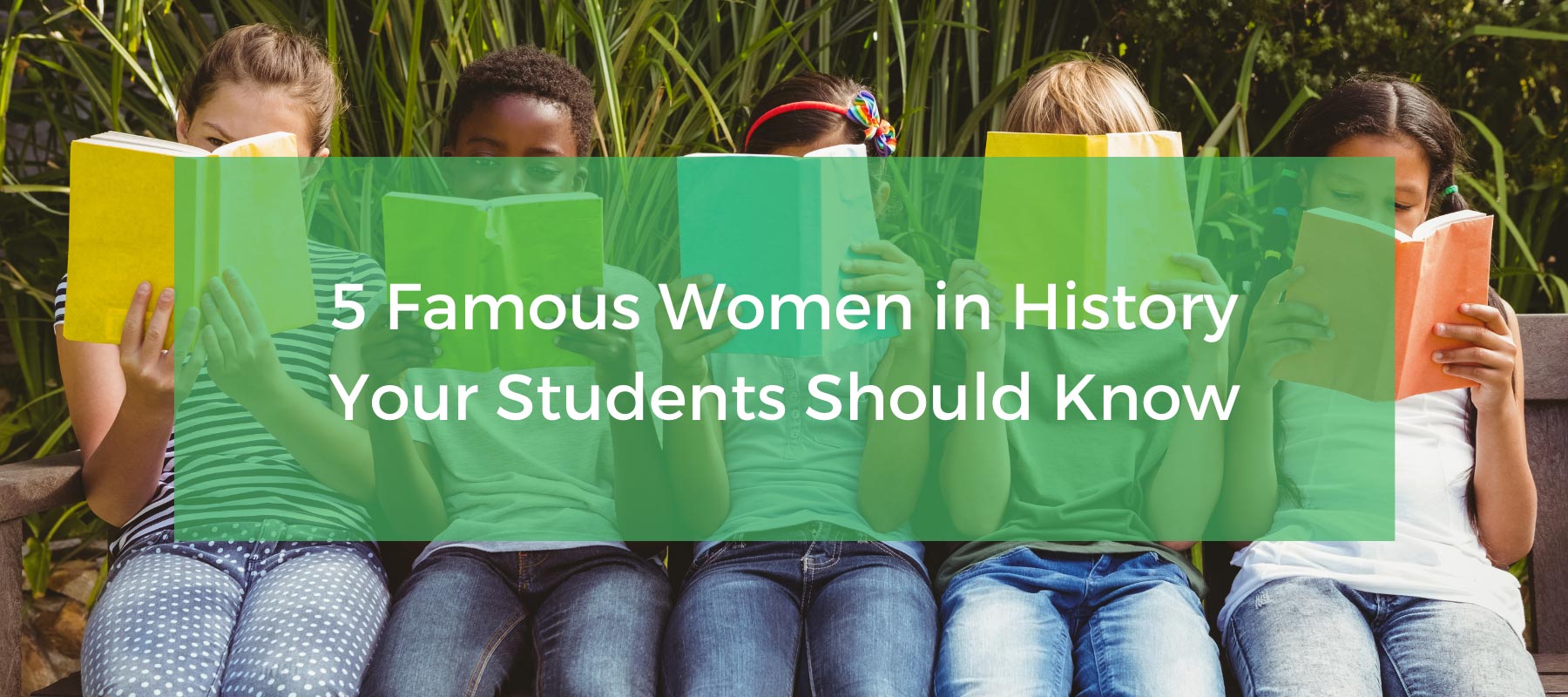 Today, women regularly make valuable, meaningful contributions in all aspects of society. It would be easy for school-aged students to assume that it has always been this way. This is just one reason why events like Women's History Month are so important.
Teachers looking for K12 teaching resources or ideas for lesson plans will find this post helpful. We've covered a brief history of Women's History Month below. Then, read on to learn about five women who have made history and five who are blazing trails in sports, technology, education, the environment and government.
But first, because we love supporting K12 schools, we've highlighted five female leaders in education technology who are at the forefront of digital transformation in K12 classrooms. Use the links below to learn more about the work they do to inform and support teachers with technology use in the classroom.
>> 5 Women To Watch in EdTech <<
>> Dr. Monica Burns
Educator, Author, Speaker & EdTech Consultant
>> Erin Klein
>> Esther Park
>> Carla Jefferson
>> Holly Clarke
A Brief History Of Women's History Month
Did you know that the very first Women's History celebrations were held only 41 years ago in 1980? At that time, it was Women's History Week. The founders of the National Women's History Alliance were concerned about the representation of women in school textbooks and in society at large. Men outnumbered women by 11 to 1 in school texts and there were few female role models for young girls. They decided to lobby Congress to establish an annual celebration to acknowledge the role of women throughout history. It wasn't until 1987 that the month of March was designated as Women's History Month. Here are a few fun facts about Women's History Month:
The International Day of Women is March 8th. It has been celebrated since 1910.
This was part of the inspiration for choosing March for Women's History Month.
In Canada, Women's History Month began in 1992. It is celebrated in October.
Many countries around the world have since joined in recognizing the contributions of women during March.
SPORTS

Manon Rhéaume is the first woman to play in a major North American sports league: 1992
Manon Rhéaume, Canadian, played in the NHL for the Tampa Bay Lightning on September 23rd, 1992. She played goalie in an exhibition game against the St. Louis Blues, during which she made seven saves. This was groundbreaking, as no woman had played in any of the four major league sports (MLB, NFL, NBA, or NHL) before her.
Future Forward Female >>
Sarah Fuller
At 21, Sarah is a senior goalkeeper on Vanderbilt's soccer team. When the football coach found himself with a limited number of specialist players, due to COVID-19 protocols, he reached out to the Vanderbilt soccer coach. Sarah agreed to play in the December game against Missouri and wore "Play Like A Girl" on the back of her helmet. On December 12th, Sarah became the first woman to score in a Power 5 football game.
In her words:
"All I want to do is be a good influence to the young girls. There were times that I struggled in sports but I am thankful I stuck with it. I just want to say, literally, you can do anything you set your mind to...that's the No. 1 thing."
Further Research:
TECHNOLOGY

Gladys West pioneered the technology behind GPS: 1986
If you ever found directions to a location on your phone or used a GPS (Global Positioning System) device while driving, you have Gladys Mae West to thank for that convenience. Mathematician Gladys West became a computer programmer and data-processor in the military. During her years of work for the U.S. Naval Weapons Laboratory, Gladys led the team that developed a precise mathematical model simulating the earth's surface. This became the basis of GPS systems we use commonly today. Without her model, the navigation and timing accuracy of GPS would not be possible.
Future Forward Female >>
Reshma Saujani
Reshma was the first Indian-American woman to run for Congress in 2010. After losing the congressional race, she shifted focus to find other ways of creating opportunities for girls. In 2011 she founded Girls Who Code - a non-profit with a mission to close the gender gap in technology and create a pipeline of future female engineers. Reshma has also written three books and is known for her TED Talk "Teach girls bravery, not perfection."
Today, still, women make up only about 25% of the workforce in technology. According to Girls Who Code, the number of female computer scientists is actually declining. They aim to change this by educating more women to be ready for entry-level tech jobs by 2027.
Further Research
EDUCATION

Edith Clarke is the first female professor of electrical engineering in the US: 1947
Known for many firsts in her trailblazing career, Edith Clarke is a wonderful example of commitment and perseverance. She faced difficulties finding work and respect in the male-dominated field she excelled in. Yet she refused to accept less than she deserved in her career and was eventually offered a role in line with her qualifications at General Electric (GE).
Future Forward Female >>
Sophia Mendoza
Sophia Mendoza is the Director at the Instructional Technology Initiative at Los Angeles Unified School District (LAUSD). Sophia is leading the way forward in integrating education technology in one of the largest school districts in the US. Her team at School2Home work on bridging the "digital divide" and closing the "achievement gap" in traditionally low-performing middle schools in California.
The goal of the work is to impact public policy and transform educational practices that lead to greater equity in education, across the nation.
Further Research
ENVIRONMENT

Silent Spring by Rachel Carson spurred the modern environmental movement: 1964
The modern environmental movement is often attributed to the work of Rachel Carson. Rachel was a marine scientist and writer who wrote many books including the acclaimed book Silent Spring, in 1964. By asking important, thought-provoking questions, her book sparked an awareness of environmental concerns and the great power humans have to alter the nature of the earth.
Future Forward Female >>
Greta Thunberg
The youngest person to be awarded Time Magazine's 2019 Person of the Year, Greta Thunberg has become a force to be reckoned with and a source of inspiration for her generation. She began campaigning for climate change at 15 and has since sparked a worldwide movement of youth to push governments and world leaders to take stronger action on climate change. Greta is unhindered by her diagnosis of Asperger's syndrome and sees it as her "superpower".
Through her passionate advocacy for decisive action on climate change, she amassed a following of well over 10 million followers online. Her work has inspired and encouraged millions of youth across the globe to speak up for change and let their voices be heard.
In her words:
'I don't care about being popular. I care about climate justice'
Further Research
GOVERNMENT

Jeannette Rankin: The first woman to hold federal office in the US: 1916
Well known for her votes against US involvement in World War 1 and 2, Jeannette Rankin also actively campaigned for issues such as voting rights for women and child welfare legislation. She was elected to Congress in 1916 and has been called a "pathbreaker" who paved the way for women in government.
In her words:
"I may be the first woman member of Congress, but I won't be the last."
Future Forward Female >>
Kamala Harris
Kamala Harris is the first woman and first African American and South Asian to hold the post of Vice President of the United States. She is no stranger to being first throughout her career. She was also the first woman and first African American and South Asian to be the District Attorney in San Francisco and Attorney General of California.
She has had a remarkably successful career. She is the author of three books, including a memoir, "The Truths We Hold: An American Journey," and a children's book, "Superheroes Are Everywhere." In addition, Kamala is known for taking her role as a mother very seriously. She is aware of the impact that her election as Vice President has on young girls everywhere.
In her words:
"While I may be the first woman in this office, I will not be the last. Because every little girl watching tonight sees that this is a country of possibilities."
Further Research: