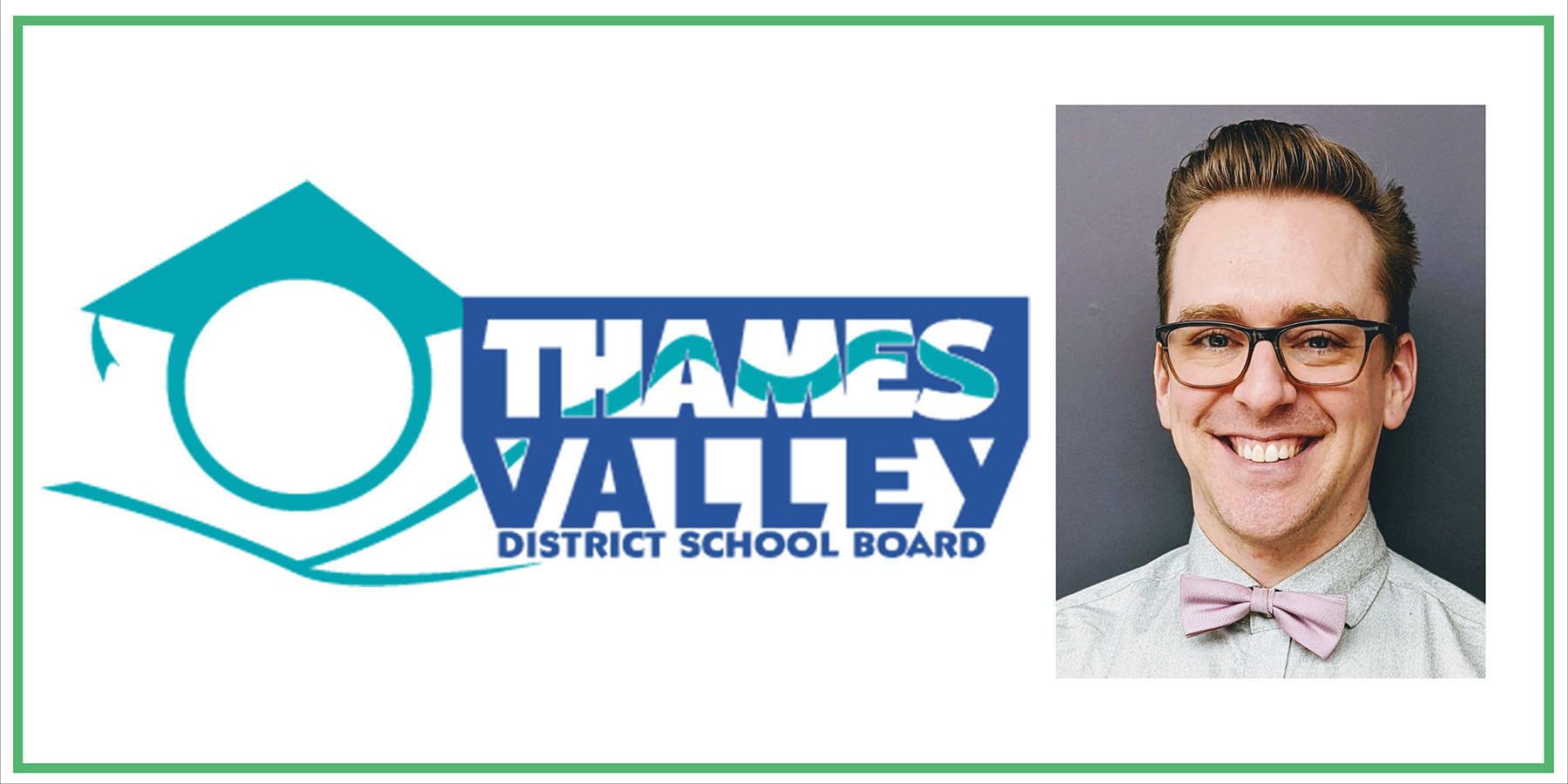 Graeme Plant, Technologies Learning Coordinator, TVDSB
About Thames Valley District School Board
The Thames Valley District School Board (TVDSB) is one of the largest public school boards in Ontario, serving an area that stretches more than 200 kilometres - from Rodney to Tavistock and Glencoe to Norwich - across more than 7,000 square kilometres.
Project Summary
Graeme Plant is a Learning Technologies Coordinator for TVDSB, a position intended to liaise IT and teachers by assisting with technology integration in classrooms. Plant's focus is to help students and teachers learn to apply new software, devices, and techniques to enhance the classroom and learning experience.
Plant is currently heading the district's digital signage project and has really stirred things up with the implementation. Before Plant's involvement, the district had about 30 active displays (at 161 schools) and most of the displays showed a single-screen dashboard with information like announcements, weather, and other essentials. Since taking over, Plant has led a roll out to 60-70 schools, with the intent to continue expansion over time. And along with the expansion of their display network, Plant has also sparked some fresh and exciting change in each school's independent culture.
Onboarding and Involvement
TVDSB distributes technology and devices in a central, equity-based model, but since digital signage subscriptions are a newer endeavor, the implementation for this project was a bit different. Instead, each school has their own set of tech ambassadors who were able to decide when and how to implement digital signage. These positions--Computer Facilitator and Computer Support Teachers--are largely driven by the interest of the person in the role, so the decision to jump on board with digital signage (or not) was left to their judgement, and was financed with discretionary funds, operating budget, or fundraising efforts.
To gauge interest from school to school, Plant put together a pitch for the Rise Vision subscription, then created and distributed a Google Form survey to the Computer Facilitators and Computer Support Team personnel throughout their district to find out who wanted to get involved. Some of the questions on Plant's survey included:
Have you ever used Rise Vision?
What's your comfort level with a platform like Rise Vision?
Are you willing to accept and/or share administration responsibilities of digital signage at your school?
Who else on your staff should have access to administration of digital signage in your school?
The form also outlined hardware requirements and costs for new setups, which meant Computer Facilitators and Computer Support Teachers could make an educated evaluation on their ability to get involved with a quick glance.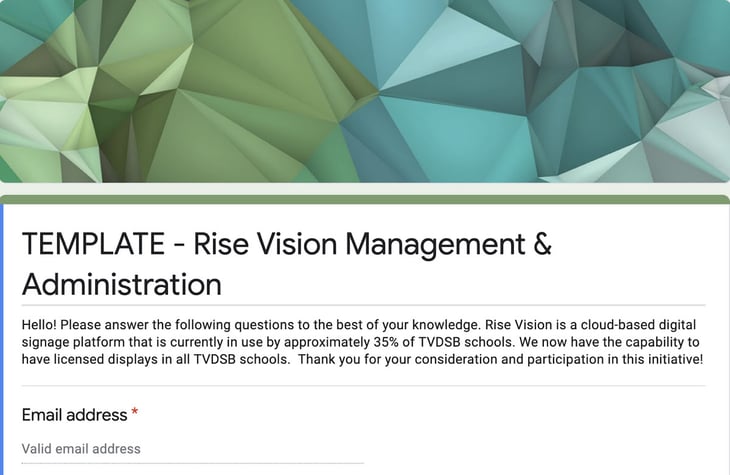 Rolling it all out
Once Plant had the results from the Google Form and knew which schools needed new hardware, which schools wanted to add new displays, and who wanted to get involved, he developed an onboarding process. Plant would meet up with Computer Facilitators and Computer Support Teachers at their respective school, train them on the Rise Vision platform, then they'd be off and running to manage their signage on their own.
An explosion in culture and creativity
With hardware rolled out, personnel trained up and ready to manage, and subscriptions activated, the fate and usage of each school's digital signage was now at the hands of the volunteers. With a little guidance and suggestion from Plant, TVDSB schools have expanded hugely on their original digital signage usage: from a single, unchanging, all-encompassing dashboard to a dynamic, inspiring, ever-changing channel of news and announcements for their schools.
Since shifting to the Rise Vision subscription service, TVDSB schools have been able to easily share digital signage assets in the centralized storage folders, integrate their media into pre-designed Templates, and involve more people in the contribution of content. The result? An explosion of culture and creativity!
Plant explained that while the creative engines behind their digital signage content varies from school to school, he's noticed a big shift in culture district-wide. Schools are using their displays to share video announcements, showcase student learning, share media from performances and events, share schedules for school clubs, and way, way more. They even use their digital signage to integrate and sharpen French language skills. And while utilizing Rise Vision's subscription features has helped make things easier to share, the real value shift for TVDSB has been people's intrinsic desire to get their hands dirty, get involved, and contribute content to their displays!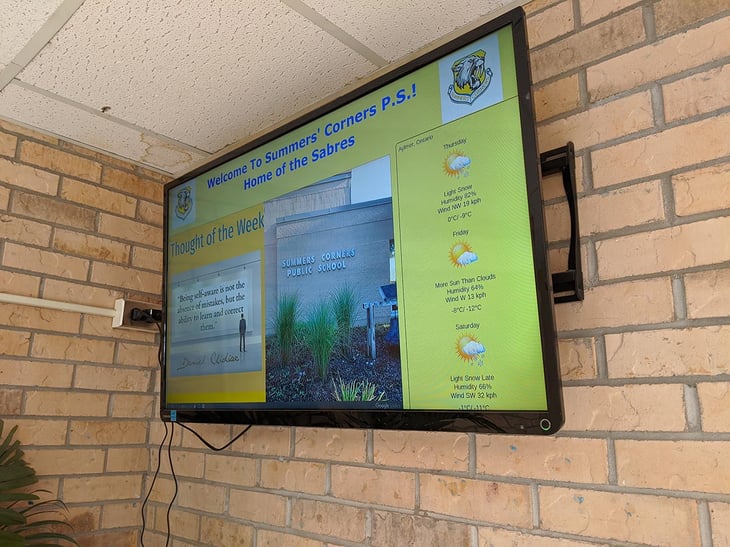 Content is student driven as well as staff driven, or as Plant refers to it, "People driven". To share content, all a person needs to have is an idea, and all the pieces are in place to see that idea into fruition, and more literally, to see it on their displays! Because Rise Vision is a flexible platform, contributors can share their media as a file, a link, a Google Slideshow, an image--just about any medium can be accommodated. Then from there, the contributor shares their content with one of the school's designated digital signage managers, and in just a couple clicks, their content can be scheduled and shared out to the entire school.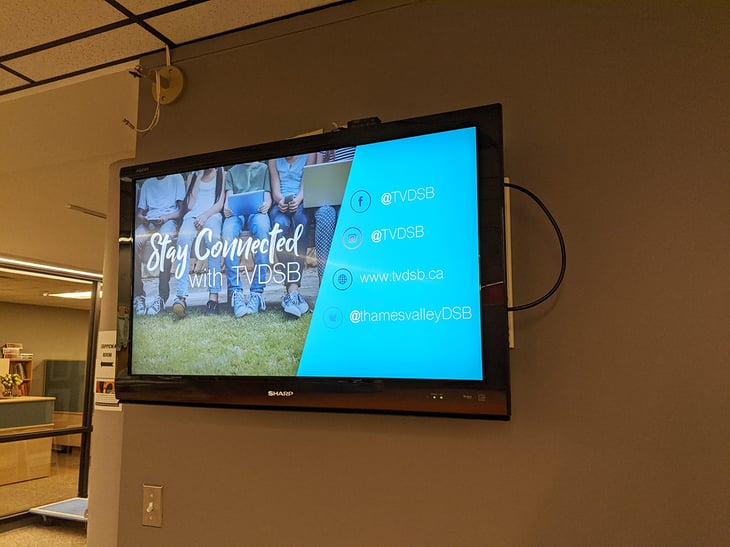 The biggest change

Taking on this project for such a large district has by no means been a simple task, but for Plant, it was deemed a worthwhile endeavor for him when he noticed the biggest change: "People actually look up at the signs!" Before when the district's signage was an all-in-one dashboard, people tended to ignore the displays and forget to check in for new information. But with the new changes and rotating content every 20 or so seconds, people actually remember to look! "It's fun to see the students walk down the halls and look up at the displays and point at them," Plant explains.
And if it's fun for Plant and the students at the Thames Valley School District, then we're delighted to have been a part of it!