What do you think of the new Famous Facts Templates?
If you have any suggestions for Templates you would like to see, let us know here.
Keep it interesting with this week's Template recommendations!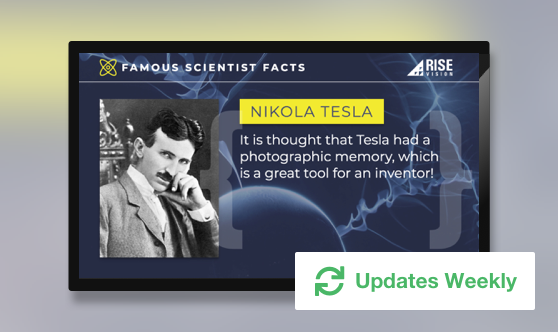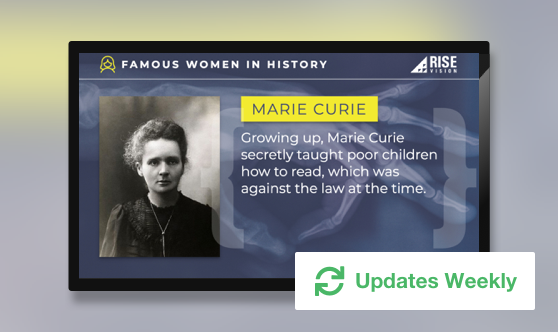 Hi there,
📸 Some famous facts to keep your displays fresh

!
How much do your students know about the people who have shaped our world? 🌍🤔 With our new famous facts Templates your students can learn more about the great scientists 👩‍🔬, artists 👨‍🎨, women 👩‍🎓and entrepreneurs 🤹‍♂️ throughout history.
To make it even easier for you, these Templates will automatically update with 3 new facts every week! It's so simple to make sure your students don't miss out on this learning opportunity - just schedule the Templates and enjoy!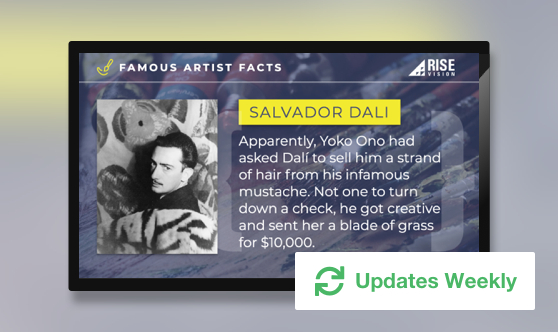 These new Templates also support portrait resolutions, and include branded elements to help you get set up even faster - you can read more about branding here. If you have older versions of these Templates that did not have branding you can swap in these shiny new ones as we will not be updating the facts in the older ones after the end of the year.
📢

Free Training!
Learn how our weekly template recommendations are used to keep content fresh and engaging. Learn how to use them to save up to 16 hours a week in content creation time and delegate the task to a colleague.
📊

Financial Literacy Webinars
We have some awesome financial literacy webinars coming up in the next couple of weeks. All of the sessions are free, so join us to find out more about how you can use Rise Vision to increase awareness of this important topic in your school.
The next session is tomorrow, November 7th, so use the link below to register.
Thanks!
Shea
---