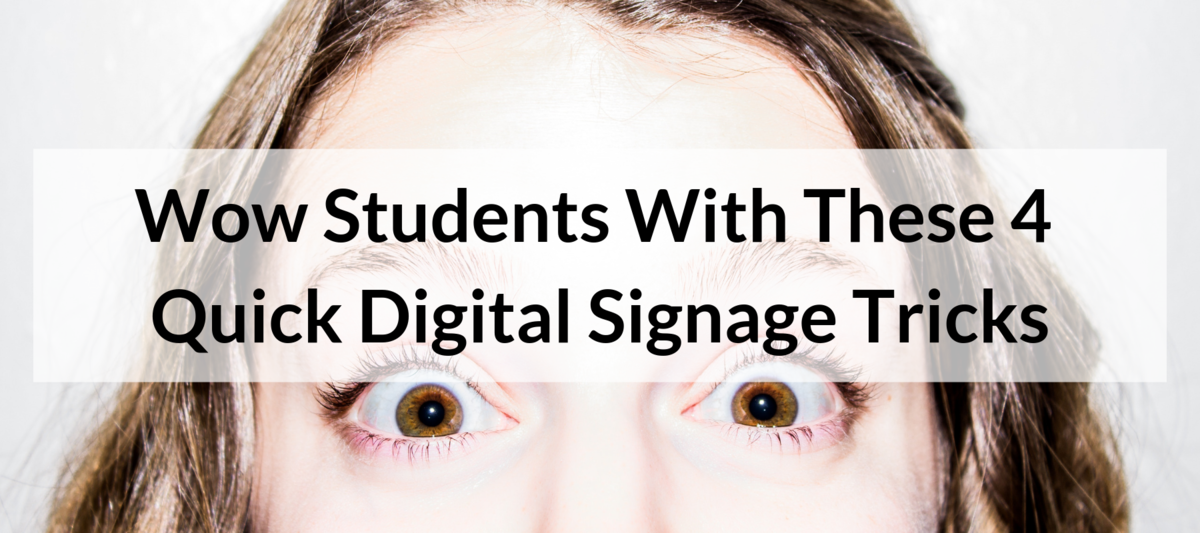 Digital signage should save you time and money. It should also impress your audience. If you find that your digital signage is not doing one or all of these things, then make sure you are following the steps outlined below.
Don't Work Hard!
Have you ever walked into a school and been blown away by the digital signage? It was professional, engaging, and stopped students in their tracks to see the latest news?
If the school is using Rise Vision, then that head-turning signage probably took them less than 5 minutes to make!
We have design professionals who have been working on creating school digital signage for dozens of years.
That kind of design experience typically costs thousands of dollars, but with our plans, it's all included.
Starting at $7 per month per display, you could have digital signage that informs your students and staff--it doesn't hurt that it also makes you look good!
With our digital signage templates, you can quickly turn this: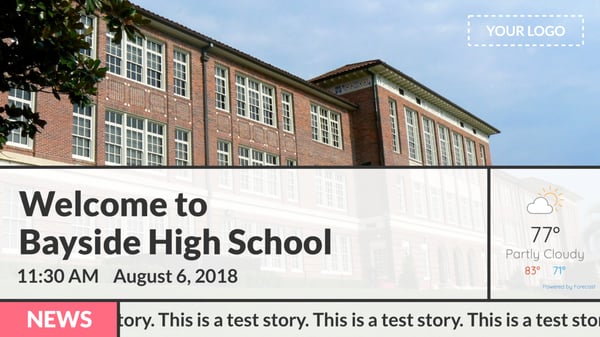 Into this: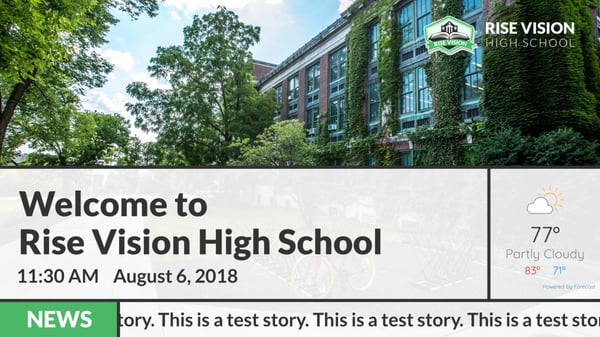 In the above example, new background, new text, your school's logo, the forecast and news for your city are all effortlessly changed in seconds.
Don't worry! The above is just an example: we have 100s of templates just for schools. Create your free account, and you can start using them today.
Free Design Resources
If we don't have a template that you need, then we want to hear about it! We add new templates weekly based on user feedback.
Of course, we don't force you to use our templates. Schools are welcome to bring their own designs.
Many of the schools that use us have found Canva to be an invaluable resource. Canva lets you create designs over the cloud. You can export these images and put them right into your digital signage.
Schools that have a subscription to Adobe Creative Cloud also use Adobe Spark.
If you decide to design with other software, make sure you are following these 7 design tips.
Free For All
One of the biggest challenges for schools doing their own design is lacking both the time and skill to create graphics for the digital signage.
Fortunately, there are literally millions of photos and clip art images you can use for free with zero attribution. You can see some of the many resources available here.
Before using any image from a website, make sure you understand the licensing, so you don't infringe on someone else's copyright.
The Power of Digital Signage
Why bother with templates when there are tools like Canva and Spark? Designing it on your own will get you a flat image.
It may look nice, but are you investing money into digital signage to look nice? Or to get your students attention and keep them informed about what's happening on campus.
If it's the latter, then you should understand how templates can help.
With templates, you can have interactive and security elements. If there is a critical alert (such as a campus lockdown), for example, we have templates that work with your CAP provider to make sure it gets on your display.
Other ways templates can help you:
Automatically displaying the latest news and weather

Displaying your school's social feed

Displaying animations that call attention to the message you are trying to convey.