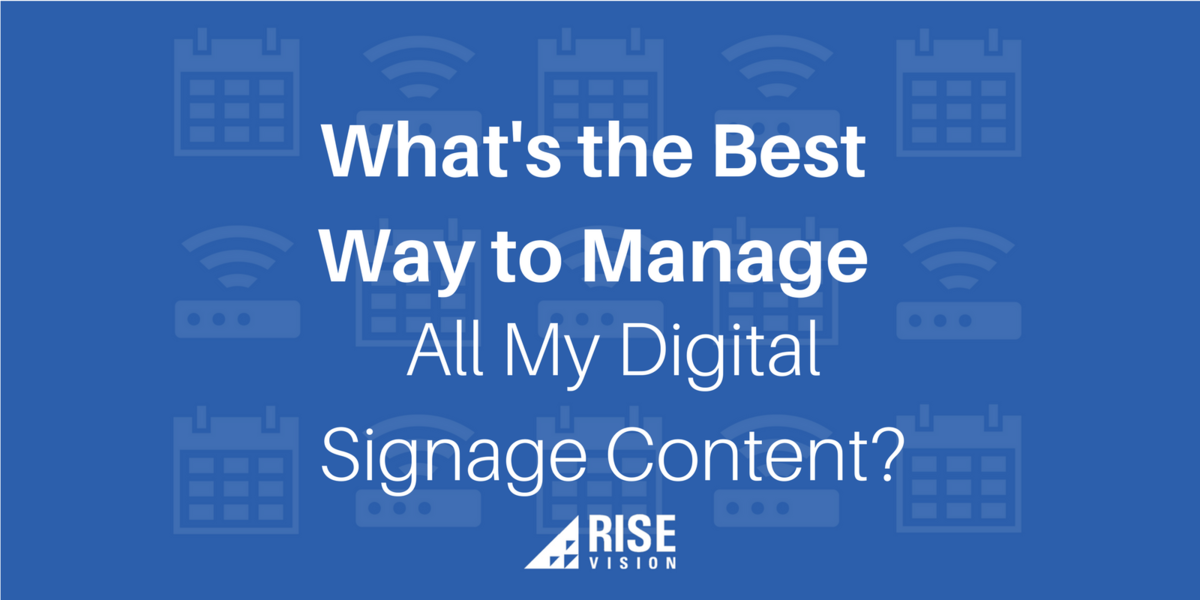 We've talked quite a bit about creating awesome presentation content by keeping it simple and relevant.
After all, you do just have just three seconds to capture your audience's attention.
But, keeping your digital signage content relevant means more than just saying the right thing.
Keeping your content relevant means that you're displaying the right things in front of the right people at the right time.
Are you?
You wouldn't send a Christmas card in September.
So, why would your digital signage content be any different?
Content management software is the brain powering your digital signage, and it's what enables you to schedule your content around your audience's needs. In this post, we'll discuss the most important pieces of managing your digital signage content so that you can use all that power for good.

How Do I Make Sure the Right Audience Sees My Content?
If our editor is how you're creating the right content for your audience, then our scheduling is what allows you to promote what's happening to your audience at the right time.
Scheduling is how you control what your audience sees when.
More specifically, schedules control which presentation will be shown on which displays and when your message will be displayed.
While scheduling is incredibly powerful, it's also quite simple to use.
It's no different than scheduling your next event on your calendar.
On your calendar, you mark what you'll be doing. With scheduling, you mark which presentations you want to display.
Changing which presentation to display when is as simple as deciding which of your presentations you'd like your audience to see at specific designated times.
Not only does scheduling help to simplify what your audience sees, but it saves our audience a tremendous amount of time.
We don't want to say that you can set it and forget it (but much of our audience does just that). Much of our audience gets into a routine of adding new content (like from our Template Library) at designated times during the week and just drop their new presentations into the existing schedules.
When you're ready to start scheduling more than one presentation, Blake, one of our Support experts, explained how to coordinate multiple presentations in one schedule for you.

Controlling Who Creates and Publishes Your Digital Signage Content
Who's gonna schedule all that awesome content you've created though?
And how can you ensure that the right people are managing your digital signage content?
Content management isn't just about what content is being displayed. It's also about controlling who creates and displays what content.
And one of our most commonly asked control questions is, " I want to double check a colleague's work before publishing it. Can I?"
By designating different editing and publishing permissions (as well as ability to purchase in our store or not), you can ensure the right people have just the right amount of control.
Because our audience consists of many schools, colleges and universities, ensuring strict permissions is oftentimes essential. We generally hear lots of relief on campuses when our audience realizes permissions allow them to avoid displaying potentially inappropriate content.
Your permissions are up to you. And just as different content is for different audiences, different permissions can be assigned to respective colleagues.

Need Even Greater Control Across Your Organization's Digital Signage?
And while assigning role permissions works perfectly for many organizations, sometimes it's just not quite enough.
If you require an advanced level of permissions and control across departments, has your organization thought of using sub-companies to maintain control?
Blake also can help you to better understand whether sub-companies might or not be for you.
And if your organization does indeed require sub-companies, we'd love to chat just to make sure that you're off on the right path. It can, after all, get very complicated very quickly.
Some of our audience employs Embedded Presentations, which we refer to as "master building blocks" in order to maintain consistency and control across departments and permissions.

Controlling Your Digital Signage Content Really Matters
You want your content to look awesome, so it's just as important that the right audience sees your message.
And it makes complete sense that you want control over who creates and publishes all that content.
While much of our content management works behind the scenes, it's the brain that gives you the control you need over your digital signage content.
We'd say that serving the right message to the right people at the right time is the most important part of your digital signage project.
We'd love to know what you're working on, and we look forward to hearing about how putting the right content in front of the right people compelled your audience.