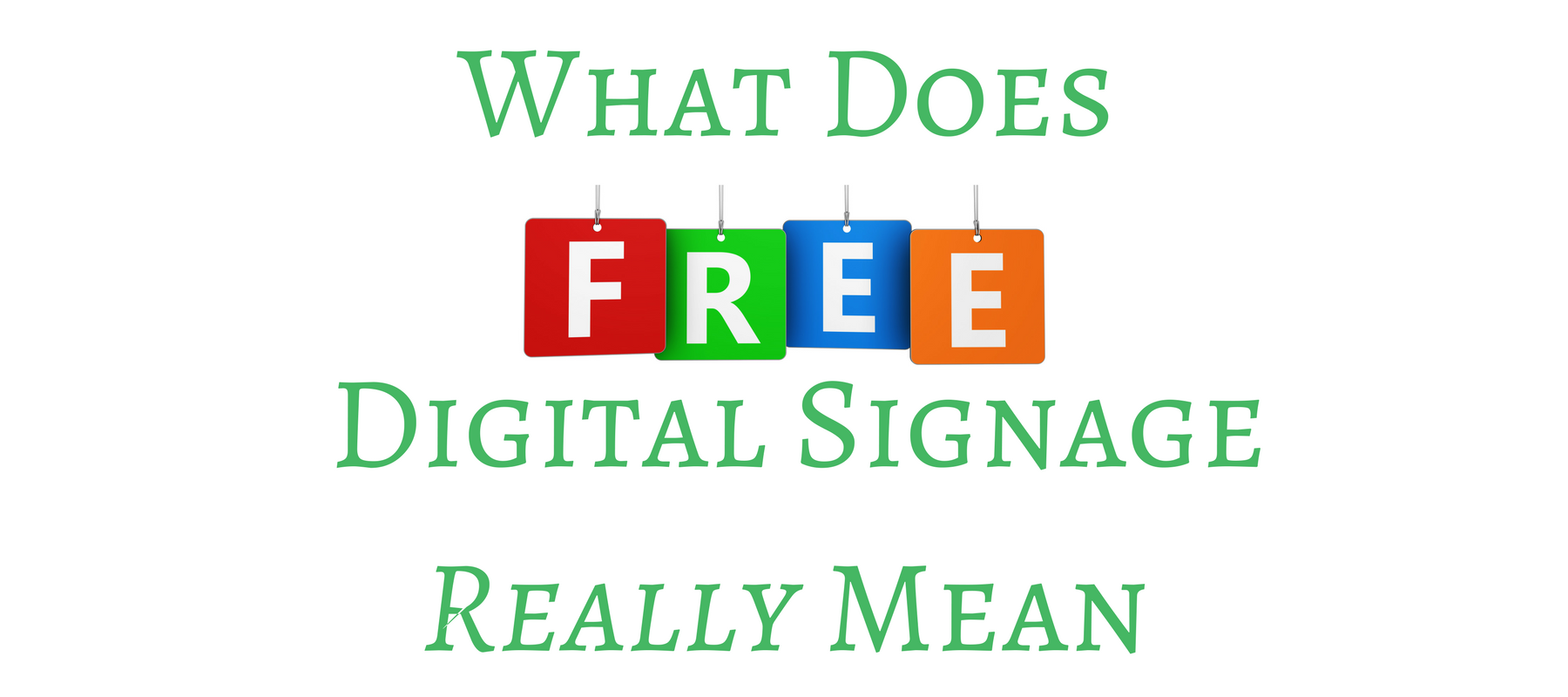 If you Google "Digital Signage Software Free", you'll find a lot of solutions--maybe that's even how you found out about Rise Vision. But what does "Free" really mean? We've all been to the app store on our phone and got that free app that looked like it would save your life--but then you had to pay to unlock the features that made it useful. Is that true with digital signage software? Sometimes, but not always. It's certainly not true with Rise Vision.
We believe the happiest customers are the ones who have choices, and that's how we've built our pricing. We obviously make money when people subscribe to a paid plan, but we have thousands of free users, and we value them equally. We even have built a vibrant online community to make sure there's a support system in place if something ever goes wrong.
What Is Free?
So what is free? Does it mean you'll have a watermark on your screen that won't go away until you pay us? Of course not! On many so-called "free" digital signage solutions this is the case, but not with Rise Vision. Free gets you a fully functional digital signage solution. You'll be able to build and show your digital signage on an unlimited number of screens.
Many of our users are DIY-ers and they love our free plan. Premium plans have a lot of tools that can simplify your job and make your organization's stand out. But with the right skillset, you can still deliver high-quality digital signage to your display.
The free plan isn't without features. Free users will enjoy the below features, which make it easy to manage your digital signage:
Display Status: Verify if your Display is online or offline and when it last connected.
Auto Upgrade: Automatically upgrade to the latest version of Rise Player
Nightly Reboot: Control when your Media Player reboots and installs new versions of Rise Player.
Rise Cache: Store image and video files locally to reduce bandwidth.
Display Screenshot: Verify what your Display is showing remotely.
Restart Rise Player: Remotely restart Rise Player
Reboot Media Player: Remotely reboot your Media Player
Watchdog: A monitor built into Rise Player that ensures your content is always showing.
System Information: Verify the local IP Address, MAC Address and Operating System of your Media Player
When Should You Pay?
Our content-filled premium plans are for users who want great looking digital signage but don't have the time or skills to do it on their own. The low-cost premium upgrade gives you even more tools to succeed with your digital signage.
One of the most popular reasons, users decide to upgrade is because of the 100+ professionally designed templates that make creating eye-catching digital signage a breeze. And by breeze, we mean it will take you less than five minutes! This post explains how they work.
The professional player (which comes with paid plans) allows you to start and show content even when your Media Player is offline. This is especially important if your display is located in an area with a slow or unreliable Internet connection. Nobody likes to see error messages on their screen, and our Rise Player Professional prevents that from happening. As long as your content has been loaded at least once, and the content doesn't rely on real-time data feeds (such as weather or RSS news) your content will always be shown. This feature is known as Offline Play.
The professional player also helps you save electricity. It does this through a feature called Display Control. Display Control can automatically turn your Display On or Off according to the Schedule it is assigned, which allows you to conserve electrical usage and extend the life of your hardware.
In addition to Offline Play and Display Control, Rise Player Professional is the foundation that new features will be added into in the future. Having the Rise Player Professional in your plan means there's nothing more you need to do when any features are added. Here's a preview of some of the features coming soon to Rise Player Professional:
Notifications if a Display has failed

Twitter widget

Google Slides widget
Whatever your budget, our success team is ready to help you pick a plan that best suits your needs. You can contact us here, or get started today by clicking on the button below.
What Can You Do With a Free Plan?
We've posted several how-to's over the past several months. Here are a few things that you can do even if you are using a free plan.
As always, if you are doing something fresh with your display, we want to hear about it. Contact us here and tell us about it!