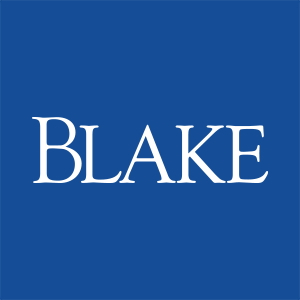 Customer Overview
The Blake School is a private, college preparatory, coeducational school serving approximately 1,370 students in grades pre-K–12. It is often described as one of the most prestigious prep schools in the Midwest with alumni providing leadership in a number of fields including service, business, medicine, education, entertainment, politics.

Project Summary
Desiring to further improve internal communications, The school first began looking into digital signage in 2006.
"We had been looking at methods to provide more information to both students and parents on campus," says Cathy McLane, director of marketing and communications. "It started with a desire to promote our programs but quickly built with every conversation."
At the time, Ms. McLane says that she envisioned a television or computer monitor. But when she came in contact with Rise Display at a local trade show, she realized how much more digital signage could offer.
"When I saw the size, quality and programmability of digital signage, I thought, 'Oh, my gosh — this is something we would like to look at with an eye to the future,'" Ms. McLane recalls.
The Solution
Several factors contributed to The Blake School opting to move forward with Rise Display. Most importantly was the vision for the school to eventually have multiple LCDs across all three campuses including at least three displays in the main lobbies and, ideally, several in areas such as the cafeteria and performing arts center. Without a large staff, the ability to manage multiple LCDs from one location would be important.
"We looked at several vendors in the Twin Cities," Ms. McLane says. "Rise was the one and only subscription-based option. We also appreciated the automatic upgrades. Knowing that we could one-stop-shop with Rise was a big plus."
The school worked closely with Rise Display's creative team to customize the digital signage. The final display boasts four content areas: an automatic weather feed, a ticker that scrolls news for and about all grade levels, a calendar displaying campus-specific events, and a campus-specific news stream.
The Final Result
In the fall of 2009, a 46-inch Samsung LCD was installed in the newly renovated lobby of The Blake School's Hopkins campus.
"The digital display is very welcoming because it's dynamic," says Ms. McLane. "Also, we are a school that really embraces technology, and the digital display better reflects this than a traditional monitor would have."
Ms. McLane is currently the system's primary programmer. "The content management system is very user-friendly, very easy to manage," she says. "We had a very positive experience with the Rise creative team, and the training was excellent."
Though The Blake School has no timeline as yet regarding additional displays, Ms. McLane says, "We're set up. We know exactly what we need and how to do it. I really think this is a great product for schools," she adds. "It may not make sense for everybody, but we're just delighted with it."