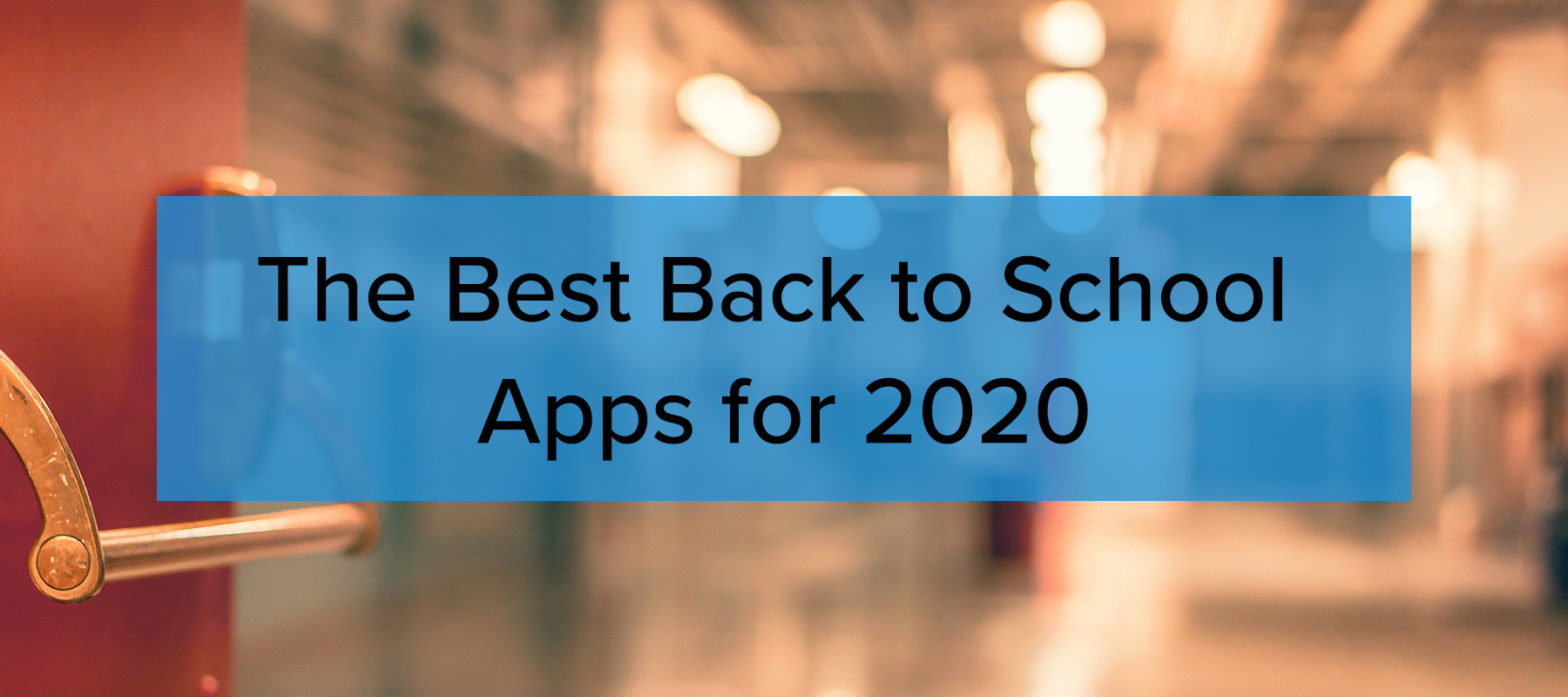 Schools are opening back up now, with many using a combination of distance learning and in-person classes. Along with the COVID precautions, there are the usual challenges of hundreds or thousands of students returning to the halls and classrooms. But there's also the question of finding the tools to support students returning to school — and those who can't yet return.
In this post, we'll look over six of the best apps to support ongoing education — in the classroom and outside, for homework or distance learning. (If you use Chrome as your main browser, or as your operating system, don't forget to check out some of the powerful tools available as extensions there too.)
Some are simple add-ons that make teaching easier; others offer to replace many of the tools you're already using, sharply reducing the amount of time staff, students and IT staff have to spend learning, reconciling and supporting education apps.
Let's start with Gimkit:
Invented by high school student Josh Feinsilber, Gimkit is a multiple choice question tool — a quiz app. You can make your own 'kits' — quizzes and activities, and assign them to students. But you can also search a large and growing library of ready-made kits. Gimkit lets you build marking in automatically.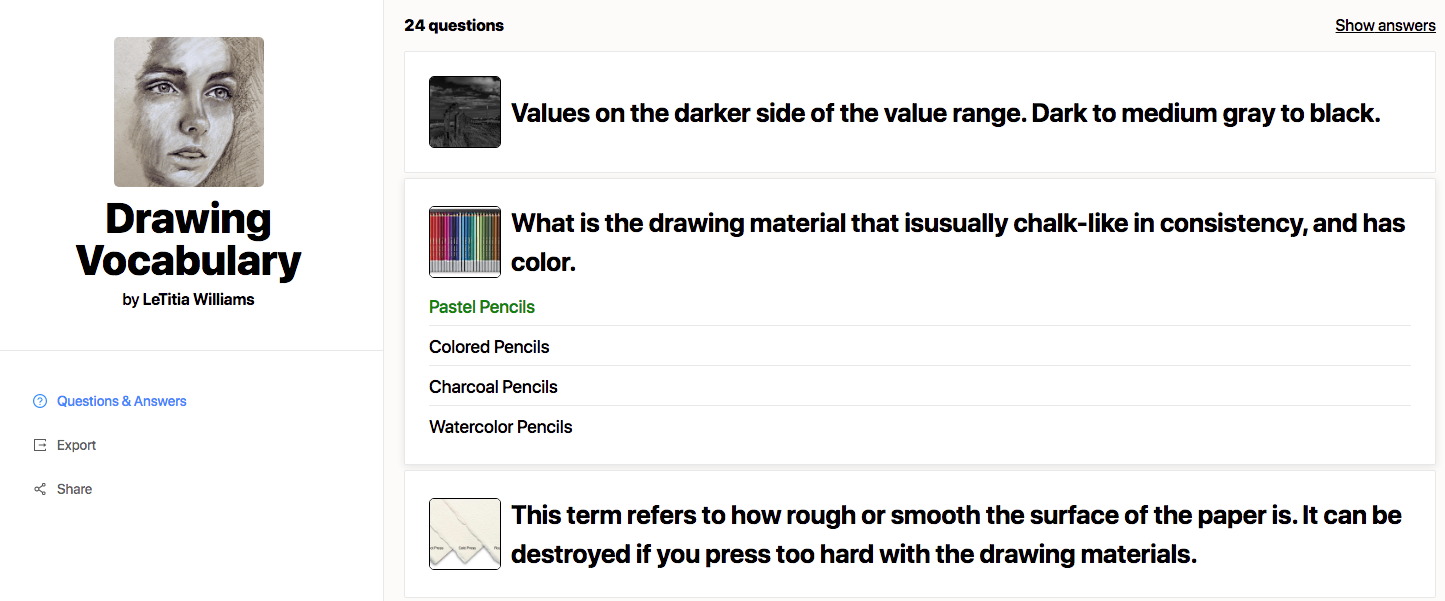 When students use it, on desktops or mobile devices, they choose answers from a multiple-choice quiz. You can select Team Mode, which randomly selects teams for students and pits them against each other; a time-limited mode; a Race mode in which students race to make the most in-game 'cash'; and several other options. Teachers retain administrative control in real time, and students can draw doodles while they wait if they've finished early.
Pricing:
Pro:
Gimkit is priced simply, at $4.99 per month: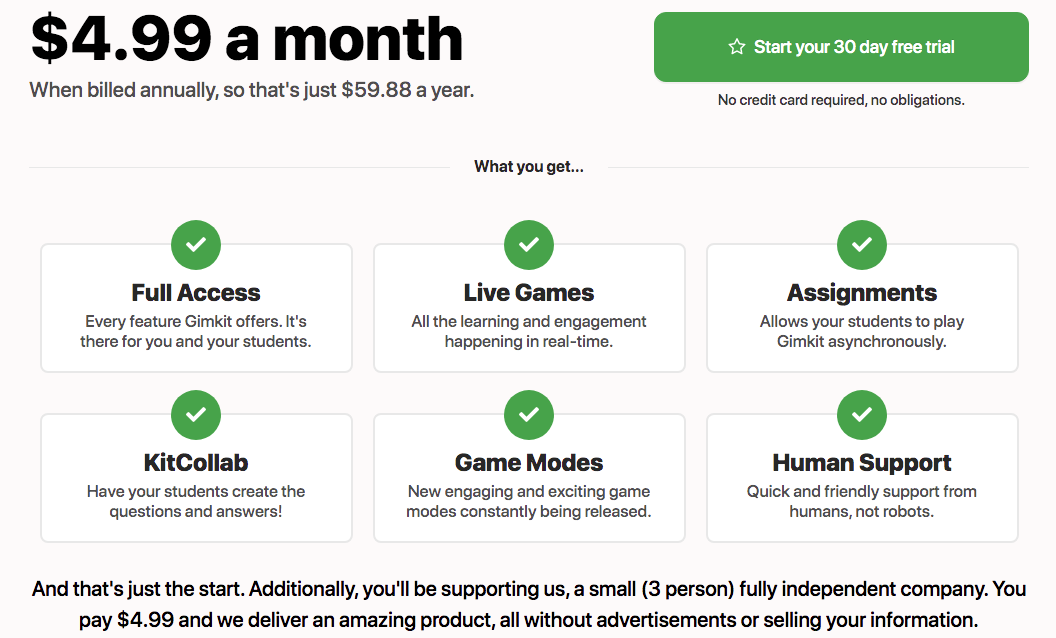 That gives you access to everything the app has to offer.
There are also pricing options for schools, at a flat $1,000 a year, and departments, at $650 per year.
Schools:
Pro account for every teacher in your school
Department:
Pro for up to 20 teachers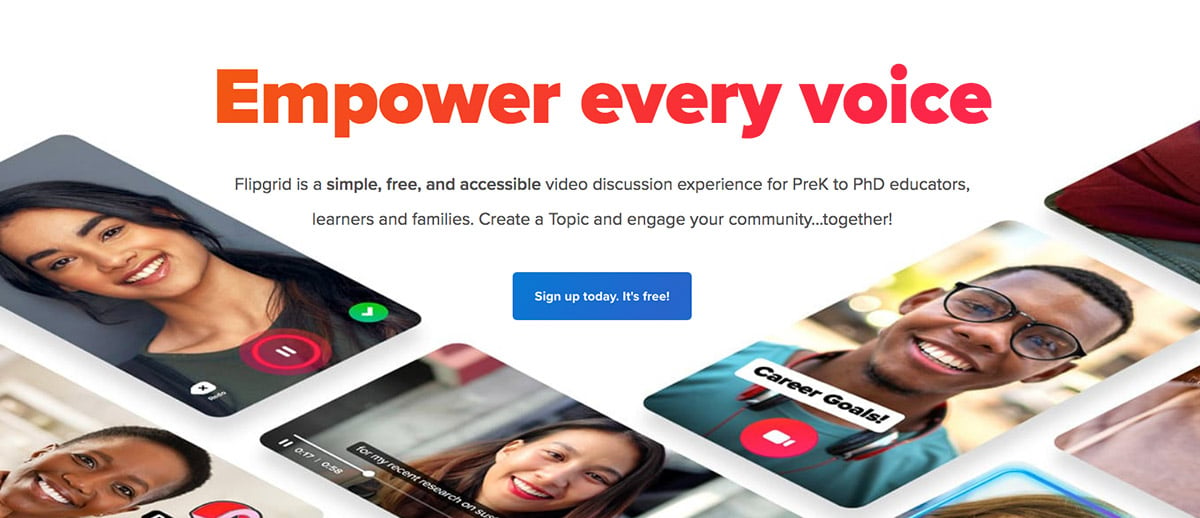 FlipGrid is a simple-to-use, free video discussion tool for teachers. You build everything inside a 'Grid,' which other users can sign into using email. You control access, so you can limit sign-ins to your school email domain. Think of a Grid as a class, rather than a task or a home base for all your efforts: if you want to add a new module, assignment or task, add it inside the Grid; if you want to add a new class, create a new Grid.
Students see the assignment title, an image, and some information, as well as links to relevant information. Students post videos to respond to the assignment, including to each other; teachers can see all videos posted, and supply video feedback to students. FlipGrid turns distance learning into a group of individual video tutorials.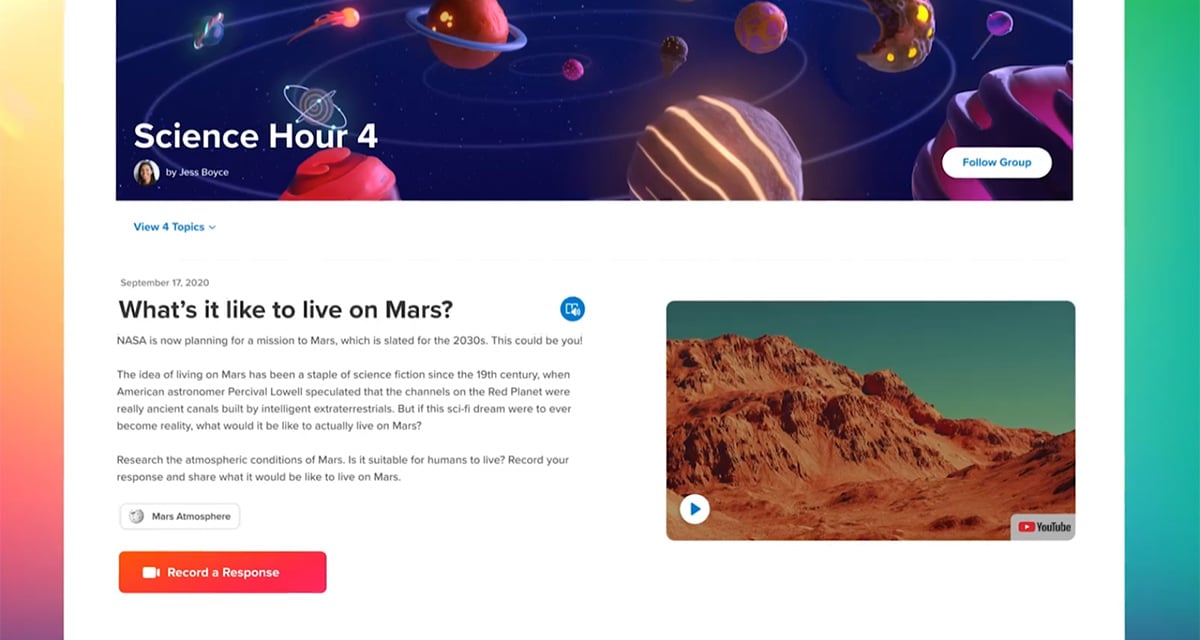 Teachers can manage access via email domain (Microsoft or Google) or student user name, invite using a unique access code, invite experts or families via a guest list, and moderate video responses. There's a free mobile app and a web portal that works with Microsoft Edge and Google Chrome.
Pricing:
FlipGrid is free, and only teachers need accounts: everyone else just enters the access code to use it.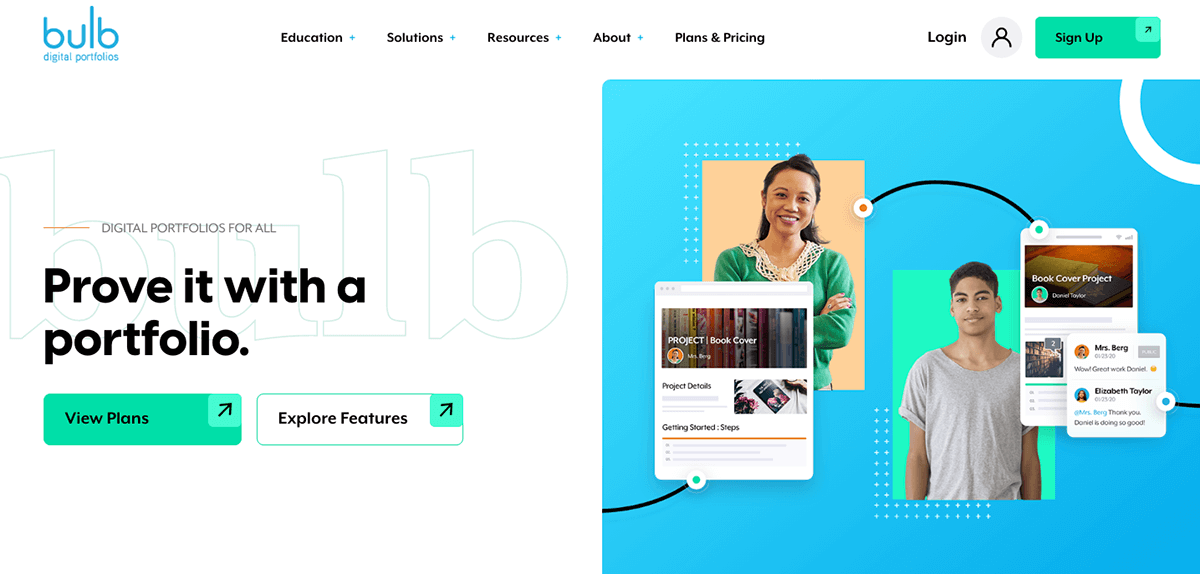 Showcase students' skills, knowledge and experience with the Bulb Digital Portfolio app. That's the initial sell. Behind it, however, is a distance-learning toolkit that goes beyond portfolios.
Using the same tools students can use to assemble portfolios, teachers can build lessons or units of work and share them with students. There's online commenting and real-time feedback, and you can build multimedia presentations including video and audio to explain lessons. Students can reply within the same Bulb portfolio or create their own in response.
While Bulb is unusually full-featured as a presentation app, it doesn't have the suite of responses and moderation that some other tools offer. However, its free plan gives you a good feel for how the tool works — and its pro-level 'Plus' plan is free for teachers.
Pricing: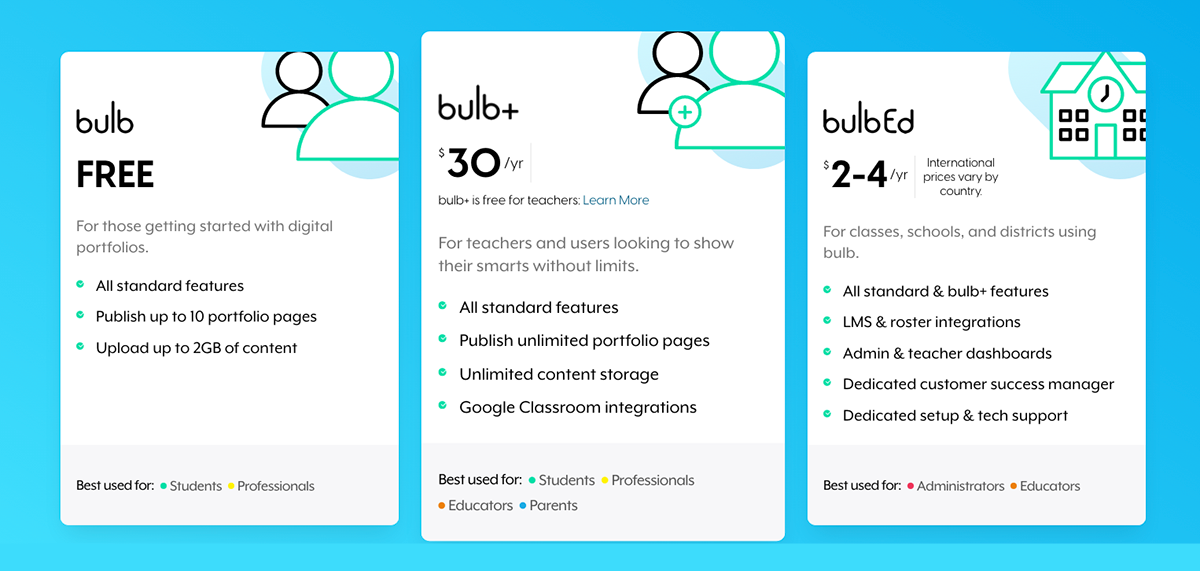 Free:
Keep your Bulb portfolio for life
Upload any file or content type to portfolio
Web import tool
Bulb Resource Library access
Collaborate with other Bulb users
Integrate with SSO options including Google and Microsoft, your LMS (Learning Management System), Google Drive, social accounts and more: hundreds of integrations.
Chat and email support
Bulb+:
Everything in Free, plus:
$30 per year, free for teachers
Unlimited portfolio pages
Unlimited content storage
Integrations with Google classrooms
Bulb Ed:
Everything in Bulb+, plus:
$2-$4 per year
LMS and roster integrations
Admin and teacher dashboards
Dedicated customer success manager
Dedicated tech and setup support

Book Creator lets teachers create digital books to explain topics to students, and also allows students to make their own digital books in response. It's a digital replacement for written assignments and written course materials, that allows both written and multimedia submissions.

Essentially, Book Creator is a presentation tool with inbuilt sharing functions; you can log into it from Google or Microsoft accounts, and books can contain video, text, static images and more. There's a simple image editing suite built in too, and one of its advantages is that it lets students log the processes of analysis and creation as they happen, giving teachers insight into the thought processes behind the work.
Pricing:
Book Creator is priced by volume. The lower-priced plan comes with a cap of just 180 books and 3 libraries, too low to make the best use of the app for most teachers, but all plans come with real-time collaboration that allow teachers to teach inside the app.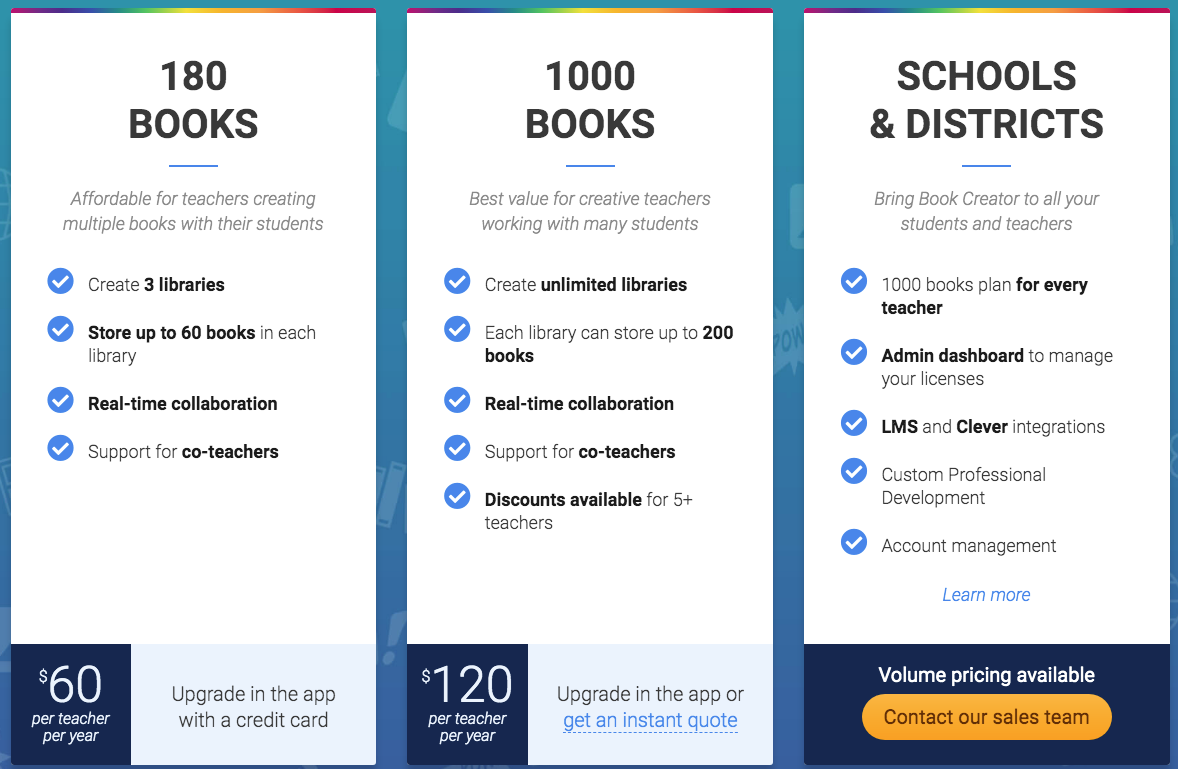 There's also an iPad app priced separately, with price varying by country. It's $4.99 per month in the USA. Apple's Volume Purchase Program means you can get the iPad app half-price if you buy 20 or more.
Primarily targeted at grades 2-8, BoomWriter is designed to encourage kids to write, and to associate writing with confidence and enjoyment, building a habit that benefits them in the rest of their lives and education. The app lets teachers offer classwork and advice and give feedback.
Students can create their own journals, work on assignments set by the teacher, and work on original stories.
As well as Gmail sign-in with the school's email domain, teachers can create class lists in a spreadsheet tool, and individual student accounts can be created on the site.
Student accounts can't be linked, though — to have two students work together you'll have to create an account they both have access to.
BoomWriter is a natural fit for uncertain times — it works in the classroom, but you can build home learning around it too. While it's not as full-featured as some of the apps on this list, it is both simple to use and relatively low-cost.
Pricing: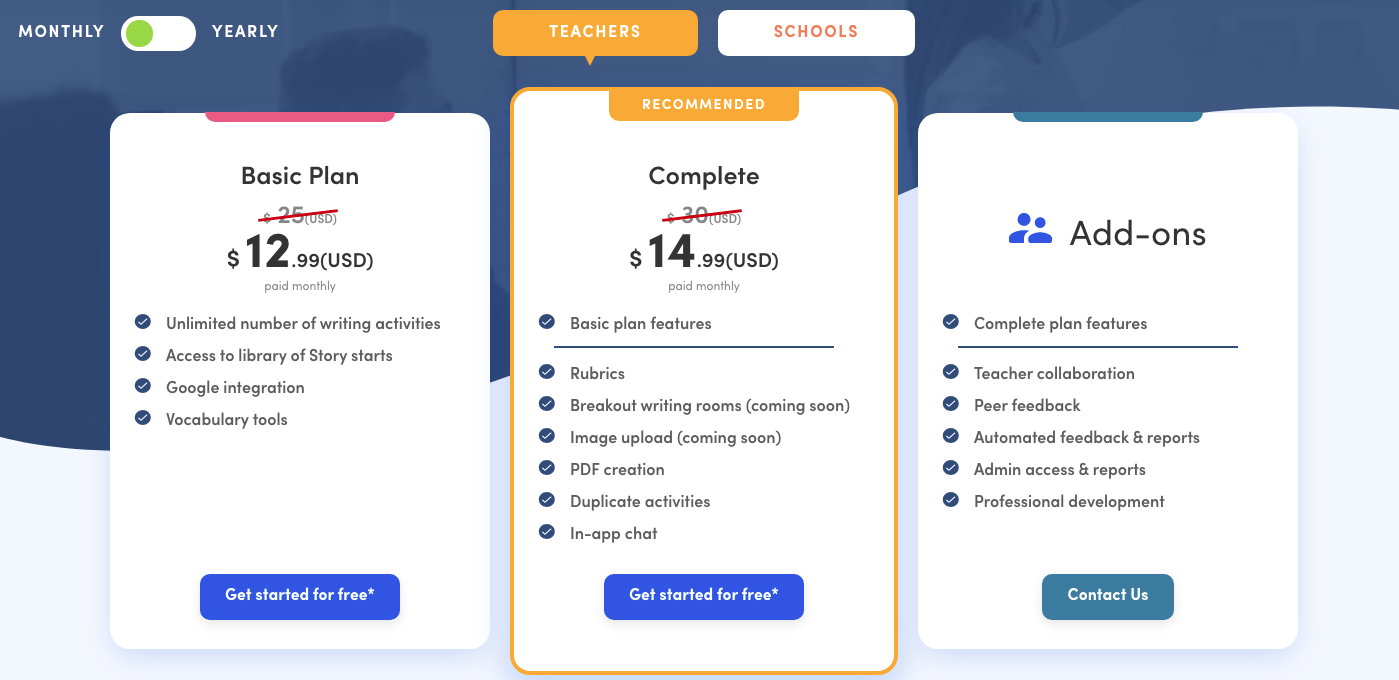 Basic:
$12.99 per month, paid monthly; $116.99 per year paid yearly
Unlimited number of writing activities
Google integration
Story Starts library access
Vocabulary tools
Complete:
Everything in Basic, plus:
Rubrics: standards-based grading system to measure and track student performance
PDF creation
Breakout writing rooms, where students collaborate in pairs separate from the group (under development, coming soon)
Upload images as explanation or prompt for students (under development, coming soon)
Duplicate activities for use with other classes and groups
In-app chat for real-time communication
Add-ons:
Everything in Complete, plus:
Custom pricing
Student peer review of work
Multi-teacher collaborations in-app
Automated reports automark student work while providing feedback to teachers too
Admin access and reports
Professional development through BoomWriter
Buncee is an all-in-one content creation and communication tool, which both teachers and students can use. Students like it because it personalizes the content creation process, meaning they're more engaged and retain information better and longer. Teachers can use it to create lessons using multiple media and from the tool's inbuilt template library, or upload their own templates. As well as giving students room to be creative, Buncee gives teachers the opportunity to personalize instruction, targeting the same information differently to different learners.
Buncee makes much of its capacity to replace a lot of different tools, but it is a full-featured tool — there's a search function that's unusually powerful and takes in Buncee's own assets, those of its partners, and the web as a whole.
Buncee is priced for business, education and for large-scale school-district adoption: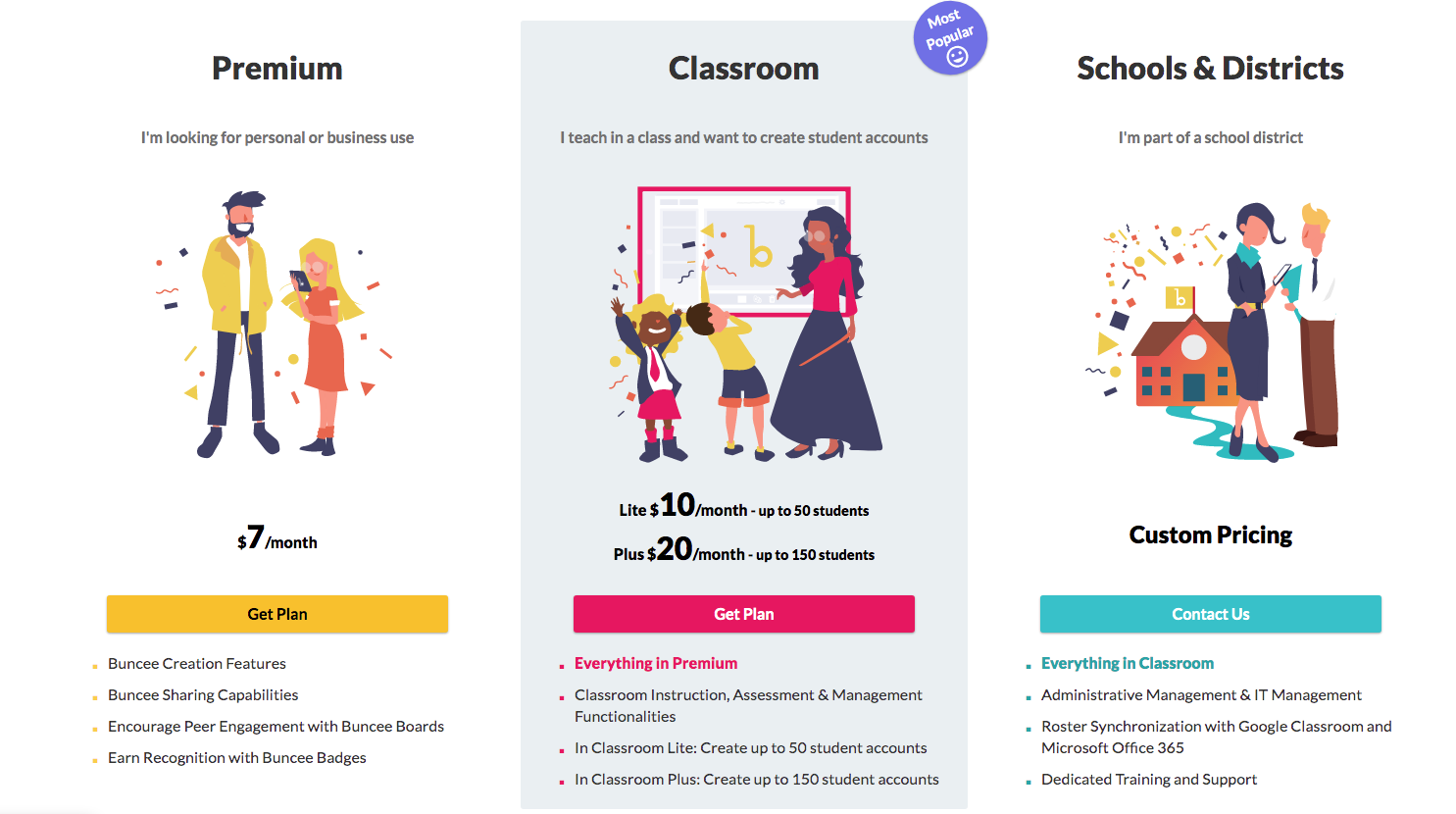 Pricing:
Free
3 Buncees
Access to graphics, including stickers, animations and backgrounds
Web access
Text-to-speech
Limited access to Templates Library and Ideas Lab
Privacy controls
Social media sharing
Email sending and tracking
Blog embeds
30-day free trial only
Premium:
Everything in Free, plus:
$7 per month
Unlimited Buncees
Unlimited Template Library and Ideas Lab access
Record video and audio
Upload files
Clip and Stitch functionality
Download and offline access
Create, send and track
Classroom:
Everything in Premium, plus:
Classroom assessment, instruction and management functionalities
Free response or multiple choice questions inside Buncees
Direct share between students and teachers
Student accounts: 50 for Lite accounts, 150 for Max accounts
Schools and districts
Everything in Classroom, plus:
Add co-teachers to classes
Access to Bungee Resource Library for online professional development
Admin and IT support, including:

Account management
Student rosters sync with Google Classroom, Microsoft 365
Monitor users and manage privacy and access settings
Customize Buncee's graphics library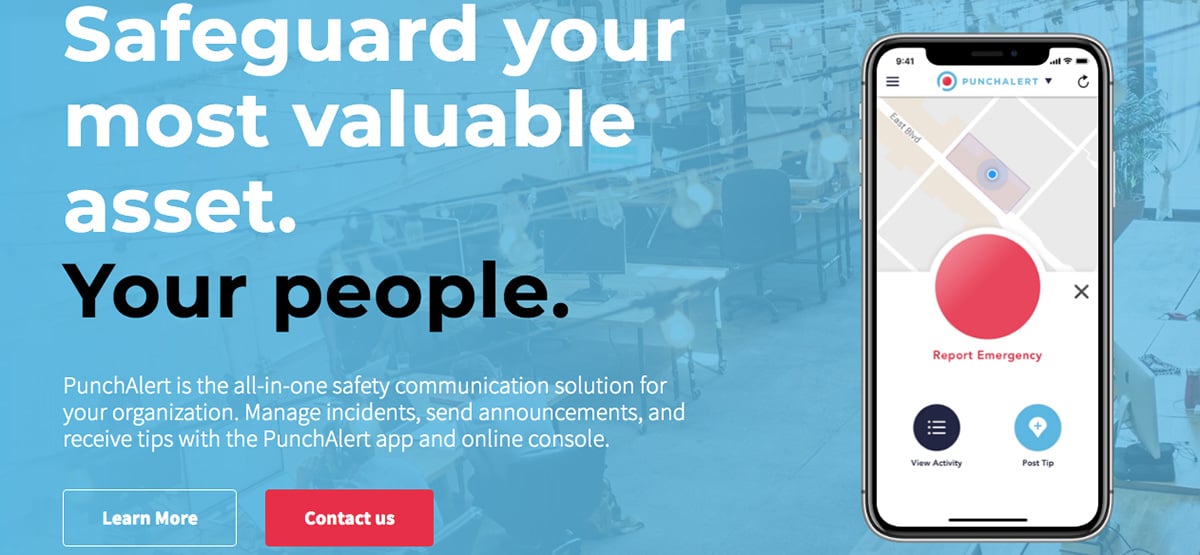 PunchAlert is a device and OS-agnostic communication tool for schools. Effective on campus and off, thanks to in-app push notifications, tweets, SMS and email notifications, PunchAlert lets schools keep disparate stakeholders updated with the information they need.
There's a mobile app and a web portal, and PunchAlert has multiple-choice one-tap reporting for emergencies, together with group announcements and location-based feedback.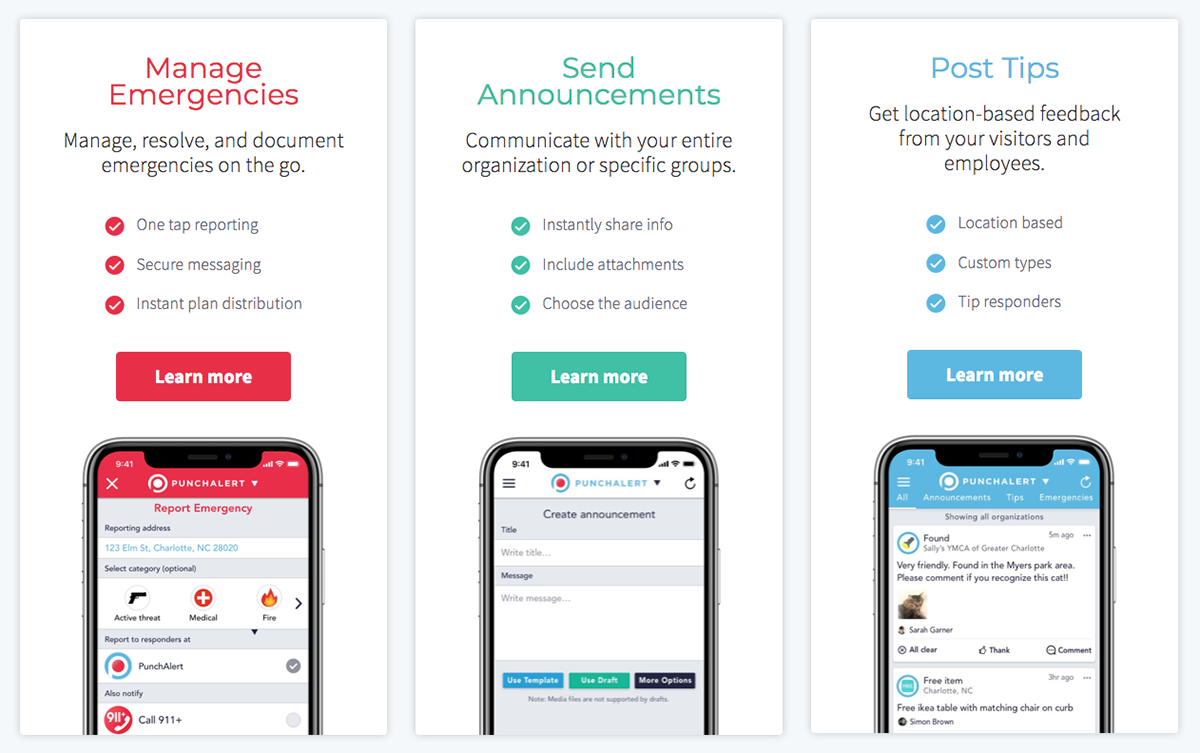 There's an API to connect PunchAlert with your other school systems, like your digital signage and your LMS. PunchAlert's biggest selling point for education is that you can communicate with staff, parents, responders and other stakeholders in the way they prefer, rather than being restricted to specific channels.
Pricing
PunchAlert's pricing scales with user numbers, and it's not given in detail on their website.
$60 per month gets you:
10 users
Unlimited organizations
Unlimited geofences, used to trigger location-based alerts
Seven years' unlimited archiving
Desktop and mobile app access
Unlimited followers
Full API access
Active directory integration
Customizable forms and reports
Other systems integrations
K12 schools and universities can have as many Parent and Student users as they want without driving up the price, though you'll have to pay for staff.

A cloud-based LMS that lets you build personalized learning environments — full-featured interactive web spaces that support learning. Think of it as an operating system for your institution. Moodle is open source and constantly updated, and delivers a powerful and constantly-tested set of learning tools, facilitating core activities like lesson delivery and using plugins to let third-party tools supply additional functionality.
Moodle is scalable, flexible and customizable, meaning that setting it up and getting the most out of it isn't the work of an afternoon. It's a major undertaking, but one that can deliver comprehensive support across learners' education careers.
Pricing:
Moodle is free and open source. It's private and secure, but the code it runs on is supplied free of charge. However, it's often supplied by hosting partners that handle some or all of the basic IT work for you.
Conclusion
There's already a plethora of apps for education out there — what can another one add? Hopefully, this post has showcased some of the unfilled needs that students, teachers and administrators can have.
The same caveats always apply — do-it-all tools can become walled gardens, single-application standalone tools can just be yet another thing everyone has to log into.
But an app that actually helps encourage students to write, or one that gives controllable access to real-time feedback and collaboration? That's worth looking at.
And tools like Gimkit have another advantage: they inspire students and show them what's possible. After all, when Josh Feinsilber created it, he was at high school himself...