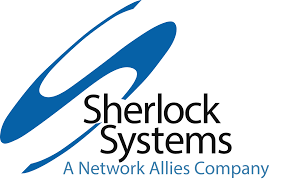 Sherlock Systems has spent almost a quarter of a century helping clients meet their specific technology needs, whether those needs involve hardware IT integration, custom-built systems for specialized software applications, or PC-based control devices. In the last decade, the Buffalo Grove, IL company has also become a leader in the rapidly expanding world of digital signage, offering a full range of electronic display services from installation to content creation and management.
A Rise Vision partner, Sherlock recently set the Plexus Corporation up with a network of large LCD displays on a manufacturing floor with four different departments, each of which has different information display needs. According to Sherlock's Marketing Coordinator Dianna Kolb, "Plexus needed a better way to communicate with each department within their production floor. They chose four different screens for the four different departments."
To enable Plexus staff to create and control each of their new display's messages individually, Sherlock also set them up with a subscription to the Rise Display Network, which they have re-branded under the name SherVision Display Network.
Says Ms. Kolb, "We worked directly with Plexus to get them the media player that we built onsite, we supplied them with the screens, and we sold them their Rise Vision Subscription. With it, they can display content on each of their screens that is relevant only to that department, and they are able to make live updates from their office that are then seen on the floor."
According to Ms. Kolb, Plexus is enjoying the flexibility that their Rise Display Network subscription gives them. "They really like the way that it can display more than one piece of information at a time."

Asked what benefit their client has appreciated the most about the Rise Display Network, she replies, "The time it has saved them. Plexus Corp. has created a network of displays, and each department is now exposed to a live feed of production news directed specifically for their employees. They are able to communicate with all different departments without a lot of travel time. In fact, since they now control their screens via the Internet, they don't even need to be at the warehouse."
Ms. Kolb says that being a Rise Vision partner is helping her company to stay on the cutting edge of digital signage technology. "Sherlock Systems customizes all of our digital signage solutions to fit our customer's needs, and Rise is helping us attain that goal. Our customers keep finding new ways of using our digital signage technology, and are finding it easy to grow with Rise Vision."