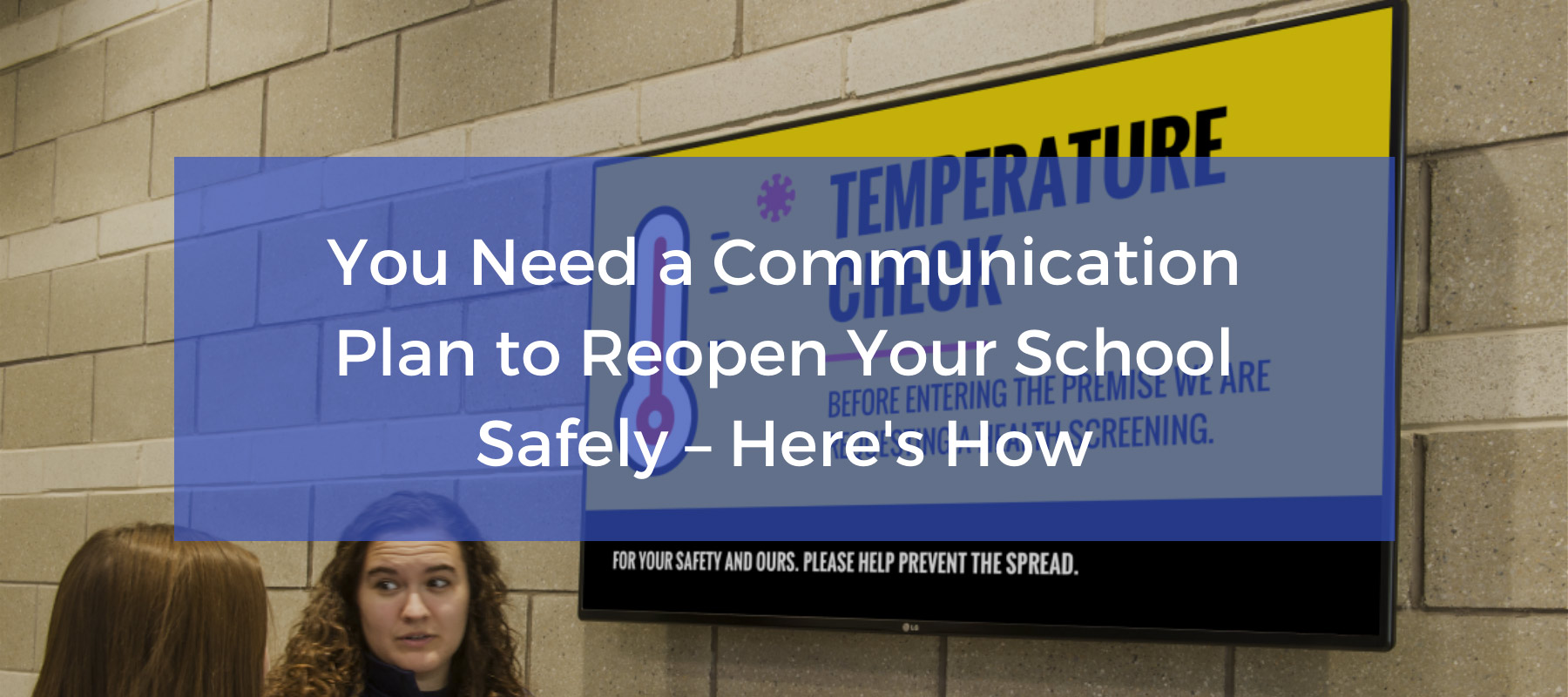 Returning to school will be more stressful than ever for administrators, teachers, parents, and students. As you well know, creating and implementing a safe plan to return to school is both complex and multifaceted.
You and your staff have been working feverishly on your plan – you need to make sure that your plan is communicated effectively to your school community.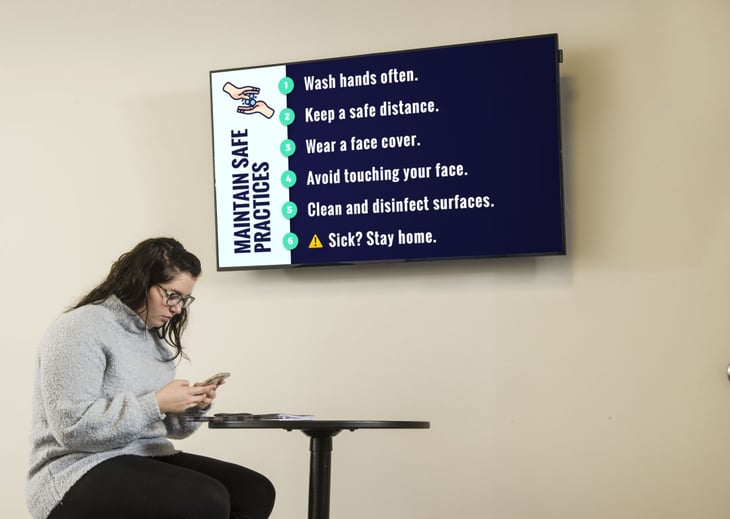 Here is how to cut through the noise and ensure that the plan you have spent months creating is seen, heard, reinforced, and enacted every day, no matter what.
Reopen Your School Safely Checklist
Create a communication plan
Implement digital signage to share safety messages
Get a mass notification system to distribute emergency messages
Use an at-home communication solution to keep students and parents up to date
What You Need to Reopen Safely
A communication plan
A communication plan is vital to ensure your staff and community understand the steps you are taking to keep them safe and their responsibilities within that plan.
The goals of your communication plan should be:
To ensure your staff, parents, and students have a clear understanding of safety policies
To explain to staff, students, and parents their responsibilities in keeping your school community safe
To provide confidence that your school is being safely reopened and make your community feel comfortable
Implement digital signage to share safety policies and positive messages
Digital signage is a fast and effective way to share your safety policies throughout your buildings and help keep your community safe. When planning the content you'll share on your digital signage it's important to recognize the emotional state many students will be in. Many of them will not have gathered in a large group since March and they may be scared to go back to school.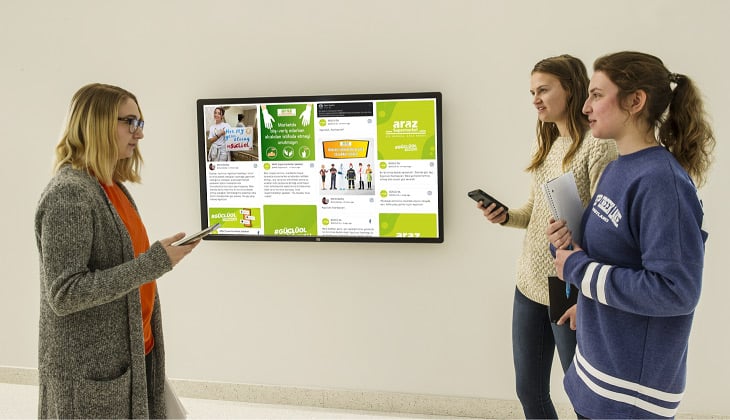 Your messaging should be human and caring. It's important everyone knows the rules of your school, like wearing masks and practicing social distancing. These messages should also be paired with content that makes students feel comfortable and happy to be together again.
Direct visitors to your temperature scanning station
Temperature checks with a contactless infrared thermometer ensure no one enters your building with a fever.
A temperature scanning demonstration
Rise Vision is now offering temperature scanning machines to our education customers. You can learn how one school is using the temperature scanning solution in this video. If you need a temperature scanning solution for your school you can contact us to learn more.
Let visitors know they need to complete a self-assessment before entering
Self-assessment tools can be added to your website, school apps, and more. You can use Rise Vision to inform visitors to your school that they need to use your self-assessment tool before entering. A self-assessment tool will guide the user through a series of questions and based on the responses it will make different recommendations to them such as not entering your building.
Here's David Sinkinson, CEO of AppArmor, on the benefits of self-assessment tools for education:
"Self-Assessment and screening apps are playing an essential role in ensuring that our schools are safe for the return of our children. Using a decision tree format, users can assess whether or not they should return to campus, and confirmations are sent to both the individual and the institution. AppArmor's organizationally branded screening tool is configurable in real-time, making it possible for your team to ask the right questions. The platform also has numerous other features to ensure your people are informed and ready for the return of classes."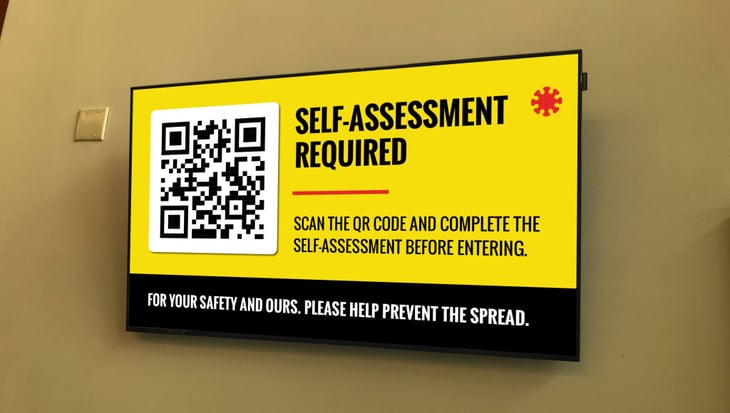 Share positive messages and uplifting content to make students feel comfortable
A great way to brighten the mood and make students feel excited about school is sharing school photos on your displays or welcome messages from your school.
Get all of our COVID safety signs
We've created 30 COVID safety signs, covering social distancing, mask-wearing, handwashing, and more, that you can print out, use with Rise Vision, or your current digital signage provider. Click below to download them.
New to digital signage?
Digital signage is an easy and fast way to get important messages out to your school. Unlike print, it can be updated from anywhere and distributed at the click of a button. With a digital signage program like Rise Vision you can share content like the time and date, weather, and your school's branding. The best part? It doesn't require any special technical skills, anyone at your school can contribute.
You can get started with Rise Vision digital signage in minutes by creating an account here. Once you've created your account follow our simple three-step plan to get up and running fast.
Step 1. Pick a template
Pick from one of our 300+ easily customizable templates to share safety messages and uplifting content. Below is a template that's very popular with our education customers. It displays the date, time, weather, and has a large area to showcase your important safety, welcome, and other messages.
Step 2. Share it anywhere.
After creating a Rise Vision trial account and picking a template, you can share it anywhere! You can share Rise Vision content to digital signage, websites, student computers, social media, learning management systems, and more.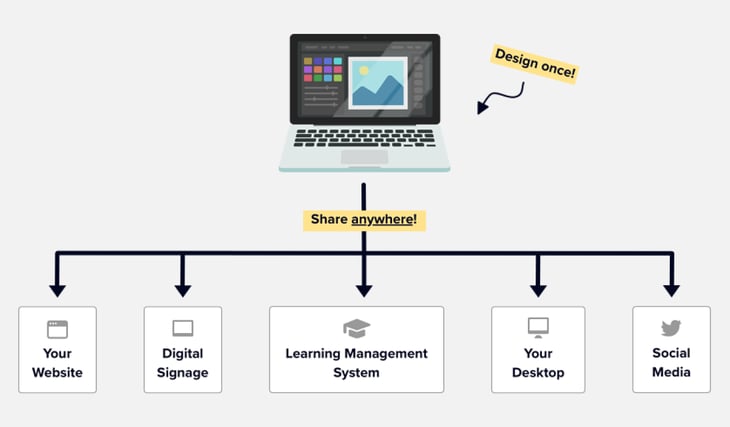 To start sharing your new template to your displays you'll need a digital signage media player. A media player is a small computer that is connected to the TV that you want your template to appear on. Rise Vision supports Chrome OS, Windows, Linux, and Raspberry Pi media players, you can purchase them pre-configured from our partner the BookPC. If you need any help picking one or getting it set up you can contact us here.
Step 3. Keep it interesting
Once you've shared your template to your displays (or elsewhere), you need to keep your audience engaged by regularly updating them with new and relevant content. Every week we send out a playbook of school-specific templates and ideas to keep your audience engaged.
Our school customers save an average of 16 hours of design and implementation work per week by utilizing the templates we provide combined with our user-friendly, intuitive interface – no prior tech skills required.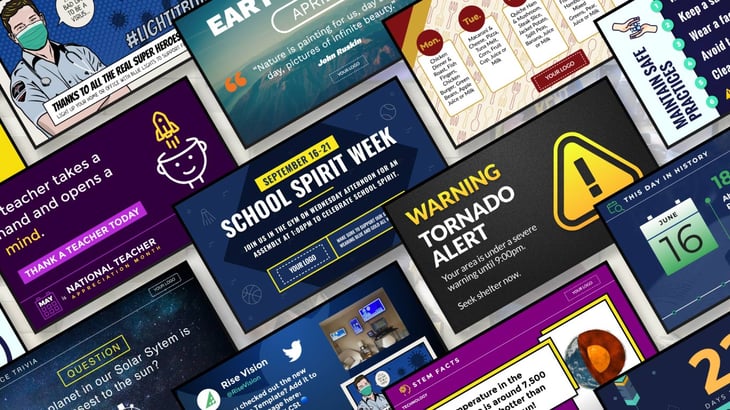 If you're interested in learning more we have a weekly live webinar and a recorded webinar that you can access below. Rise Vision's best-in-class Support team is here to help you every way they can.
Get a mass notification system to distribute emergency messages
When your school reopens it will be important to have the ability to send emergency notifications to your digital signage and other devices.A mass notification solution like Singlewire can be used to send health and safety messages via text and audio messages using overhead speakers. Singlewire can also integrate with your Rise Vision digital signage to show the same emergency messages on displays throughout your school.
Here's Paul Shain, CEO of Singlewire Software on the benefits of a mass notification solution for schools:
"Visual and audio alerting can make a big difference for schools that need to reach everyone with mass notifications. The more channels and delivery methods schools can leverage the quicker people can see a message and take action."
Once you have finished setting up your Rise Vision account you can connect it to your mass notification system in minutes. And if you need any help our support team will be there to guide you.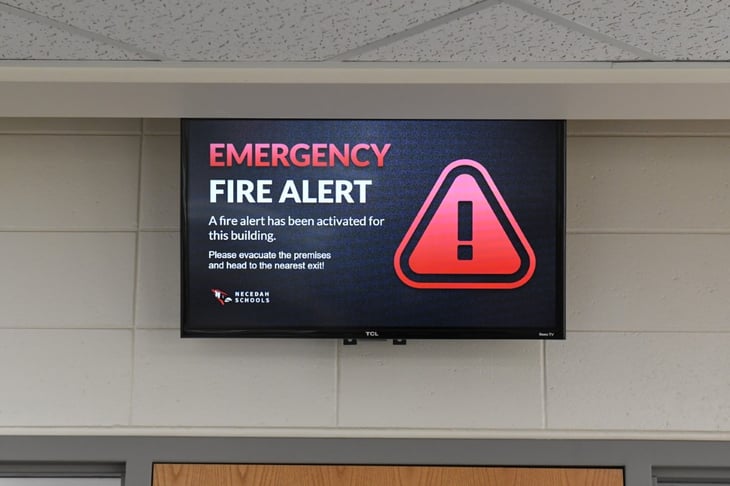 Use an at-home communication solution to keep students and parents up to date
To help make sure everyone is aware of your plan, whether we're on campus, at home, or some combination of the two, you'll need a way to reach students and parents at home. Some common ways of doing this are text messages, emails, social media, local television, and your school website.
With Rise Vision you can share your messages to your digital signage, website, social channels, learning management systems, student computers, and more with the click of a button. Sharing your digital signage content on your website is a great way to keep parents up to date and give them the opportunity to see what's playing on your school displays. Learn how Sarah Scott Middle School keeps parents and students up to date on the web and in school with Rise Vision.
Sharing your messages to student computers is another effective way to make sure your message is noticed. Once you've set up Rise Vision on your school computers, every time your students open a new tab they will see your most important messages. This helps keep your school safe, your students connected to your community and creates a strong culture.
Start your communication plan now
Back to school this year will be stressful for all involved but clearly communicating the steps you are taking will help keep your community safe and make them feel more comfortable. We're here to help you implement your communication plan using all of the tools available.
You can start a trial below to get started or if you have questions about digital signage, temperature scanning, emergency notifications, or something else don't hesitate to contact us. We respond to every message that comes in, typically in minutes.
Related Articles