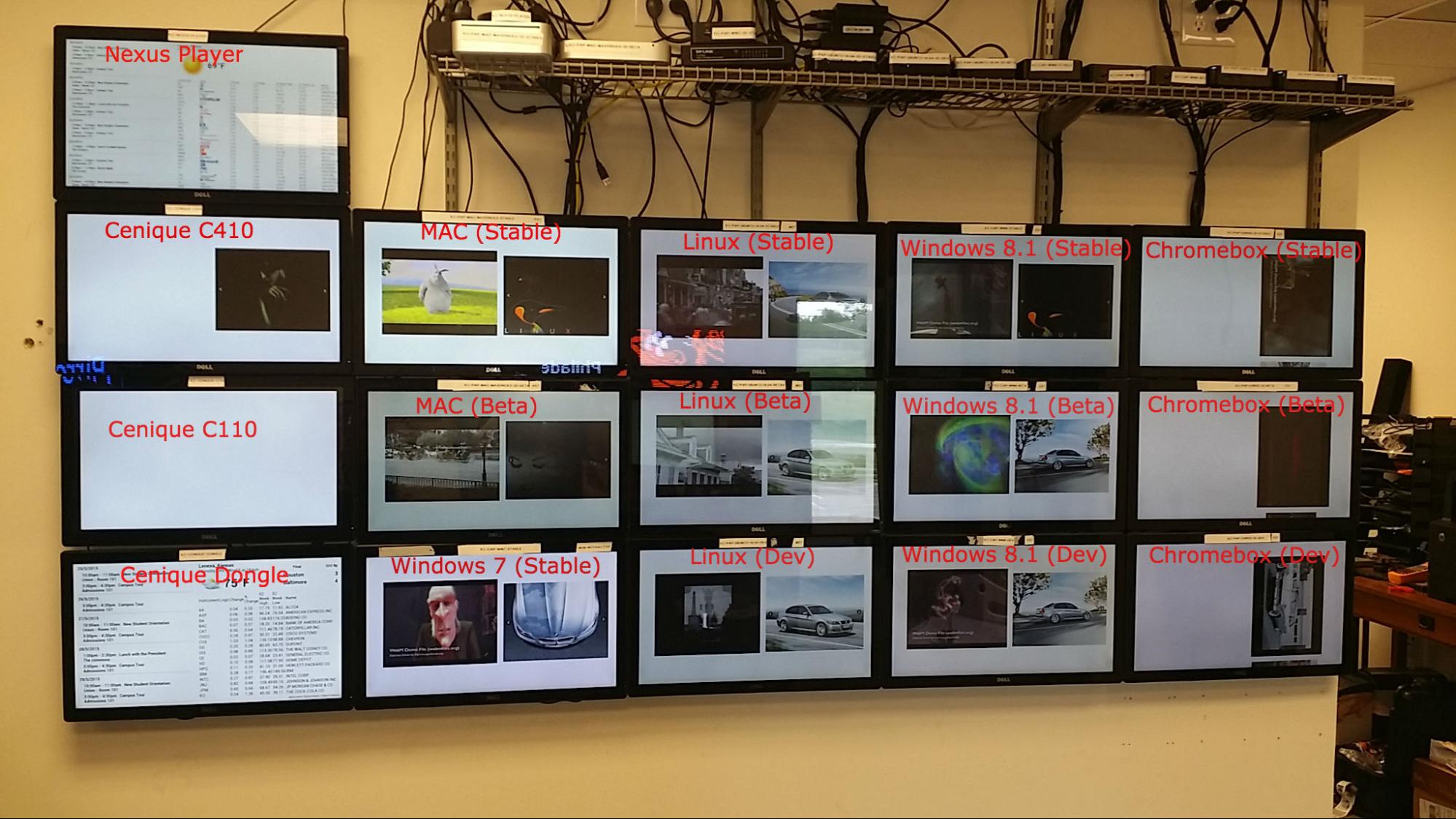 What is an Uptime Wall?It's what our community success, and content teams use to test any new feature, update, and piece of content we add to Rise Vision. The wall consists of 16 Dell touch screens. The 4 operating systems represented are: Windows 8.1, Ubuntu 14.04, Chrome OS and Mac OS X.
The Windows, Ubuntu, and OS X players are running the Development, Beta, and Stable versions of Chrome Browser. The Chromebox runs the same channels but for the operating system rather than the browser.
Below is Google's definition of each channel
Stable channel: This channel is tested by the Chrome team, and is the best choice to avoid crashes and other problems. It's updated roughly every 2-3 weeks for minor changes, and every 6 weeks for major changes.
Beta channel: If you want to see upcoming changes and improvements with low risk, use the Beta channel. It's updated roughly every week, with major updates coming every 6 weeks, more than a month before the Stable channel gets them.
Dev channel: If you want to see the latest Chrome features, use the Dev channel. The Dev channel gets updated once or twice weekly. While this build is tested, it might have bugs, as we want people to see what's new as soon as possible.
Testing Rise Vision Using the Uptime Wall
We test Rise Vision on Linux Ubuntu, Mac OS, ChromeOS and Windows. For each operating system we test Rise Vision in the Dev, Beta, and Stable channels of Chrome. This allows us to track bugs as they move through each channel. If a bug arises in the Dev channel we log it with Google. Then we make sure it is fixed before reaching the Stable channel.
Resolving Support Tickets
Another use for the uptime wall is resolving support questions, and problems. When a customer reaches out to us with a problem we recreate it on our uptime wall. This allows us to quickly solve it, and implement the fix.
Testing Content and Updates
We are constantly creating new content for our users. As such we have built a large library of presentation templates, content widgets, and open source HTML templates. We test all of our templates, and widgets on different media players to ensure they work across everything.
The uptime wall is a powerful tool that helps us maintain a great experience for our users. And, it provides us a way to make sure when that experience falters it get's back on track quickly.