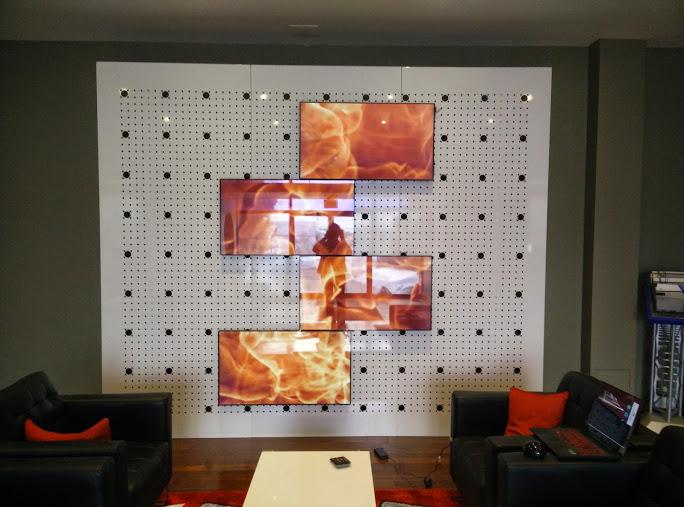 Daniel Griffin is the VP of Multiplied Computing at Userful, we worked with him to incorporate Rise Vision into Userful's networked video wall solution. Userful creates a great solution for networked video walls. Their solution is incredibly affordable and can be used to create stunning video walls set ups. By using industry standard equipment, zero client media players, and a single i7 computer you can power up to 25 displays. Their video wall tools also give you the ability to set up your displays in a standard stacked manner or to create artistic set ups.
Why did you decide to build the Userful video wall?
Userful has sold a million virtual desktops around the world over the past ten years and this solution is built on that same platform. One of our resellers was really the first to begin using our virtual desktop platform to display signage content and that's when we started looked at the challenges presented by video walls. As we researched video walls, we saw an opportunity to significantly simplify the way they're are implemented--essentially doing the same thing in the video wall space that we've been doing for virtualization: making it easier and more cost effective.

Our developers took the same network based virtual desktop platform we've deployed all over the world and instead of having each of the displays on the network independent desktops, made them all synchronized into a single large image--a video wall. It's not as simple as I make it sound, of course. There was a lot of work to enable us to deploy 4k content over the network, to be able to support multiple video walls from a single PC, to allow each display to rotate for an artistic style video wall, but that's essentially how we got started with the network video wall.
What do you think separates it from other video wall solutions?
We really focused on making it easy to do interesting things with video walls--from 4k resolutions, to artistic layouts, to being able to quickly switch between multiple content sources. We believe the answers to a lot of the challenges in AV and digital signage today are best addressed with simple and easy to use software solutions. We're so proud of how easy we make it to set up, deploy and manage a stunning video wall that we put a self service test drive on our website so anyone can try it: go userful.com/videowall click through on "try control center demo" and see for yourself how easy it can be.
What's the most interesting thing you've seen built with it?
The ability to easily switch between multiple sources of content is really cool: an admin can quickly switch between a managed content stream like Rise Vision to a live content stream (eg a video feed from the internet or other real time content from an HDMI capture card).
So you can have a lot of different things going on on different parts of a video wall or just switch the entire video wall from one content stream to another. It can be a full screen browser, a desktop, a Rise Vision player, or it can display live content from an HDMI source and it's easy to switch from one to another.
If you are interested in checking out Userful's video wall solutions, they are available in our store.