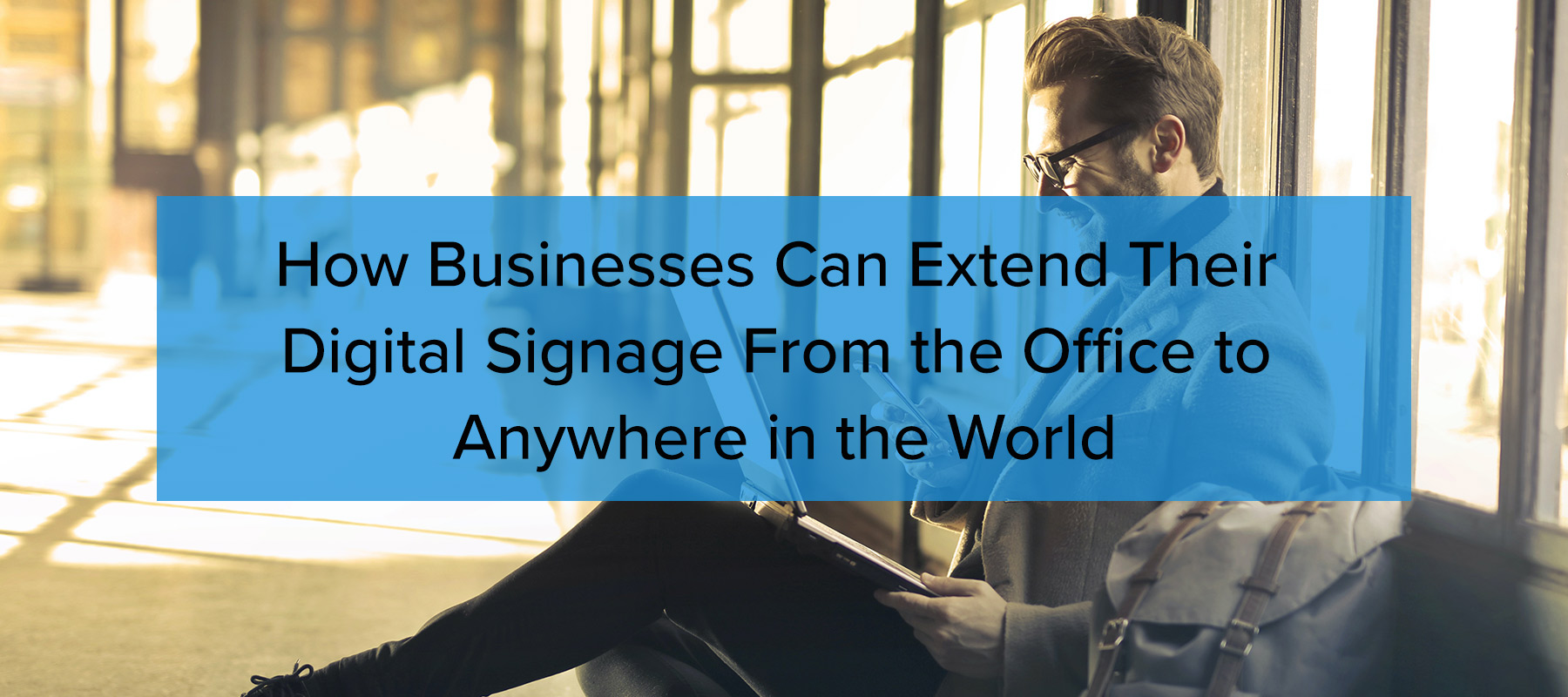 A lot of businesses figure out their OMTM — One Metric That Matters. Then they put it on the wall where everyone can see it. Whether it's conversions on your website, closed sales or something else, it's right there front and center. Everyone knows, 'this is what we came here today to do.'
But what about remote teams? Field teams? Teams who are having to work from home because of special circumstances?
Rise Vision lets you put your OMTM in front of your team, wherever they are.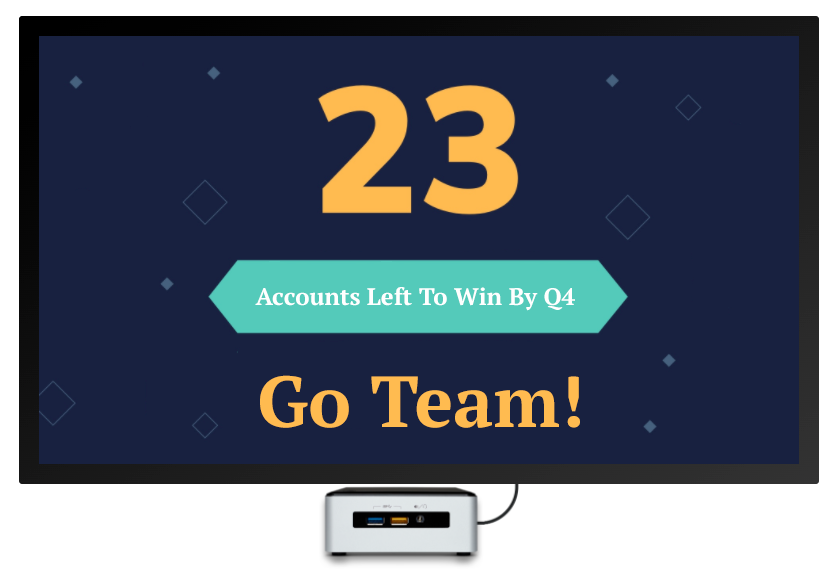 We'll get into how to do this in more detail later on in this post.
What is this new Rise Vision feature?
Rise Vision is a powerful CMS and distribution tool for digital signage. It integrates with the most popular digital signage hardware and lets you create and display signage across your organization, from customizable, brandable templates. You can create schedules, display them on different signage in different locations, and target different audiences from the same intuitive dashboard. Dynamic content like social feeds and scrolling news feeds can be embedded in your digital signage too.
But there is one problem with this: how do you use it to reach people who can't see your screens? This could be remote teams, or it could be contractors; it could be field operatives, or it could even be people who are working from home because of special circumstances. Whatever the reason, if they can't see your screens, how do you still use Rise Vision?
With the latest version of Rise Vision, you can now display the same content on screens you don't own, like desktop and laptop computers, websites, and infrastructure tools like learning management systems and knowledge bases.
You control these features through the normal Rise Vision dashboard and you can build schedules, customize templates and slideshows, and manage your content exactly the same way. Let's look at how it works.
How it works
To get started, you will need a Rise Vision account and the Rise Vision Chrome extension.
You can get a Rise Vision account here if you don't already have one.
If you haven't already downloaded the Rise Vision Chrome extension you can do that here:
https://chrome.google.com/webstore/detail/rise-vision-anywhere/dkoohkdagjpgjheoaaegomjhdccfbcle?hl=en
The process of creating content is exactly the same as it is for previous versions of Rise Vision. We're going to go through it very quickly and simply.
The first thing to do is to create a presentation. If this is your first time using Rise Vision, creating presentations is very easy — it's like using desktop publishing software. In your Rise Vision dashboard, you can start a new presentation from a template: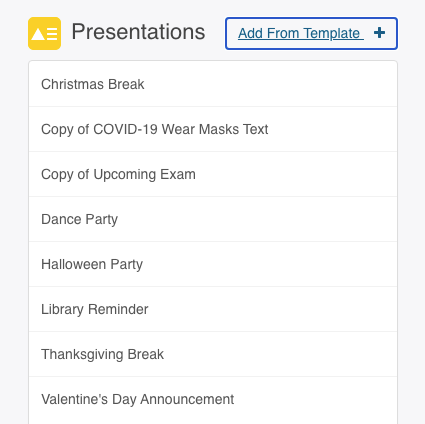 There are hundreds of templates, and you can filter and search among them if you don't see what you need right away.
I'm going to use this Covid-19 warning template, repeating advice from the CDC about how to slow the spread of the virus.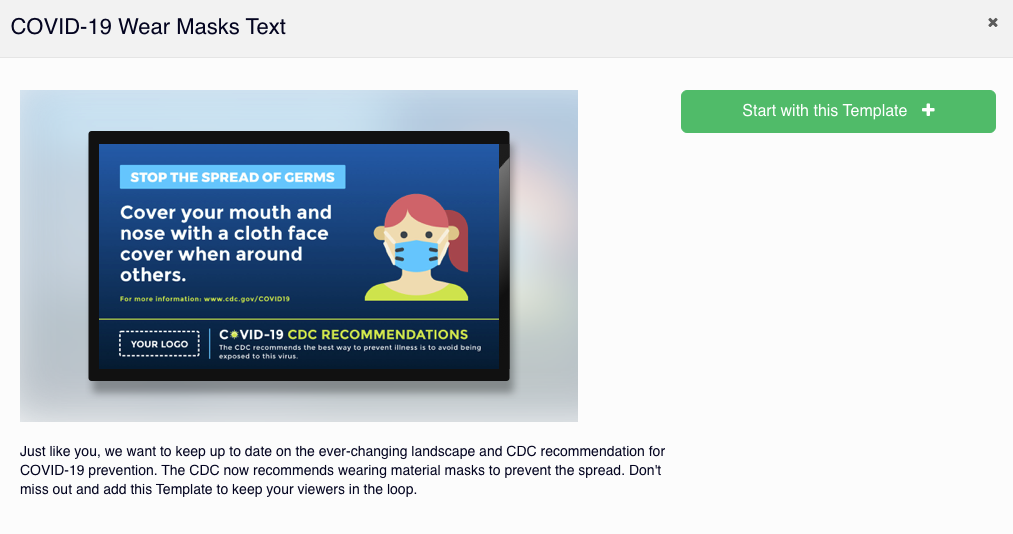 When I choose it, it automatically opens with a list of customizable options that includes branding, colors and text content. The templates don't constrain you, they just make it easier to get started.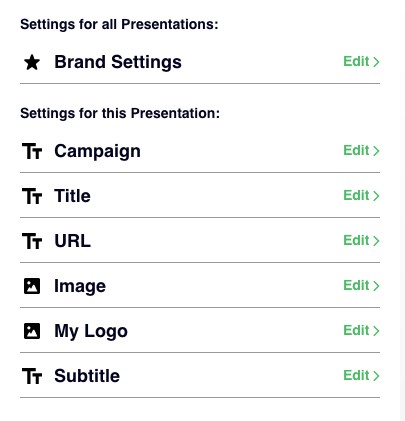 When that's done, I need to publish it, schedule it, and then I can move on to sharing it.
Publishing it is simple: I just click publish. Then I need to create a schedule to put it in. Once I've created a schedule, I now have options about how I share it.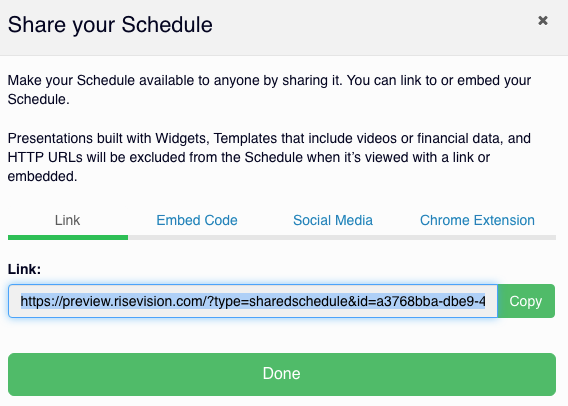 I can share it as an embed using this ready-made embed code: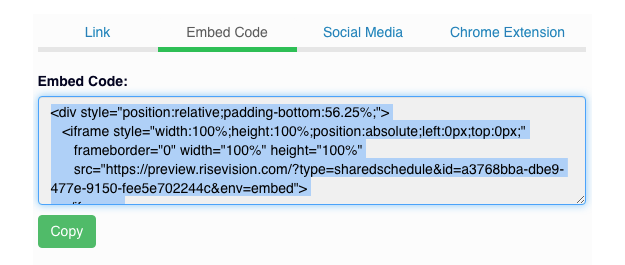 You can customize this code yourself before you paste it into a website, but you don't have to; you can just copy and paste it.
I can share it as a URL. Choosing this option just gives me a link I can share however I want — in emails or SMS, or via a web page.
Here's the link:
https://preview.risevision.com/?type=sharedscheduleid=a3768bba-dbe9-477e-9150-fee5e702244c
If you're going to share it as a URL rather than a hyperlink it makes sense to minify it using a service like Bitly, which has the advantage that you can make custom links even with the free version: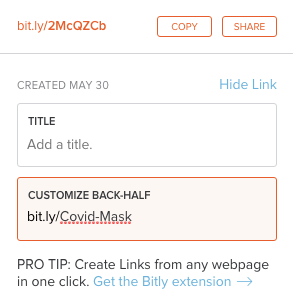 I can also use the Rise Vision Chrome extension to make this my new tab screen every time I open a new tab in my browser.
You can make a scrolling news feed or branded reminder of company values — or even a set of links, graphics and reminders that's appropriate to a department or to specific staff roles. Doing all of this is as easy as putting the material into a template, then sharing it through the Rise Vision Chrome extension.
You can do that via the Share dialog box: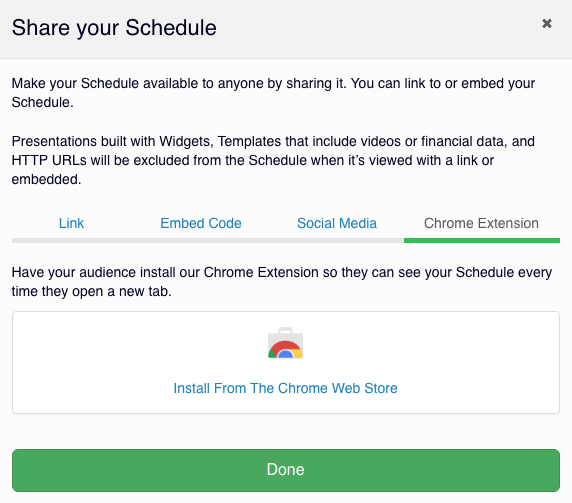 Or you can do it by navigating to your Rise Vision new tab page and clicking on the extension in the extension bar, then pasting the URL for the new presentation into the dialog box there: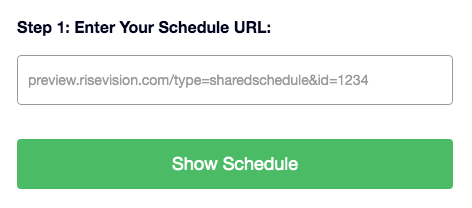 How can these features help your business?
Let's talk about what this can do to help you with your business. We're going to look at three use cases, starting with adding Rise Vision content to your company's knowledge base or wiki.
Embedding Rise Vision content in your company wiki
Company wikis are a great way to share knowledge. They make it easier for staff to find the documents, colleagues and processes they need to be productive and successful. Make that process even more effective by embedding Rise Vision content in pages on your company wiki. This is especially useful for time-sensitive content that you can't pass on by word of mouth because everyone's at home, and you don't want to fill up email inboxes or Slack reminding everyone of the same thing.
Suppose I want to embed a reminder to wear a mask in the sales department's wiki. I can embed that quickly and easily.
Exactly how this works depends on which software you use for your wiki. You should be able to embed the schedule you want to share using the embed code or the wiki software's own embed option.
Rise Vision on your company website
You use your company website to communicate internally in the company as well as with contractors, customers, and prospects. Rise Vision can make your website a more effective communication tool, especially if it's time-sensitive information. You can control the content directly from your Rise Vision dashboard and simply publish it to your site with a couple of clicks, without affecting the rest of your site.
Let's say you want to showcase staff achievements. You can use the Employee Spotlight template: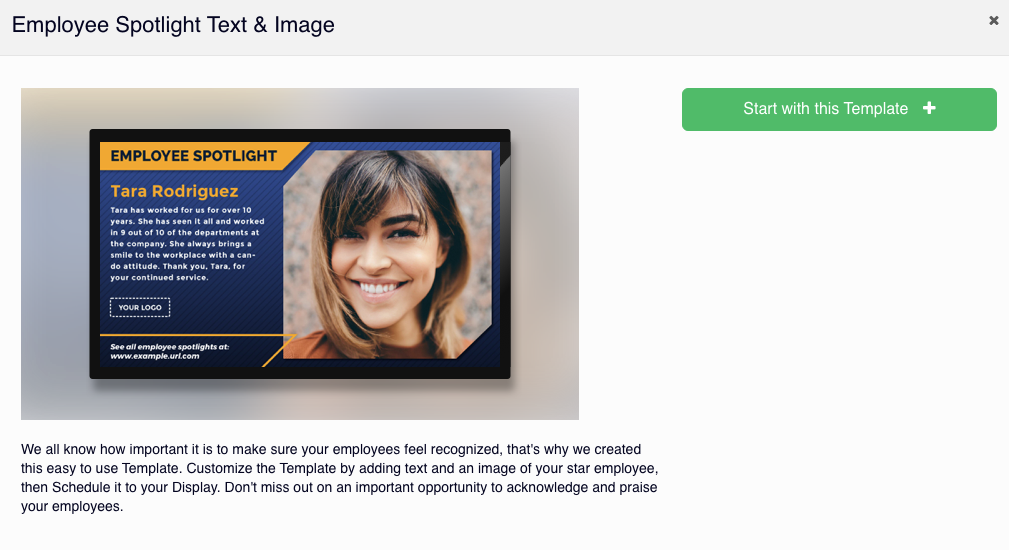 You'll probably want to customize this, but we're just going to take the template over to our website and embed it. All I need is the embed code from the Share dialog box: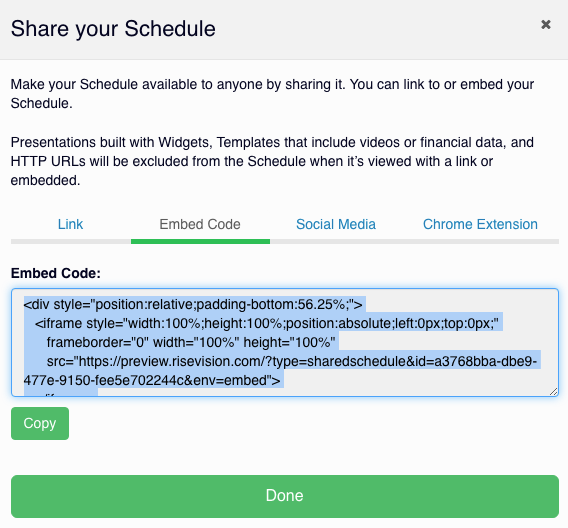 Now, I embed that in our own website: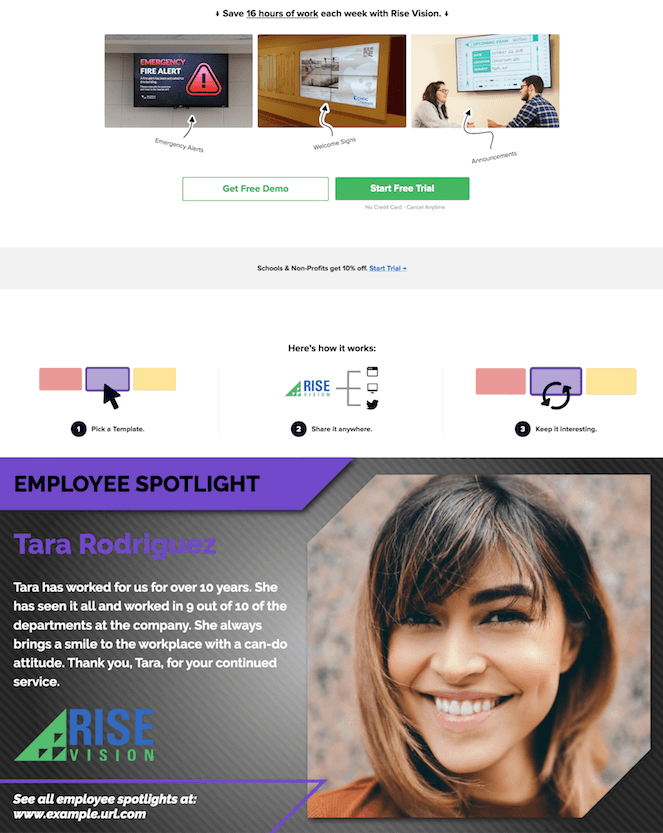 Rise Vision by messaging
If you're in contact with your staff by messaging, whether by Facebook Messenger, Slack or SMS, it makes sense to send them links to Rise Vision content, keeping messages short and to the point.
You can do this by copying the URL in the Share dialog box, then minifying it so it's easier to text and sending it via SMS. Employees can click on that link and see Rise Vision content direct on their screens.
Conclusion
Digital signage is one of the most powerful and effective ways to reach out to everyone in your organization: staff and visitors, contractors and customers.
Rise Vision takes that power and translates it into something you can use even when those people aren't on site. You can use it to improve communication between team members, to accelerate and clarify your company's reputation, to get better with talking to your customers and to help your staff get better at talking to your prospects. Rise Vision can help you drive engagement, sales, and collaboration. You can create content just once, then display it across desktops, Learning Management Systems, knowledge bases, and digital signage.
Hopefully this guide is comprehensive enough to get you started, but if you'd like some more pointers, we're running free weekly training in how to use Rise Vision. All you have to do is sign up for it here.