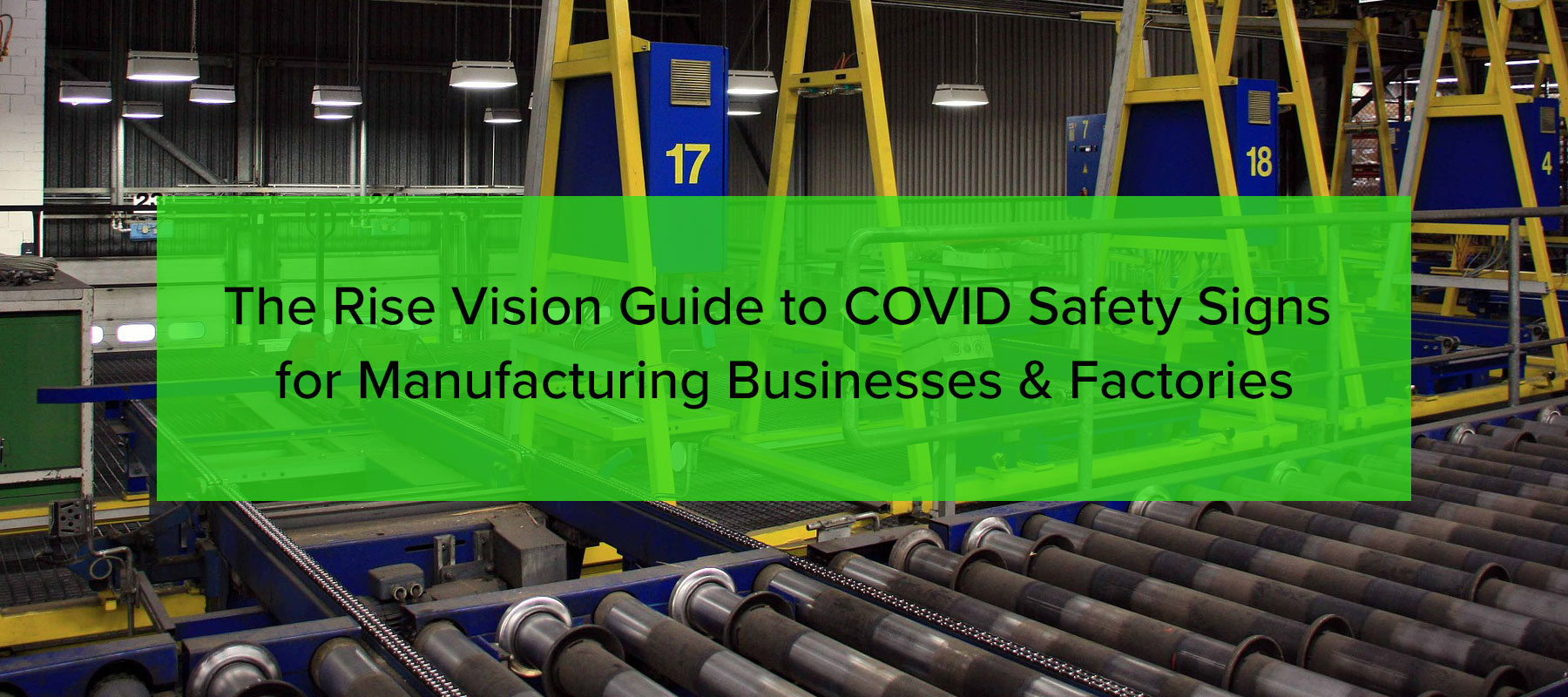 The last few months have been tough on manufacturers. And without a cure or a vaccine, COVID-19 will still be an issue for months — long after most businesses have reopened their doors and started fabrication, shipping, and sourcing again. That means we need systems in place to help handle the risk.
Digital signage can help. Proven to be more accessible, engaging, and effective than static signage, digital signage lets you address your customers, your staff, and even officials and contractors with the right message at the right time.
In this post, we'll show some examples of highly-effective digital signage for businesses, and demonstrate how to create similar signage for your facility. We'll also talk about what great digital signage for COVID-19 looks like, and how to go about creating it for your business.
First, though, we'll look at the advantages digitals signage gives you over traditional static signage, when it comes to changing behavior during a pandemic.
Digital signage vs static signage
In an emergency like the COVID-19 outbreak, signage needs to be more than usually effective to work at all. Staff and visitors alike have information coming at them from all over — their personal devices, news sources, social media, TV, radio; and that's just between the front door and the factory. When they arrive at work, they need clear messaging that actually gets through.
When that messaging is intended to change day-to-day behavior, the threshold is set even higher. Behavior is tough to shift, and old habits die hard.
Worse, when learning new processes, staff don't remember or comply well. This isn't unusual, it's the norm: 70% of employees say they don't have mastery of the skills they need to do their jobs.
In the office, assumed knowledge, wishful thinking, and poor communication mean it's not unusual to have people making crucial decisions without knowing how to use the tools they need to make those decisions. On the floor, standards lapse under pressure of time or when staff take shortcuts.
Signage intended to improve your organizations' resistance to COVID is workplace training: you're teaching employees new skills, new processes, and new ways of doing nearly everything they do at work.
Sadly, workplace learning is notoriously ineffectual: of 1,500 managers, from across 50 organizations, 75% said workplace learning was ineffective. And of employees who had learned a new skill at work, only 12% said they had used it. Even compliance with masking, distancing and hand hygiene is often partial.
On the plus side, highly-engaging reminders of the right behavior, given at the right time, have been shown to improve compliance — even amongst the most stubborn populations.
Digital signage outperforms static signage in three key areas:
1. Engagement
Digital signage generates massive jumps in engagement. It's viewed 5X more than static signage.
2. Retention
Nielsen found awareness and recall lifts of between 14% and 31%.
In a study, 83% of participants recalled one digital sign they had seen, 47% recalled three, and 20% had had an unprompted conversation about one.
3. Behavior modification
This is the tough one. Does it lead to action? The studies we have on digital signage in businesses tend to concentrate on sales as the change in behavior, but the results are clear.
Nielsen found an increase in sales of up to 33%.
Even just using digital menu boards in cafes resulted in a 5% sales lift.
Digital signage gets more eyeballs, claims more mental bandwidth, and results in more changes in behavior than static signage.
If you want staff to wash their hands, wear their masks, or observe social distancing rules, digital signage can help you achieve those goals.
What does great COVID-19 signage look like?
We've been in this crisis now for long enough to have some data to look back on — to see what's worked and what hasn't, and for some experts to weigh in.
Gina Kuck, Business Development for National Accounts at Daktronics, observes that retail businesses 'are moving away from their retail message to something that revolves around assurance or confidence.'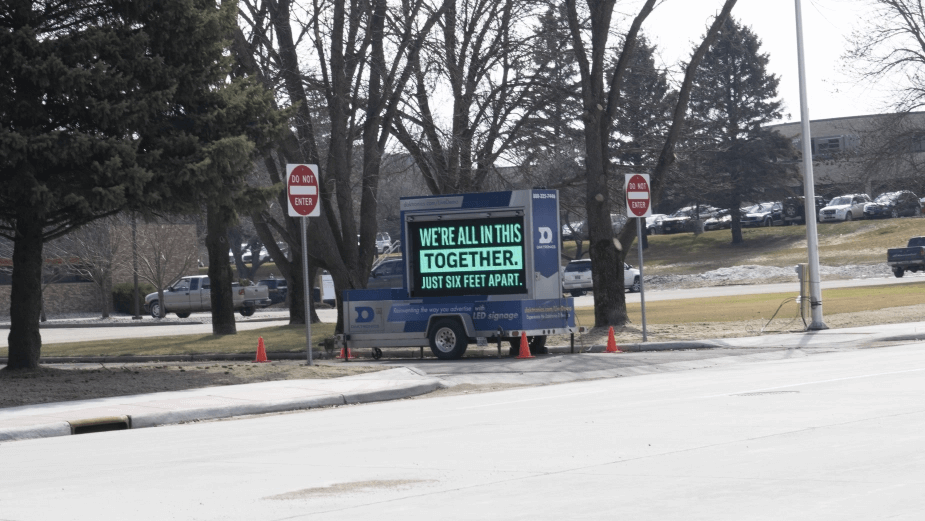 That's something staff need too. Right now, employees are worried about their jobs and their health. Economic optimism is at 47% — a historic low. They need authoritative reassurance, indications that it's actually safe to come back to work.
If you're showing signage that foregrounds practical solutions to health concerns, it sends that message, as well as having the practical effect of encouraging health-positive behaviors.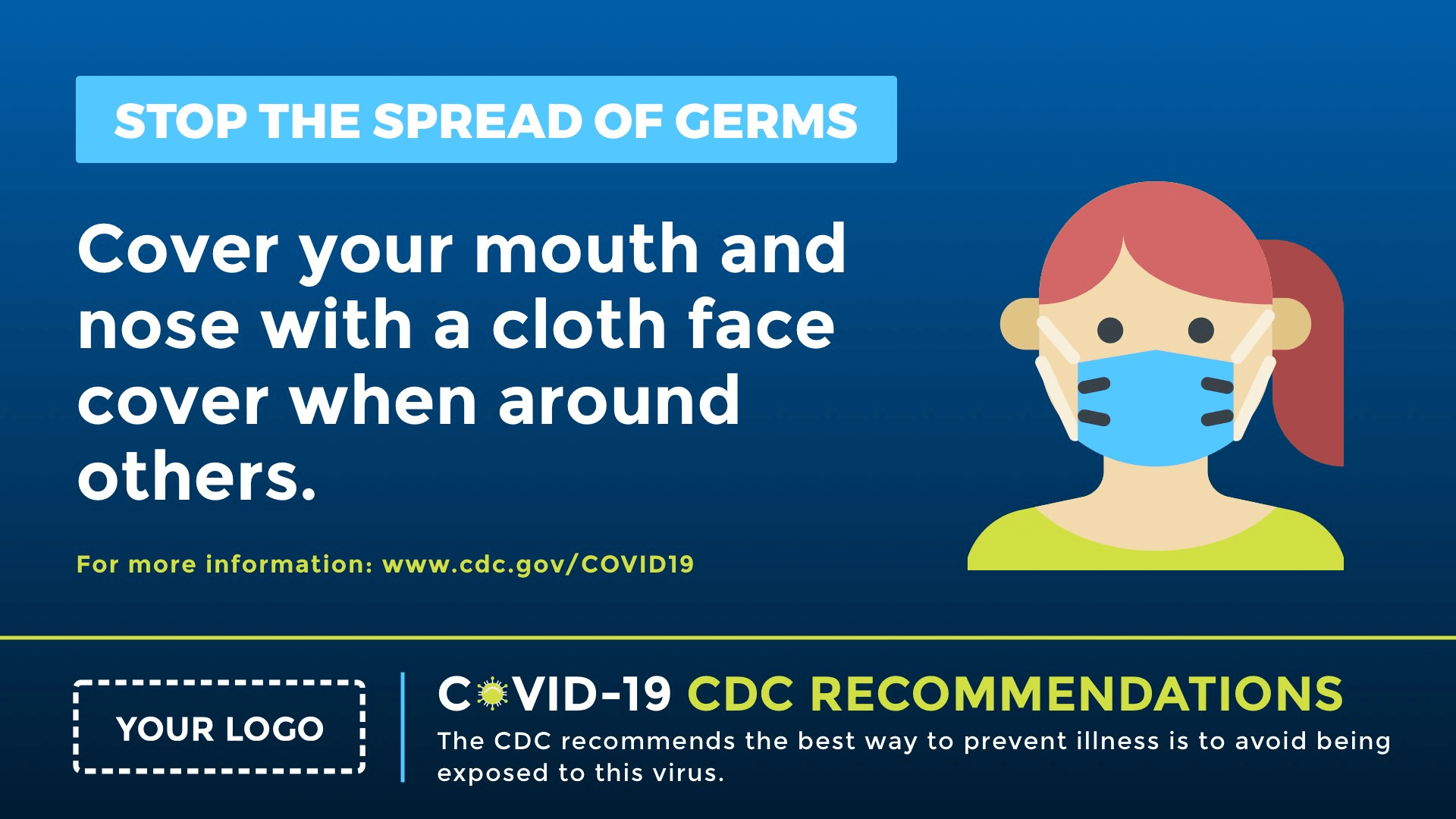 Of course, not everyone who works with you will speak English as a first language. There are areas of the US with many Spanish speakers, and they deserve protection from COVID-19 too. Consider signage that speaks directly to them, like this from Washington state's Department of Health: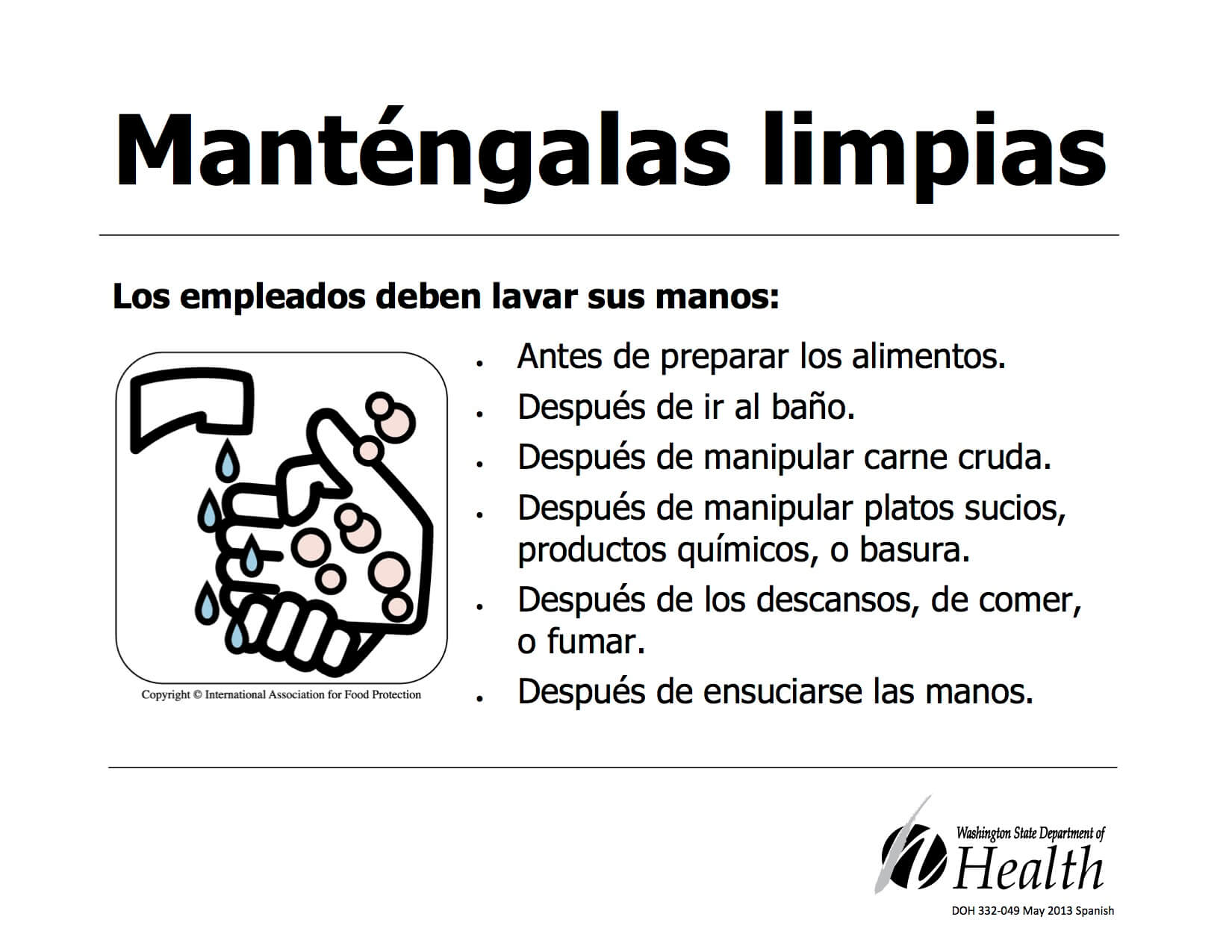 This may not be the most exciting design you've ever seen, but the point of signage like this is to keep the simple actions that help reduce the spread of COVID at the front of people's minds.
We have them too. Here's an example for a French-speaking audience: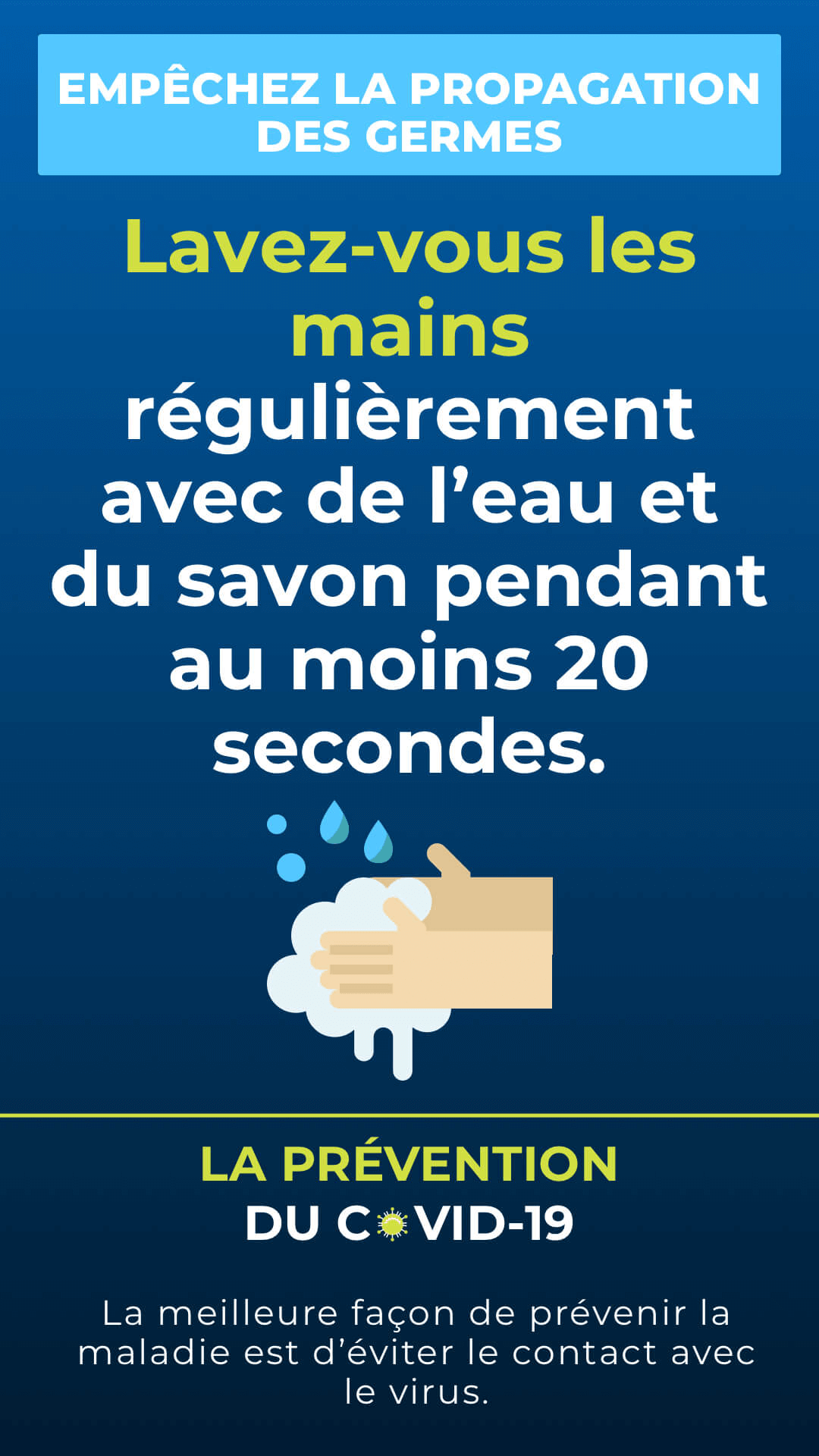 Creating effective digital signage for manufacturing
With multiple messages to communicate and a varied audience to communicate them to, you need a ready-made toolkit that also lets you adapt to your own specific circumstances and needs. Six feet is six feet, wherever you are — but your staff might need to see that information presented differently.
Multilingual staff might need multilingual messaging, but across the facility, staff also need messaging based on location and activity.
That's why Rise Vision offers a range of templates, designed to encourage staff and visitors to comply with the CDC's recommendations for beating COVID-19.
Some are precis of the basic guidance: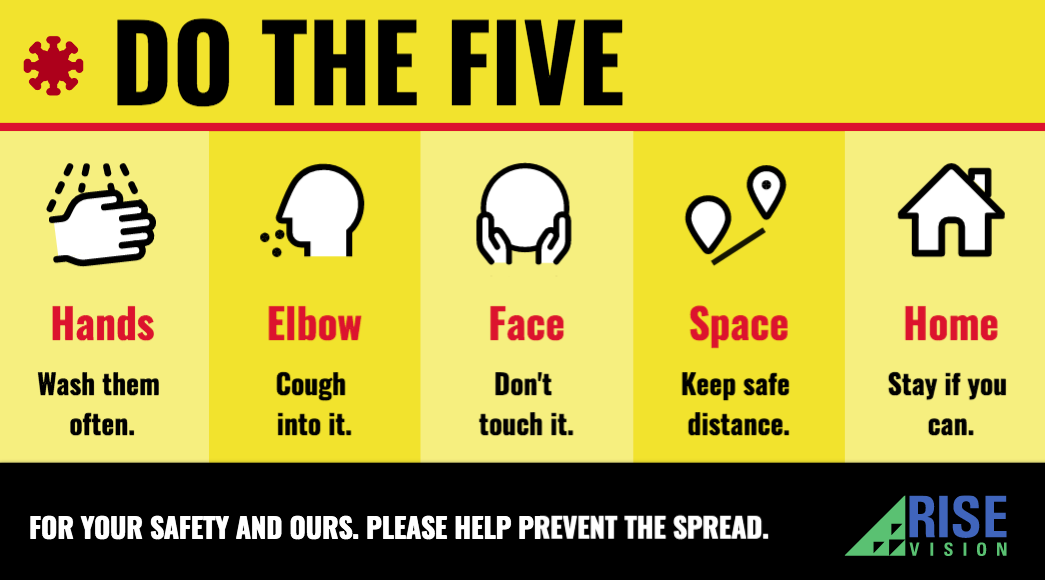 This makes sense for entryway signage, or for locker-rooms and break rooms.
Others emphasize specific aspects of the general advice, reminding viewers about distancing: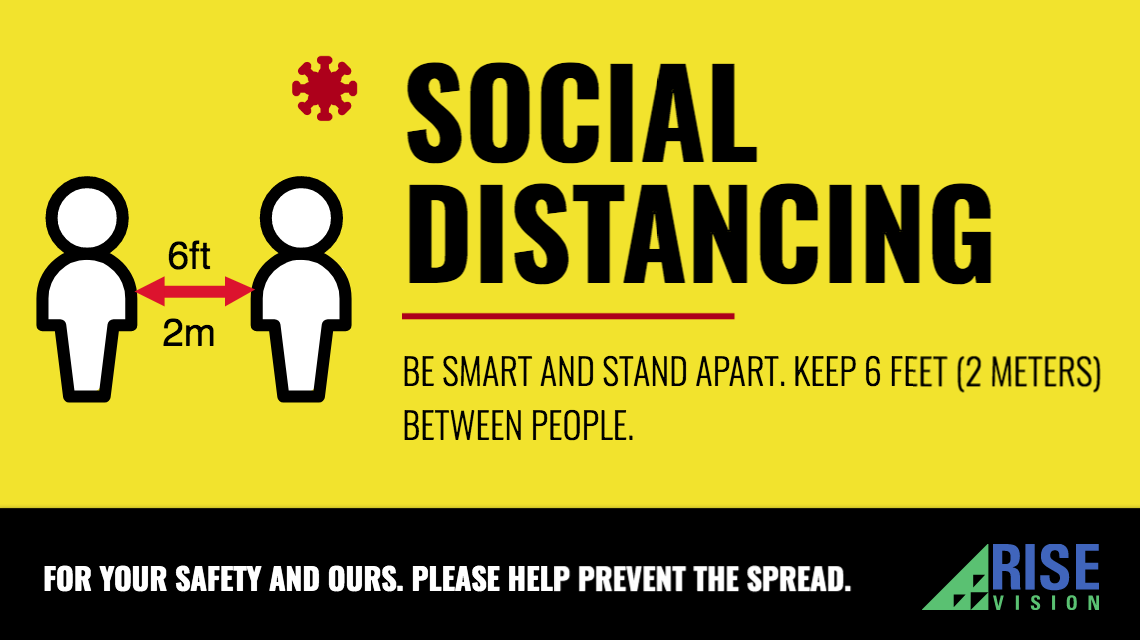 Everyone's heard the phrase and most people could probably tell you the right distance. But in a busy period or during a long day, good habits tend to fall by the wayside.
Especially in environments where people are used to working closely with one another — whether that's the loading dock or the factory floor — frequent reminders help people stick with the new rules, even if it means looking for new solutions.
Having a range of template options should allow you to build campaigns or slideshows that emphasize both the whole package, and the specific behaviors you need people to be paying attention to right here, right now.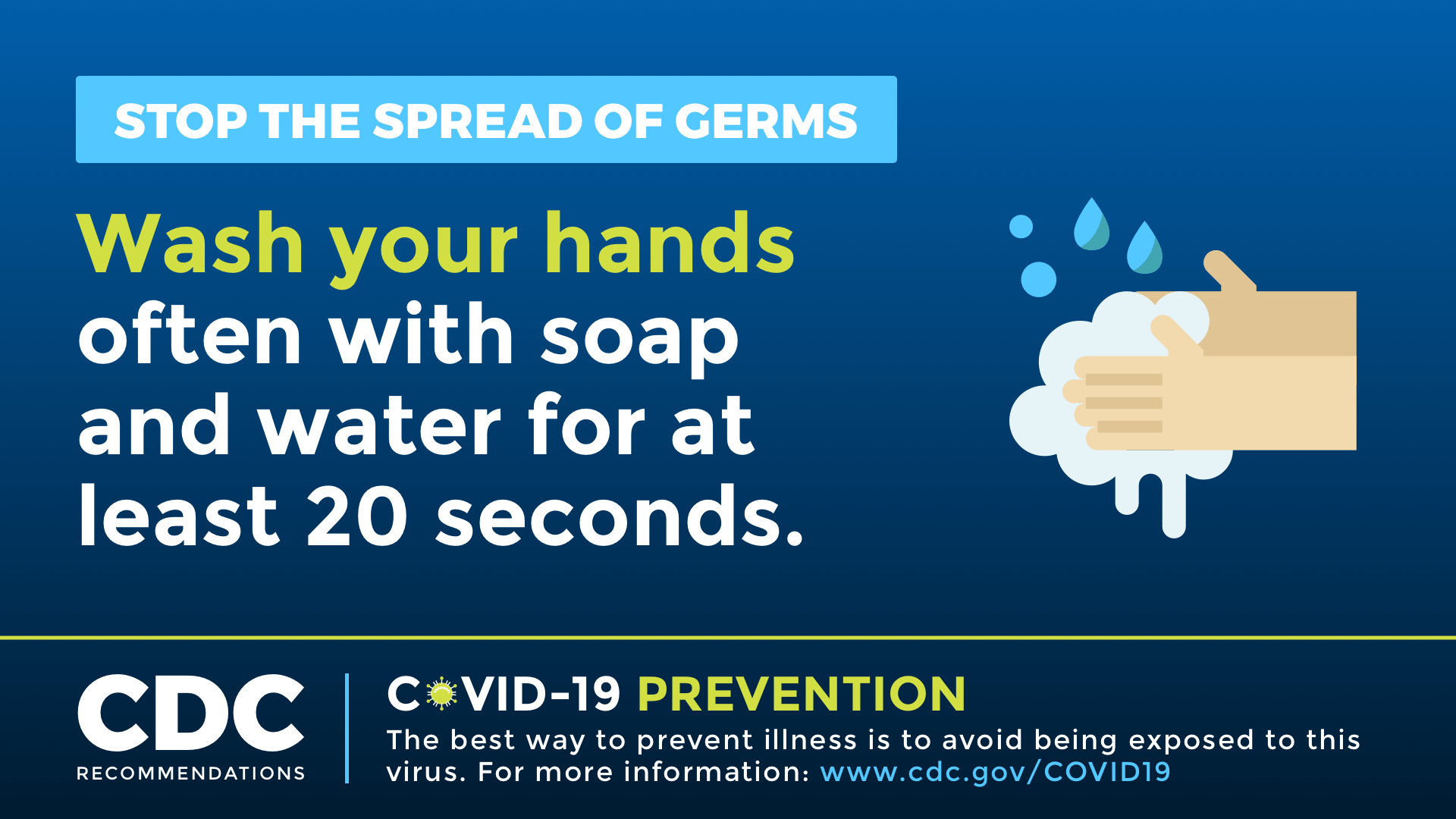 For instance, the handwashing signs mostly belong in food prep areas, designated hygiene stations, or restrooms. They're vital, but they're location-specific. They're not so much use on busy walkways, when what you need instead is: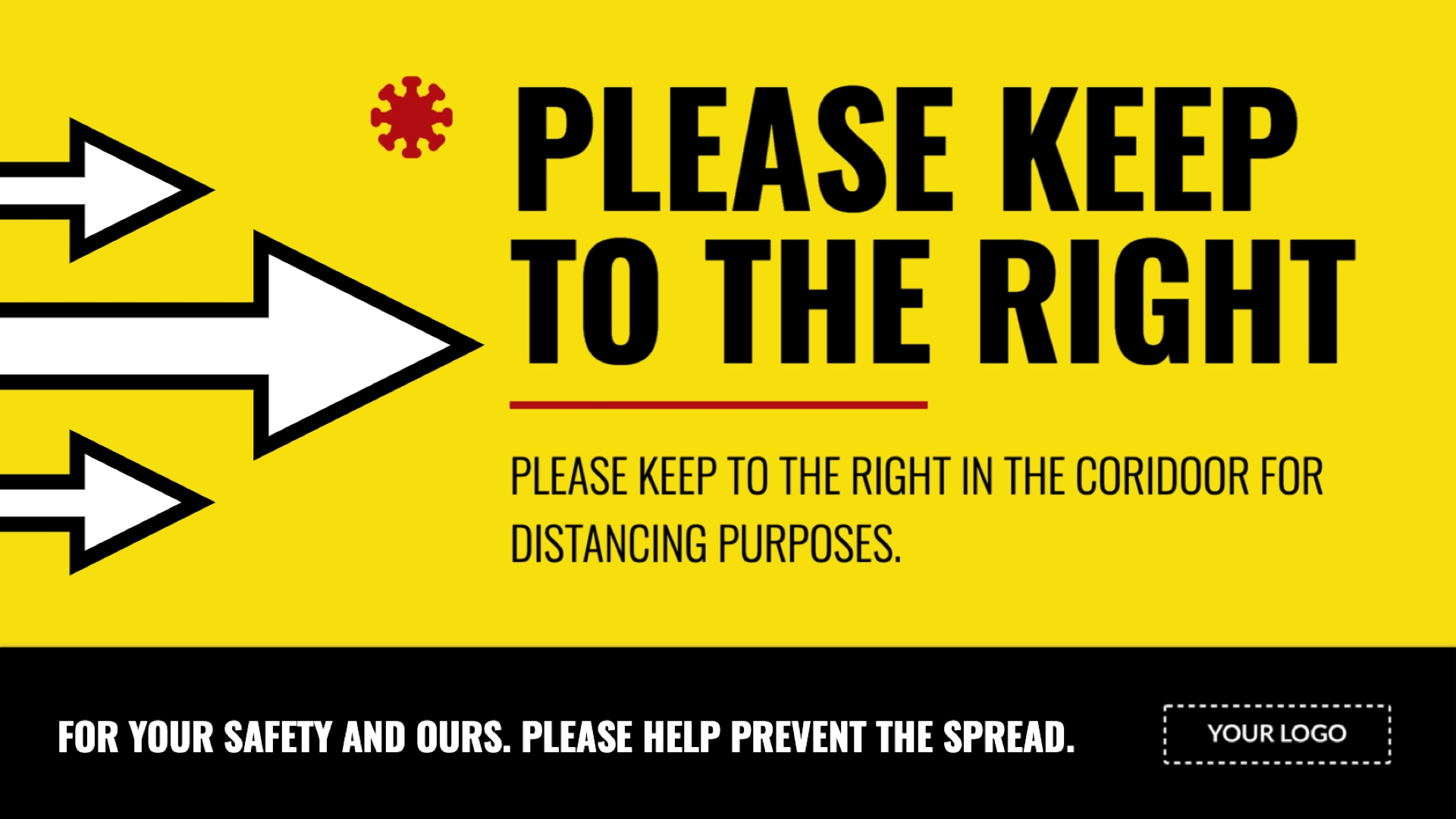 We have COVID signage templates appropriate to multiple physical locations and activities, perfect for your business — check them out here.
One thing you might notice about these templates is that they either carry our logo or a placeholder logo. That's easy to change — and so is everything else about the template design.
Let's use a template we haven't already seen, like this temperature check slide:
Yellow-and-black is a time-tested color scheme for 'danger' signs, and the logo space is left blank. We're going to add the RiseVision logo in the bottom right-hand corner, to show how you can easily add yours to brand the slide.
First, find it in your Rise Vision dashboard by clicking Add From Template.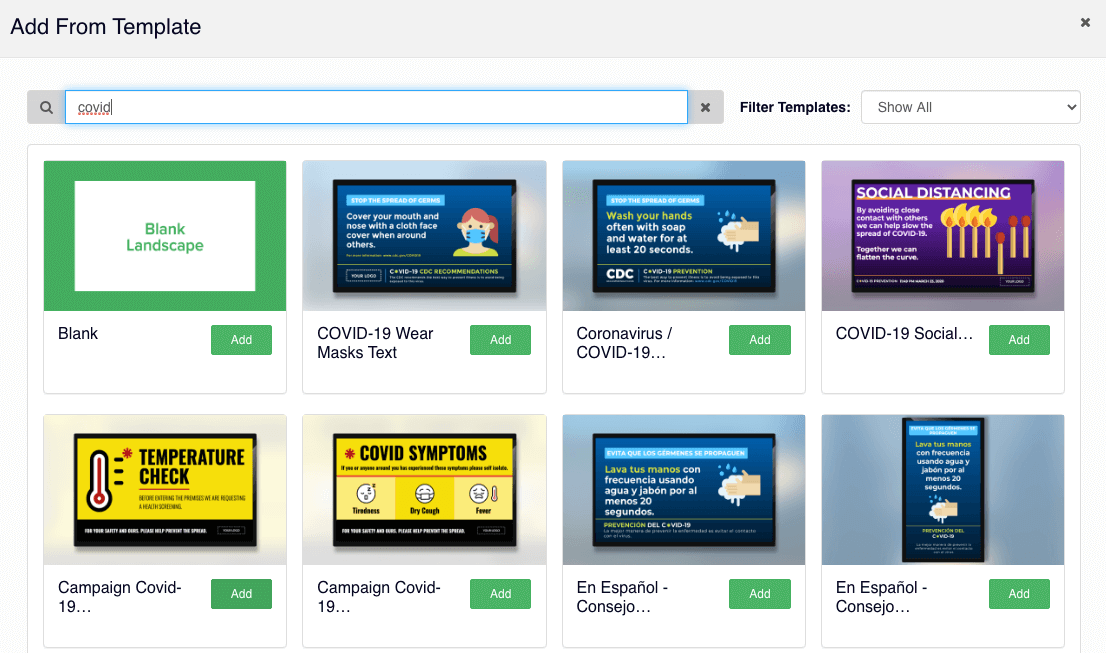 Now, you have options to edit the slide. On the left-hand side, you'll see a menu that gives you editing options for all your slides, and some specific to this slide.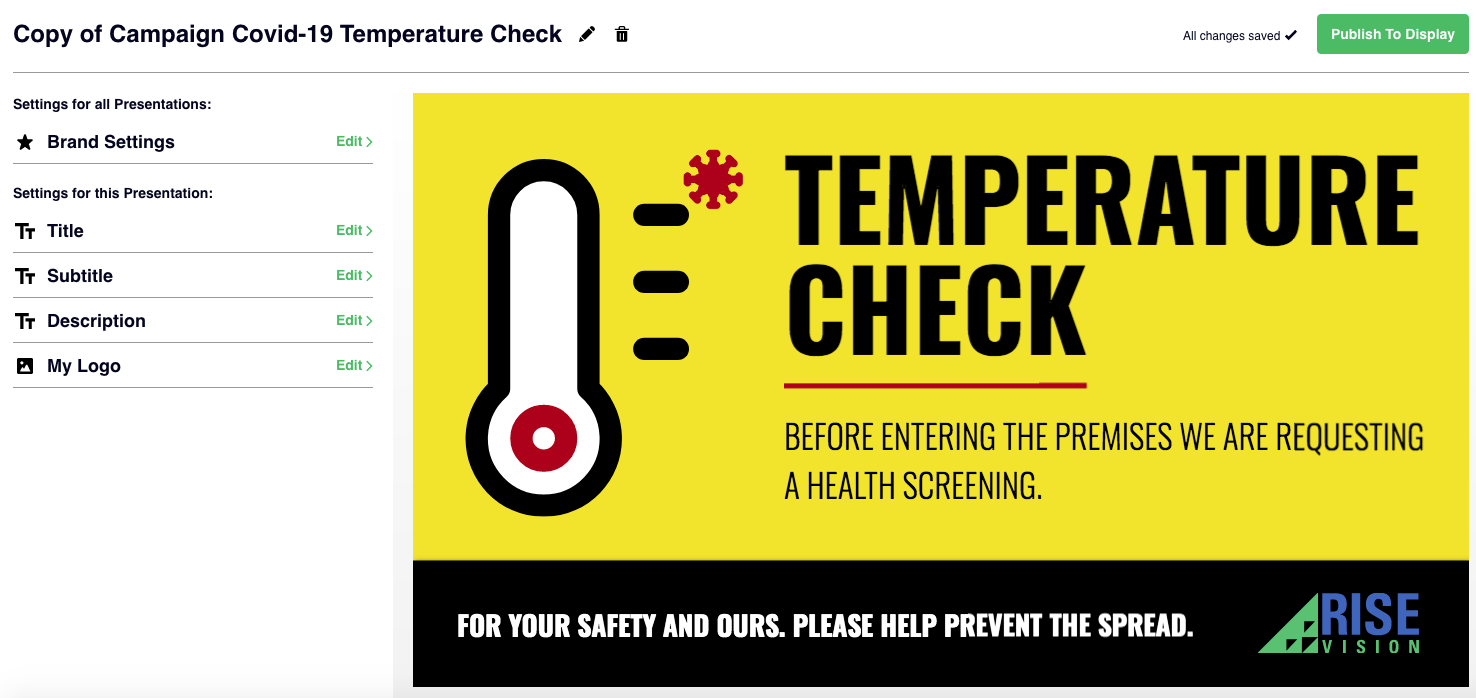 We'll start with the slide-specific ones. My Logo, at the bottom, is pretty self-explanatory. If you have a copy of your logo handy, you should be able to just go to My Logo and replace the placeholder logo with yours — like this.
You can also edit the text on the slide easily using the edit menu, changing the header, subheader, and description. If you're not sure which part of the slide is which, mouse over the menu and the relevant part of the slide will be highlighted.
Changing our slide from the default to this: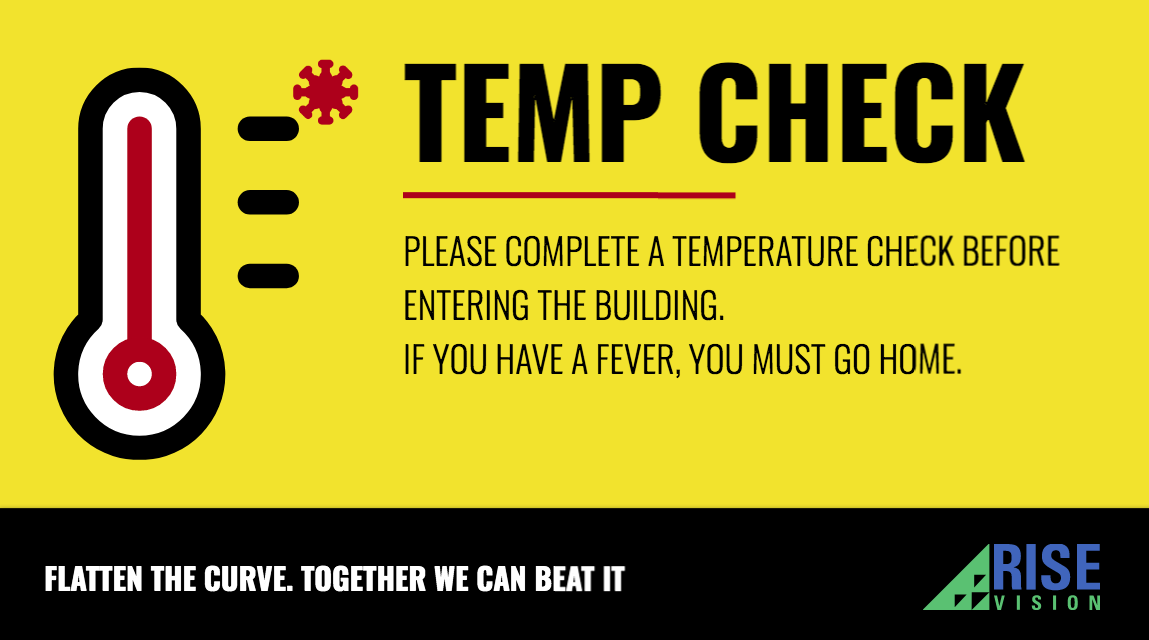 Took about a minute. Custom messaging, your logo — ready to go.
Many Rise Vision templates are multilingual already, but where they're not, you can quickly translate the messaging and create duplicates.
If you want to change the slide's color scheme to match your business branding, you can easily do that too from the Settings for all Presentations menu.
Wrap-up and takeaways
Digital signage can help you communicate more immediately and effectively with your staff, as well as other visitors to your business sites. The advantages are clear: more attention, recall, and effect on behavior compared with traditional static signage.
None of this works without a system that lets you reach the right audience at the right time and in the right way — without becoming a full-time job in its own right. An integrated system that plugs into the assets you already have and lets you control all your digital signage from any location is essential.
Rise Vision offers centralized, device-agnostic control via a dashboard and CSM, paired with a brandable template library to let you get your COVID-19 signage up and ready in minutes.
And if you're new to digital signs and you want to make sure your business reopens right, we're offering free weekly training webinars that show you exactly how to get the best out of Rise Vision's simple-to-use software and save up to 16 hours a week.