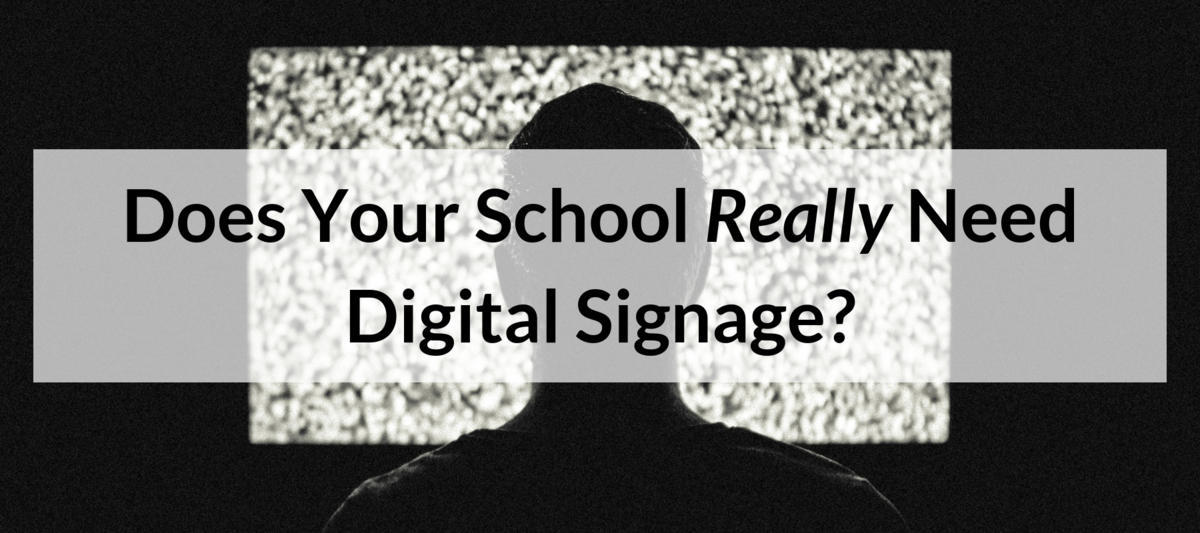 Schools deliver announcements and other important information to students, parents, and staff in different ways.So, why add digital signage to the growing list of ways to communicate?
You already have an email list. You post daily on Facebook and Twitter. And every morning students and staff hear the daily announcements. Do you really need to add digital signage?
Digital signage used to be a challenge for schools. The display and media players were expensive and they were difficult to manage.
Digital signage CMS systems were difficult to use and didn't always support a school's operating system. They were also costly and schools with less than 10 displays had few options. A digital signage CMS was perfect for large institutions and businesses with deep pockets but not for schools with smaller budgets.
A lot, however, has changed. There are several good reasons why your school really does need digital signage.
It's Cost-Effective
Rise Vision is committed to helping you build a digital signage network from one display to hundreds. We have free and paid plans to support any type of school on any budget. Don't worry! Free isn't just a word that we use to get you to sign up; we actually have a free plan! This post explains how the free plan works and who it's right for.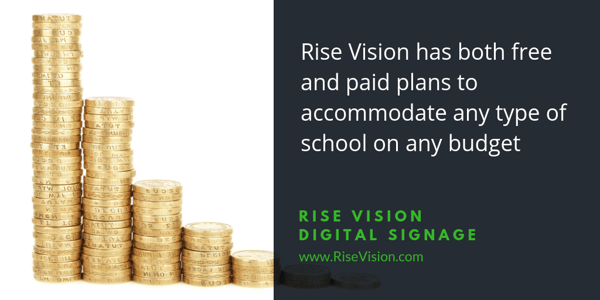 Most schools start with one display in the administrative office. Since there is a lot of foot traffic from parents, students, and faculty, this is a perfect way to see what engages different audiences. If you are just getting started with digital signage and still need to pick your display, here's an article to help you.
Not sure what should go on your administrative office digital display? Here are 20 things that we've seen schools use on their front office digital signage.
It's Easy
Educators are busy. We understand this. That's why our cloud-based digital signage solution is designed to save you time. In fact, most of our users only spend a few minutes a week to log in and make changes. Only five or ten minutes a week is all that it takes to deliver eye-catching digital signage to your audience!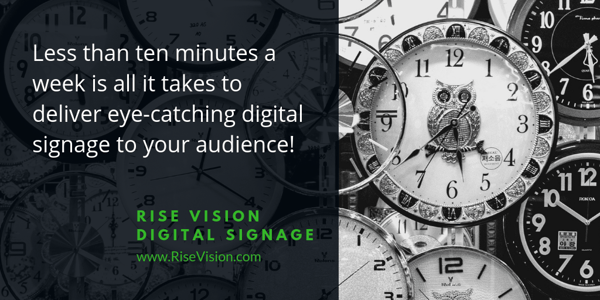 How is that possible? Our digital signage content management system uses several integrations (such as Google Calendar) and widgets (such as a Weather Widget to show a real-time forecast) that make it quick and easy to create a presentation.
Many of our schools also use professionally built templates released by our Creative Team every week. We have over 200 of them! You can see how templates work here.
It's Powerful
If a picture is worth a thousand words, digital signage is worth a million! Given the high cost, many schools have used their digital displays as photo slideshows than a digital bulletin board for their campuses.
The real power of interactive technologies is that they let us learn in ways that aren't otherwise possible or practical. - David Lassner, President, University of Hawaiʻi System
Now that digital signage is more economically feasible, there's no reason any school should use their displays to just show photos. Here are a few of the ways that we've seen schools use digital signage to impress their students and staff:
If you're ready to start impressing your students and staff with digital signage, get started by clicking the link below.