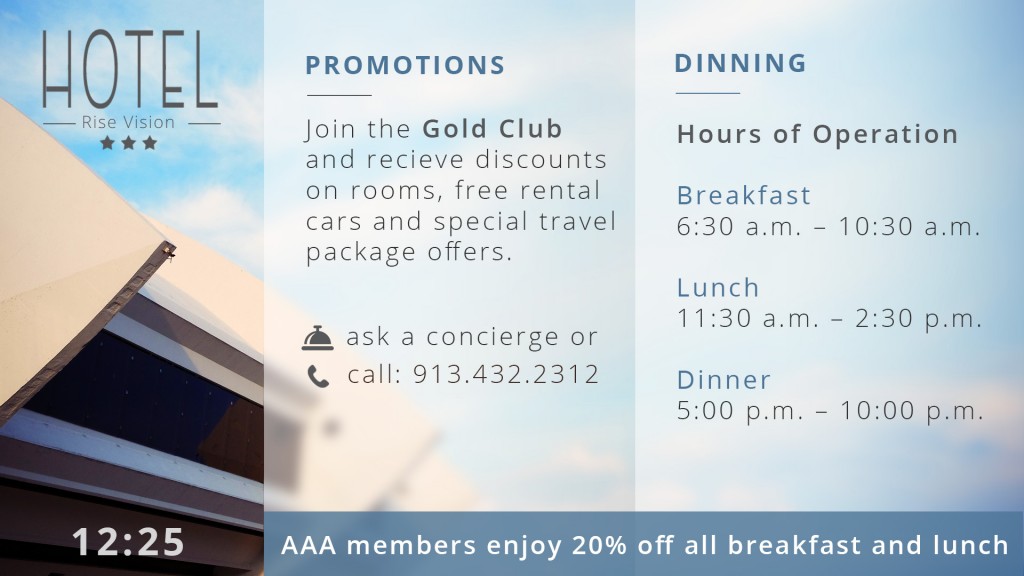 We have added 3 more digitals signage templates to our platform. This week we are featuring 3 templates for hotels.
Hotel Portrait: This hotel template is perfect for the lobby or main congregation areas of any hotel. Although it could be customized for a number of different uses, such as casinos, and restaurants. Similar to the two templates below it is built using our image, text, and clock widgets.
Hotel Landscape 2: This hotel template can be used in a variety of different settings, and could easily be customized for a restaurant or school. It is built using the image, text, and clock widgets. It is available in the Rise Vision platform.
Hotel Landscape 1: This hotel template is designed for use in a ski resort, but it could easily be customized for a variety of different uses. Built with image widgets, text widgets, and the world clock widget. It is editable within the Rise Vision platform
More resources:

Rise Vision platform templates:
Open source HTML templates