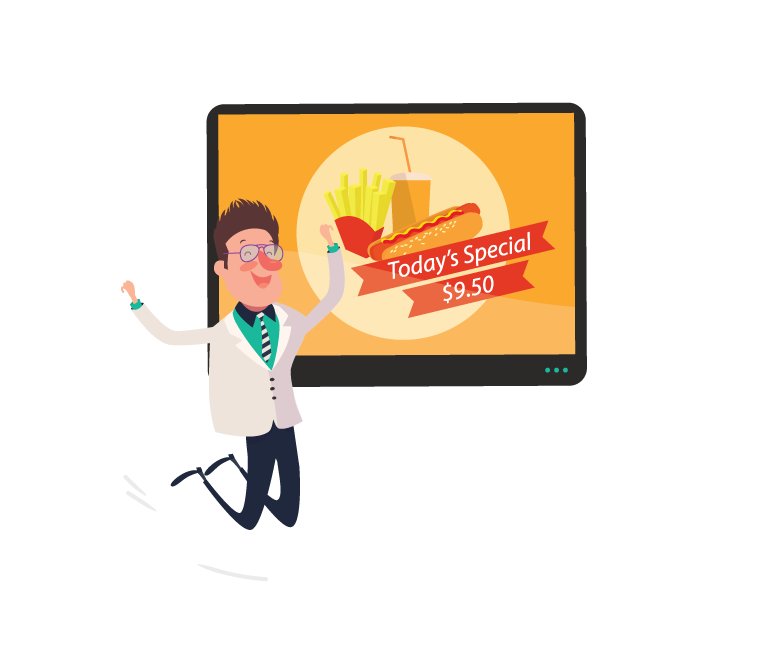 If you're looking for a free digital signage program it's probably because you need to save on costs.
Companies are looking for ways to provide better products and services while lowering their cost of delivery.
As digital signage hardware costs continue to drop, many businesses are also looking to lower the cost of the digital signage software program to create a low cost digital signage solution.
That's why a digital signage program where the core functionality that is free of ongoing costs is the ideal for businesses creating these solutions. Not having to pay for the core functionality of a digital signage program provides for an opportunity to invest in add ons. These add ons bring more content options to the displays including options for niche specific applications.

Growing Need for Digital Signage
It was likely that the earliest humans used some kind of signage to promote their businesses. It's a way to get the interest of others and share information that entices them to make purchases or to have a better experience while in a place of business.
The issue with traditional signage is that it's been pretty fixed. If you wanted a new design you needed to tear down the old sign and replace it with something else.
It takes time to have signage designed, manufactured and installed.
With digital signage you have the ultimate flexibility to create new content and schedule it to be displayed. With this type of control you can increase the amount of content you display while updating it more frequently to keep it fresh and interesting.
Businesses with a physical location that need to save time are part of the growing demand for digital signage. The issue up until now, though, has been the cost of installing and maintaining digital signage or the ROI.
Free Digital Signage Program
A free digital signage program makes sense.
There is a movement of open source software. A digital signage program free of common software restraints are becoming the popular choice for most businesses. More companies are taking part in open source software including those that need digital signage.
The Rise Vision Platform
The Rise Vision platform is a free digital signage program.
The platform is open source to provide a way for business owners to manage digital signage and extend their digital signage. You can have your displays installed and from one central computer you can manage all of your content presentations.
You pay for the hardware and installation, but there is no ongoing cost to use the platform.
You've probably heard about "the cloud". It's a buzzword today, but basically it means that information is stored online and you can access it anywhere you have an Internet connection.
Rise Vision Platform is a digital signage program hosted on the Google Cloud Platform. You don't need to install software to your computer. It's all done through your browser.
There are templates for digital signage presentations. You can use them as they are or you can take them and create custom designs to fit the look you need for your organization.
The platform is customizable, but there are gadgets that make it easy for you and your team to create and manage.
With Rise Vision, you also have the advantage of a large support community. The community has members that have been working with the platform.
The folks are Rise Vision are part of the community. Everybody helps each other to make the platform better each day.
Conclusion
The need for digital signage is increasing, but it's not cost efficient for businesses to pay for digital signage software.
The need for a free digital signage is high and Rise Vision has the platform that provides everything an enterprise needs to create effective digital signage.
Is the perfect solution if you're looking for a free digital signage program.
Tour the Rise Vision Platform before you join.