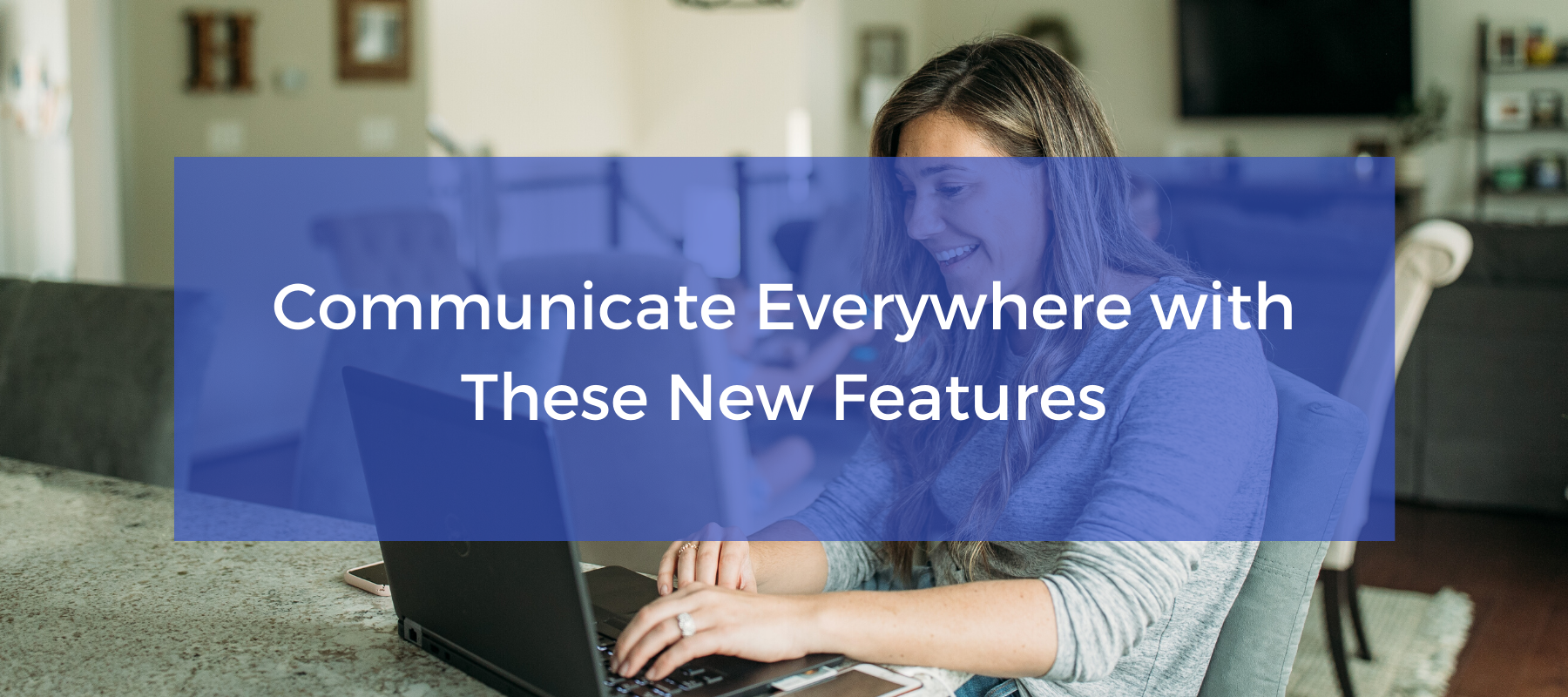 You need to keep the people in your organization connected wherever they may be. At home, in your school, at the office, or on the manufacturing floor. Everyone from students, customers, colleagues, and patients, whoever makes up your community, they all need to know what's important and share in the success of your organization.
You need to reach them in your buildings, when visiting your website, or remotely, wherever they may be. Your message has to cut through the noise to provide one simple reminder of what's important, and what's to celebrate.
Now, with Rise Vision, when you publish your message it goes to digital signage, websites, personal computers, and more. Whenever a colleague, student, volunteer, customer, or member of your organization visits your site, or opens a tab on their browser, they are reminded of what's important and what's to celebrate!
What's Possible?
Rise Chrome Extension
Keep your message top of mind. Install the Rise Chrome Extension on all of the devices in your organization to show your messages to employees or students every time they open a new tab.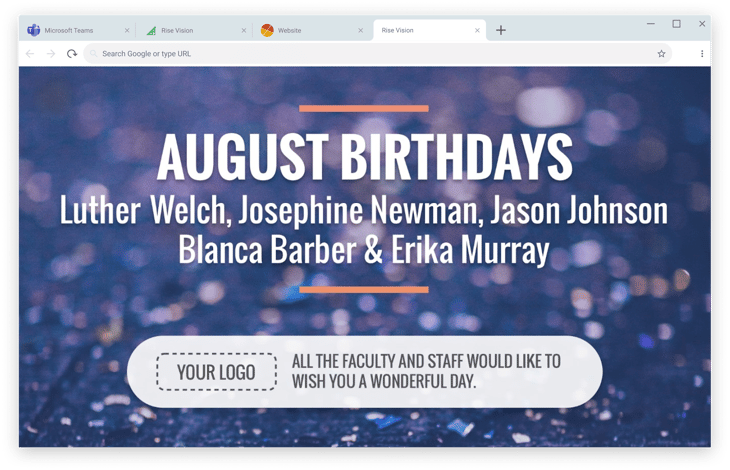 Websites, Intranets, Google Sites
Copy the embed code from Rise Vision, navigate to the website tool you'd like to add it to, and paste it in. Now when you publish a change in Rise Vision your website will update automatically.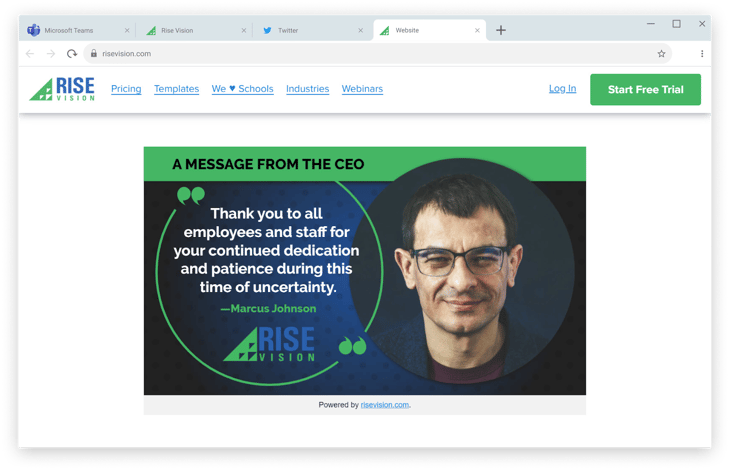 Social Media
Expand your audience and share your schedule on your social media accounts. A great way to do this is to pin a tweet that includes a link to your schedule.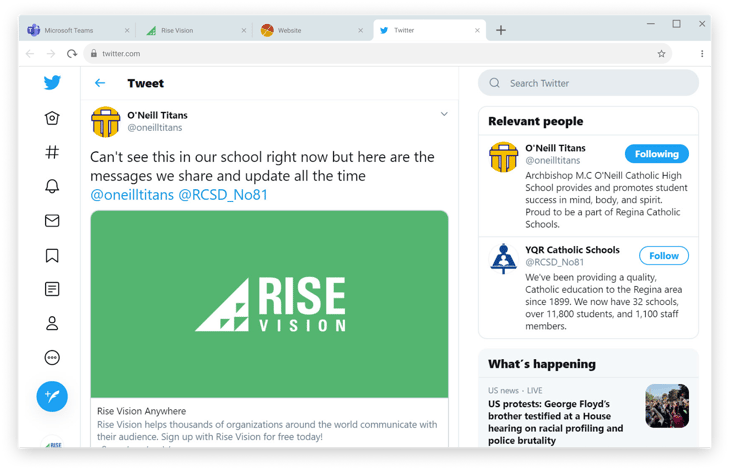 Microsoft Teams
Keep your teams up to date by adding your schedule as a tab in Microsoft Teams. Now you can share the same information you're sharing on your digital signage with your remote employees.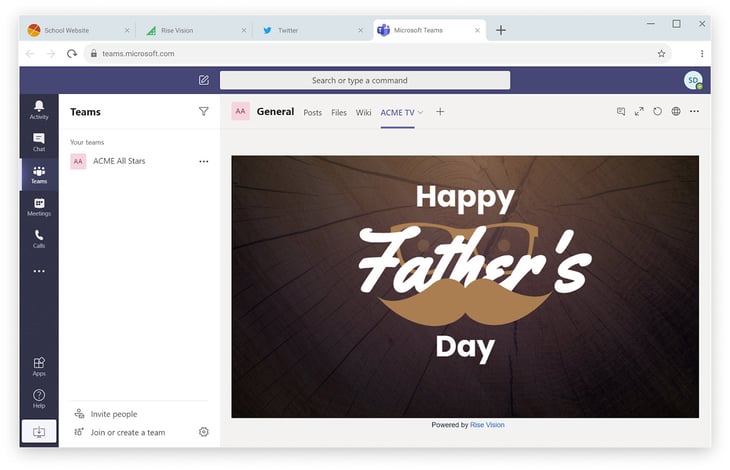 Zoom Rooms
Make the most out of your meeting room screens when they aren't in use. Now you can share your Rise Vision content in Zoom Rooms. Simply copy the schedule URL, add it as content to your Zoom Room.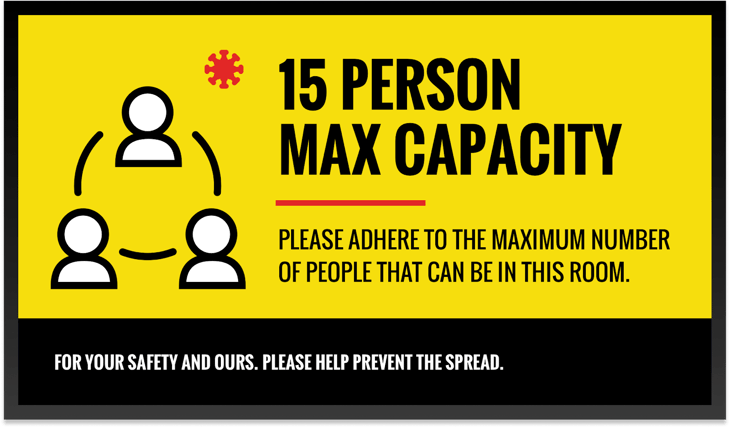 Learning Management Systems
Reach students and staff at home or on the go. Add the URL to your schedule to your learning management system as an announcement or if your LMS supports it, embed the schedule directly.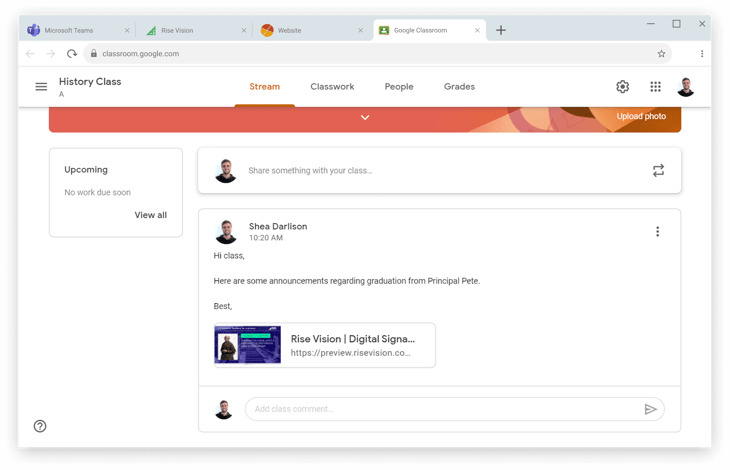 More Ideas!
Share your schedule URL in emails, text messages, Slack, and more to keep your audience up to date no matter where they are.
Embed your schedule in a mobile app
Have people open it at the start of a video call and share their screen while you wait to begin
Create a browser shortcut that opens your schedule and add it to classroom computers so faculty can share it on the projector as a class is starting
How do you get started?
Go to the schedule you'd like to share
Click "Share Schedule"
Pick how you'd like to share it!
Want to learn more?
Make the most of your digital signage investment!
Register for a free live training session or watch a recorded version and learn how to use the latest features from Rise Vision.
We would love your feedback
Have a creative use that isn't on this list? Have an idea for a feature? We would love to hear it and see how we can help, you can reach us at feedback@risevision.com.