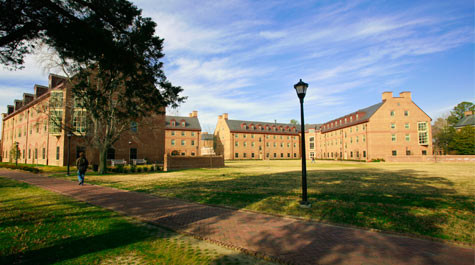 College of William & Mary Background
The College William & Mary might be the second oldest in the nation, but it is still a cutting-edge research university. The college is highly selective, but also public, offering a world-class education without the sticker shock.
The college is known as a "Public Ivy" — one of only eight in the nation. That means the college offers a superior education that's accessible to everyone. Situated in Williamsburg and the amazing Commonwealth of Virginia, the college is proud to be one of the reasons for the economic success of their hometown.
Digital Display Trading Room Project
John Merrick, an associate professor of business at The College of William & Mary's Mason School of Business, has had a diverse career in both academics and Wall Street. That was why, when he first came to the college in 2005, he was asked to provide a vision for how the school's then- new Acuff Financial Markets Center could be developed.
"I had had some experience teaching in a trading room," says Professor Merrick, "and wanted a room that would serve as a financial market lab and, at the same time, and really foremost, as a superior, technology-enhanced lecture space. I think that's the difference in our room versus other layouts that I've seen: It is first and foremost a lecture space."
The Acuff Financial Markets Center now holds MBA classes in corporate finance and financial markets. In addition, it is where the school's Career Acceleration Modules are held. To simulate a live markets environment, the room has nine Bloomberg terminals for students to share, as well as eleven state-of-the-art Samsung LCDs.
"I knew that Rise Display was the premium provider of these displays because I saw how things had worked out at Baruch College, [where I formerly taught]," Professor Merrick explains. "I had also caught up with [Rise] at an academic conference ... so I introduced them to our building team ... to see if they agreed with the decision."
They did, and the results of the installation, says Professor Merrick, have been phenomenal.
The Final Result
"In terms of teaching in that [room], what you end up with is a very exciting environment," he says. "You're getting [students] to work in an environment of routine visual distraction ... where they have to learn how to absorb what's coming in and only be attracted by the important stuff, rather than distracted by the changing displays. The second part of [the benefits]," Professor Merrick adds, "is being able to put data into our playlist that's relevant for the topics we're teaching that day."
Among the information presented on the two video walls on the side wall, and the two LCDs flanking the front of the room, are live TV, stock and bond market graphs, foreign currency exchange rates, and historical stock and bond market graphs.
"Everybody loves [the digital displays]," says Professor Merrick. "Not only our students, but our alumni who come back, especially those who are connected to Wall Street, are incredibly impressed. Some of our alumni are a little bit jealous," he adds with a laugh. "They wish they had had these facilities when they were here."
---
Want to see how more customers use Rise Vision to power their digital signage? Check out these case studies below!
Digital Signage for Internal Comms
Digital Hall of Fame at Platte County High School
Case Study: Blumenthal Performing Arts