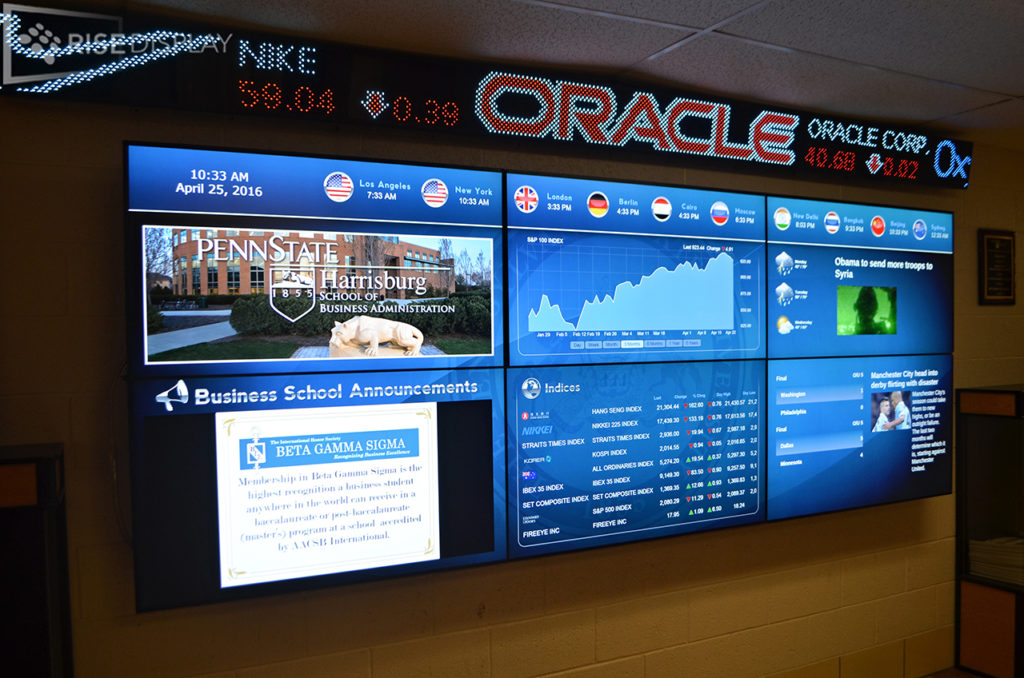 As Ansel Adams once said, "In wisdom gathered over time I have found that every experience is a form of exploration." In the higher-education market, business school trading rooms offer the experience of a real-world financial services setting in a learning environment. Trading rooms often mirror the high-tech video and digital signage capabilities currently seen on Wall Street with the hopes that graduates exposed to this technology experience will move into successful careers in the financial services industry.

The huge popularity of trading rooms is a benefit to students, universities, and the AV integrators who specialize in creating those environments. Rise Vision of Shawnee, Kan., was founded in 1992 in a partnership with Reuters to provide real-time news and financial quotes on large LED wallboards to financial services trading rooms. "We have always specialized in large-format electronic signage. Historically, we worked with financial trading floors but, over time, we migrated our software platform to all the different digital signage uses," says Ryan Cahoy, vice president of Rise Vision. "As our traditional financial clients began giving back to the community and supporting higher learning, they started funding mock trading labs at business schools. It wasn't long before the digital signage expanded into message boards in the hallways across campus."
According to Cahoy, business school trading rooms can invest anywhere from $25,000 to $300,000 on display technology alone. Some schools use the rooms as a recruiting tool to impress perspective students and parents; other schools use trading rooms as working classrooms where students can manage both real or fantasy portfolios while watching the live trading activity and listening to a live Congressional session. Signage content control is provided by a web-based, centrally-hosted system called the Rise Display Network. Each user is assigned permission rights for the display network, as well as his or her individual username and password to update content. Users can log on using any web browser to review and approve content or update signage with text, graphics, Flash content, or videos.
Rise Vision can provide a turnkey solution including the LED or LCD displays, mounts, software, installation, and a service plan. "If a school already has existing displays or relationships with local AV supplier, we are willing to provide access to the Rise Display Network," Cahoy says. "We also offer content design; our differentiator is that we can combine technical and marketing design elements. Our services are especially useful for clients who want the 'wow factor' but don't know how to get it."
Cahoy notes that trading room system design does not follow any particular formula. "Usually there are several video displays and LED tickers to provide visual appeal and atmosphere," he says. "Otherwise, it is more about the capability of the room and of the systems installed there."
Lehigh University's College of Business and Economics recently invested in a trading room with displays that uses displays by Rise Vision, which was a fund-raising success. The school contacted an alumnus at IBM and secured a corporate grant. The outreach effort snowballed with other corporate and alumni donations. Once people understood the need for a trading room and its digital signage system, other departments like admissions, athletics, and development got interested.
"We have been interested in a trading room for the past 10 years but previously they were very technology intensive. The system needed its own dedicated server and several support people. Over the last five years, the financial services industry has moved to a web-based ASP server and, thus, more manageable support," says Bob Kendi, director of The Philip Rauch Center for Business Communications at Lehigh's College of Business and Economics. "We originally wanted the attraction of a big tote LED board but also realized we could customize the content; that made the system much more useful to other departments."
The Philip Rauch Center financial services lab has 27 seats, several projectors, and a large LED wallboard. Since the room was opened two years ago, over 14,000 Lehigh students have walked through it. Introduction to the room begins freshman year depending on the course and assignment.
Due to the success and interest of the signage system in the classroom, the school has also placed LCD displays throughout the building and use the Rise Display Network for messaging. The system is now used for just-in-time messaging or just-in-time donor recognition. "It takes donor recognition to a new level," Kendi says. "The next step is to take the data and push it to dorms via campus-wide wireless; to distance education students over the Internet; to PDAs and even to portable devices using video podcasting."
Rise Vision is currently working with approximately 30 to 40 trading room systems that they will install at higher-education campuses this summer.
Contacts:
| | |
| --- | --- |
| Todd HemmeRise Vision, Inc.913-538-6988todd.hemme@risevision.com | Alison HarrisHarris Media Services207-829-4500alison@harrismediaservices.com |