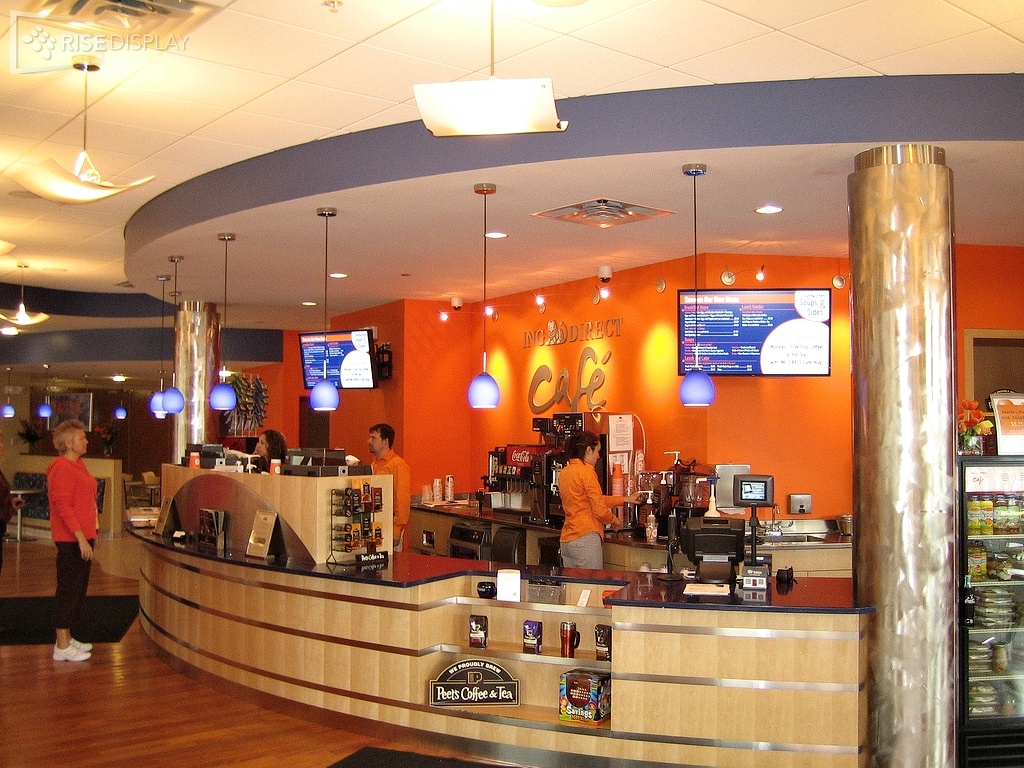 Rise Vision Inc., a provider of web-based content management software for control of digital signage networks, announces that ING DIRECT USA, the nation's largest direct bank and part of Netherlands-based ING, has installed digital signage from Rise at its new Chicago café location. ING DIRECT creates unique concepts for each of its café locations, and chose a variety of digital signage displays from Rise to build customer interaction and strengthen its brand as an innovator in the use of technology.

"The digital signage displays serve as a dynamic billboard that enables customers to get our complete message from the street, and which embody our principals of high marketing combined with high technology," says Shaun Rowley, manager of the Chicago Café for ING DIRECT. "We worked with Rise to customize the displays to show information that our customers are interested in – they were very innovative and understood our customers' needs."

ING DIRECT has no brick-and-mortar branches, and connects with customers online and via phone and mail. Its cafés enable customers to use computer terminals to conduct banking transactions, meet with other customers, and enjoy a cup of coffee. The new Chicago café features a series of seven LCDs operating as one cohesive unit facing the street, which enables passers-by to see a variety of information on mortgage rates, bank products, or even the café's daily coffee drink specials. The LCDs are networked using multi-display graphics cards developed by Matrox Graphics Inc., each of which can control the output of up to four LCD screens. ING DIRECT can configure the Matrox QID cards to display a different graphic on each screen, or to synchronize the screens so that one large graphic stretches across all screens. Displays located on the inside walls of the café feature plasma screens that network with an LCD touch screen to enable customers to watch interactive tutorials on mortgages or other bank products. More than 500 customers a day visit the ING Direct Chicago café.
"ING DIRECT's installation is a great example of how digital signage can attract customers with compelling information while extending a company's brand image," said Brian Loosbrock of Rise Vision. "We were excited to work with a company that was so willing to implement new ideas, and we're thrilled that ING DIRECT's customers have reacted so positively to the signage."
Rise Vision develops the Rise Display Network, a web-based content management system that enables users to quickly, easily, and cost-effectively create customized content for a network of large format public information displays. Companies can include live data such as stock ticker feeds, sports scores and news with their own custom information, videos and Flash to create eye-catching content for their digital signage network – all of which is managed and delivered from the web.
About ING DIRECT
ING DIRECT, the nation's largest direct bank and fourth-largest thrift, is dedicated to inspiring Americans to become a nation of savers. Since its inception in 2000, more than 6 million Americans have entrusted their savings with ING DIRECT, building the bank to $77 billion in assets. For more information on ING DIRECT, or to learn more about the bank's high-value products, including the Orange Savings Account and the Orange Mortgage, visit www.ingdirect.com or call 1-800-ING DIRECT.
About Matrox Graphics Inc.
Matrox Graphics is a leading manufacturer of specialized graphics solutions for professional markets such as finance, digital media, medical imaging, industrial, and enterprise computing. In-house design expertise, top-to-bottom manufacturing, and dedicated customer support make our solutions the premier choice in industries that require stable, high-reliability products. Fortune 1000 companies rely on our multi-display solutions—dual, quad, and beyond—to increase productivity and improve decision-making by enabling them to see more and do more.
Founded in 1976, Matrox is a privately held company headquartered in Montreal, Canada, with representation and offices in the Americas, Europe, and Asia. For more information, visit http://www.matrox.com/graphics.