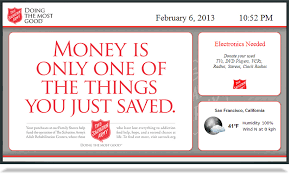 Free digital signage cloud software is now a reality.
You've probably seen the Microsoft commercials referencing "the cloud".
In each of the commercials the wall zips around revealing "the cloud".
The commercial probably does more to confuse you than actually let you know what the cloud is.
The Cloud
The cloud is simply a reference to having data stored online. Instead of using software and files on your computer's hard drive, you use software and files saved online. This is cloud computing.
Anywhere you have access to the Internet is a place where you can manage your various applications. It's great for giving you more flexibility to do your work. It's also more secure than storing all your files and systems on your own machine.
One advantage of the cloud is free digital signage cloud software.
Free Digital Signage Cloud Software
Digital signage cloud hosting has changed the way companies manage their digital signage.
Rather than installing programs on the computers at your business you can manage your digital signage from any computer, tablet or smartphone that has a browser. It gives you the flexibility to make changes to your digital signage presentations whenever and wherever you need.
Your revisions and files are all saved in a secure location. The software is all managed online so your computer doesn't bog down when the system is running. As long as you have a good Internet connection you'll be able to make changes fast.
The cloud has also made digital signage affordable...as in free.
Digital signage cloud free software is made possible by open source applications. It's a movement by many programmers and companies. They are making their software free to use to make it easier for businesses to manage things like digital signage.
The Rise Vision Platform
The Rise Vision platform is a free digital signage program that uses the cloud. The platform is hosted on the Google Cloud Platform and the content is all HTML based. All templates for the signage are free to use and customize.
Being in the cloud or on the Web has multiple advantages. We've already touched on the cost savings and ease of use, but there are other advantages.
For adding content to your digital signage presentation you can add feeds from the Web. It's easy to show weather updates, social media updates and other feeds from the Web. Feeds from around the web that are constantly updated keep your display content fresh and interesting. Using feeds from your website make communications more efficient. Update your website and display the website feed on your digital signage so your displays update when your website does.
With the content being HTML based any web asset can be embedded on your digital signage which really makes for an endless amount of content possibilities.
Companies Using Rise Vision
Companies in many different industries are already using the Rise Vision platform.
Here are just a few of the things you can do with this digital signage cloud based solution.
Salvation Army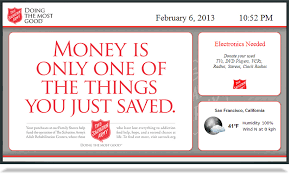 The Salvation Army create a simple digital display design that offered visitors information about the weather. They also called for specific donations along with providing the information visitors need to understand the process.
ING Cafe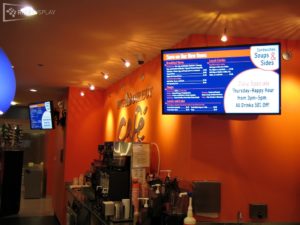 Menu items and specials are updated frequently and the use of digital signage makes these updates simple. ING Direct Cafes use Rise Vision to display menus, specials, ING Direct promotions and special events.
Washington & Lee University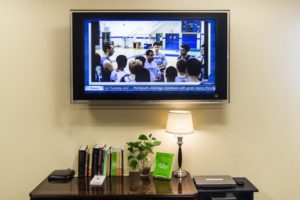 Colleges and universities around the world use Rise Vision to communicate with students and faculty. Display are used for events, directories, social media, announcements and more. Washington & Lee University features students that attend the university in addition to event updates, social media, and a scrolling Yahoo News feed.
Final Thoughts
More people are using the cloud every day to manage business tasks. It's efficient, cost effective and more secure than storing software and files on your computer.
If you're looking for a cloud solution to manage your digital signage you don't have to look any further than the Rise Vision platform.