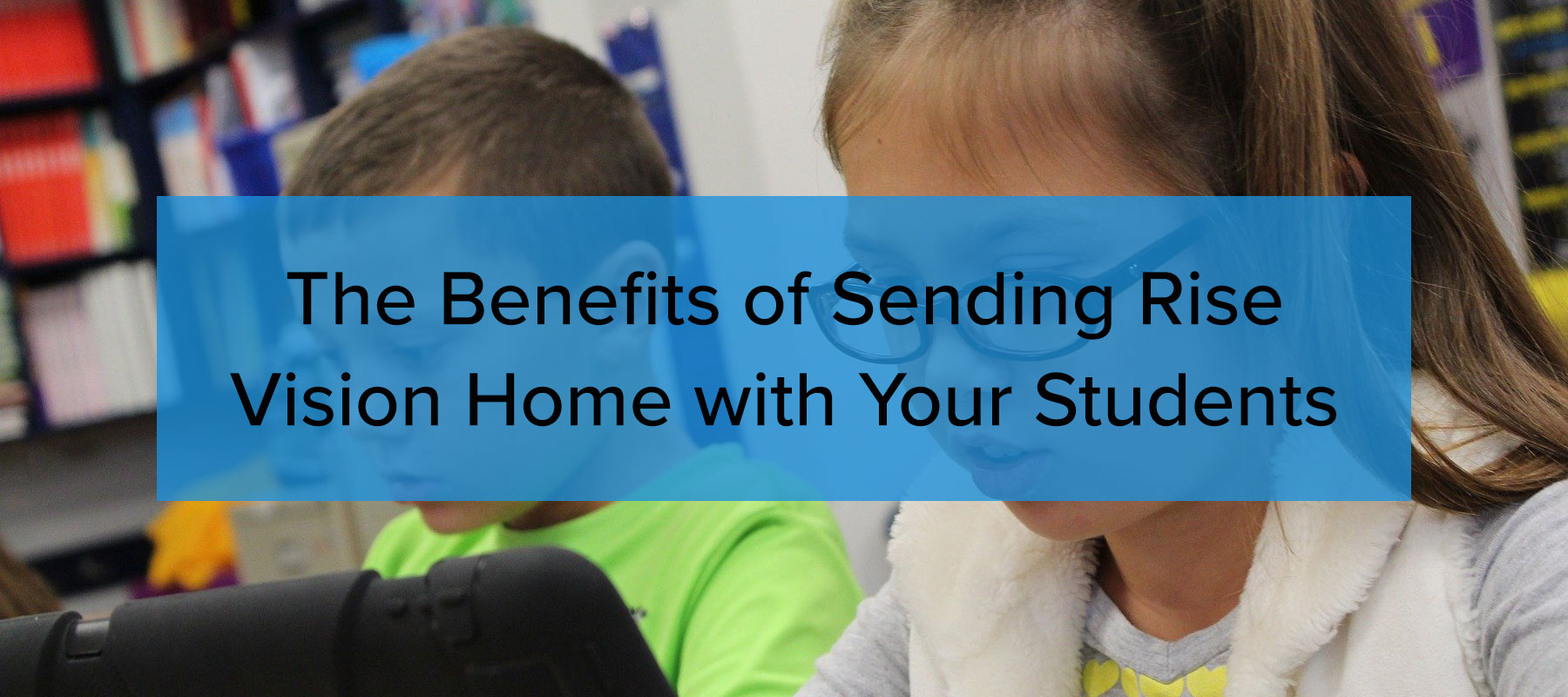 Any organization needs to communicate with its audiences. Schools are no exception — but they have a wider range of audiences than some, with children, parents, teachers and non-teaching staff all in the mix.
And with those audiences mostly at home practicing social distancing and waiting out the lockdown, however great your digital signage is, it's not going to reach them if they're not in school to see it.
So how can you reach your audiences — audiences that need you now more than ever?
That's what Rise Vision can do.
Before we get into how it works, how it fits into the rest of the Rise Vision ecosystem and what you can use it for, let's look at one way Rise Vision can help you out, right out of the blocks: it backs up your LMS.
LMS — Learning Management Systems — are tools for bringing students, work materials, and learning plans together in the same place. Rise Vision can now be embedded inside your LMS, giving you a dynamic, real-time-updated announcement and communication system.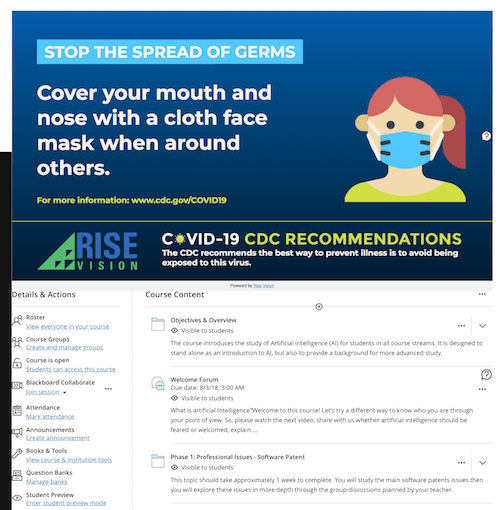 We'll get into how to do this later in the post - but it's as simple as copying the embed code for the Rise Vision schedule you want to use, and adding it to your LMS.
This is a really powerful way to include announcements, reminders, slideshows and everything else you'd use digital signage for — right inside your most crucial digital tool.
Rise Vision was designed to let schools communicate better with parents, teachers, students and staff. Here's what it is, how it works and how to use it.
What's New?
Rise Vision gives you a powerful, customizable and easy-to-set-up CMS for your school's digital signage, letting you build presentations quickly out of templates and display them on different screens at different times. Now you can communicate with people off school campus, through desktops, your learning management system, your website, and much more. If you're already an experienced Rise Vision user, it's a small step — with a big payoff. You can create content just once, and share it across multiple channels, including ones your audience can see at home, instantly and easily.
How does it work?
To get started, you'll need two things: a Rise Vision account and the Rise Vision Chrome browser extension. (It's currently only available for Chrome.)
To get a Rise Vision account if you don't already have one, go to risevision.com and sign up. If you already have one, log in to it.
Now, you'll need to install the Rise Vision Chrome extension. It's available here at the Chrome Web Store:
https://chrome.google.com/webstore/detail/rise-chrome-extension/dkoohkdagjpgjheoaaegomjhdccfbcle
Once those are set up, let's look at how to make a Rise Vision presentation and share it anywhere, in three different ways: as a URL, through the Chrome extension, and by embedding it on a website.
First, we need to create the presentation. We'll go to the Rise Vision template library and pick a relevant template. I'm going with this COVID-19 presentation template that reminds viewers of the CDC's advice for slowing the spread of the virus.
Once you click Start with this Template, the template opens automatically with editing options. I'm changing the branding slightly — while I'm not changing the colors, I am adding the Rise Vision logo to the bottom left corner of the slide.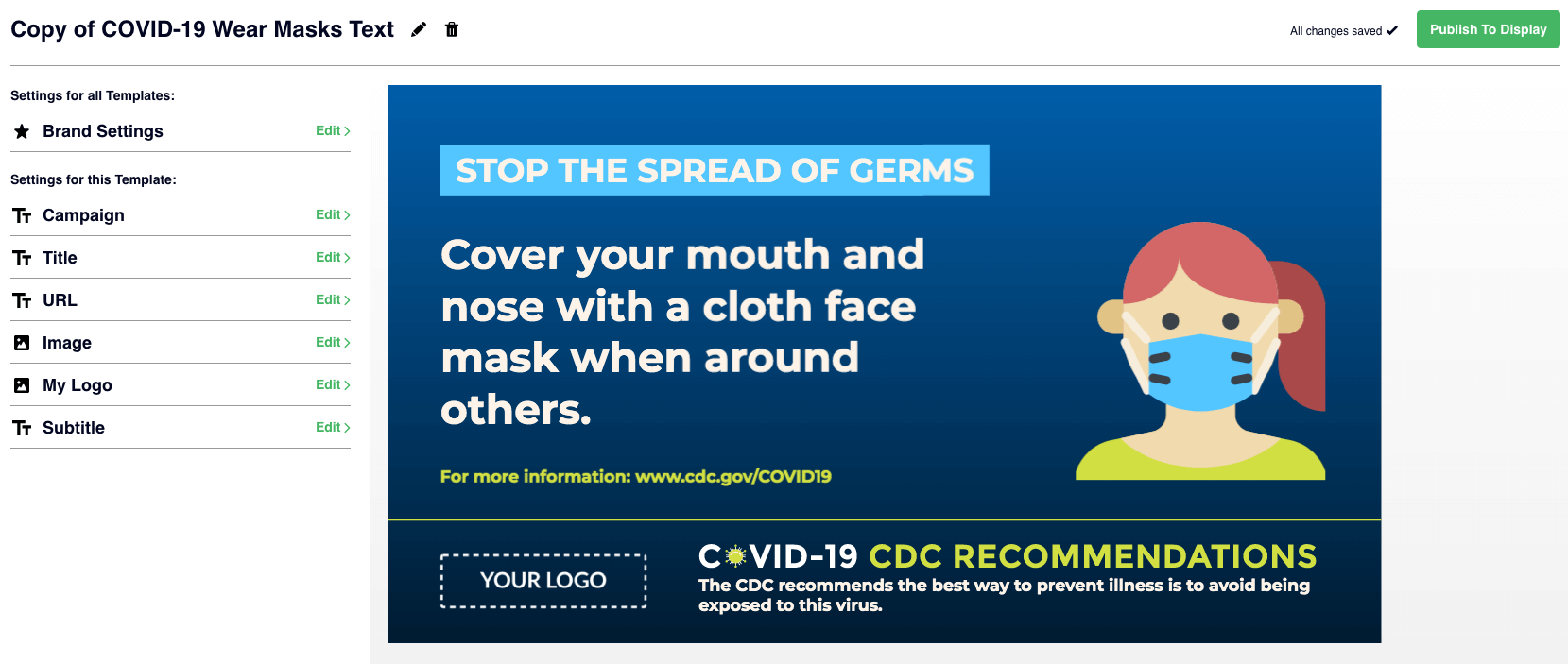 To do that, click Brand Settings and choose Logo.
My slide now looks like this: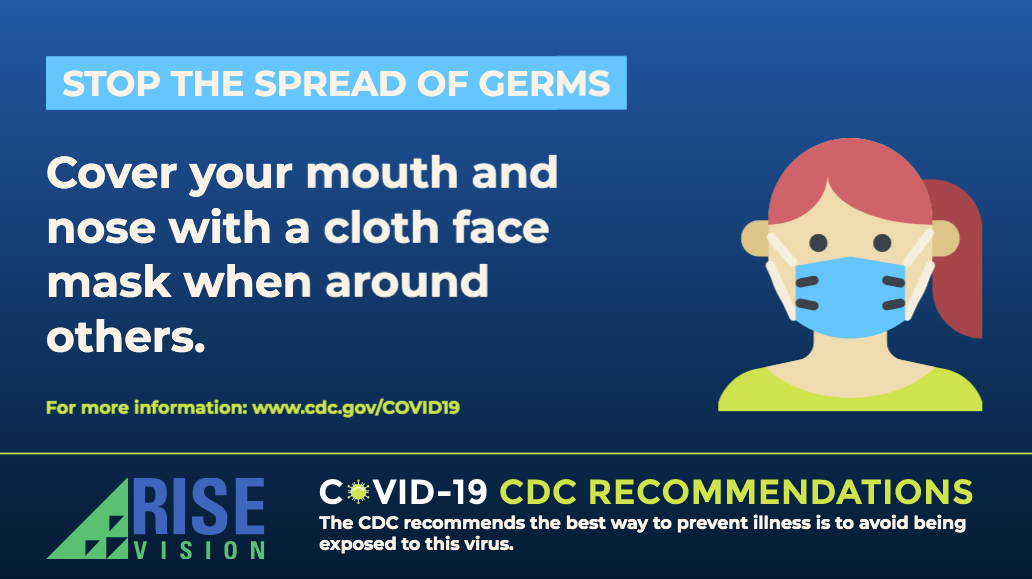 The next steps are for me to publish the slide, add it to a schedule and share it. These are all standard steps for creating any Rise Vision presentation, but if you don't have any presentations lined up or you're new to Rise Vision it makes sense to go over these steps.
Click Publish to Display, then go to Schedules and click on the default pre-made schedule, All Displays 24/7. You can change this later, and I'm adding mine to a schedule I've renamed Rise Vision Anywhere for Schools. That's all I've altered, but if you've used Rise Vision before you'll know that you can set up Schedules to play at certain times, to repeat every day, week or month, and to be shown only on certain displays. This gives you a lot of freedom to segment and target your messaging.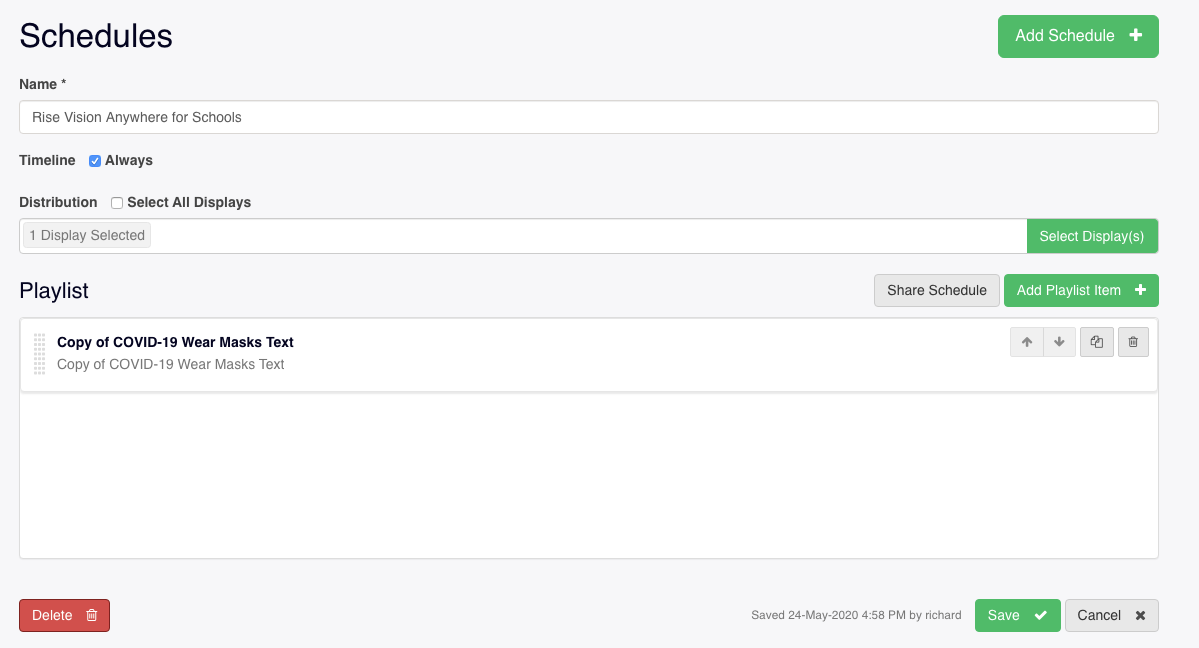 Having created it, I can now share this schedule.
You can display Rise Vision templates across your digital signage in school, or you can share it to websites and desktop PCs, your learning management system, or with a URL.
To do any of those, go to Share Schedule.
By default, the Share panel opens with a highlighted URL. You can simply copy this and paste it into a browser window, so you can also share the URL via SMS or any other tool (it might be a good idea to minify it first).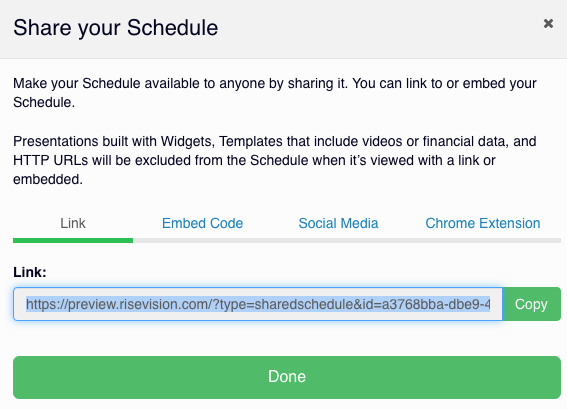 Here's how to use the Chrome extension to share Rise Vision content to people at home. If you didn't already install the Chrome Extension you can do it from the link shown above, on the right-hand side of the row of sharing options.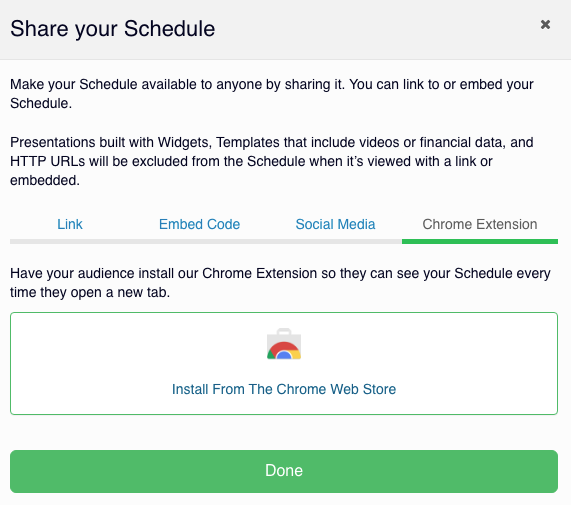 If you did, you can open it from your extensions bar and drop the URL of your presentation into it.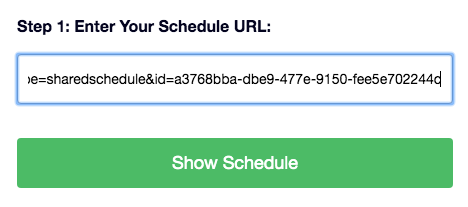 Now, whenever you open a new tab, that schedule will be shown instead of the standard new tab page. This is a great way to make sure your message gets in front of your audience wherever they are.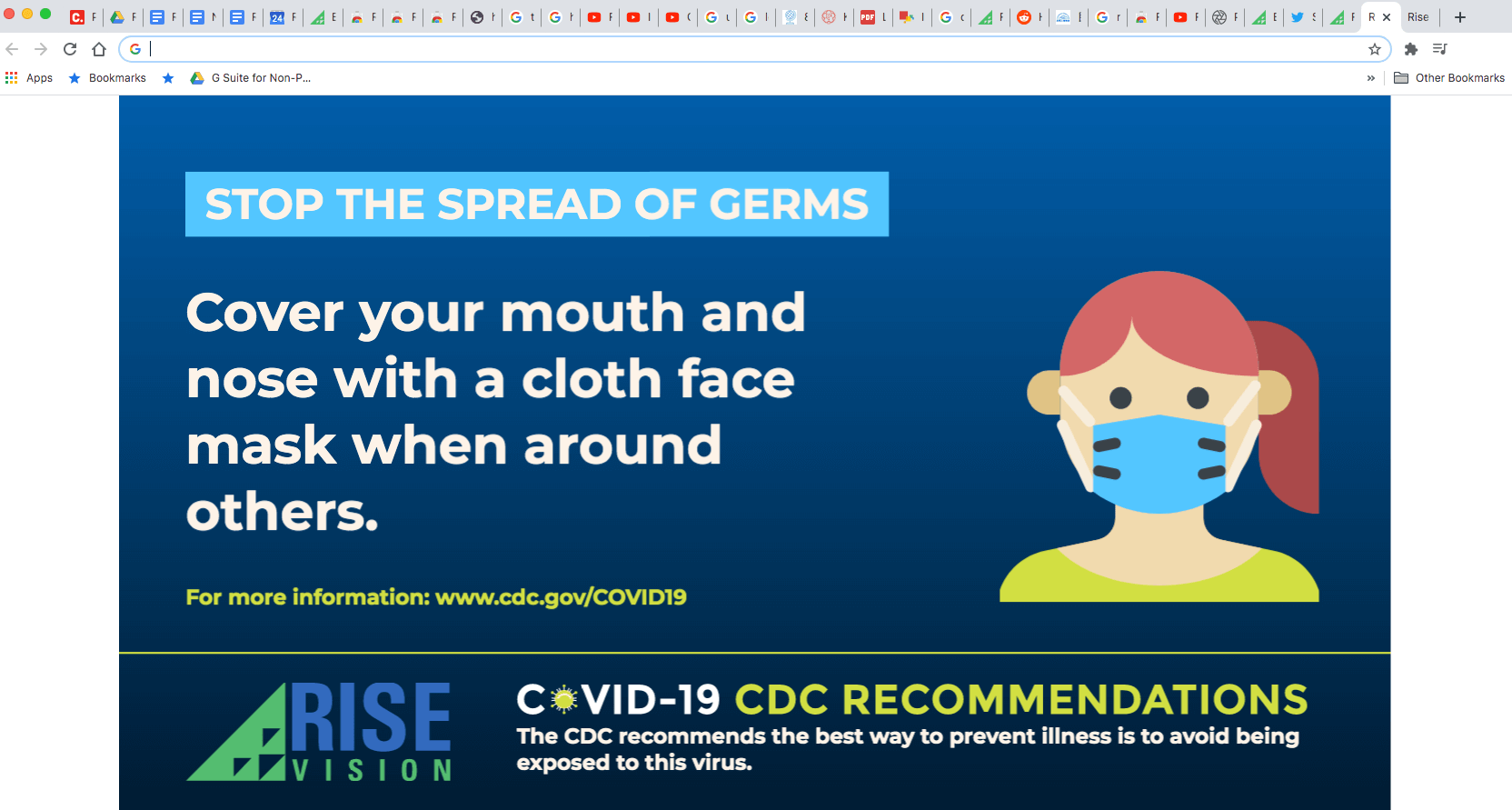 To change the schedule that gets displayed in your new tabs, just reopen the Rise Vision Chrome extension from your extension bar and paste in a new schedule URL.
You can also embed the schedule on your website, using the Embed Code option from the Share dialog box.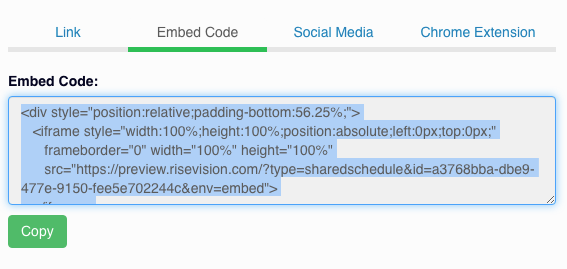 It's automatically highlighted so all you have to do is hit Copy.
I'm taking the embed code over to a tool for testing code called jsfiddle.net and pasting it into a mockup of a webpage: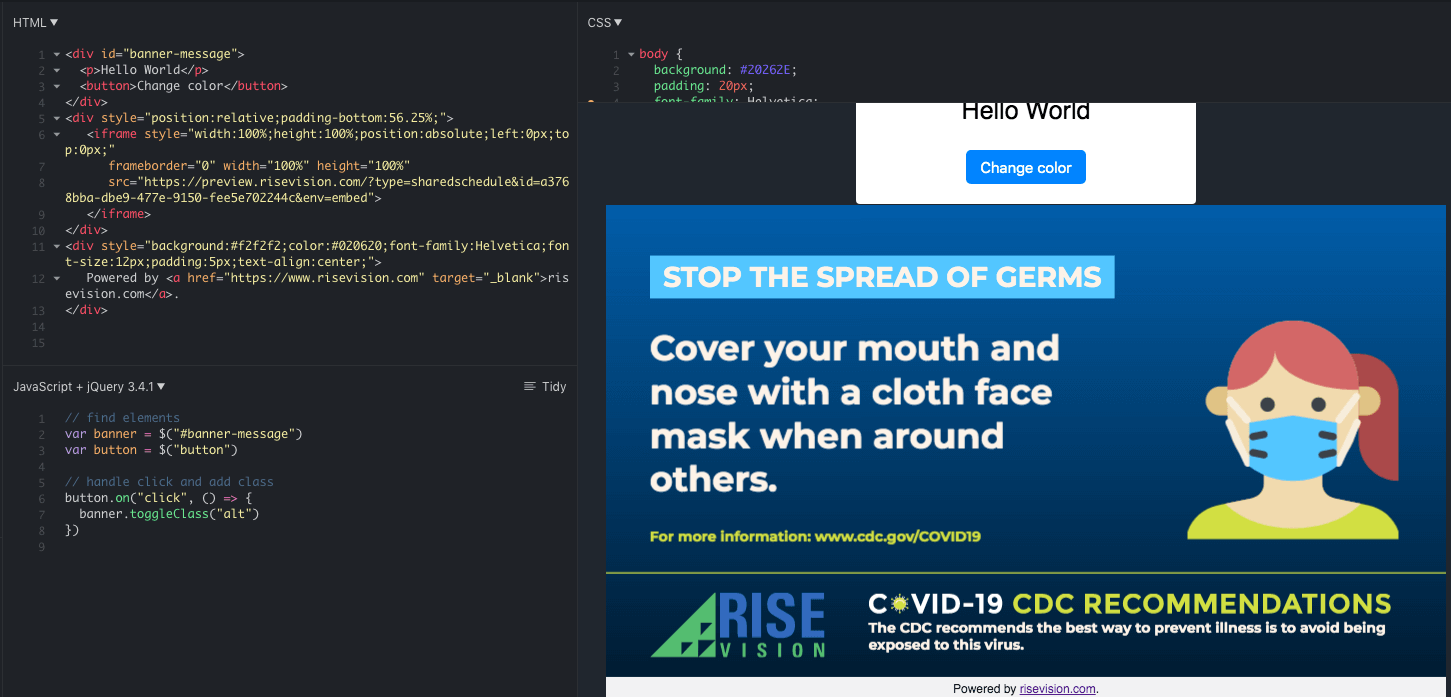 You can see the dummy website code and the embed code at the top left; bottom right is the embedded Rise Vision schedule. You can add this code to WordPress websites too, and to change the embedded page, simply open the Share dialog box for a new Rise Vision schedule and copy the embed code, then paste it in place of the one you want to replace.
How can schools use this new feature?
Schools need to communicate effectively with more people than ever before. Students are home, parents are working from home — but even after the pandemic is over, normal has changed. People expect faster, richer communication. And schools have more people to communicate with than ever before.
School announcements and notices
Notify students, parents and even teachers when schools open and close due to special circumstances. This might be snow days, or it might be about informing parents about the availability of after-school activities so they can arrange pickup and childcare. It's also useful for reminding parents and students about social school events like dances and special events for charity.
Dropping embed codes for school announcement schedules into the school website is easy using the readymade embed code from the Share dialog box. This way, you can keep website visitors up to date with changing news at school without creating whole new web pages for every event, and still achieve eye-catching announcements.
Consider using this versatile scrolling Announcements High School template: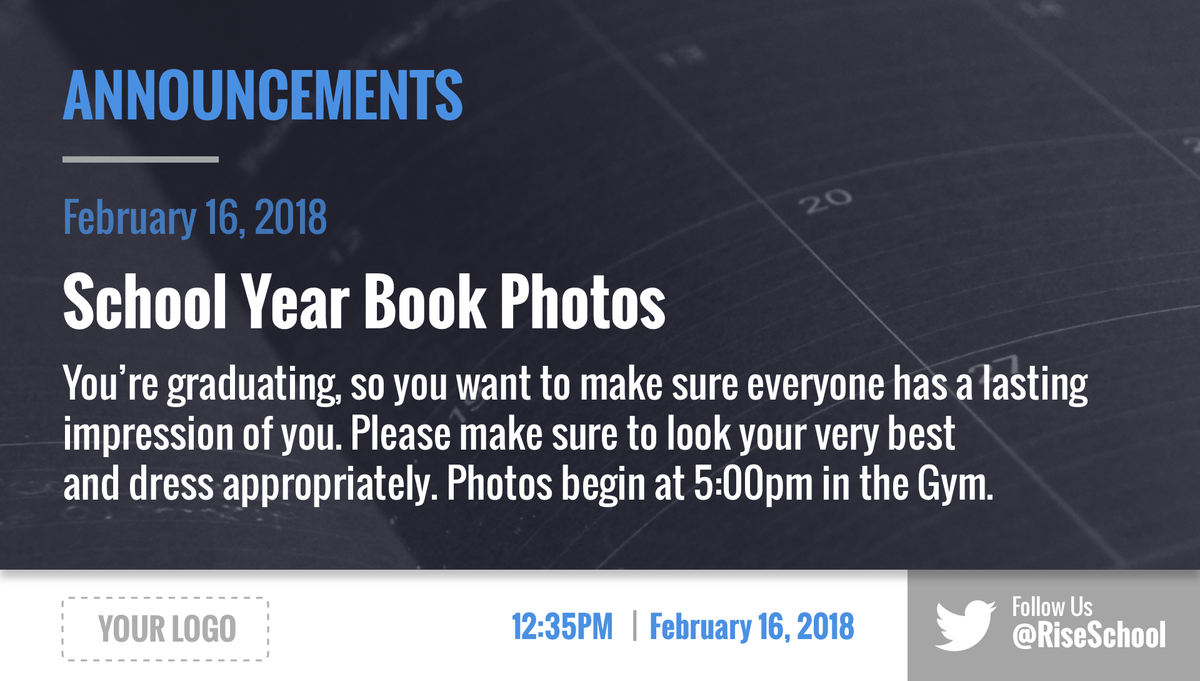 This template is brandable, with adaptable dates and social buttons. That works both ways: users can click through to your school's social feeds right from this template, but you can also use the URLs to your Rise Vision content as social media content. That gives you another channel to reach the right audience and lets you get extra mileage out of your content once you've produced it.
Giving recognition
Rise Vision can be used to recognize birthdays, achievements and awards, communicating directly with parents and students. It can be used to announce or remind people of virtual events taking place on other platforms, and you can distribute the URL to that virtual event with the reminder to drive up attendance.
Highly successful students, teachers who are moving on or just arriving, and school teams returning from competitions can all be recognized on the school website using embeds.
Homework, course and exam schedules
Homework schedules and due-date reminders can be distributed through Rise Vision. It's important to avoid sending so many messages that people stop paying attention, but you can segment your school audience to ensure that only the right grades and classes get the right reminders, cutting down dramatically on overall message traffic. This can be done by sharing Rise Vision presentation URLs.
This exam reminder gives an idea of how to do it: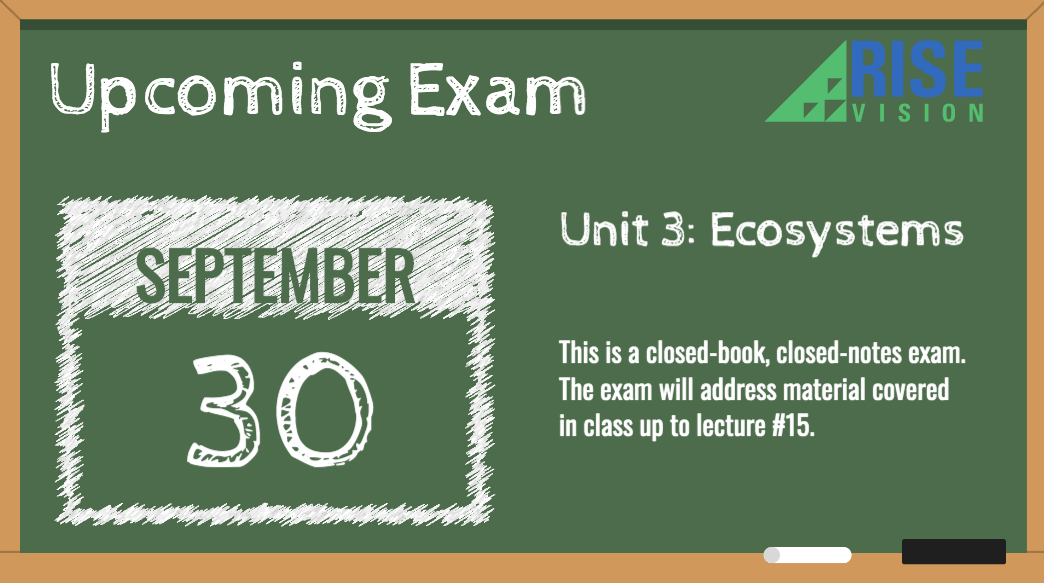 Parent events
The traditional method of informing parents of upcoming parent events like parent-teacher meetings and sports days is to give the kids a piece of paper to bring home. The flaws in this system are obvious, and Rise Vision is faster, more reliable and more accurate. Events reminders can be drips, reminding a week and then a day in advance, or they can include access to information like parking availability and times, as well as interactive content that lets the school better prepare for the event.
Consider using this highly-configurable parent-teacher meeting template: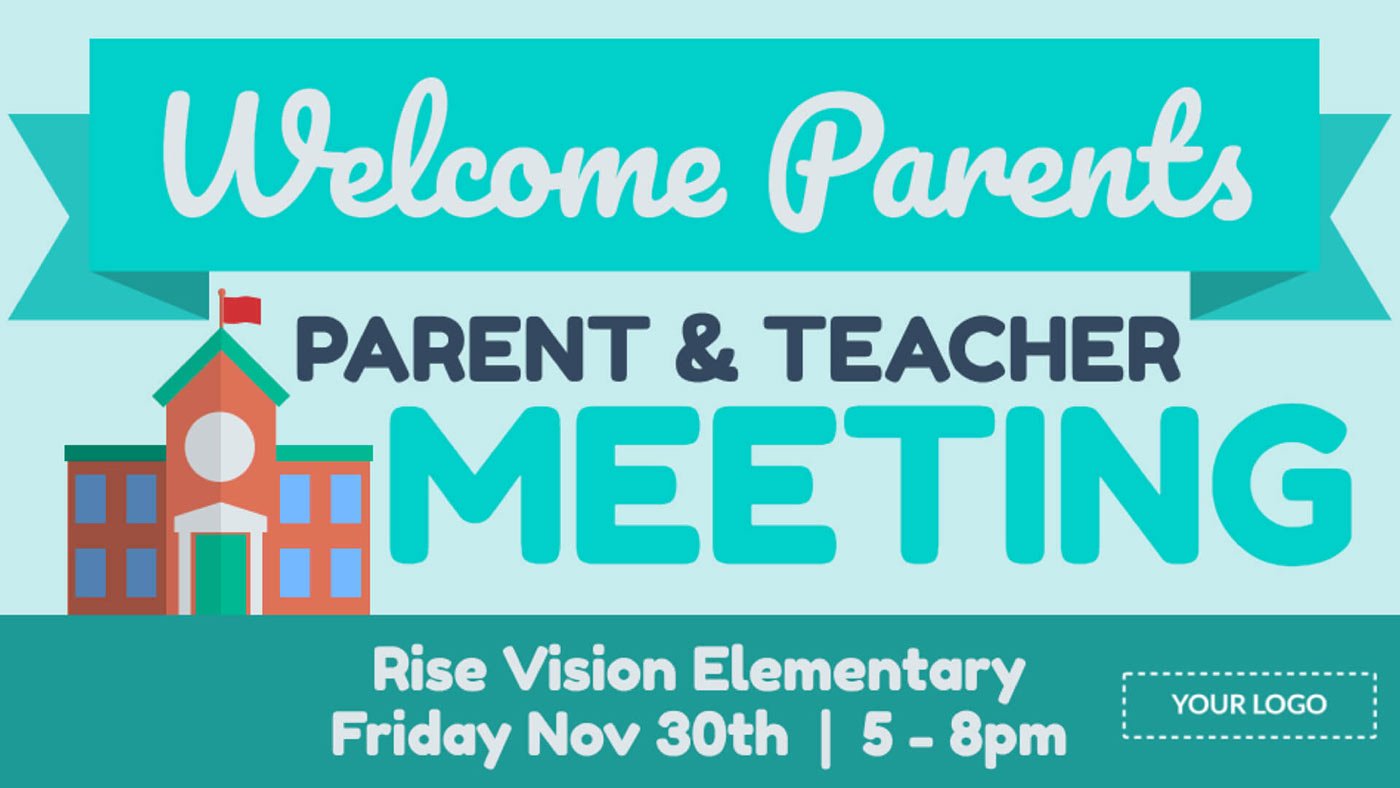 Community events
Schools are often key participants in community events, but the wider school community isn't always well-informed about when and where the school's teams, students or alumni will appear, or the part the school will play in community events. At the same time, extracurricular and community events take place inside schools sometimes and as with any deviation from the standard curriculum, some parents will be unaware — and however many times they're reminded, some students will forget. Rise Vision can help.
Conclusion
Rise Vision extends the reach of your digital signage tool, letting you talk directly to your audience where they are — even if, as now, that's mostly at home. And it lets you use Rise Vision's extensive, brandable and highly-customizable template library to create content that gives students, teachers and parents the support they need when school's out but homework is still due.
Hopefully, this guide is comprehensive enough to get you started, but if you'd like some more pointers, we're running free weekly training in how to use Rise Vision. All you have to do is sign up for it:
https://www.risevision.com/webinars