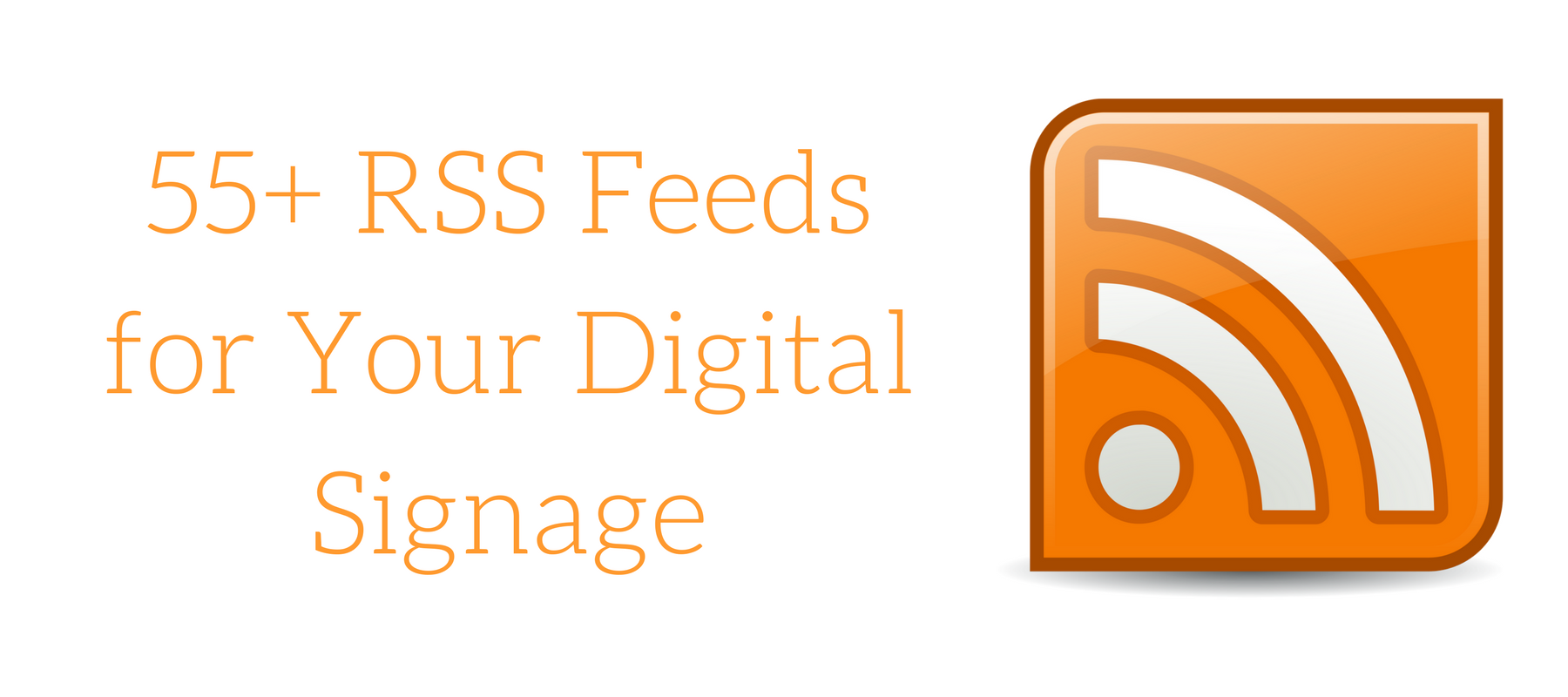 One of the most significant advantages of having a cloud-based digital signage solution as your digital signage CMS is having content that changes regularly with very little effort. Putting an RSS feed into your digital signage presentation is one of the easiest ways to make sure your display is always showing fresh and up-to-date content. Finding the right RSS feed, however, is not always an easy task--there are millions of them to choose from. To help you out, we've made the below list of over 55 popular RSS feeds in education.
Some of the links below are RSS feeds; some are links to get the RSS feed--many feeds (such as CNN) have multiple feeds to pick from.
News RSS Feeds

News RSS feeds are perfect for almost any digital display; while most show current events from around the world, some can be customized to only show regional or domestic news.
Sports RSS Feeds

If your display is located in a gym, locker room, or athletic department, these feeds will entertain viewers with the latest news from the world of sports; some can even be customized to show only specific sports and teams.
Humor RSS Feeds

Sometimes it's fun to give your audience a little laugh; with Rise Vision's digital software CMS, you can even schedule your presentations so humor feeds will only be displayed periodically throughout the day.
Entertainment RSS Feeds

Humor is fun for laughs, but Hollywood news and gossip is another easy way to break up the mundane of regular news with something more fun. For added entertainment, pair the RSS feed with a quiz or trivia game.
Technology RSS Feeds

People love gadgets. Technology feeds show the latest cutting-edge tech being released, and millennials especially like this type of news (for more tips on the kind of content millennials love, check out this blog).
Science RSS Feeds

Science is a vast topic. While many of the feeds below deal with science in general, some deal with subsections within science (such as nature and space exploration); NASA even has a feed just for space missions--you can see all NASA feeds here.
Finance RSS Feeds

Business schools and banks will benefit from using one of the many finance RSS feeds; while some cover business news in general, some or geared towards more specific topics (such as investing). CNN's feed, in particular, has dozens of different topics to choose from.
Education RSS Feeds

While educational RSS feeds may not be the best for most displays, the feeds below work well in administrative offices.
Kid RSS Feeds

RSS feeds aren't just for grownups! These feeds would be good additions to digital displays at elementary school campuses and churches with a dedicated kids area.
Photo RSS Feeds

Headlines and news snippets aren't the only thing an RSS feed is good for. You can also use RSS to get daily photos to appear on your digital display with these feeds (make sure and also check out our post on using RSS quotes in your digital display).
If you put an RSS into your presentation, we'd love to hear how it worked out! Drop us an email!